I am very excited to open my interview series with that lovely man of Punished Brats fame, David Pierson.
Michelle: Hi David, thank you for taking the time to chat with me.
David: Truthfully, I'm honored Michelle. How are things in OZ?
Michelle: Very nice. It's summer here.
David: And it's snowing here.
Michelle: David, I must say that I love your website. (www.punishedbrats.com) You are so lucky to redden so many bottoms over your lap.
David: That I am. I am very fortunate to be surrounded by the talent that we have. The girls who work with us are beautiful, smart and very talented. Many have performing arts backgrounds. I should give lots of credit for our success to my partners in crime, Amber Pixie Wells and, my brother, Eric Blair-Brown. They are a formidable creative force.
Michelle: How long have you had an interest in spanking?
David: All my life to be honest. It has held a fascination for me since early childhood. In all of my romantic relationships, spanking was always a part of it. I used to keep a wooden spoon in my car to punish my girlfriend when she needed it. You know, I don't believe in vanilla people.
Michelle: Really?
David: I just believe that everyone has their kink, one way or another. I think that best explanation of the spanking fetish comes from the brilliant writer Penny Birch. In her book 'The Indignities of Isabelle' she said " There is something about a girls bottom that simply cries out for chastisement; partly the beautiful shape, but mainly, I think, the fact that a woman's bottom exhibits her sexuality in a way that brooks no denial."
I just think that paragraph poetic.
Michelle: Can you tell me about the first time you spanked someone on camera? Who was the girl?
David: Well, my first time spanking on camera was during the famous "American Girl" shoot for Spanking Online. This was a production in which three American Girls, top fetish models all, ( Darling, Venus and Niki Flynn) went to the UK to experience British discipline. My first time on camera I spanked the amazing Niki Flynn. I played a father who was receiving spanking instructions from the lovely Shanelle Van Dyer. During that shoot I also had the great honor of spanking Elizabeth Simpson and Venus. I was not anxious at all. It felt very natural.
Michelle: So, what's your favorite spanking position?
David: I guess I'm partial to the classic over the knee. I'm a traditionalist I suppose.
Michelle: Well..What's your favorite implement?
David: I'd have to say the hairbrush. I love domestic discipline scenes. I have a case full of paddles, straps and other implements of destruction, but it is my belief that you can usually find a terrific spanking tool in almost any room of your house.
Michelle: Does your hand every get sore.
David: Not really.
Michelle: What was the hardest punished that you filmed.
David: That's difficult to say. Any number of scenes that Pixie and I shot together could qualify. I'd have to say that the spanking I gave to Sarah Jane Ceylon would have to be much choice. The video was entitle "Young, rich Wife". I spanked Sarah with my hand, and then with a heavy oak paddle designed for intense over the knee punishments. Sarah cried through the entire spanking.
Michelle: Would you give me a spanking if I were naughty?
David: In a heartbeat dear.
Michelle: The spankings given on Punished Brats are clearly disciplinary in nature. Have you ever wanted to do sexual spankings?
David: Not on camera. Truthfully, we're not about sexual spankings. My brother describes our format as something of a 1950's era sitcom in which the girls are spanked in every episode.
Michelle: Well David, thank you for this chat. It was fun.
David: Michelle, the honor was all mine.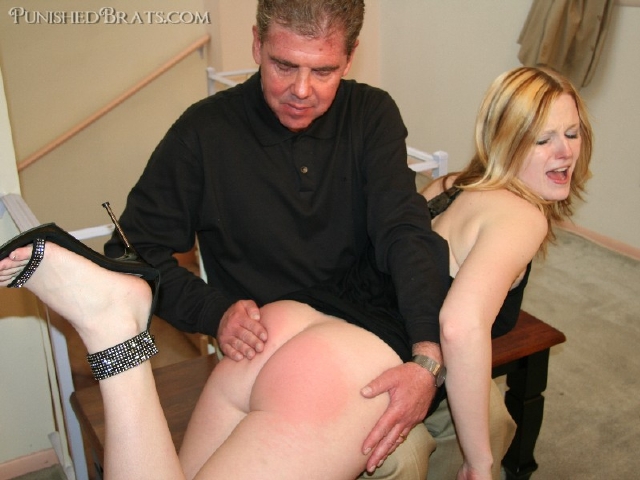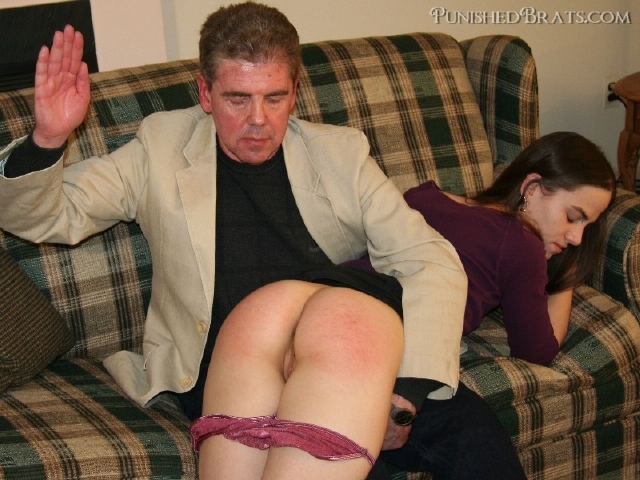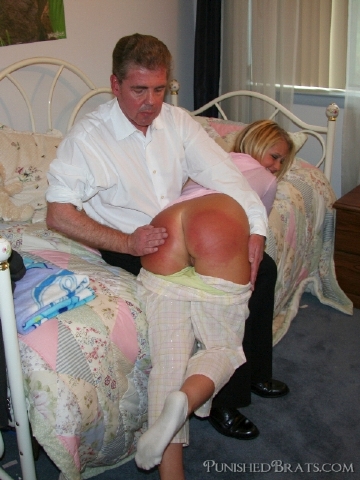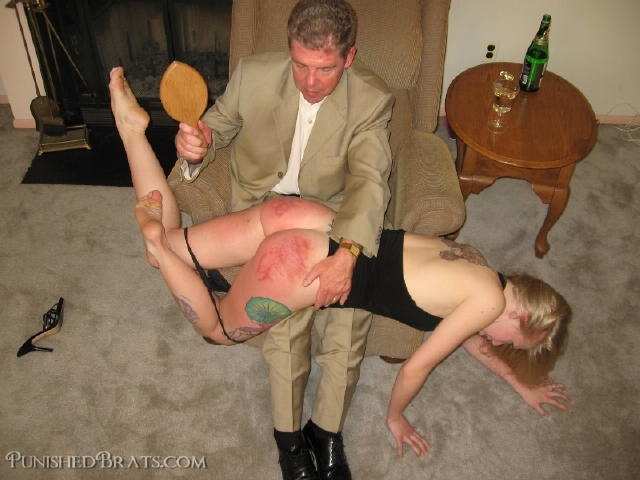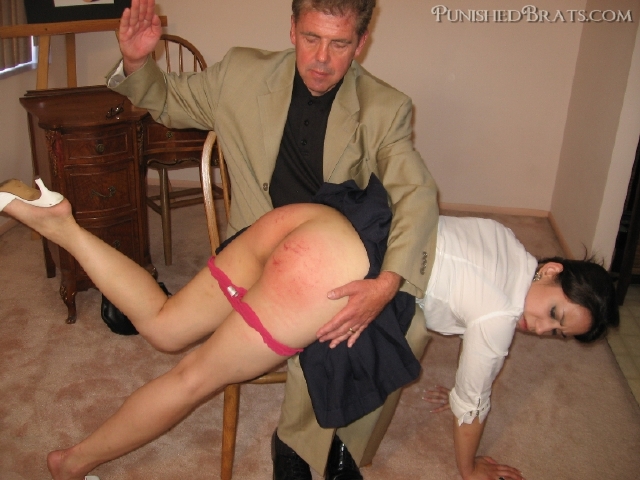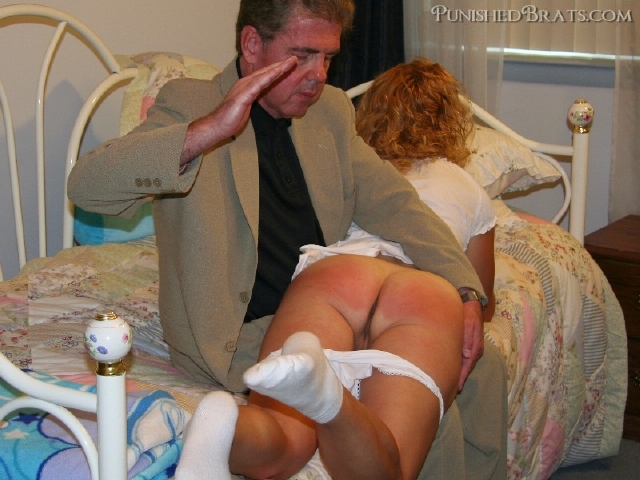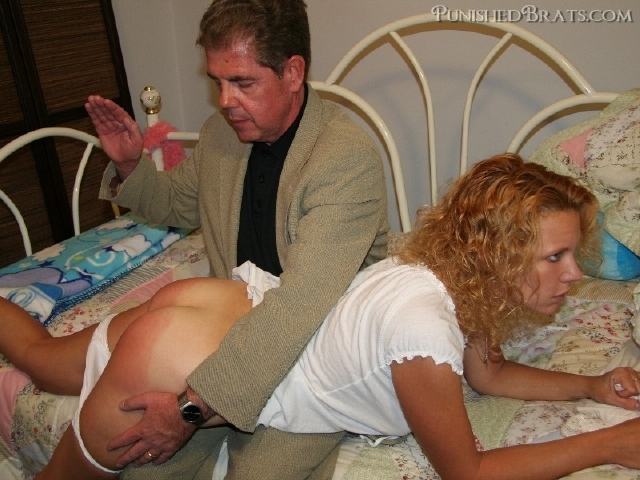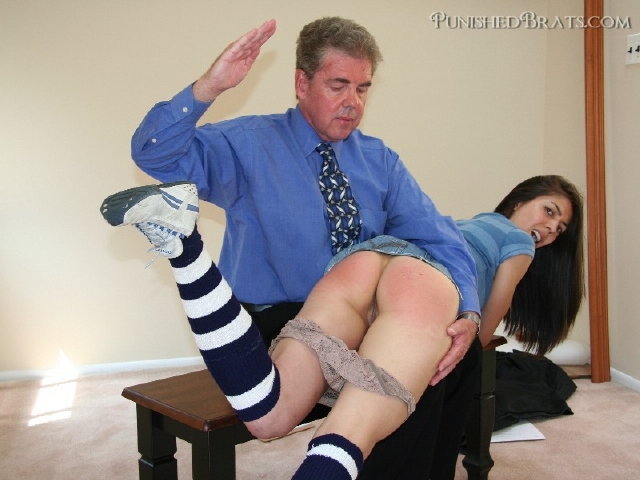 Back to Interviews Page
Back to Reviews Page
HOME


Support our Free Achive Spanking Site by joining one of the sites below.

Marked Butts - Spanking Online - Realspankings - Firm Hand Spanking - Girl Spanks Girl - Clare Fonda Pass - Punished Brats