April 29, 2011
NEWS AND NOTES
More great cartoons from Dave Ell. This is the latest for www.woodettes.wordpress.com. The Sammy Simpkins loves spanking series is now 36 strong and all re-mastered so better than ever and have never been seen on the net and are available from Dave in jpeg attatchment for a fee of 10 UK Pounds. Payment is through Paypal, all delivered in one day. Contact lodgy53@yahoo.co.uk or visit www.daveellcartoons.com. The cost is 20 UK pounds for a single panel cartoon and 50 UK pounds for a 4 panel cartoon.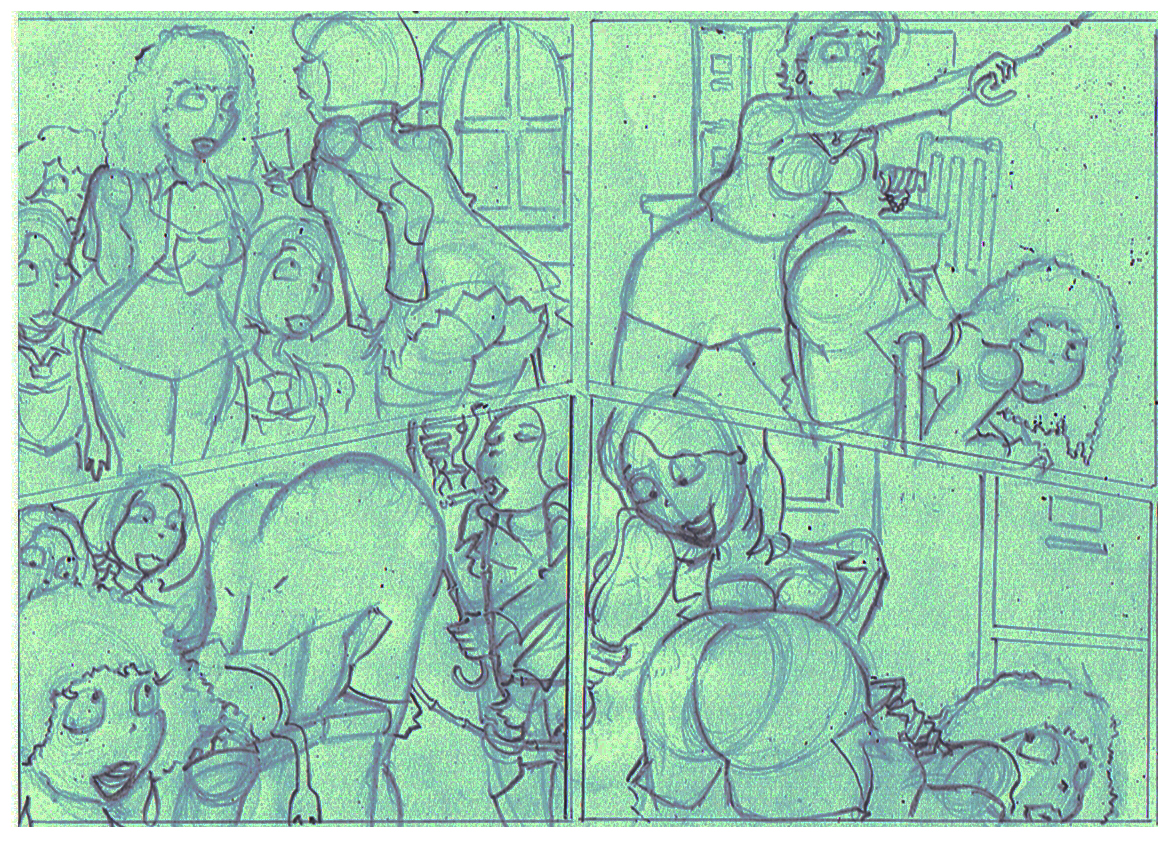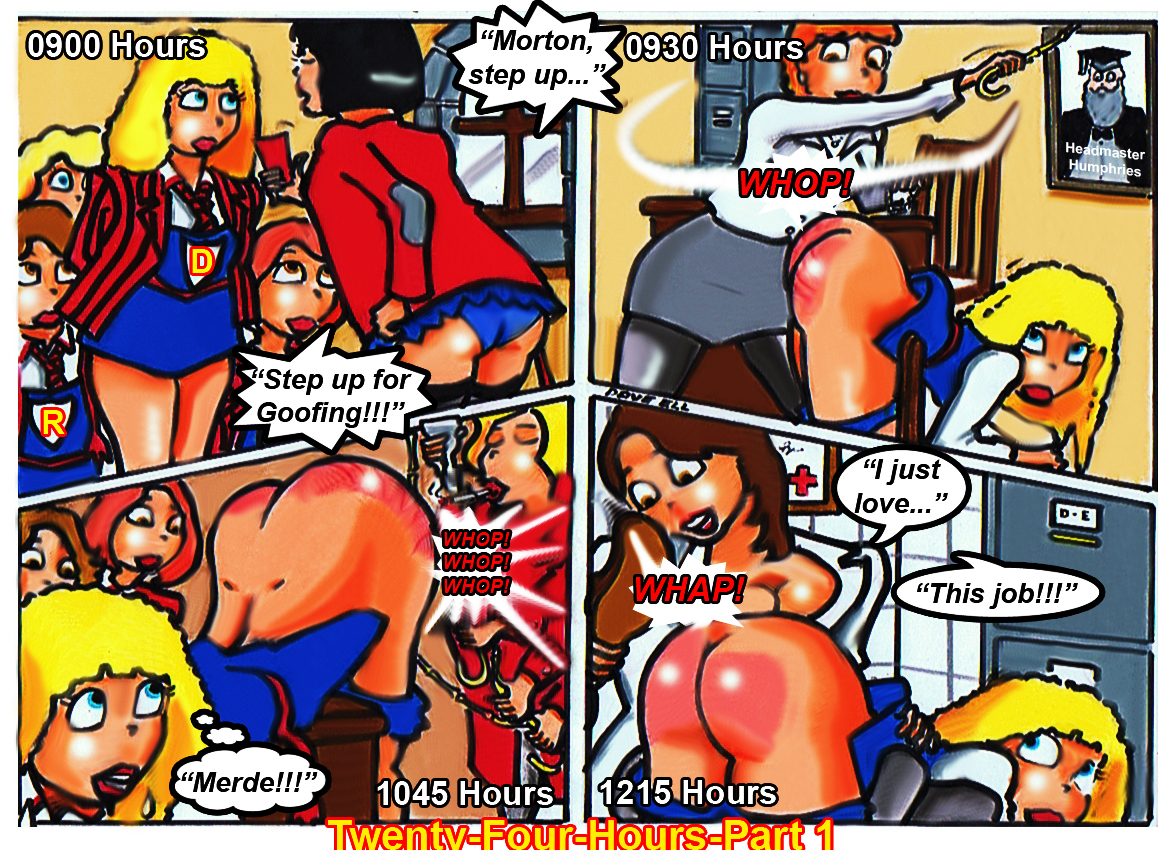 The man who brings you the Cherry Red Report has recently started another blog focusing on male sub spanking: www.Spanking4Men.com.
From David Pierson of www.punishedbrats.com:
We had a terrific shoot last Saturday. It wasn't what we planned, but we pulled it off. The only constant being Pi. ( Get it?, Pi as in 3.14? Forget it) My thanks to Bevery Bacci who helped me shoot this production and shoot a scene. Here are a few sneak pics.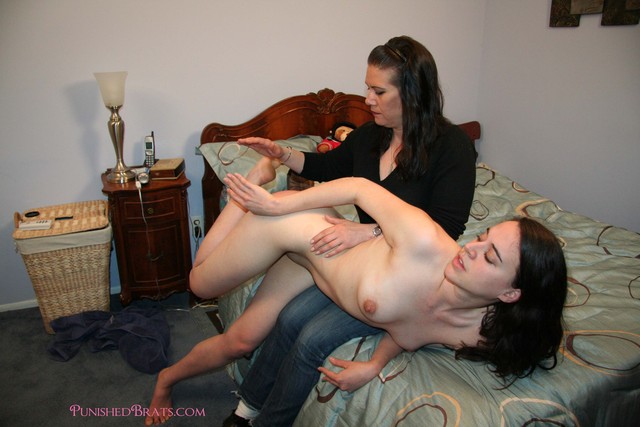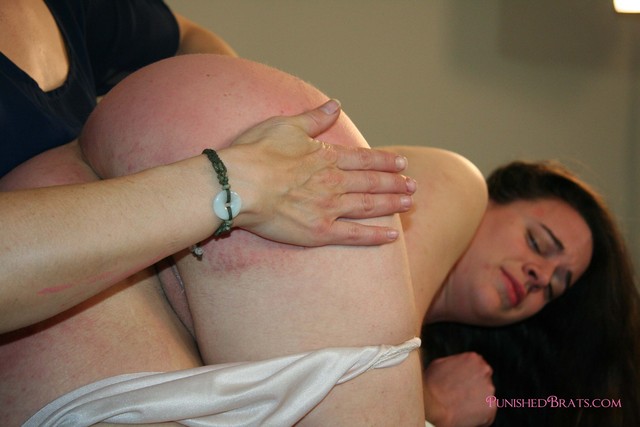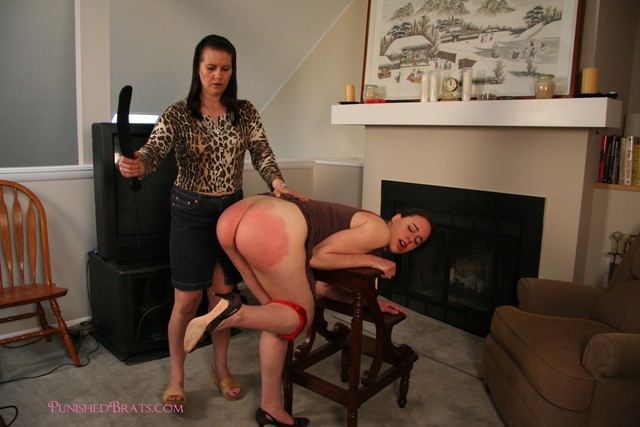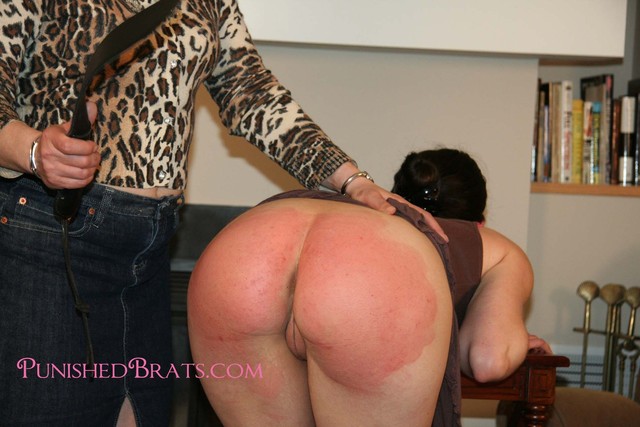 Saw the raw footage. Looks amazing.
Now a look at the week that was in brats:
http://www.punishedbrats.com/twitter/4-27-11/042711.htm
http://www.punishedbrats.com/twitter/4-25-11/042511.htm
http://www.punishedbrats.com/twitter/4-22-11/042211.htm

INDIVIDIAL CLIP SITE NEWS
Spank Channel: http://www.clips4sale.com/store/22862/: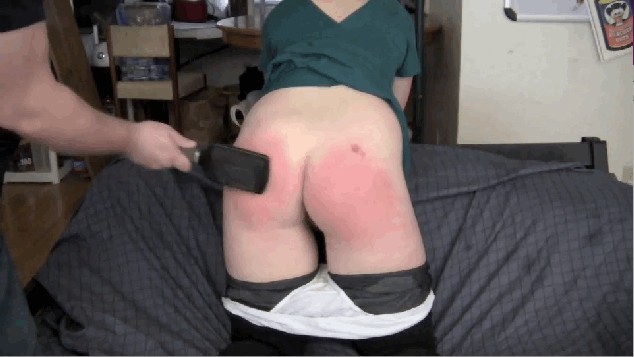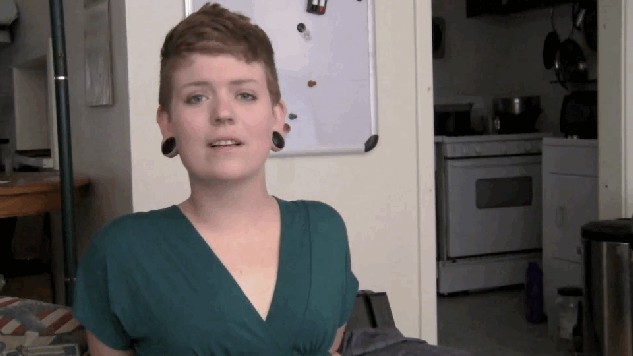 SPANKING SITE UPDATES
This week at www.PunishedBrats.com:
Webcam Girl - part 1 with Joelle and Miss Chris. Miss Chris catches her niece Joelle getting ready to strip on webcam for Sexy College Coeds. She immediately drags the scantily clad girl into position for a hairbrush spanking.
Moving Out - part 1 with Juliet Valentina and Vernica Bound. Juliet is moving out to live on her own and is looking forward to the freedom. But she gets a little carried away in mentioning all of the sneaking around she's done while still living under Veronica's roof, so Veronica is going to make sure her daughter is sent off with a thoroughly punished bottom.
Saboteur - part 2 and Full Movie with Lavender Rayne and David Pierson. Lavender is going to have to do her overtime standing up!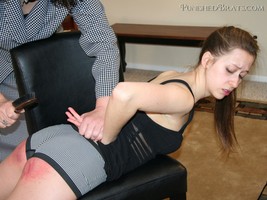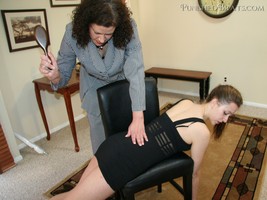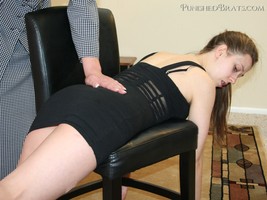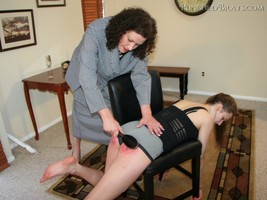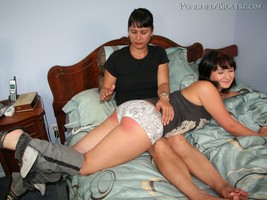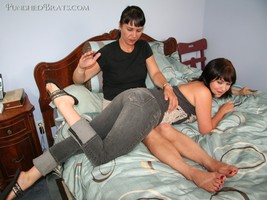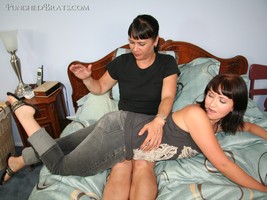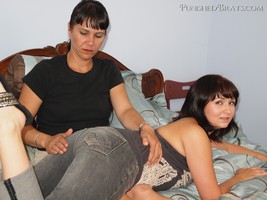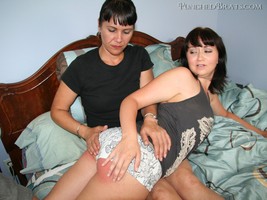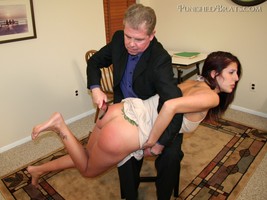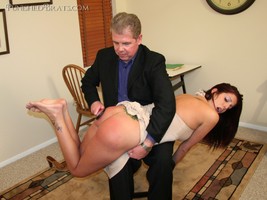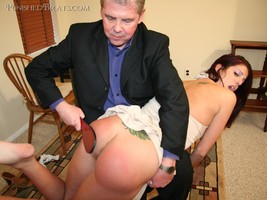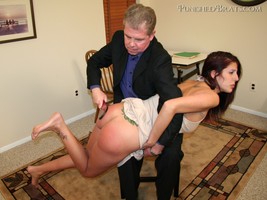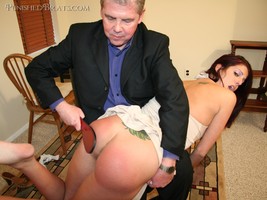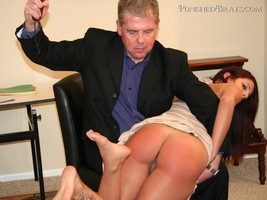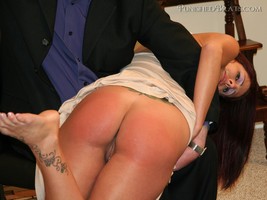 This week at www.girls-boarding-school.com: Bag Control.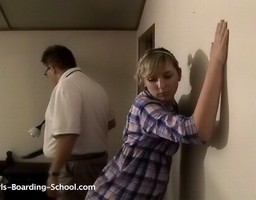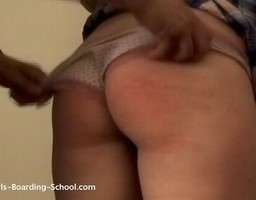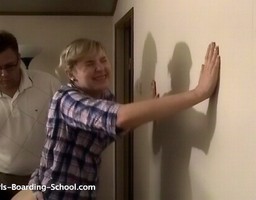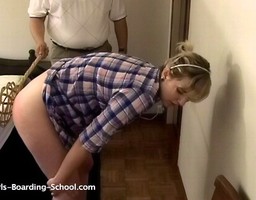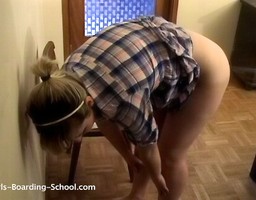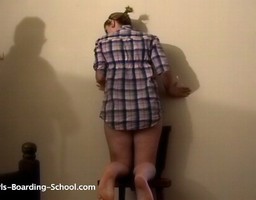 This week at www.realspankings.com/www.realspankingspass.com:
Brooke Punished for Taking Mr. M's Phone Charger (Part 2 of 2). Mr. M returns with a belt to properly bring home the point of being responsible and taking care of personal belongings. Brooke is spanked with the belt on her bare bottom and told to stay there until Mr. M tell her she can move.
Cindy's Incomplete Work. Cindy bends over to receives a spanking from Ms. Burns for not completing her work.
Monica Strapped Before School. Monica, still in her robe, is called downstairs in the morning before school. She is told to kneel on a chair with her hands on the floor to receive the tawse on on her bare bottom for an offense that took place the day before at school.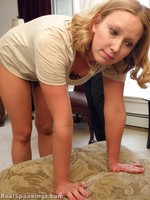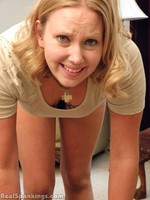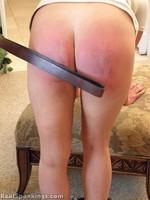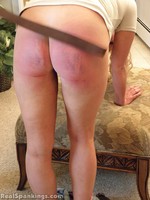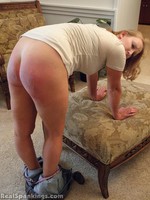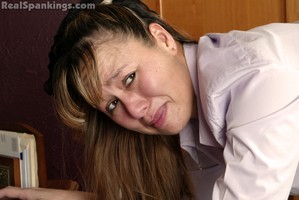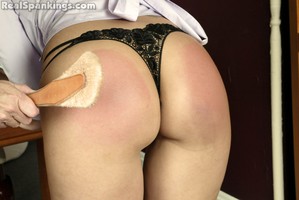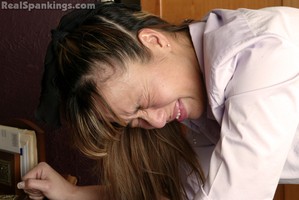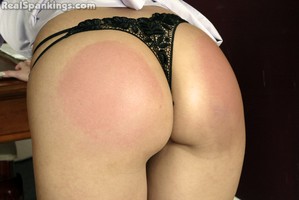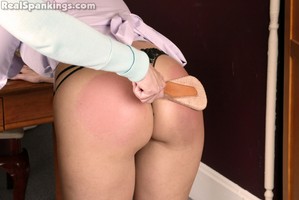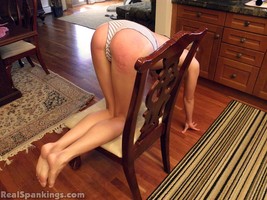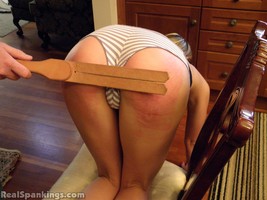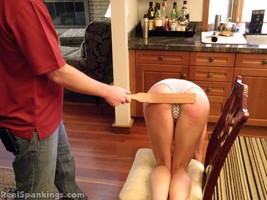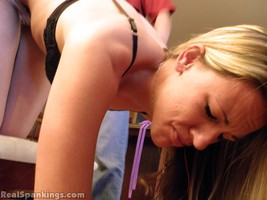 This week at www.firmhandspanking.com:
Classic bare bottom over-the-knee spanking for bubble butt Alison Miller. Alison Miller's 'Perfect 10' bottom pays big time for disobedience and disrespect at a strict Reform School. Mr Archer has an issue with her dress code and attitude. That stunning, bouncing bubble-butt is swiftly over his knee for a 190-smack spanking.
Enjoy the slo-mo bo Katherine St James in Corporal Air.
Allaura Shane in A Question of Trust.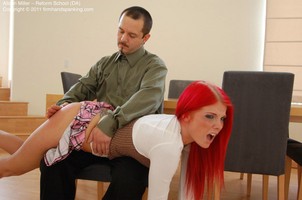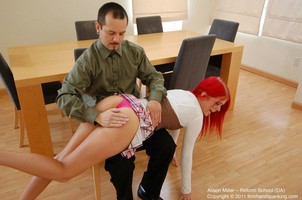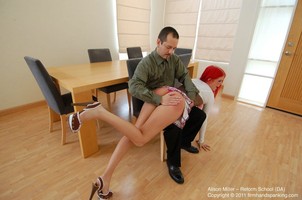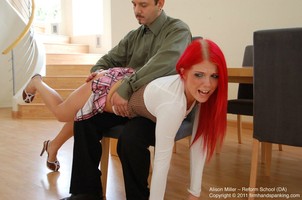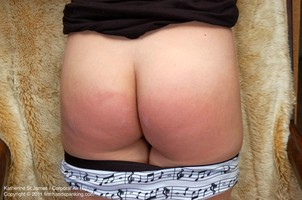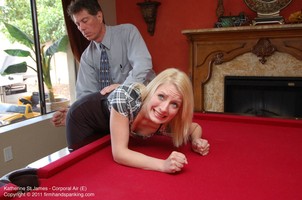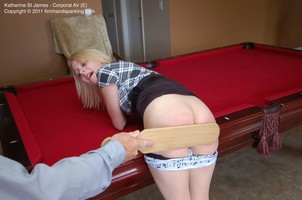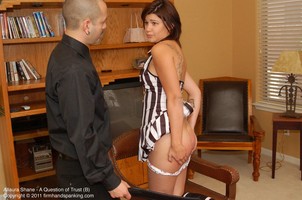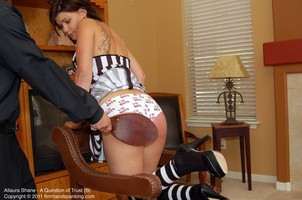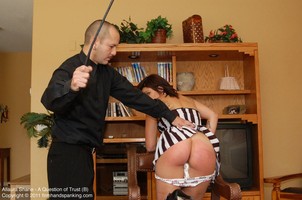 At www.GoodSpanking.com Molly Matthews is nude, except for her collar and leash. This week she endures a strict and embarrassing cropping. MILF brat, Alexis Steele becomes visibly aroused during one of the hardest Chelsea Spanks sessions ever!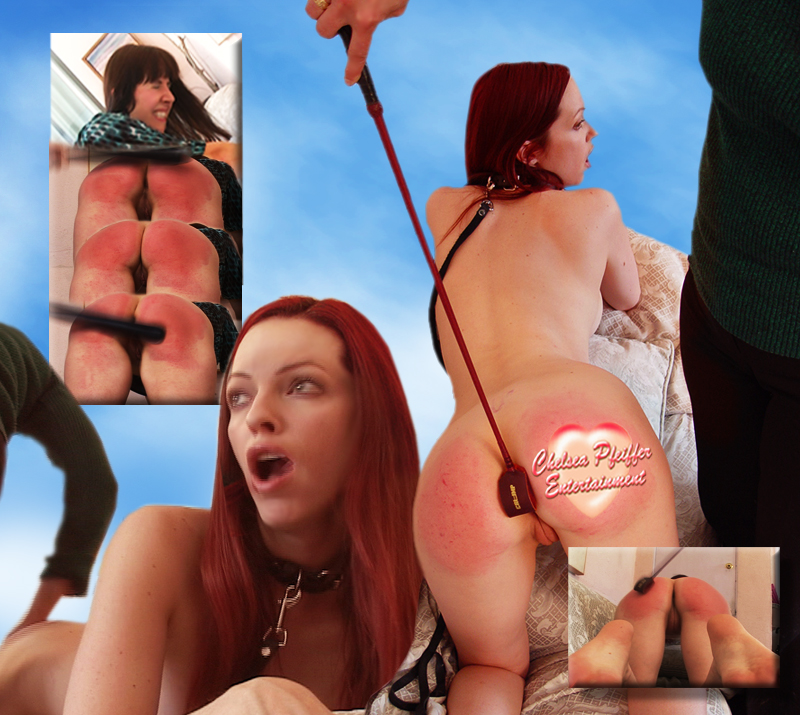 At www.SpankSinn.com this week Chelsea makes Sinn-the-tease please herself as she's spanked. That ought to teach her!


A prettily pantied Amber Pixie Wells guest stars on www.myspankingroommate.com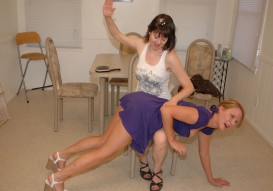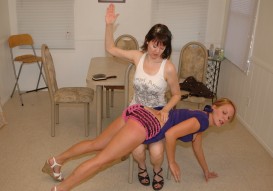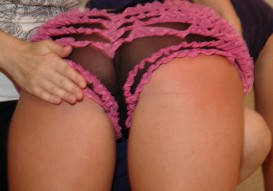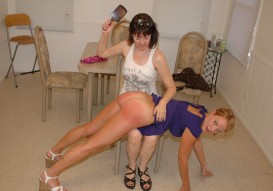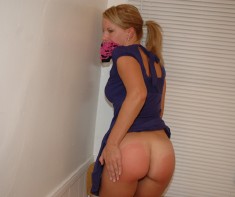 This week at www.realspankingsinstitute.com/www.realspankingspass.com:
Ivy Spanked For Laziness. The Dean catches Ivy tending to her outdoor sweeping job rather lazily.
Frankie is Spanked in the Hallway. Lila observes Frankie being punished in the hallway by The Dean.
Lila is Punished after a Suprise Uniform Inspection. Mr. M springs a surprise uniform inspection on Frankie and Lila. Both girls seem to have everything in order, until he gets to the panties. Frankie has her's, but Lila does not. Lila is told to remove her clothing and get on all fours on the study table. The Dean hand spanks her in front of Frankie and then tells her she will finish the day without her clothing.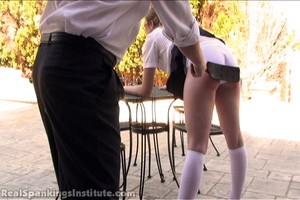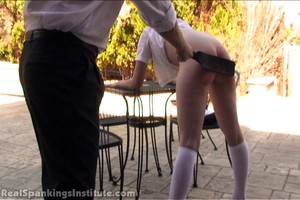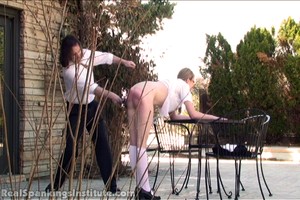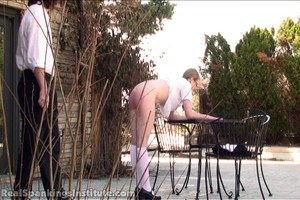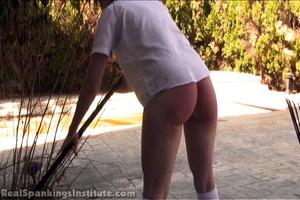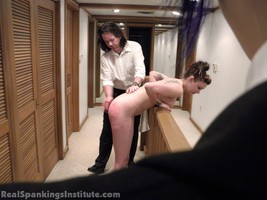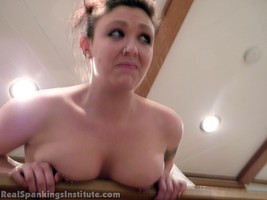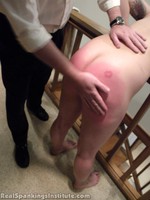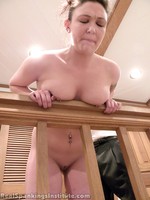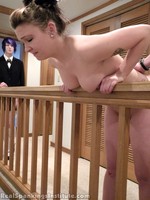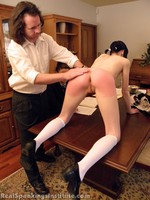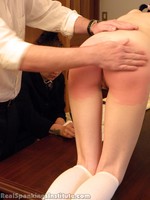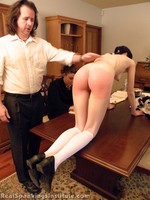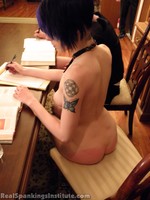 This week on www.sarahgregoryspanking.com, see Chelsea Pfeiffer and Sarah Gregory in "Over Slept." Sarah's mom is not too happy when she comes home from work and finds that Sarah has slept all day and missed school. A hard bare bottom spanking and strapping will teach poor Sarah not to sleep all day and miss school.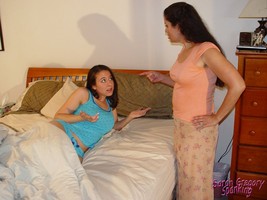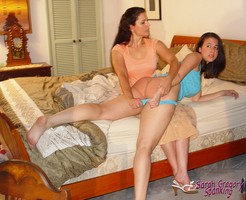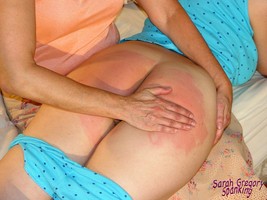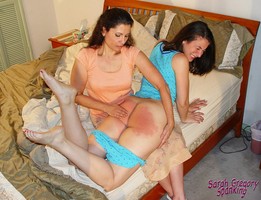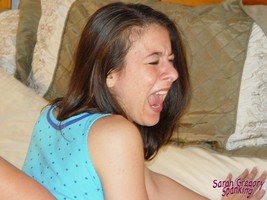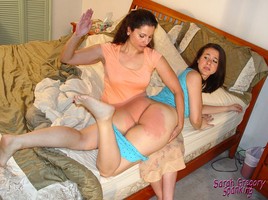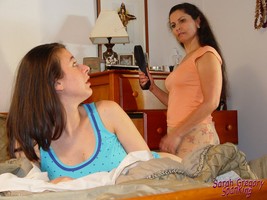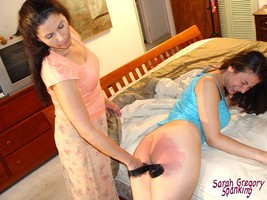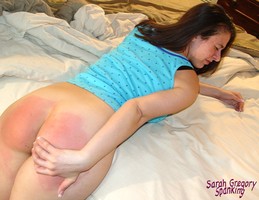 This week at www.spankingbarebutts.com:
Acting up in class has never been tolerated on Miss Brown's watch and Bryanna should know that better than anyone. I am not sure if Bryanna simply can't behave or if in some way she actually likes it when a huge wooden paddle blisters her naked butt! No matter what the reason Bryanna gets another lesson courtesy of the huge wooden school paddle.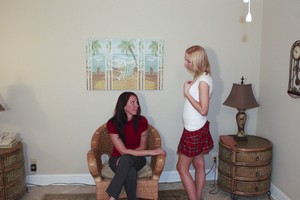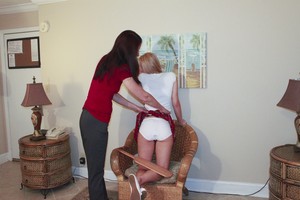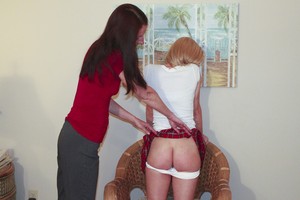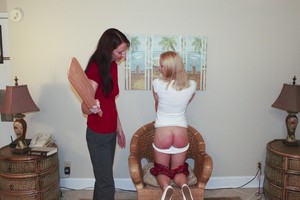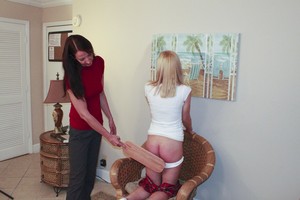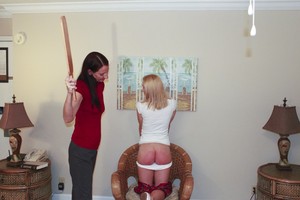 The latest updates at www.spankingserver.com: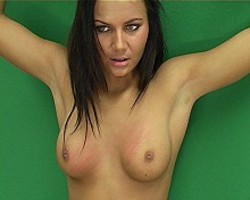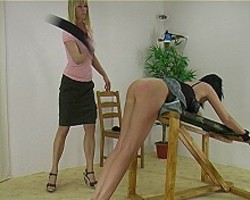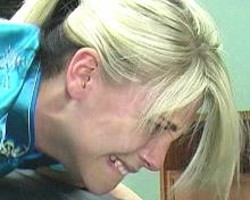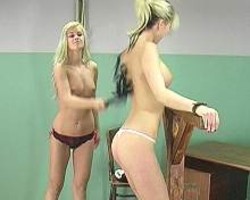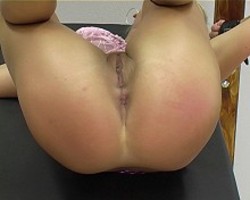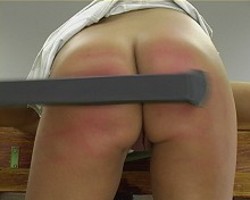 Some pics from clips available in the members area at www.spankingclips.eu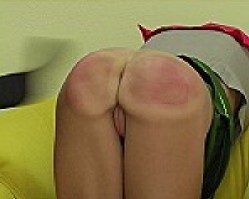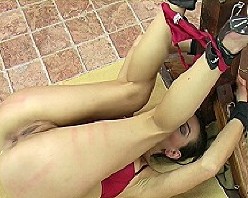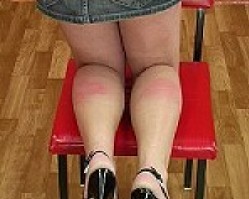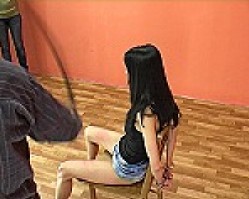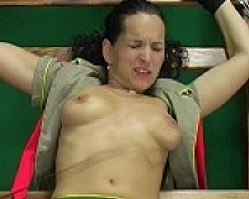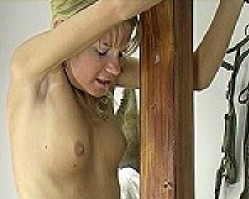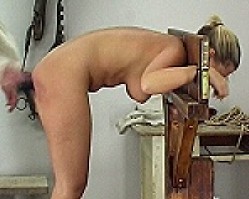 Spanking & Shame has announced a Relaunch. A new design, new content and exciting new members features! www.spankingshame.com.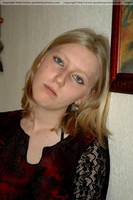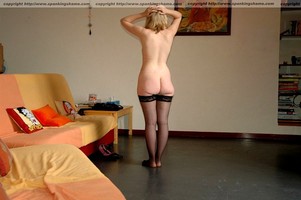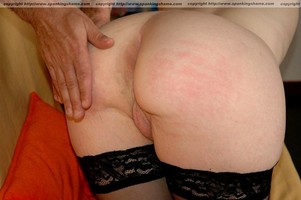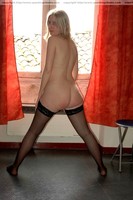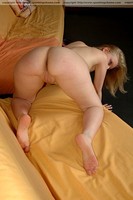 New at www.dallasspankshard.com:
Kat St. James.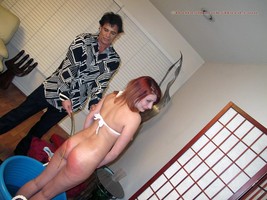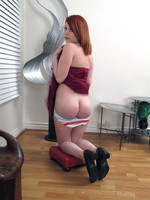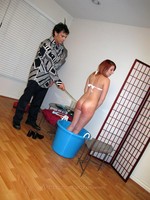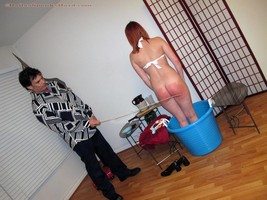 Now at www.real-life-spankings.com: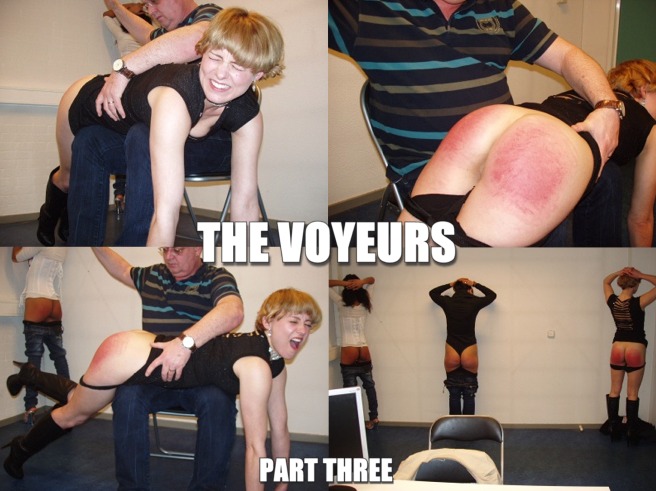 This week at www.cutiespankee.com: The maid's bottom bounced in the air again in the dim light.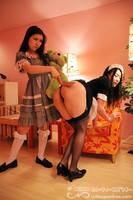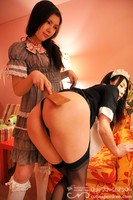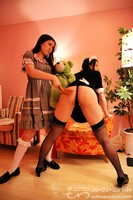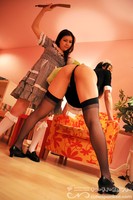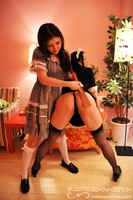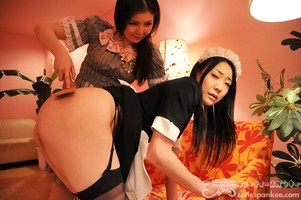 The latest from http://www.spanked-in-uniform.com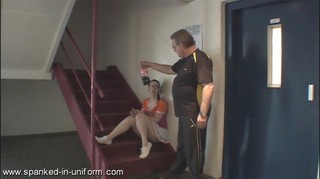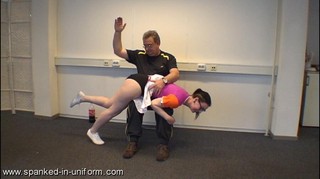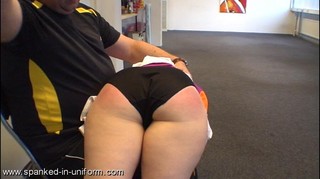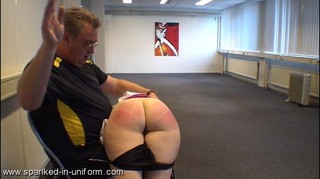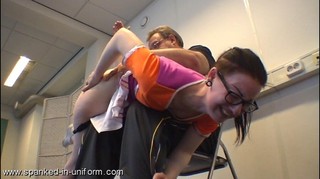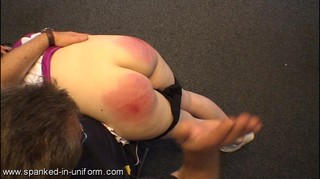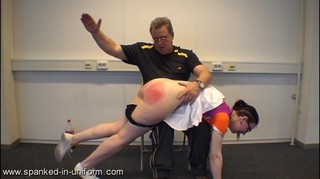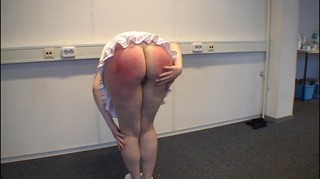 Now at www.english-spankers.com: Housekeeper Katy Didit is in the middle of punishing Emma the maid when Mr. Stern returns home. He sees what is going on and decides to punish both girls himself. First a very hard paddling with the heavy paddle, both bottoms are turned bright pink. It's time for the cane and this is to be applied full force to both girls with a final extra hard and fast thrashing for the housekeeper.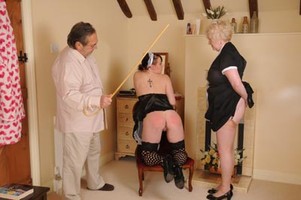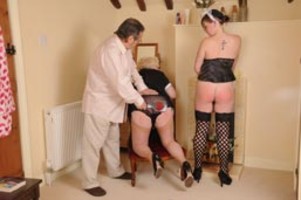 This week at www.spanking-family.com: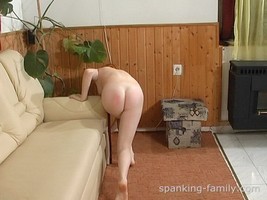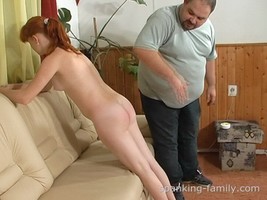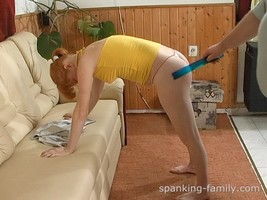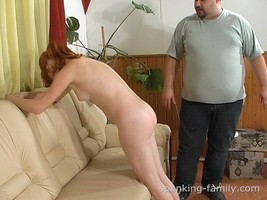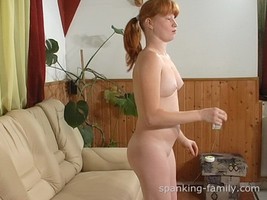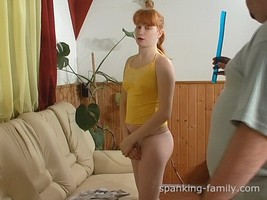 Now at http://www.hand-spanking.com: You the viewer have a wonderful opportunity as you find yourself in a mature actress' body with a lovely young model on your lap. Just as you are about to enjoy to spanking her, something even more unexpected happens!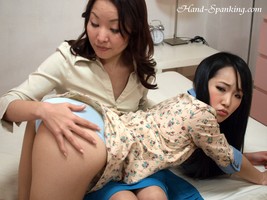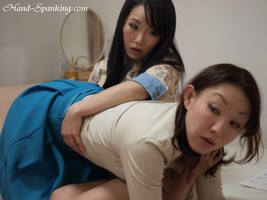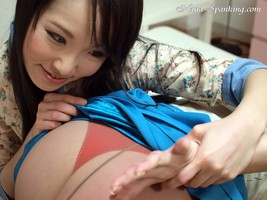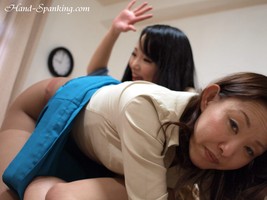 Now playing at www.aaaspanking.com: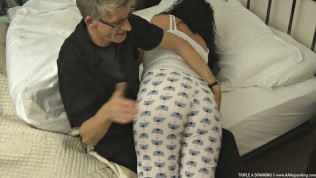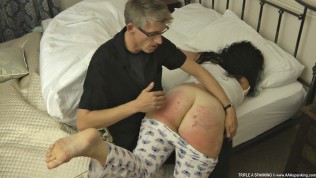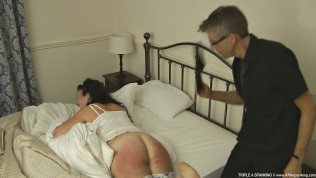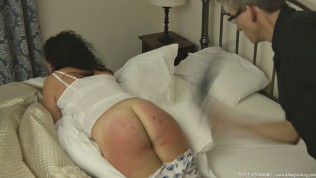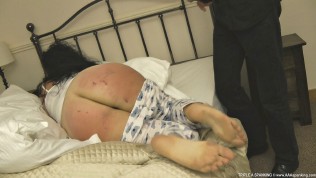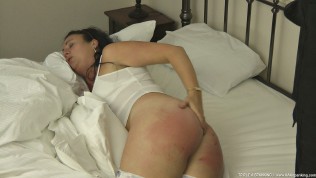 This week at www.spankingteenjessica.com/www.realspankingspass.com:
Cane Experiment. Multiple positions, multiple canes. An interview style session where we try out different canes in different positions.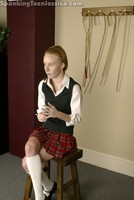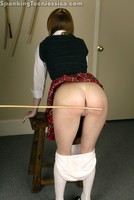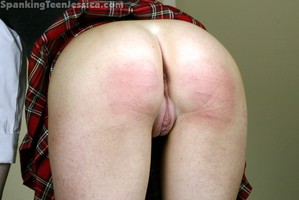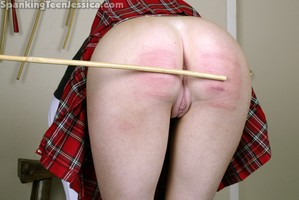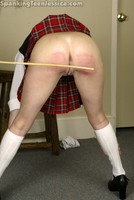 This week at www.spankingteenbrandi.com/www.realspankingspass.com:
Brandi Profile: Belt Strapping for Underage Drinking. Brandi profile punishment continuation. We address the underage drinking, second belt punishment over her panties.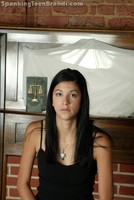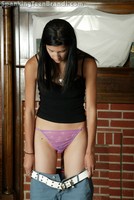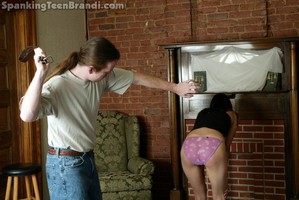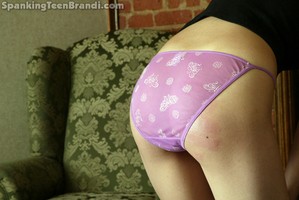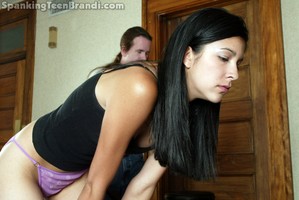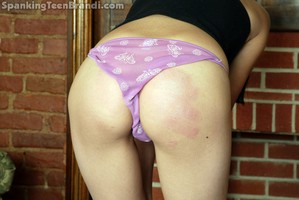 This week at www.spankingbailey.com: Bailey Is Paddled For Missing Cheerleading Practice. Bailey comes home and is confronted by Ms. Baker about missing her cheer-leading practice, for discipline Bailey is bent over and given a hard paddling.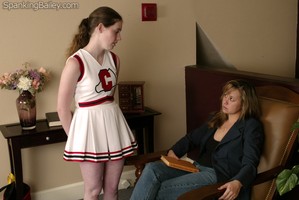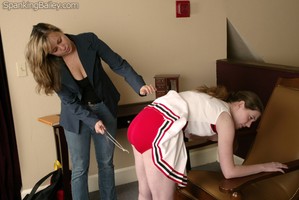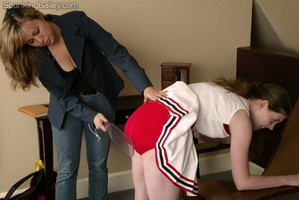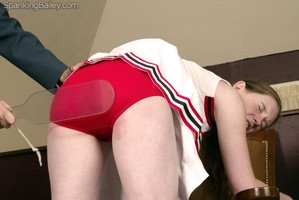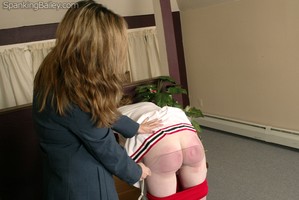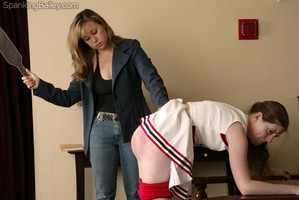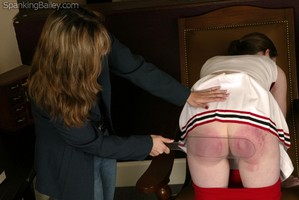 This week at www.otk-spankings.com/www.realspankingspass.com:
Taylor's Hard OTK Spanking. Taylor is left in time out to wait for her punishment. Ms. Baker has her stand up and pull down her pants for a hard hand spanking over the knee. Afterward she is placed back in time out for further punishment.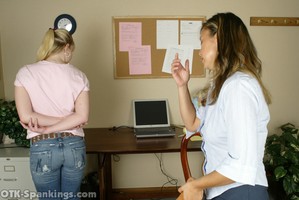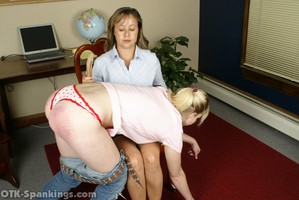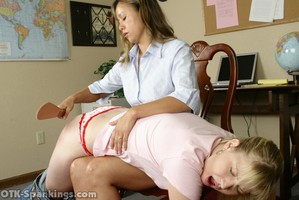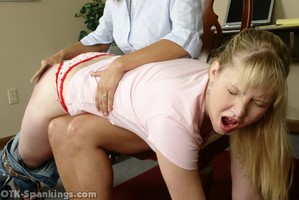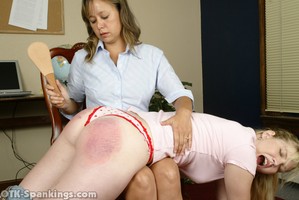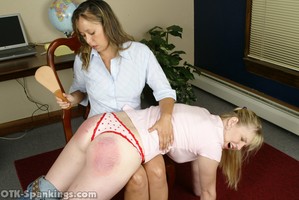 This week at www.realstrappings.com/www.realspankingspass.com:
Blake is Sleeping in Study Hall. Ms. Burns is upset with Blake for sleeping in study hall when she is supposed to be finishing her work. She gives her a strapping to help wake her up.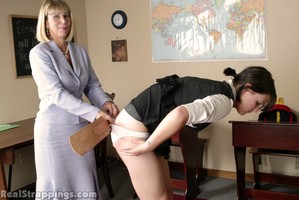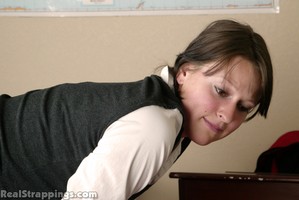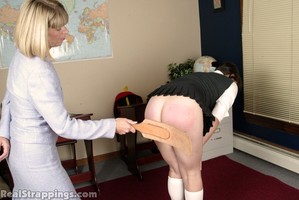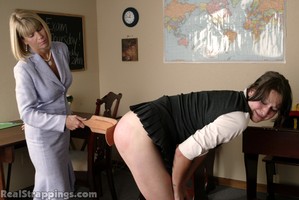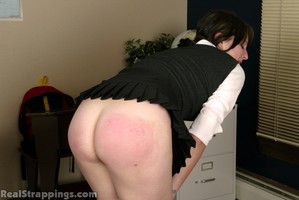 This week in www.samsdiaries.com Sam Johnson is leading new girl Chloe astray in "Cabin Crew." Caught stealing duty free booze and selling it at a profit, the girls are punished with spanking, strapping and caning and are soon very sorry indeed!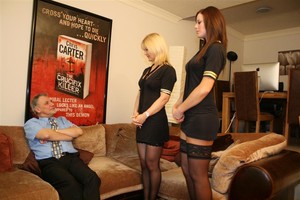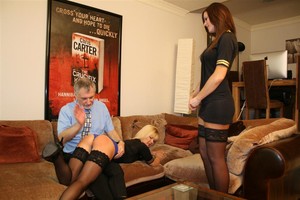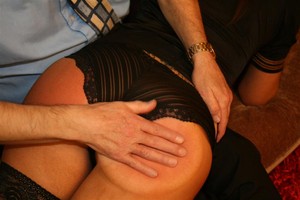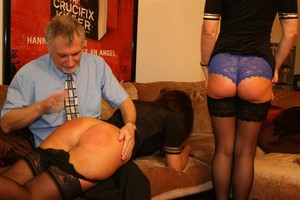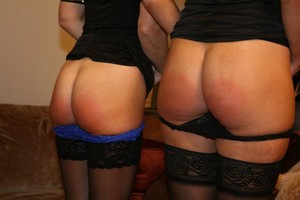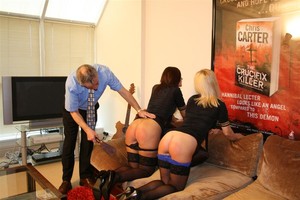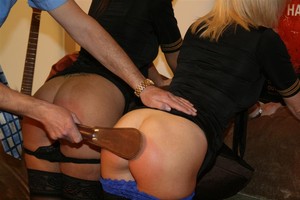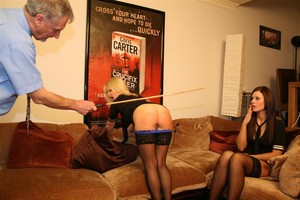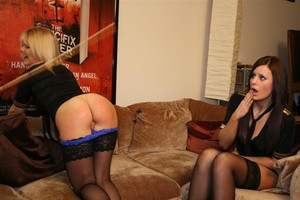 At www.GoodSpankingClassics.com Cassandra Knight and Meitze Katzen go spanking la strange in masks and lingerie.

This week's "Highlight of the Week" at www.punishedbrats.com:
Saboteur with Lavender Rayne and David Pierson. When David denies Lavender the rest of the day off, she disables the company server in an attempt to bring the work day to a halt. Lavender is going to have to do her overtime standing up!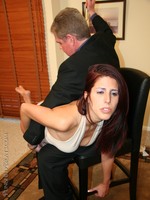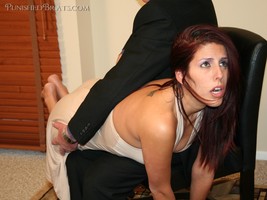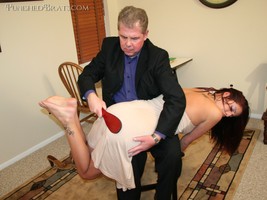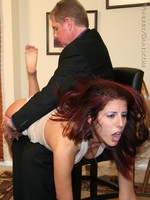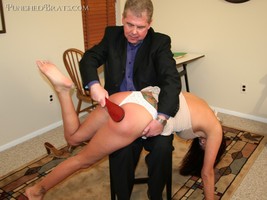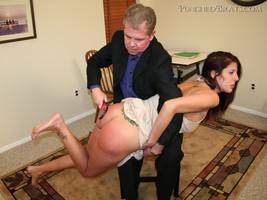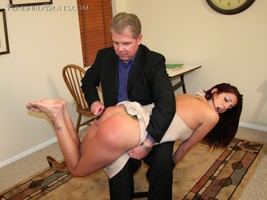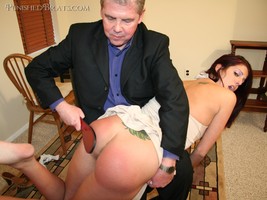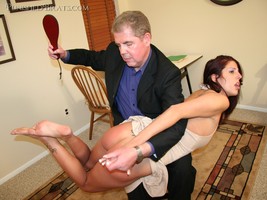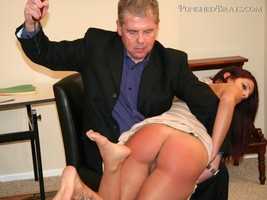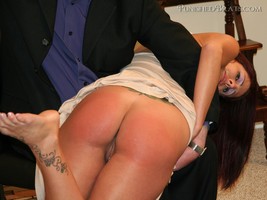 HOME/Main News Page


Support our Free Achive Spanking Site by joining one of the sites below.

Marked Butts - Spanking Online - Realspankings - Firm Hand Spanking - Girl Spanks Girl - Clare Fonda Pass - Punished Brats