STRICTLY ENGLISH
Click here for Website
Photos used to compliment reviews are posted with the permission of Strictly English and may not be posted to any other website without their permission
Amelia Jane Rutherford Vol 2 Part 2

Produced by Strictly English (2007)
Starring
Amelia Jane Rutherford: The Student
"Prof. Ernest Templeton": The Tutor
Running Time 60 minutes (Part 2: 40 minutes)
1st Guest Review by Ronald Scott posted 3/28/08
As the title implies, this feature stars Amelia Jane Rutherford, a new actress on the spanking scene with great potential who has already been featured in spanking videos from Firmhand as well as Dallas Spanks Hard. Described elsewhere on Spreview.net as "destined for major stardom", she is quite cute and quite sexy, especially when she gets frustrated or close to sobbing which this feature gives her ample opportunity to do.
As the video starts, Amelia Jane, playing a student, enters the office of her tutor, Professor Templeton (who previously punished Niki Flynn in an American Brat in London). Unfortunately, her assigned essay is 9 pages short ! He tells her that merits an 18 stroke spanking with a slipper; Amelia is outraged but eventually consents. She strips to a pair of tight white panties which look even better on her than her mini-skirt. After 9 slaps of the slipper he pulls her panties down; then Amelia becomes more agitated after each blow. At the end he gives her 6 more "for good measure" because she is slow in saying "thank you".
He then asks her how it compared with a hand spanking that he had previously given her; she replies that it was "horrible". Next he takes a hand strap and asks her to read aloud the next section of her essay (which is appropriately on spanking). Amelia is still in her panties and luckily for the viewer never gets dressed again. Amelia tries to cheat by changing the written essay and gets 24 strokes of the strap OTK in return. He then continues with his hand until her ass turns red.
Next he gets the essay again and reads it and says it is quite inadequate. She says that spanking will not improve her work; he replies that it has improved her attitude. Next he takes a Scottish tawse; Amelia Jane is frightened by it and says it is "really heavy". He gives her a few light blows and she tenses up in a nicely erotic scene.
The overall effect here is diminished a bit by a slow pace and often dark lighting that obscures Amelia Jane's beautiful face.
Next he decides to cane her and he adds 6 extra strokes because she calls him a liar. He goes to get the canes and tells her to strip naked. After he leaves she holds her painful ass. She is quite angry and unhappy as she removes her blouse (facing the camera) in a sexy scene. When he re-enters the room she begs over and over to let her wear her panties. He says no but later relents which is fine with me because Amelia Jane looks great in tight white panties. After 5 strokes she begins to writhe and kick. After more strokes he pulls the panties back down because she broke position. After 14 strokes she becomes noticeably more desperate and her erotic cries add to the effect. He keeps adding extra strokes for one reason or another.
Near the end of the caning and afterwards there are some great face shots of a disheveled Amelia Jane sobbing. Afterwards he forces her to stand facing the camera with her hands behind her head in another erotic scene and then with her back to the wall.
I give this release 9.25 out of 10 for the sexy beauty of the elegant Amelia Jane; the Professor is also good, especially when he keeps adding strokes which keeps the poor girl in a state of constant tension. Had the lighting been more even so you could see Amelia Jane better, I would have rated it even higher.
Amelia Jane Rutherford Volumes 1 & 2

Strictly English Productions
Starring Amelia Jane Rutherford
Written and Directed by Stephen English
2nd Guest review by Joe Hellguy posted 5/16/08
Amelia Jane Rutherford is the spankee persona of a professional model who specialises in fashion, artistic nude - and fetish. She is also an actress and, like most actresses and models, has also danced. In fact, not dancing would be a waste of her spectacular legs.
Perhaps everybody who would be interested in reading a preview of a spanking DVD already knows what Amelia Jane looks like. I see this as no good reason not to perve over my keyboard about her, so I shall describe her again. She is tall (6'1"), blonde and slender. That is not all. Such a figure might suggest a tight little bottom, but that suggestion is false. AJR has a most spectacularly curving spine, which culminates in two splendidly round, jutting buttocks, which are displayed to perfection in the first three Parts of Volume 1, which concentrate on her first audition for Strictly English. Of that, more later.
But Amelia Jane is not all bottom, by no means. She is also very pretty, with a little elfin face and an easy, engaging smile. Her legs are long and gorgeous and, most notably perhaps to English viewers, speaks with the cut-glass accent of the privately schooled. This young lady is classy in all respects.
Part 4 of Volume 1 and the whole of Volume 2 comprise a feature called 'Amelia Jane & The Tutor'. For those of us of a certain age, this would appear to be in tribute to an early Roue classic, 'Jane and The Tutor'. The tutor in this instance is the very same, and at the same location, as Strictly English has portrayed before in 'American Girl, English Cane' and 'An American Brat in London'. The big surprise here is that our quintessential English rose proves to be the equal of her American cousins in sheer brattiness.
Amelia Jane is a student, of course, studying Fashion Design and Sociology. As she explains to Professor Templeton, she is doing well in Fashion Design, but failing in Sociology. Her friend, Belinda, prospered from the Tutor's private tuition and Amelia Jane is hoping for the same. She has, however, heard some unsettling rumours concerning the Tutor's methods. He explains that his ideas are based on hard work and discipline, in particular corporal punishment. Should her standards fall due to lack of effort or the rigours of self-discipline, she would find herself over his knee for a spanking or even bending for a dose of the cane.
Amelia Jane smiles in relief and blurts out, "Oh dear, I thought you fucked the students." The line is all the more devastating for being so beautifully enunciated. She apologises instantly, but the Tutor tells her, somewhat ominously, that they will forget about it - for the moment.
They make an appointment for a first period of tuition and the Tutor soon advises Amelia Jane that the moment has come and he intends to spank her for her wilful slur on his sexual and professional reputation. "I apologised," Amelia Jane protests, but in vain. Either she goes over his knee or she leaves. "The door," he indicates, "is over there."
Amelia Jane hesitates. She agonises over the quandary. Finally, she starts for the door, walks out into the hallway, then stops by the front door, wracked by indecision. The scene stays just on the right side of being overplayed, as Amelia Jane reluctantly returns and asks what she has to do.
After being informed that wearing jeans is not considered proper academic wear, she is told she must go over the Tutor's knee to be spanked. Clumsily, she obeys and is spanked. When she is at last allowed up, then told to lower her jeans, Amelia Jane protests. A brat never obeys willingly and Amelia Jane resists stoutly each new indignity thrust upon her before finally conceding. As her little red panties ride up into the lovely deep cleft between her buttocks, Amelia Jane receives a bare bottom spanking, but that is no reason for her panties not to come down, so Professor Templeton lowers them, not without protest. Afterwards, the Professor proposes another appointment and sets an essay for Amelia Jane to write - "The motivation, the concentration, the application and the discipline necessary in a good sociologist. It needn't be very long, say ten pages, five thousand words." "I haven't got the time!" Amelia Jane protests, in best brat fashion, but this is brushed aside. On her way out, Amelia Jane slams the door and the reaction of the Professor indicates this is not a matter to be readily forgotten.
Nor is it. She arrives late, dressed in a short kilt, bright white shirt, with a white headband, white ankle socks and bright red high-heeled shoes, explaining she has been playing tennis. This is by no means a good enough excuse. Professor Templeton bids her bend over the sideboard for a brisk spanking on her bright white knickers. "Am I going to be spanked every time I come here?" Amelia Jane demands, petulantly. "You are going to be spanked every time you are late or your work is unsatisfactory," he informs her primly. After this spanking, he announces another one is due. " I have to discuss with you doors and the closing thereof," he tells her before having her over his knee again, this time with knickers down.
Worse, far worse is to come. Professor Templeton asks Amelia Jane if she has brought the essay with her. She hands it to him, a single sheet of paper. "Where's the rest of it?" he asks. "That's all there is," she tells him, "it explains why in it." Professor Templeton mimics her words and hands the paper back, telling her to read it to him. "I'm dyslexic," Amelia Jane almost sneers. "Well, we will have to cure that. Read it," he instructs.
"My motivation is to.." "YOUR motivation," Professor Templeton interrupts. "What do you mean, YOUR motivation. I asked you to write about the motivation of a sociologist. "Well, I am a sociologist." "Oh, you're very far from that, young lady."
We can see quite clearly the direction being taken. Amelia Jane has completely misread her assignment and delivered a diatribe on why she should not be spanked. Moreover, her contribution on motivation includes describing Professor Templeton as being rude, overbearing and wanting to spank her at the slightest excuse. She is told to put her hands back on the sideboard. "You mean for a spanking?" she asks bitterly and then a truly classic exchange:
"You can't spank me for every sentence of this essay," she protests.
"Oh, some of them are good, are they?"
For once silenced, Amelia Jane turns and bends. Strictly English films are not scripted. The actors improvise around a fixed plot and there is some crackling dialogue between the bratty student and the rigorous intellect of the Professor. "You won't like any of it now," she pouts, when she is told to carry on with her reading. "Well," he responds, "we might be surprised." Amelia Jane obviously doubts that. She acquiesces, but fights at each turn the application of the academic rigour that she has failed to apply to her essay.
Amelia Jane's contention is that it is not necessary to take her knickers down and smack her bare bottom, but the Professor takes this as absolute proof of its efficacy. The irresistible force overcomes the reluctant to move object.
At the end of Volume 1, we are left with Amelia Jane ordered to remove her skirt, while Professor Templeton goes to fetch some implements. She has managed to convince the Professor that hand-spanking is not suitable to her situation. To her dismay, his conviction is that something more severe than hand-spanking is required.
Volume 2 is entitled not Amelia Jane and the Tutor Volume 2, but English Rose, English Cane. The tribute to Roue segues into a tribute to Strictly English's own American Girl, English Cane. Amelia Jane is taken via slipper and tawse to the cane. She continues to resist and Professor Templeton continues to overcome her resistance.
You can be in no doubt that Amelia Jane is going to be caned, but the film does not lack dramatic tension. Just as we know that the hero will defeat the baddy, yet can stay gripped in our seats until the final reel, so the struggle between the Professor's quietly-spoken determination and Amelia Jane's loud protests keeps us enthralled. Professor Templeton impresses me as a true dom because he never once raises his voice to Amelia Jane. His is the voice of the sweetest reason, although his demands are thoroughly unreasonable. The tension here is not at all sexual. It is the conflict between an older disciplinarian and a younger brat, determined to defy, but ultimately compliant.
At the conclusion, Amelia Jane sobs. Not the dry sobs of a pretend crying, but real tears, as the mascara runs down her face. She stands in the corner, cupping and fondling her beautifully-round bottom cheeks, the picture of defiance broken. And then, there are out-takes. A mobile phone going off, a cameraman with cramp and then the voice of Suzi Martell asking Amelia Jane if she is okay. Amelia Jane's elfin smile: "Oh, bless you, I'm fine." And then again. And again. And again. Each time, Amelia Jane assures Suzi that she is fine. Amelia Jane shows her acting skills by the way she has such an experienced player as Suzi convinced that she is struggling to cope with the punishment, but then smilingly states she is okay.
Amelia Jane's tears are not for a punishment so severe that she is crying tears of pain, but an emotional release from the tensions of the drama. Mind you, I do think that caning hurt, anyway.
To return to Volume 1 and Amelia Jane's Strictly English audition - we begin with Part 1, Amelia Jane changing for an interview with Richard. She speculates that maybe Richard will not spank her "this time" and we smile at her gauche naivety. She chats happily, if a little nervously, as Suzi Martell films her and asks a question or two and also reassures her that she will be fine. Amelia Jane tells Suzi that it is not quite what she had expected. She had thought it would be just her and the spanker and a cameraman, but there is a whole crew down there, which is a little bit daunting.
Amelia Jane's interview is moved to Part 5, to keep the action moving, and we see her next, briefly, changing for the audition. By now, Amelia Jane realises she really is going to be spanked - and in front of the whole crew, at that. These first two Parts are edited for pace. In less than five minutes, we are given an insight into Amelia Jane's striking personality, before we move to Part 3 and the audition itself.
Lance Armstrong entitled his autobiography 'It's Not About the Bike'. Should Amelia Jane pen 'It's Not About the Bottom' we would see her point. Spanking, indeed, is not all about a young lady's bottom. Her personality and the tension between the players counts for much, too. The audition scenes here, however, seem designed to show off Amelia Jane's bottom. She adopts, or is made to adopt, a variety of different positions. Some girls' bottoms look nicer when they are standing up, others' when they are OTK, others' when they are lying flat, others' when they are bending over. Amelia Jane's bottom looks superb whatever pose she in. The brief interviews with Suzi Martell and the longer interview with Richard show a delightful personality. To see her coyly plucking at the hem of her skirt as she confesses that her boyfriend has spanked her is to watch a consumate actress at work and at play. For fans of Amelia Jane this is a fascinating look at some of her very earliest work on the spanking scene. For fans of spanking drama the full-length feature provides all the tension and thrill you could desire. And then, of course, there is THAT bottom.
3rd Review by Ludwig (first published at Ludwig's Rohrstock-Palast http://rohrstockpalast.blogspot.com) Part 1 posted to SPReview on 10/10/08, Part 2 on 9/25/09.
PART 1
Entire Story In Fewer Words Than Are In This Sentence:
Amelia-Jane gets interviewed, spanked
Victim Appeal:
Miss Rutherford is always spectacular. She has the kind of radiant, springlike beauty that turns everyone's head - men want her, women want to be her, and some women both want her and want to be her (I have a thing for blondes, anyway, so I am certainly no exception on the male side). However, what really makes this flick worth watching is that it not only shows off Amelia-Jane's lovely face, graceful figure and exquisite bottom, but also her equally gorgeous personality. In five numbered segments, the video combines a normal, scripted spanking movie with a look at the casting session that preceded it.
The first two parts show Amelia-Jane getting ready for the casting. She talks about her expectations for the big day, wonders what exactly is going to happen and admits to being quite nervous, "but not in a bad way". Her cheerful enthusiasm and sense of humour are evident from the start. Part three is a screen test including role-play and spanking. Next up is the main feature, a "proper" CP movie called "The Tutor" (to be concluded in "Amelia-Jane Rutherford Vol. 2"). Finally, the fifth and last part consists of a 6 minute interview (which falls chronologically between segments one and two - it was put at the end of the video to get to the action more quickly).

Gratuitous Sadism:
The action is fairly light. There are only hand spankings in this volume of the series, and not excessively hard ones at that. During the screen test, Amelia-Jane is spanked over her panties in three different positions: over the knee, bending over a sofa and kneeling on the sofa. Then she returns to the OTK position to have her bare bottom smacked for the first time. In "The Tutor", a teacher / student scenario, there is a somewhat longer OTK punishment with the old three-part "on the jeans, on the panties, panties down" progression, followed by various mini-spankings in another scene - some on the bare, some on the panties, some OTK, some while she is bending over a desk.
While severity freaks will be disappointed, the video partly makes up for what it lacks in mere physical intensity with good acting and chemistry. There is great interplay between Amelia-Jane and the two male tops, especially with the gentleman in the main segment. He gives a fabulous, quiet but stern performance as the old-fashioned professor. As a result, the action scenes are surprisingly edgy, more than they have any right to be, really.
Best Reactions:
As usual, Miss Rutherford's trademark, indignant "I can't believe I have to put up with this!" reactions are terrific fun to watch, both during and in between the spankings. I particularly loved one loud, insolent "No!" during the screen test, when she is instructed to remove her skirt (it goes without saying that her refusal is in vain).
Best Line:
The banter between Amelia-Jane and her tutor is hilarious throughout, with some wonderful, acerbic repartee from the increasingly irritated professor. Student (after coming late): "I had to play tennis!" Professor: "I suppose tennis is an important part of a sociology degree." Student: "You can't spank me for every sentence in this essay!" Professor: "Oh, some of them are good, are they?" Student: "I thought you meant that I should write about me..." Professor: "'I thought. I thought.' I don't think you thought at all!" Here is the rare case of a non-Lupus spanking movie with a whole series of (intended) laugh-out-loud moments.
However, my favourite line is when the professor calmly states: "If I'm an eccentric, I'm very happy to be one." That's the true spanko spirit right there.
Nice Psychological Touch:
It's always intriguing to get a glimpse into the mind of a professional victim, especially when she is as likeable and smart as Miss Rutherford. Her interviews here, delivered in that impeccable uber-posh accent, show a self-described "thrill-seeking girl". Amelia-Jane's coyness is part real, part playful exaggeration, but always endearing - when she is acting, she does it with a cheerful twinkle in her eye, and even the perennial skeptic in me finds himself willingly enchanted by her spell.
Of course, I also liked the "semi-consensual" character of the scripted scenario, always a turn on for me. Neither official rules nor blackmail force the student to submit to the "traditional views" (read: corporal punishment) of her tutor. She goes along in an effort to improve her grades, reluctantly and with a lot of defiance, but always out of her own initiative. There is a beautiful scene when the time for her first spanking has come and she is getting second thoughts: "I'm terribly sorry, I don't think I can...!" The professor sends her away, noting that it's a free country and she can leave anytime she wants. She hesitates, walks out of his office, hesitates again, wrestles with herself, then goes back in with a resigned shrug.
How Good Is It Really?
Very good indeed. The technical quality of the production is decent, but not exceptional, and the relatively tame action is arguably the weakest part (they step it up a gear in the next installment). In all other aspects, though, "Amelia-Jane Rutherford Vol. 1" is a classic. The girl is adorable, the chemistry between the players is superb and Professor Templeton adds a healthy dose of dry British humour. It's hard to decide which is better, the documentary or the scripted part. "The Tutor" is a spanking movie well worth seeing in itself. Add the interviews, and you have quite a memorable package.
What You Learned:
When I first met Amelia-Jane, I asked her about the origin of her modelling name. Hey, I'm German and therefore unfamiliar with British children's books! She told me about the "naughty Amelia Jane" character, and while writing this review I did a bit more research. So, it's from the work of Enid Blyton, huh? Didn't Leia-Ann Woods also mention that author when I interviewed her? It seems like Miss Blyton is responsible for sowing a lot of good seeds...
PART 2
Entire Story In Fewer Words Than Are In This Sentence:
Amelia-Jane gets interviewed, caned
Victim Appeal:
Naughty Amelia-Jane is not only one of the most majestically beautiful models in the spanking video industry (some people would say the most majestically beautiful), but also one of the loveliest in terms of presence and demeanour. In my review of Vol. 1 of this series, I wrote: "Men want her, women want to be her, and some women both want her and want to be her." Can't really put it any better than that. Here, her adventures with Strictly English continue. We get more interview and audition scene material, and the conclusion of the "Amelia-Jane & The Tutor" movie with the magnificent Professor Templeton. Also, we get to see Miss Rutherford caned this time. Yay! Volume 2 really is a continuation rather than a sequel, and the two movies are best watched back-to-back.
Gratuitous Sadism:
The video opens with another short interview, or to be more precise, the continuation of the interview we saw in Vol. 1. After the first part of her audition / screen test, Amelia-Jane is changing clothes, combing her hair etc. before the second little spanking scene. They are talking about how the first session went and what her thoughts about the upcoming one are. It's another great little segment to watch, both enlightening and funny. In regards to the second screen test, Ameila-Jane quips "Bring it on, really!", but she's a bit more nervous about this one in terms of acting, because now, she has to be asking for the spanking, basically - being a naughty girl and seducing the top until he bends her over. It's the kind of character Amelia-Jane enjoys, but also more of a challenge.
So, next up, there is Amelia-Jane in sexy dress, flaunting herself on the sofa, sipping on a glass of wine and bantering cheekily with the male top (father figure, husband figure, not sure what he is supposed to be here, exactly...), while he is sitting in his chair with the Business News and pretending not to be interested ("I'm trying to read the newspaper!"). Needless to say, though, he's had enough after a short while ("Alright, that's it!") and a series of hand spankings over Amelia-Jane's red panties ensues. First over the knee, then while she is bending over the sofa, and finally in a rather unorthodox position - the top sitting in his chair, Amelia-Jane with her hands on the floor and kneeling on his lap. Interesting, I'll have to try that one sometime. After he spanks her into being a good girl again, she goes back to the sofa puppy-dog eyed and contentedly whimpers: "Thank you very much...!" It's a nice little scene, a little over ten minutes, with the spankings a tad harder than during the first audition. It closes with a few behind-the-scenes shots, with the participants having a good time and talking about how it went.
The larger part of Vol. 2 (around 45 minutes) is taken up by the second half of the "Amelia-Jane & The Tutor" spanking movie. In a nutshell, she plays a sociology student who wants to improve her grades with the help of a well-respected, but shall we say, somewhat eccentric professor (he has some pretty "traditional" ideas about discipline, you see). Carrying over from Vol. 1, they continue to read an essay she has written. In the words of Professor Templeton, it is "a ridiculous piece of work, close to taking the mickey, no effort made whatsoever", and you can imagine the methods he regards as best-suited to improve her work ethic for the future...
While Vol. 1 and the first half of "The Tutor" contained only hand spankings, Miss Rutherford and Strictly English kick the action up a notch or two in this one. As her lesson with Professor Templeton continues, she also encounters the slipper, the strap (he refers to it as a "paddle", but it really looks like a strap to me), a Scottish tawse, and for the grand finale, the cane. She gets around 25 strokes with the last implement - hard to determine the exact number, as there are frequent miscounts, extra strokes, instances of starting over two strokes before, et cetera, in the interaction between the tutor and his student. Also, he uses the occasional preparatory "tap" that might qualify as a stroke in its own right... Let's call it 25 in total, thereabouts.
The number isn't all that important, anyway. This isn't Mood Pictures stuff, it's a video where the story, the characters and the chemistry between the players are the focus of attention. That said, the action is hard enough this time around to be exciting from a sadistic point of view, too. The cane and the other implements leave some nice, moderate marks, and Amelia-Jane is crying and sobbing quite a bit at the end. The video then concludes with a couple of bloopers and outtakes from "The Tutor".
Best Reactions:
The more vocal reactions during the caning, the flinching and howling, are fun to watch, but I really like Amelia-Jane best when she is acting in her petulant "Nooo, you can't do this to me!" princess mode. Few models do it as well as she does, and she does it a lot here!
Best Line:
There are plenty of gems in the banter between Amelia-Jane and Professor Templeton again. Take this one, when he first shows her the slipper and she blurts out: "Are you going to hit me with that?" He, with perfectly dry British wit: "It's a rather crude way of putting it, but yes, it sums up the situation."
However, the line I really liked the best comes from the top during the screen test, when he admonishes Amelia-Jane: "Do not flaunt your naked flesh!" I just love the way he says that.
Nice Psychological Touch:
The chemistry in the tutor and student scenario is superb from start to finish. Watch Vol. 1 and Vol. 2 back-to-back and observe how, after the abounding light-hearted humour in number one, as the two of them meet and the first scenes follow, such exchanges get a little less frequent here and things get a little more "serious", both in character and in the attitude of the players. Professor Templeton, while fully retaining his dry humour, becomes stricter and more intimidating while his student becomes more obedient and progressively less likely to come back with cheeky remarks. The development is well-acted and it's great to follow the mounting tension all the way from the start to the climax / the final caning.
How Good Is It Really?
Like Vol. 1, very good indeed. Amelia-Jane and Strictly English did many more videos together (they are at volume eight now, as far as I know), and I don't think I will review every one of those - I have enough other movies to cover, and you get a good idea of what the whole collaboration looks like from the two reviews so far. Hardcore fans will want to own it all, anyway. As for Vol. 1 and Vol. 2 of the series, though, they really are a must-see not just for viewers who like Miss Rutherford or Strictly English in particular, but for anyone with an interest in spanking videos.
What You Learned:
After "Amelia-Jane & The Tutor" and "An American Brat in London", Professor Ernest Templeton is really becoming one of my favourite tops. The man has wit, authority, class... The only nitpicking complaint I can find is the fact that he may be a brilliant sociologist, but he isn't much of a mathematician - there are a couple of miscounts of strokes from his side. Like during the slippering: "We have now reached the interesting number of nine strokes." Err, no, Mr. Ries, I definitely only counted eight! But hey, as everyone who has seen my "Ludwig's Comeuppance" video knows, we all sometimes have our problems with keeping track...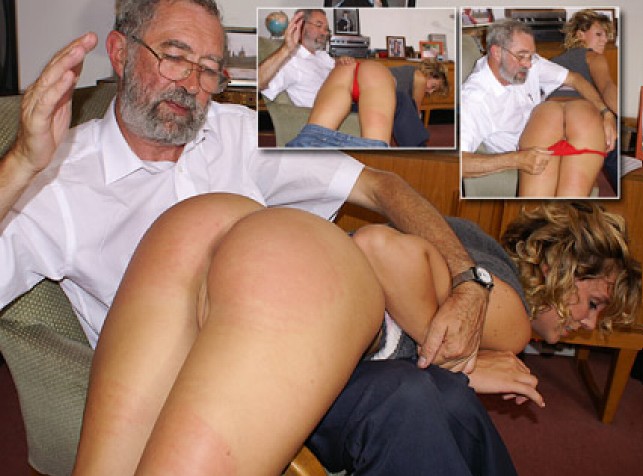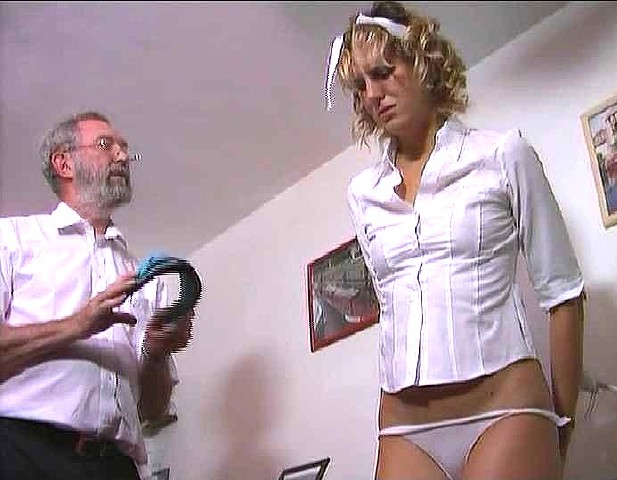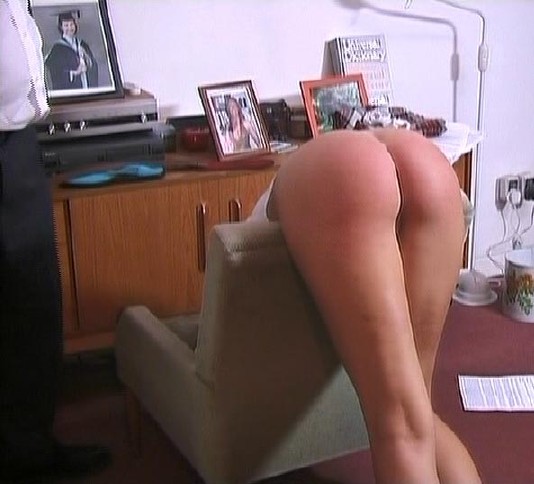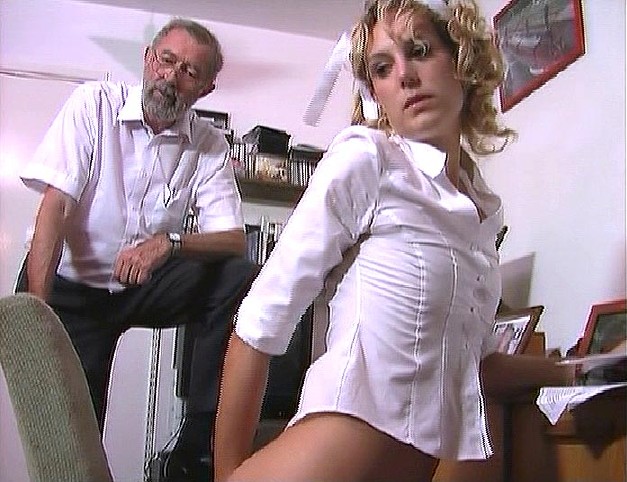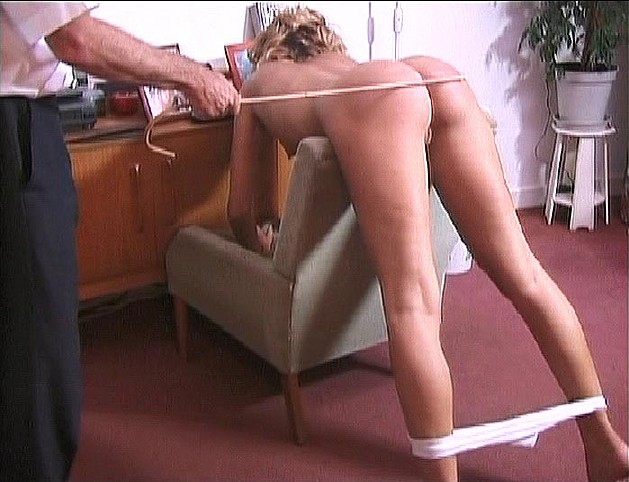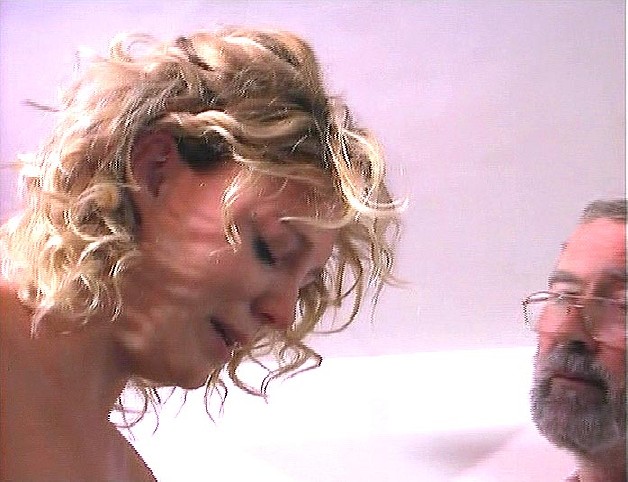 Back to Strictly English Reviews Page
Back to Reviews Page
HOME


Support our Free Achive Spanking Site by joining one of the sites below.

Marked Butts - Spanking Online - Realspankings - Firm Hand Spanking - Girl Spanks Girl - Clare Fonda Pass - Punished Brats