ART OF SPANKING

Directed by Eve Howard
Written by Eve Howard and Brian Tarsis
Starring: Samantha Woodley ( America's Spanking Sweetheart)
Brian Tarsis
Review by David Pierson
'The Art of Spanking' is one of this year's major hits. This production is fun, highly erotic and exceedingly well crafted. This video also features the prodigious talents of America's Spanking Sweetheart, Samantha Woodley and the master of artistic perversity, Brian Tarsis. Is there a bigger star in the constellation of the spanking cinema than Samantha Woodley? I don't think so. This twenty- year- old beauty simply exudes an innocent sexuality. When spanked, Samantha cries, kicks and squirms in a manner most enticing. In this feature, the lovely Miss Woodley is joined by the legendary artist and performer, Brian Tarsis. Mr. Tarsis gives a masterful performance as the aggrieved art instructor with a dark secret.
As the feature opens we learn that the lovely Samantha is an art student of dubious dedication and, perhaps, talent. To improve her standing in art class Miss Woodley is taking personal instruction from her art teacher. Although it quickly becomes apparent that the dark haired beauty has motives ulterior. She was given two fairly simple tasks by her professor and failed to make a serious attempt in carrying out the assignments. Her instructor was infuriated by her lack of seriousness. In his anger the handsome artist exclaimed "Miss Woodley I am so angry with you that I could..." "Spank me?" Samantha sheepishly interrupted. With that the angry artist took the naughty young girl over his lap and fulfilled her wish. He spanked her over her pretty skirt, panties and then bare bottom. As the spanking became more intense, and, perhaps, more severe than she desired, Samantha began to kick and squirm to the rhythms being played upon her bottom by the "master" artist. As he spanked, the instructor informed his student that he was aware that she was intentionally provoking him and that her punishment would only cease once she has admitted to her true motivations. After a long over the knee spanking, Samantha finally admitted that she had been deceitful in her reason for taking the tutorial. She also let it be known that she was aware of the professor's "dark secret". That he was Brian Tarsis, master erotic artist and practioner of the spanking arts. She noted that his spanking art deeply "moved" her (so to speak) and she wanted to know more about the inner workings of such an extraordinary illustrator.
There is an old aphorism that says "Be careful what you wish for as your desire may come true". Such was the case with Samantha in her need to understand the forces that motivated Brian Tarsis.
Mr. Tarsis was quite happy to give the lovely young coed a taste of the dark side. The lovely Samantha learned much more about Mr. Tarsis' motivations than she had bargained for.
Samantha was required to strip down to her lovely under garments. Made to bend over a couch Samantha's lesson begins with a hard strapping across the bottoms of her Victoria's Secrets.
Soon Samantha's bottom was bared and then treated to the full range of Mr. Tarsis's expertise with a variety of implements of chastisement. Her naked bottom was treated to the fire of the tawse and leather paddle.
Perhaps the most severe ordeal that Samantha faced was her over the knee session with the hairbrush. Throughout her punishment with that nasty implement Samantha cried out, kicked and wiggled her bottom in a manner that pleased both her tormentor and us. In the end, the lovely young beauty is left whimpering and much the wiser after having received the "Brian Tarsis experience."
'The Art of Discipline' is an experience in spanking video erotica not to be missed. The script by Eve Howard and Brian Tarsis is cleaver and engaging. The performances by Miss Woodley and Mr. Tarsis were fantastic. Mr. Tarsis showed his prowess as a master of the spanking arts and Miss Woodley reminded us that she is hottest talent is spanking videos today.
For more information on the art of Brian Tarsis go to: www.briantarsis.com.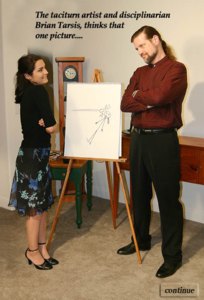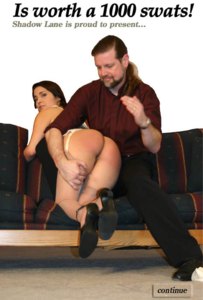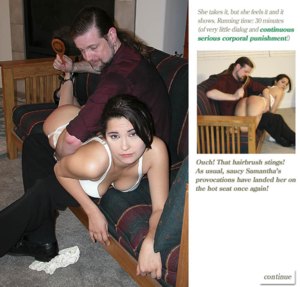 Back to Shadow Lane's Review Page
Back to Reviews Page
HOME


Support our Free Achive Spanking Site by joining one of the sites below.

Marked Butts - Spanking Online - Realspankings - Firm Hand Spanking - Girl Spanks Girl - Clare Fonda Pass - Punished Brats