SPANKING ONLINE'S SPANKING SHOP/SPANKING OUT LOUD
The Beating of Erica Delmare

Starring: Erica Delamare
2M/f
year: 2004
time: 25 minutes
2nd Review by MARS posted 6/4/10
This seems to be in association of production from Moonglow/Spanking Art, brief and to the point. Nice geezer ageplay--an old guy plays Uncle Malcolm and has quite a hold on his niece Erica. She is a young brunette, realistically presented in normal makeup and clothes. She has pinched her uncle's vodka and climbed into a window to come home at 3 AM. She stands before him in shorty pajamas to hear the sentence: "You know what is going to happen to you. You are going to be severely spanked."
Erica is taken OTK on the couch and uncle takes her white panties down immediately for a slow moderate handspanking, closeups of her femininity. She then stands cornered, hands on head--short pj's really help here because they ride up. Because she has been complainng: "Go to the toilet and come back with the chair and the strap."
She kneels on the chair, bendng over the back in high-style CP posing, very sexy, to receive a doubled leather strap, reasonably hard, with inserted slow-motion sequences. Low camera angles up her legs from the floor just improve more. Careful closeups ultimately revealing. She removes the chair and returns with the cane. She bends over, legs locked, and is one of those actresses who can put her palms flat on the floor, which does marvelous things to the buttocks. Excellent camera angles for 30 strokes shown, with repeats--the strokes come in bunches, and she twitches her hairless self erotically.
In a new scene, poor Erica is going to get a dose from another man, for reasons we could not detect. We've seen above she can be a naughty wench. She kneels on her bed, no panties, in just garter belt and stockings and an open blouse with no bra, definitely a costume for entertaining guests.
Right to the cane, 7 strokes, and rhe male spanker keeps encouraging her legs "wider." She moves to hold onto the brass headboard, knees wide, one of our favorite on-the-bed postures, well admired by classic British CP producers. About 15 more strokes, extensive slo-mo replays.
1st Review by Katrina
Erica plays a daughter who has been out drinking all night. She returns via the window at three in the morning and then helped herself to her uncle's liquor cupboard. The following morning when she descends the stairs, dressed in only socks, a pair of knickers, and a shirt (what a perfect spanking outfit) that she finds him waiting for her on the sofa. After explaining that she is to be spanked, and her not wishing to be spanked because she is too old, she did eventually climb over his knees.

With a single motion, he lifts the shirt tail and brings his other hand down on the upturned bottom, still clad in the knickers. This father wastes no time. He does not believe in a warm-up. The slaps are hard and fast from the very start. And, over a "cold bottom", a fast and hard spanking brings a new meaning in pain. To make things worse, after about a dozen slaps, he pulls down the knickers to below the bottom and starts in again. This time there is only bare skin. As to be expected, in short order her bottom is quite red along the narrow band where his hand was striking. Erica's can only clench her hands, grimace, and say single word sentences, usually "Ow".

In a few moments, his hand must be starting to hurt as he slows down the pace and starts to hit a bit harder. Eventually, he totally removes the knickers. Erica still wants the knickers in place. They weren't doing her bottom any good where they were. At that time, we are treated to an up-the-legs shot, centering on her redden bottom and female charms. This continues for a few minutes more and then she is sent to the corner for a little quality time. The spanking is not over. It has just started.

While she is waiting in the corner, she complains that she needs to use the toilet. Ok, he does not want a wet mess so he sends her to the toilet, but she is to also retrieve a chair and the strap before she returns. She positions the chair in front of the sofa and leans over its back, hands on the sofa. Her uncle starts to wield the strap with gusto on her bottom. Again, this man is not one for a warm-up. He goes after her with full force on what had returned to a white bottom. The bottom does not remain white much longer. It starts to show the marks of a heavy strap; those nice red wide lines that eventually turn into welts. Erica's reaction is to simply issue a small cry with every blow but otherwise remain calm. A bit of rubbing, and he finally says "it is nicely prepared for the cane". He had decided that she is also to receive "six with the cane".

She is sent to fetch the cane. When she returns, she touches her tows. He delivers, with several replays, six or more strokes of the cane. The strokes are full force, leaving nice red welts on her bottom. Some of the camera shots are close up, shot from the ground up.

Delamare Beaten Again

This video segment starts with Erica being positioned, on all fours, on the bed. He is holding a straight heavy cane. After a few good slaps of his hand to her bottom, he starts to use the cane on her bottom. The blows are enough for her to jump forward in reaction to the stroke. Unfortunately, her shirt had fallen over her head. It is as if this was just a bottom being caned, not a woman. After a few strokes, she kneels straight up and grabs the headboard. The caning continues. By now, her bottom has white marks where the cane landed. This is not a small nursery cane. This is a serious cane, a heavy one. It is doing a job to her bottom. Yet, the only thing that she can say is just "Ow."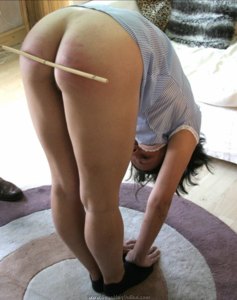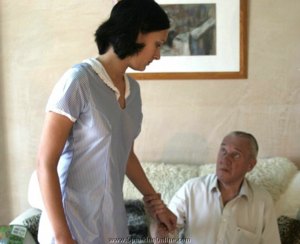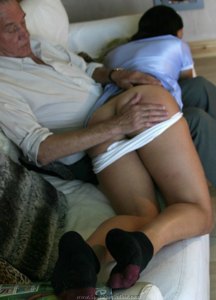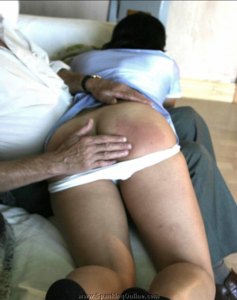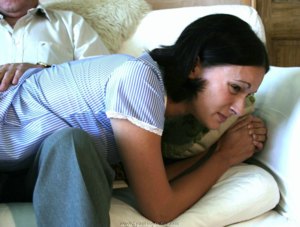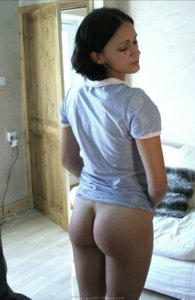 Back to Spanking Online's Video Review Page
Back to Reviews Page
HOME


Support our Free Achive Spanking Site by joining one of the sites below.

Marked Butts - Spanking Online - Realspankings - Firm Hand Spanking - Girl Spanks Girl - Clare Fonda Pass - Punished Brats