Photos used to compliment reviews are posted with the permission of Amateur Spankings and may not be posted to any other website without their permission
BEST OF EMILY

Produced by: G & D Productions
Staring: Emily
Review by: David Pierson
A few months ago I was introduced to the lovely Emily in Amateur Spankings production of " Emily's Belt Bruising." This production was wildly successful for this company from the Long Horn State. If Amateur Spankings continues to use Emily in their productions they will undoubtedly have to change the name of their company. It is clear that Emily had lost her amateur status some time ago. She is one of the best submissives in the business. Emily is a treat to behold. She has a cute face, soft blonde hair and the loveliest round bottom. She also has an amazing capacity for absorbing the severest of spankings. This production of " The Best of Emily" features three different scenarios in which our heroine absorbs the most intense of spanking punishments. This video is shot in the usual DIY (do it yourself) style employed in the amateur spanking genre. Just a camera on a tripod, the spanker and our Emily.

Scene one: As the production opens we see Emily sitting on a couch next to a nearly empty bottle of scotch. As the camera slowly pans between Emily and the nearly empty bottle of hooch, we hear a male voice call out towards Emily. "Haven't I warned you about your drinking before?" the man scolded. As usual, Emily's tormentor remains off camera. The camera gives us his perspective. Emily's disciplinarian makes her bend over the armrest of the couch upon which she had been sitting and begins to strike her bottom with a belt across her skirt-covered bottom. After several hard strikes of the belt, Emily is required to pull up her skirt and her strapping continues over her bottom that was now shielded with the filmiest of pink panties. Soon Emily is forced to remove her pink panties and her punishment and humiliation begin in earnest. Bent over the couches armrest Emily's charms are on full display. With each blow delivered, Emily's bottom jumps in the most erotic manner. In a very short time, Emily's bottom is reddened with welts from her belt spanking. Suddenly, Emily's off screen tormentor instructs her to spread her buttocks and expose her anus. After complying with this command, Emily receives a spanking over this most sensitive of areas. Then, Emily's tormentor inserts his fingers deeply into her exposed and clean- pussy. Then her inserts a finger into her anus. After concluding his humiliation of Emily, she is given several more hard whacks with the belt before her punishment session is ended.

Scene Two: In the second act of this production we see Emily being confronted by her off screen tormentor. Emily is dressed in blue jeans, a white shirt and a baseball cap. It seems that Emily is in trouble this time for reading the mail of her neighbor. Emily is forced to pay the price for her misdeed by taking a very hard paddling. She is made to bend over and touch her knees. Emily's punisher warms her bottom with several hard whacks of the paddle across the bottom of her tightly fitting jeans. Emily cries out in pain after each blow of the paddle is struck. After a few minutes of this, Emily is required to remover her jeans. The rest of her chastisement is delivered over her panties. After her punishment was completed, Emily was made to lower her panties and stand with her nose to the wall.

Scene Three: In the final act of this terrific video production we find Emily once again in an intoxicated state. Emily finds herself being scolded by the off screen disciplinarian for being drunk. As punishment, Emily receives an intense session with the hairbrush on her naked bottom. With each blow of the brush, Emily's bottom jumps as she cries out in pain. She pleads for mercy, but receives none. Emily naked posterior is beaten until it is a bright red. After the hairbrush punishment is concluded Emily's tormentor penetrates her vagina and anus with his fingers. After completing this humiliation, Emily is given several sharp blows from the punisher's hand. Emily tearfully promises not to drink to excess again.

I highly recommend this video to all fans of hot spanking action. The spankings are intense and Emily couldn't have been lovelier.

In preparing to write the review I had the opportunity to discuss this video with Emily. She noted that she appreciates the minimalist film making style employed by G&D productions. She likes the manner in which the punisher is kept off camera. This allows the viewers to experience the video as if they were the ones spanking her.
We should all be so lucky.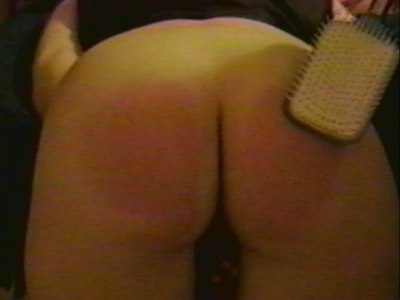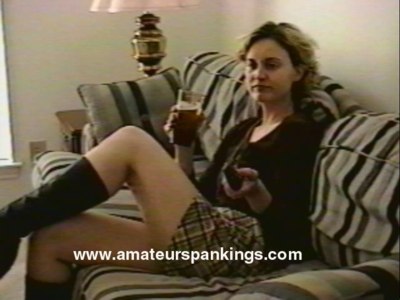 Bonus Feature
David Pierson Interviews Emily
A few months ago we were introduced to Emily in Amateur Spankings production of " Emily's Belt Bruising." This video featured the beautiful Emily taking one of the hardest belt spankings ever filmed. Fan reaction to this video was nothing short of spectacular. Emily is something of a contradiction. On one hand she is a person of refined taste. She is an aficionado of classical music and jazz. She is particularly enamored with the music of Ludwig Von Beethoven, Puccini operas and Billie Holiday. She is also a lover of art films. On the other hand Emily is a fan of contact sports. " If you don't break a rib, loose teeth or an ear, it's not a sport in my book", Emily told me in our pre-interview. Emily regards herself as a switch-hitter, to use a sports metaphor. She likes to give and receive spankings. She may be from Kansas but our Emily is no Dorothy Gale.
David: Hi Emily. Thank you so much for agreeing to this interview.
Emily: It's my pleasure.
David: Your two videos for Amateur spankings have proven to be very successful. Were you prepared for the response that you received from the public?
Emily: It was much greater than I would have suspected. My friend, Renee is the one who told me about this opportunity, and I didn't think that I would have nearly this large an audience, or request for repeat.
David: I always feel that I need to ask this. Do you remember when you first found yourself turned on by spanking?
Emily: I was a late bloomer, in that aspect. My mother was the disciplinarian in our household, so spankings brought more a sense of fear than sexual excitement, the only time I had ever thought of spankings as anything other than that was while working with Amateur Spankings. Having a strict feminine role model as I was growing up allows me to have that ability to play the switch, meaning that I can be submissive or turn the tables and be the dominant participant...I can give as well as I receive! (Both laugh)
David: Is there a spanking scene in Texas?
Emily: I am relatively new to Dallas, and was not into the scene when I lived in Houston, so I couldn't really answer that. I'm originally a Kansas girl, and have lived a few years in Tulsa, Oklahoma as well.
David: From our pre-interview I know a few things about you. I know that you are originally from Kansas. You love classical music, especially the music of Ludwig Von Beethoven and Puccini. You're a Billie Holiday fan and you love art movies. Let me ask you this; How does a young woman of such refined tastes end up as a star of spanking videos?
Emily: It did seem like quite the odd choice at first, but my good friend Renee knew that I was having trouble with my car and needed help getting funds together, and because I knew about her participation in prior videos and was okay with it, she introduced me to these guys and it turns out it was a good deal all around.
David: What do you think differentiates an Amateur Spanking production from other companies? I know that you have definite ideas about the relationship of the viewer and the camera perspective used in the shooting of your videos.
Emily: Most of the girls in their videos are the nice, clean girl-next-door type and do not have an overly professional or hard look to them. They also make sure that the interviewer and spanker is not really seen, just his hand. I think that that allows the viewer to put himself in the spanker position and lets him or her be more of a participant. The company is also great at customer service and also making custom videos for those who are interested in a certain scenario. In that, they have set themselves apart from the others.
David: Will you be making more videos for G & D productions? I know that your fans hope so.
Emily: I am sure that there is something I have done that they can think of to use as more material!
David: Thank again for talking with me about your work.
Emily: You're welcome.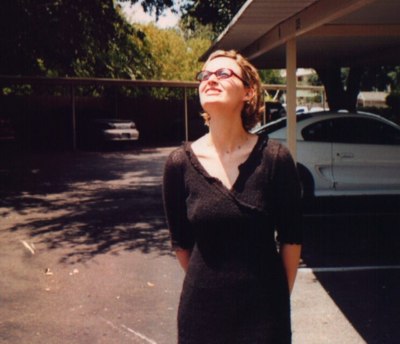 Back to Amateur Spankings Reviews
Back to Reviews Page
HOME


Support our Free Achive Spanking Site by joining one of the sites below.

Marked Butts - Spanking Online - Realspankings - Firm Hand Spanking - Girl Spanks Girl - Clare Fonda Pass - Punished Brats