Birchington Manor: Episode one

Directed by Stephen English
Written and conceived by Suzi Martell
Starring: Suzi Martell as Lisa
Sam Johnson as Sophie
"Leslie" as Kate
James Edwards as Mr. Edwards (Big Stretch there)
Arthur Putty as Arthur
Review by Dorothy Parker-Posey
Before I start my review I must tell you a little story in confidence. Please don't tell anyone. When my husband, David, told me last week that he was starting to review the 'Birchinton Manor Saga' I was thrilled. These videos hold a special place in my heart. They touch me deeply. Actually they make me touch myself deeply. So the other night I was reading over David's shoulder as he wrote the review of ' Birchington Manor'. I could scarcely believe my eyes as I read the nonsense that he was writing. (He's a deconstructionist at heart) When he got to the part in his review in which he wrote "All Strictly English productions occur within the post-modern context" I hit the roof. I said "Hey Mr. Egghead, what the hell are you doing!? Post-Modern context? Listen buddy you are missing the point. This video is a total turn on. You make it sound like one of your damn Cognitive Therapy seminars. Let me write this review.. okay?"
David, being the wonderful man that he is, agreed to let me write this review. Of course I am writing this standing up...I hate that damn hairbrush! (Guess I had it coming)
'Birchington Manor' is a delightfully perverse tale about life on an old English estate in which the female staff are subject to spankings when they fail to perform their tasks to the satisfaction of Mr. Edwards, the estate manager. As this wonderful story of delicious depravity begins, Lord Birchinton is away and the staff is taking full advantage of the deviant aristocrat's absence. Please don't take that as a pejorative, I like deviant aristocrats. In the absence of his Lordship, it is up to handsome Mr. Edwards to maintain order. (He looks a bit like Robson Green .) It was up to this poor man to spank the young girls under his charge. Hey, it's a tough job but somebody had to do it. (Wouldn't be much of a spanking video if he just gave them a stern talking to now would it?)
The first to feel the firm hand of the handsome Mr. Edwards is Sophie the sexy stable girl. Sophie (played by the gorgeous Sam Johnson) was caught smoking in the stable area. Taking the little blonde firebug by the arm, Mr. Edwards marched Sophie across the courtyard and took her to the gate of the nearby corral. Sophie was clearly disconcerted by the public way in which she was to be punished. The naughty, but ever so sexy Sophie was made to climb a few rungs of the gate and bend over. In the open courtyard, the beautiful blonde's bottom was reddened. This scene is quite hot, let me tell you. It's making me wet just thinking about it. Being spanked in public is a major fantasy of mine. After being properly chastised poor Sophie was made to remain on display, bent over the gate. Taking a special interest in the spanking activity was Arthur the lascivious groundskeeper. He watched with keen attentiveness as poor Sophie's bottom jumped and jiggled to the rhythms of Mr. Edwards's deft hands. I think that Arthur may have been a bit of a pervert. Feigning concern for the object of his lust, he took Sophie from her perch on the gate and brought her into the barn. He took her over his knee and applied a soothing cream to her hot, naked bottom. Then he'd spank her and then apply more cream. Once Arthur was satisfied, so to speak, he once again placed the little bird with the naked red bottom back on her perch on the gate.
Having dealt with the naughty stable girl, Mr. Edwards was on to deal with Kate the maid. Now you knew that there would be a spanking of a maid, didn't you? Kate was spanked over Mr. Edwards' knee on a bench outside on the lovely grounds of Birchington Manor. Her plaintive cries drew the attention of Arthur. After having the pleasure of watching Mr. Edwards ply his trade to Kate's naked bottom, Arthur the perverted groundskeeper once again got into the act following the maid's chastisement. Taking Kate over his knee he applied a soothing cream to her sore bottom and then he'd spank her. I did mention my belief that Arthur was a pervert?
This production ends in a flurry of spankings, canings and birchings for all of the pretty working girls of the manor . This spanking inferno (all apologies to the producers of Coupling) was initiated by Lisa (Suzi Martell), Lord Birchington's personal secretary, who discovered that Sophie and Kate had gotten into his lordships liquor closet. Lisa decided to take matters into her own hands and she gave the girls a taste of the cane upon their luscious bottoms. As she was punishing sexy Sophie and Kate, Mr. Edwards discovered Lisa's unauthorized spanking party and he was not at all pleased...or so he said. Lisa explained that she was punishing the naughty girls for their drinking his Lordships sprits. Mr. Edwards fumed that it was not her place to take such action and Lisa would now be spanked along with Sophie and Kate. Mr. Edwards gave each girl a severe, over the knee spanking upon their naked bottoms. I found Lisa's spanking to be intensely erotic. She was wearing a pair of form fitting riding pants and boots. Her pants were lowered and the chastisement of Lisa was initiated. As Mr. Edwards hands set Lisa's lovely, naked bottom afire, the camera did not neglect to register the discomfort expressed upon her face. ( Let me tell you that Suzi Martell gives great face) .
After the spankings were completed Mr. Edwards gave Sophie and Kate an intense session with a cane and a small birch. It was so sexy the way each girl's bottom jumped when stuck with the birch. ( I must give the birch a try sometime) A special fate awaited the lovely Lisa. As harsh as Sophie and Kate's punishments were, they paled when compared to the punishment that Lisa was to endure.
Lisa was made to place her hands upon a small table and to bend. Mr. Edwards let lose full bore with each stroke of the cane. It was amazing that the poor girl could hold her position. Then the nasty manager of his Lordship's estate showed his most sadistic side and applied a very thick birch to Lisa's bottom. When beaten with this nasty implement the lovely Lisa jumped and stamped her feet to try and lesson the pain from her bottom.
'Birchington Manor' is such a wonderful video. It is well made, populated with attractive performers and it will not fail to stimulate you in a sexual way. So ladies, if you plan on watching this video have plenty of batteries on hand. My vibrator and I have a very special relationship and this video put it to the test. This video turned me on so much that I nearly wore out my industrial strength clitoral stimulator. Now for the gentlemen...oh you guys know what to do.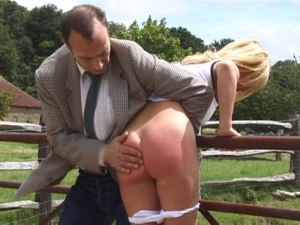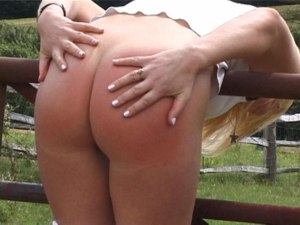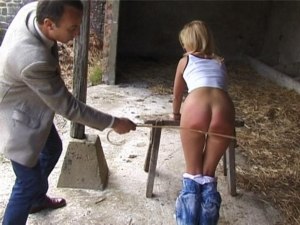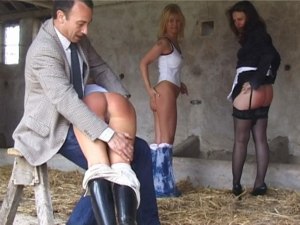 2nd Review Posted on 3/13/09
Strictly English
2M2F/3f
Time: 60 minutes
year: 2001
Guest Review by MARS
This movie has been reviewed in detail by our Webmaster; we'd like to complement the discussion on what entertained us, which turned out to be virtually all of it.
An authentic country estate--stables, farmyard, panting dog, open blue sky. Pretty working cowgirls get spanked, birched, and caned for various infractions. Mr. Edwards manages the Manor, and in the absence of Lord Birchington, seizes the opportunity to discipline the girls for whatever reason he can conjure. The Strictly English website lists 17 spanking segments.
Handyman Arthur tips him off--Edwards catches blonde Sophie copping a smoke in the barn. "It's time to put my foot down. You know what that means." She knows. "Oh, no, Mr. Edwards." She is dragged into the sunlight and knows to climb a gate and lean over, bottom high, in position. Edwards spanks, then pulls her jeans and white panties down. A lovely glowing bottom radiates in the sun. Closeups and distant shots. Voyeuristic handyman Arthur bides his time, watching from the shadows. Edwards leaves Sophie to remain in position, half naked, in public for "10 minutes to think about it." Arthur pounces and takes her into what clearly is his woodshed, puts cream on her bare bottom--long, erotic, and elegantly filmed, and gives her "a little bit more spanking," suggesting he might tell Edwards more of what he has seen her doing around the barns. He is higher on the farm pecking order than Sophie, who seems sanguine and hasn't much choice about exposing herself to him, front and back, and allowing his hands to reconnoiter. She resumes her bare bottom fence position. Edwards returns and releases her.
Arthur next rats on a maid, Kate, who likes to make calls overseas on the Manor phone, so Edwards drags her out of the house for her spanking. OTK on a shady bench for her, maid's-skirt up, panties down. Firm handspanking. She must stand alone under a tree, bare bottom, public again, hands on head. Arthur poaches--she too goes to the woodshed, gets the cream, and a touch-up job on the spanking she just received; very sweet. Kate is a little less willing to allow Arthur his lascivious privileges.
Edwards asks Arthur if the Manor secretary Lisa is "doing anything wrong." He seeks to spank any female bottom he can capture. Arthur displays a box of liquor Sophie and Kate have filched from the house supply. Willowy blonde Lisa joins the conversation and goes off seaching for the two miscreants. She likes to spank too. Lisa frolics in the empty Manor during her search. A lovely closeup of her bottom in tight riding britches sliding on the Manor bannister. Shapely bottoms on mansion bannisters have made some entertaining views over the years.
Lisa finds and confronts the girls about nipping at the Manor wine supply. "Please don't tell Mr. Edwards." That's easy. Lisa gets a stash of birches and a riding crop and Sophie is first to bend over a sawhorse in the barn and is cropped on white panties. Then, "Oh, no, not on the bare bottom." Kate must watch. It seems everyone on the estate has access to these girls' bottoms, without dispute. Lisa uses birches--just two strokes, and there is a decided hushed wince.
It's Kate's turn for the crop. "Knickers down. You know the rules." Sophie looks on half nude, in the frame. Lisa has a cane. The girls lean on alternate sides of the sawhorse, glorious bare bottoms, for sets of strokes, totalling about 10 each, counted aloud British style. Moderate, but impressive; some tears are furtively wiped away.
Edwards strikes again. "What the hell is going on here?" The three girls blame each other. "I'm going to deal with all three of you." Seems fair. Edwards first spanks then canes Sophie, and next Kate. Secretary Lisa gets a tongue lashing, before "Get those britches down. You're going to get double what they got." Edwards concludes with Lisa, on her small, tight bottom, with a bundle of birches soaked in brine, which seems to have hurt more than anyone intended.
Three bare bottoms lined up in the sunlight for 10 minutes of contemplation. Tease for "Birchington 2": a very nubile and insouciant new employee Billy Jo reports late, sees the bare bottoms on parade, and is marched to the fence rail in the first minutes of her work.
We've written too long here. It is our first Strictly English. Every detail admired. Lot of references to the CalStar library and British corporal punishment genre, we thought, with enhanced, first-class production; closeups; multiple bottoms on-camera; count-em out strokes; bare bottoms in bright farm sunlight; take-a-spanking-or-I-report-you; oh-no-not-on the-bare; bend-overs; liniment; inquiring fingers; frontal nudity; males in control, females with pants down. We move now to Birchington 2.