SHADOW LANE

Click banner for Shadow Lane's Website
Photos used to compliment reviews are posted with the permission of Shadow Lane and may not be posted to any other website without their permission
BROTHER'S ADVICE

M/F reviewed by DP
A Brother's Advice
A Shadow Lane Production
Shadowlane.com

Written and directed by: Eve Howard
Produced by: Tony Elka
Date of Production: September 30, 2001
Featuring: Angie Sunshine AKA Angel
Trish Morrow AKA Trisha Monroe
Gino Colletti
Harrison Dell
Reviewed by: David Pierson

Over the past decade two companies have come to represent the best in spanking video erotica. Of course I am referring to Shadow Lane Productions and Pacific Force Incorporated. In my opinion these companies have produced the best two spanking videos of the year. Shadow Lane with its production of "A Brother's Advice" and Pacific Force for the video " Spanked In Front Of The Class". With both companies you know that the real star of any of their productions is, in reality, the creative women who run their respective companies. With regard to a Pacific Force video, it is clear that it is Mistress Jacqueline who controls the action. She is the star. She controls the action from her point of view as a dominant. In other words, she delivers and others receive. On the other hand, the Shadow Lane style of production takes the opposite approach. The protagonist of a Shadow Lane video is usually the young lady on the receiving end. The person in the submissive position is really the person who controls the action. In Dom / Sub circles this is known as " topping from below". It is clear that Ms. Howard has been topping from below for some time. While she rarely ventures before the camera any longer, Eve Howard is the star of her videos. All of the young women who perform in a Shadow Lane Production are all stand-ins for Ms. Howard. As I noted before, I feel that "A Brother's Advice" is one of the best videos to come our way in a long time. The video is well made and very erotic. The video features two spanking scenarios that have been explored in Shadow Lane productions in the past. The first features a spoiled young woman in need of correction, while the second is a loving couples' exploration of spanking fantasies. One of the key ingredients to the success of this video is the superb cast selected by the Shadow Lane creative team. The selection of Angie Sunshine to play the role of the brat was a stoke of genius (those of us who follow such things recognize Angie Sunshine as Angel from a variety of Pacific Force Productions). While the role of the brat in need of a good spanking has been done by Shadow Lane many times in the past, rarely have I seen it done so well. In this superb video production, Angie is an insuperable brat who throws temper tantrums whenever she doesn't get her way. Gino, her boyfriend, is thoroughly frustrated with Angie's antics and discusses the problem with her brother, Harrison. Harrison informs Gino that Angie had often behaved this way in the past and that a good spanking proved to be the best way to ameliorate the problem (whew!, are you with me so far?). One night Gino and Angie are playing a game of Trivial Pursuits with Harrison and his girlfriend, Trish. During the game Angie becomes frustrated and knocks the game board off of the table. With this, acting on Harrison's advice, Gino pulls Angie across his lap and proceeds to spank this misbehaving young woman in front of Harrison and Trish. While Angie is humiliated it gradually becomes clear that Trish and Harrison are getting turned on. After a sound punishment spanking from her lover, Angie is made to apologize to Harrison and Trish. Later we are transported to the home of Harrison and Trish. They are discussing what they had witnessed. Trish admits to being very aroused by the spanking that Angie had suffered and that she has spanking fantasies of her own. Harrison accommodates his lover with a hand spanking, a taste of the hairbrush and finally the belt. I must say that it was good to see Trish Morrow getting a turn at a different form of spanking. Fans of Pacific Force will recognize Trish as Trisha Monroe from the Pacific Force videos " Discipline Down On The Farm" and " Spanked In Front Of The Class". Trish or Trisha clearly has a very high tolerance for pain and is usually subjected to the harshest of spankings. It was nice to see Trish in a more overtly erotic role and being given the chance to explore spanking as a sensual experience. In preparation for writing this review I spoke to both Eve Howard and Tony Elka to gain some insights into the making of this terrific video. I told them how much I enjoyed Angie Sunshine or Angel in the lead role in the video (Eve's stand-in). I noted that Angie made the video very authentic. Through her beauty and fashion sense one could easily believe that a creature of such loveliness would be accustomed to being treated with much deference by those around her. From what I learned from Eve and Tony, there was more than a little irony intended in the appellation " Angie Sunshine". I learned that Angie / Angel had very specific ideas on how her character was to look and act. Much of this was contrary to what Eve had planned. Eve, as the director and writer of her pieces, noted that she selects the wardrobe for the casts of her videos. Apparently Angie would have none of this. In the video, Angie / Angel is dressed in a black cashmere, turtleneck sweater and a short plaid skirt. Mr. Elka noted that, while this was indeed a very attractive look, it made lighting the actress quite difficult, especially as she is an extremely fair skinned young lady. Angie also had some ideas as to how the character was to be played that was somewhat different from Eve's concept. I feel that Eve Howard deserves a lot of credit for allowing for the give and take between the performer and director that produced this extraordinary video. Ms. Sunshine got to dress as she wanted. Both Eve and Tony believe that Angie's sense of fashion led to a sense of authenticity regarding the " Angie" character and making " A Brother's Advice" a terrific video. I couldn't agree more. Both Eve and Tony informed me that they actually like it when a performer brings so much enthusiasm to a role (no matter how exasperating). Hey, what do you know, Eve topped from below once again.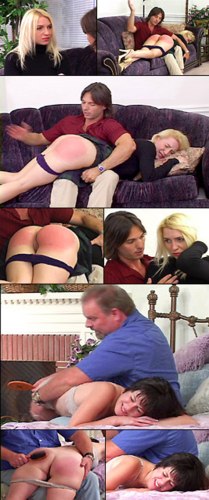 Back to Shadow Lane's Review Page
Back to Reviews Page
HOME


Support our Free Achive Spanking Site by joining one of the sites below.

Marked Butts - Spanking Online - Realspankings - Firm Hand Spanking - Girl Spanks Girl - Clare Fonda Pass - Punished Brats