BROOK'S APPLICATIONS
FEMALE SUBMISSIVE

Photos used to enhance reviews are provided by Brook's Application's and may not be posted to any other website with out their permission.
Caned And Paddled Schoolgirls

Written, Directed and Produced By: Jennifer Brooks
Featuring: Gabriella Jeanine
Rebecca DeCharme
Sir Nik
Reviewed By: Aldus W. Huckster
Running time: 60 minutes
"Caned and Paddled Schoolgirls" is an excellent video done in the naughty schoolgirl genre. In this wonderful production we are presented with the plausible story line of two schoolgirls, played by Gabriella Jeanine (whose prior credits include Shadow Lane's production of " Talk To The Hand") and Rebecca DeCharme (who appeared in Pacific Force's " Spanked Within an Inch or her Life), who have committed several serious offenses (smoking, shop lifting and lying among other infractions) that have come to the attention of the school authorities. For their many crimes, Gabriella and Rebecca are required to report to the school's headmaster, as played by Sir Nik.
After a perfunctory scolding the punishment sessions begin. Both of these exceedingly attractive young women are subjected to several hard spankings during the course of the video. Sir Nik initially chastises these naughty girls with an over the knee spanking that begins over their school uniforms. Sir Nik eventually lifts their skirts and exposing their panties and then bare bottoms to his punishing hand. As the video progresses, and the girls commit ever more serious offenses, we are transported from scene to scene in which the punishments grow progressively more severe. Gabriella and Rebecca are subjected to bare bottom strappings, several paddlings and a most unusual form of caning. Sir Nik is adept in applying two canes to a naughty young bottom simultaneously. It is his claim to fame. In the end both girls are left kneeling in the corner of the room, hands upon their heads with their exposed bottoms glowing a crimson red.
The video itself is shot in a very straightforward manner. The environment in which the video was shot was not cluttered with unnecessary props or furniture. The austere environment added to the sense of edginess that makes this video such a creative success.
Another aspect of the video that makes production so enjoyable for the viewer is the lack of excessive dialogue. In other words, we get right to the action that we anticipated when we purchased to video.
The cast was a real treat to watch. Gabriella may be the most beautiful woman working in spanking videos today. She has an exquisite body, lovely tattoos and an exotic hair style. It's both retro and post-modern at the same time. Sir Nik and Rebecca are a couple in real life and they had shared a glimpse of their life together in Pacific Force's " Spanked Within An Inch of Her Life". Nik is edgy and Rebecca is attractive. This was Rebecca's first professional outing and I look forward to seeing more of her in the future. (If you know what I mean.)
From the standpoint of production values, the video is super clean. There is no color bleeding, no noise lines or anything to distract from our viewing pleasure. On a scale of 1-10, I give this video a 9 ½.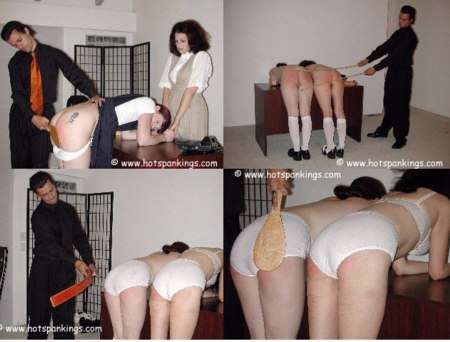 Back to Brook's Applications Female Submissive Reviews Page
Back to Reviews Page
HOME


Support our Free Achive Spanking Site by joining one of the sites below.

Marked Butts - Spanking Online - Realspankings - Firm Hand Spanking - Girl Spanks Girl - Clare Fonda Pass - Punished Brats