SPANKING ONLINE/SPANED OUT LOUD
www.spankingdvd.com
Caned and Shamed

Starring Emma Brewster
year: 2004
time: 33 minutes
M/f
2nd Review by MARS posted 5/21/10
An erotic exercise based on prototypical schoolgirl discipline. A modest looking schoolgirl awaits punishment. Canes hang on the walls. While waiting, she pulls down her pants and checks her bottom and plays with herself without hesitation. A male school official enters and cites her laziness and other transgressions. She begs, but hears: "Sorry is not enough....what did I say was going to happen next time?"

She is taken OTK and handspanked in a steady hard rhythm just below her white panties, producing vivid red patches. Tears are evident even at this stage. The teacher takes her panties down and extends the red areas to the exposed white buttocks he had left untouched. [a phone rings on the set and footsteps and shadow movement are evident--gotta love the low budget]

The scene fades and we return--from the loss of some of the coloration on her bottom we figure she needed a break. "You know what's going to happen next...the cane." "Oh, no...sir."

She cutely shuffles into a corner, skirt up, hobbled by panties at her ankles. In a moment she is called back out. "Assume the position." Over 30 strokes are shown, there were probably some repeats, the sounds of the swish and crack seemed louder than the force of the stroke, but there are visible results. She is cornered again.

Fade to a scene of more explicit sex. The schoolgirl is masturbating on a bed, with a fairly huge vibrator she is quite comfortable with. Cane marks can be seen on her bottom and thighs. As she works the vibrator, she fantasizes in flashback to her recent spanking.

She rolls over to sleep, naked as she is, to permit a dream sequence, where she is caught masturbating and ordered: "Get dressed and get downstairs, now." In the kitchen, after a long dressing scene, something has happened to the continuity, because her hair is different and her skirt is gone, but we are here for the spanking not the cinematography and we won't be disappointed.

Her male controller drags her pants down and begins another sharp and aggressive caning. She must spread her legs very wide. A number of strokes are full force on her thighs and a few on the gluteal crease. Her little screams and cries are realistic, probably with good reason, given where these cane strokes fall. She is forced into the diaper position on a footlocker sort of bench. She displays it all--every square centimeter, her legs high and wide, quite a vulnerable sight. Dirty bare feet--not the worst we've seen, but top 10.

To consummate her dream: "Strip." Very sexy, she shivers, naked and fearful. The male teases her front and back with the cane tip before the final six hard strokes on her bottom. She collapses curled naked on the floor before she is made to stand, pink, and exposed, in the corner.
Original Review by Katrina
The video opens with a girl obviously waiting to be caned. The canes are hung on the wall above her chair. Her anticipation takes the better of her as she stands and drops her knickers to rub her, now pristine, bottom knowing that it will soon be marked with painful sores. Eventually, her hands move to her front.

By the time that her father has returned, she is again sitting in the chair. He explains that he is not happy with her school report card. He explained that he had told her that she was to be thrashed the next time that this happened the last time. He takes his place in the chair and takes her over his knee. He starts to spank her with his hand. After a few swats, he lifts her skirt and continues on the knickers. By now, you can see his hand imprint in her bottom as it peeks out behind the white cloth. Soon, she can no longer hold back the tears and begins to wipe them from her cheek. A few dozen swats, he pulls down her knickers and continues on the bare bottom. Once her bottom is red, she is allowed to stand in the corner for a few moments.

He later returns and retrieves a cane from the wall while she bends over with her hands on her knees, knickers still down and skirt now up on her back. This girl is not the strong, silent type earlier in this video. She is the loud and vocal crier as the cane starts to land on her sore bottom. Still, she continues to be caned. Her bottom is beginning to show the red lines of the cane, set against the red areas of his hand earlier. In one instance, he manages to strike the same place. Her reaction is to jump up and end up on the wall, crying very loudly.

After the caning, we cut to the bedroom and the girl is lying on her bed as she removes the knickers. The caning marks are obvious. Now is the time for a little pleasure as she starts to rub between her legs. Her fingers go in and out of the labia and over the clitoris in a soft and gentle circular motion. The other hand eventually makes it to her breast. Following that, there is a bit of vibrator action. During this scene, there are flashbacks to the caning sequence earlier. One sequence that was not in the video dealt with her being caned "nappy" (diaper) position. She is lying on a small chest, legs held high and he canes her bottom and upper thighs.

The rest of the video is comprised of this scene. I'll leave it to you to fill in the blanks, since it is making me too hot to describe it here.

This video is the first from Spanking Online. If this is a sample of their online videos, then a subscription to their web site is well worth the money. What the hey, this video is well worth the money. I can only anticipate what they plan to offer for their next video. It should be one very hot and steamy one.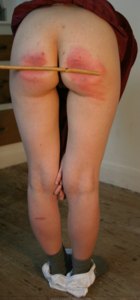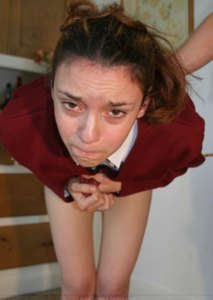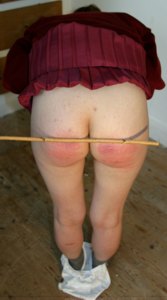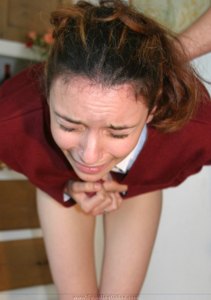 Back to Spanking Online's Video Review Page
Back to Reviews Page
HOME


Support our Free Achive Spanking Site by joining one of the sites below.

Marked Butts - Spanking Online - Realspankings - Firm Hand Spanking - Girl Spanks Girl - Clare Fonda Pass - Punished Brats