SPANKING ONLINE'S SPANKING SHOP
www.spankingdvd.com
Chemistry Lesson
2M/f
22 Minutes
Updated Review by MARS posted 2/5/10
A British production company we ourselves were not familiar with--their logo of "SOL" accurately describes the situations for the poor schoolgirls in the productions we've seen so far, in this case a very brave Catherine Corbett, an actress who understands every nuance of this genre.

Ms. Corbett, as Jennings, stands in front of a male instructor in a realistic laboratory office setting. Jennings has failed her chemistry test again. The previous warning of expulsion from school can be amended, she is told, in that her guardians (who don't want her back home, we'd guess) have granted the school complete freedom to proceed with corporal punishment. Jennings signs away her consent also. We will shortly see that her cute little goose is cooked. The instructor wears a white lab coat, perfect for his task.

The instructor makes Jennings hike up her school skirt, display her semi-transparent panties, and await the commencement of the activities. Tension and anticipation play a major part in these SOL performances. The instructor returns with a cane--there will be on warming-up of the bottom in this exercise. Jennings bends over the table, skirt up, and takes five ringing strokes on her pants. She counts them out "thank you, sir" style.

She is directed to take her panties and skirt off at this point, and put her panties in the "bin," a wastepaper basket, a nice little bit of frightening finality she handled well. Over the table again, shirt up, bottom bare, "legs apart," for about 20 strokes, loud ringing cracks in this institutional room. Impressive, realistic, and a tough time for Jennings. Because she loses count, can't keep her legs open, and can't stay in position, she gets five more, over the table again, flat, and reaching forward to grasp a chair, her bottom pinned down and her body squashed. No chance of wiggling now.

She retakes the chemistry test, seated bare bottom on a white runged straight chair which permits us a view of her cute red bottom, thanks to someone on the crew tucking her shirt up between shots. She carefully perches on the edge of the wood seat, artfully drawing attention to her tender bottom. This time, she will be spanked with a paddle and cane on the spot for test mistakes.

She is allotted only 15 minutes, doesn't finish, and also gets some answers incorrect, so here we go again. "Take off your tie...and your shirt." She is down to just bra. When Jennings is directed to kneel up on the table, she at first baulks at such a stange position but quickly figures it out. Good acting, in that Ms. Corbett has been in every position one can conjure. Bottom high, head low, legs open, a charming salacious view of the courageous Ms. Corbett. First the strap--she counts out half a dozen on high tight wide-spread buttocks. Then a set with the cane. The instructor slips oiff her bra as she kneels.

Off the table, she stands nude, hands on head, cane resting between her buttocks, well marked.

Scene change: she is at home, confessing she failed the test, and she is going to be spanked all over again, for it is the British way that what happened at school is not enough. Bend-over a stool, panties down again, no marks show, which actually makes sense, in that no actress should take two sessions like this in close time proximity. Her faceless male guardian can't resist a few handspanks before he lays on 20 cane strokes, then a pause for some fondling and handspanks, followed by another 10 or so, and astonishingly, the "final six" even harder.

SOL is a pleasant discovery for us--brief films, effective spankings on the harsher side, excellent sound, lighting, sets, dialogue. And surely experienced CP afficionados behind the cameras.
The Chemistry Lesson

Starring Catherine Corbett
Review by Katrina
Catherine plays Niki Jenkins, a student who has failed her chemistry examination. She was given her last chance two weeks ago and is now to be punished. She is to be expelled, but may opt for a "special punishment." After agreeing to the punishment, signing the release, she raises her skirt to show the bikini briefs. Even before the first swat, she starts to rub her bottom in anticipation of what will happen.

When he returns, she bends over the table, her skirt is adjusted to lie on her back, and he retrieves a straight cane. After a little bouncing on her bottom, he beings to lay into her with vigor. Jenkins must count the strokes. Catharine shows her style in that she starts to wiggle and squirm in an effort to mitigate the sting that is building in her bottom. After a while, when things become too much, she stands up. She is told to resume her position but now must remove the skirt and knickers. They weren't doing her much good anyway since they were very thin and lacy briefs. But still, her bottom was not "nude" as it is now. Repositioned over the desk, she starts to receive the cane again. After the first ten strokes, she is permitted to rub her bottom. However, the punishment is to be "started properly." The remaining ten strokes are delivered; with the last five having her fully over the desk, gripping the chair behind. At the end, Catharine's bottom is full of bruise marks, dark lines, intermixed with the red marks of the cane.

She is to retake the examination. There are twenty questions. For each one that she gets incorrect, she will receive additional strokes of the cane and then the strap. As she gingerly sits, bare bottom, on the hard wooden chair, she tries to answer the questions for the examination. She was able to answer only eleven correct answers from the twenty. That means an additional nine strokes of the strap, which he rounds to ten. For this, she must remove her tie and shirt. This leaves her with only her bra.

She kneels on the desk to receive the additional strokes of the strap; head down, bottom up. He applies the tawse with a full wind-up. She counts the strokes as the strap bounces off her bottom. When the strap is finished, he starts in with the cane again. Shortly, he undoes her bra and gives her the last few strokes of the cane. By now, her bottom is severely marked.

Catherine Punished At Home
The next scene has features Catherine Corbett again, along with a cane, hands on a footstool, and a bare bottom with the knickers and jeans down to her knees. This is a simple caning. Catharine can not seem to keep her position. Not much is said in this segment, beyond her cries of "Ow." In the end, her bottom is showing deep bruises with white lines of a "good" caning.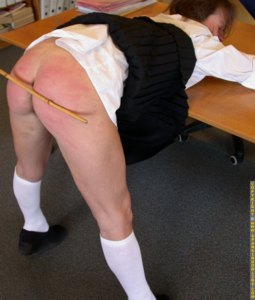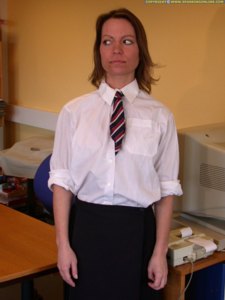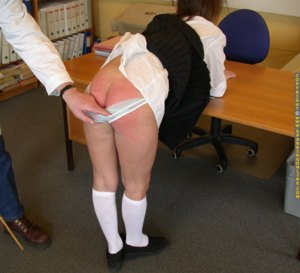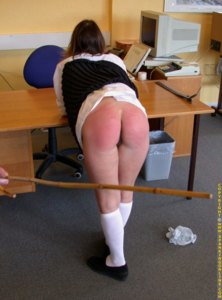 Back to Spanking Online's Video Review Page
Back to Reviews Page
HOME


Support our Free Achive Spanking Site by joining one of the sites below.

Marked Butts - Spanking Online - Realspankings - Firm Hand Spanking - Girl Spanks Girl - Clare Fonda Pass - Punished Brats