These are the tales of " County Club Wives". I'm Mc Donald Carrey... Oh, sorry. I got carried away. (Mc Donald Carrey was the announcer for the soap " Days of Our Lives".)

You see what we have here is a spanking soap opera. This is clearly one of the best and most orginal spanking videos of the 2002 season. This production is exceedingly entertaining and highly erotic. What makes "Country Club Wives" so successful is the combination of a terrific script, production values of the highest caliber and a truly lovely cast who exhibited an infectious chemistry on the screen.

Cynthia is the lovely, young, trophy wife of a multimillionaire named Max. She's beautiful, blonde and is in possession of long shapely legs and a behind to die for. Her friend, Margot is married to an equally successful man named John. It turns out that Cynthia is having an affair with Margot's husband. When Margot confronts Cynthia about her affair with John, the lovely blonde with the cheating heart pleads " Oh please don't tell Max! He'll kill me... he might even kill john." To this Margot replies," Oh stop being so melodramatic. The worse that Max will do is slap you around and divorce you". " You act as if that's nothing" Cynthia replied. "I know that it's not nothing. Millionaires don't grow on trees" was Margot's response. See, I told you that this was a soap opera. Margot noted that she had no intention of telling Max or even her own husband. She just wanted revenge. She informed the lovely Cynthia that she intended to discipline her. Soon, the gorgeous Cynthia found herself over the knee of her irate friend. Her spanking was initiated over the fashionable brown skirt that she was wearing. Then, despite Cynthia's protestations, Margot lifted the skirt and continued her rivals chastisement over the bottom of her " Victoria's Secrets". Soon, Cynthia's humiliation was complete as her sexy panties were lowered, exposing her already reddened bottom. Then Margot spanked her unfaithful friend's naked backside. After the spanking was complete, Margot made Cynthia stand in the corner with her red, bare bottom on display.

After a few minutes in the corner, Margot required the lovely Cynthia to change into her tennis outfit. Cynthia was to have taken a tennis lesson later that day. Then she made the beautiful blonde with the long, shapely legs to, once again, place herself across her lap. Much to Cynthia's horror, Margot came prepared with various implements of punishment. Once in place, the punishment of Cynthia resumes when Margot begins to strap the naughty blonde's bare bottom with a leather tawse. Soon, Margot made her victim bend over the back of a chair as she then proceeded to beat Cynthia's posterior with a birch. After concluding the birching of Cynthia, Margot took pictures of her friends reddened and exposed backside. She noted that if she found her involved with her husband again, these pictures would be posted at the County Club for all to see. Once she felt that this event was properly documented, Cynthia was directed to put on the sexy nightgown that John had given her for Valentines Day.

Dressed in this lovely silk gown, Cynthia's torment continues. She is made to bend over a chair while her naked backside is beaten with a green leather paddle.

After Cynthia's paddling was completed, Margo informed the naughty blonde that they could once again be "best friends" if she submitted to a hard, over the knee hand spanking. The blonde beauty concurred and submitted to an intense hand spanking session from her aggrieved friend.

This video is a must see for all fans of high quality spanking video erotica. As always, Ms. Howard's script was amazingly original, intelligent and entertaining. Also, you will not find a more attractive cast anywhere. Courtney Chambers and Sycilia Sutton are just lovely and have real star potential. Additionally, the editing of this piece is masterful. Tony Elka is clearly the best editor in the business.

I can hardly wait to see what the creative team at Shadow Lane will do next.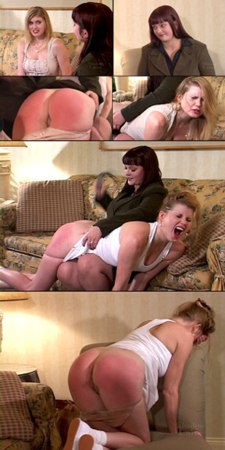 Back to Shadow Lane's Review Page
Back to Reviews Page
HOME


Support our Free Achive Spanking Site by joining one of the sites below.

Marked Butts - Spanking Online - Realspankings - Firm Hand Spanking - Girl Spanks Girl - Clare Fonda Pass - Punished Brats