CHELSEA PFEIFFER ENTERTAINMENT
Click here for Website
Photos used to compliment reviews are posted with the permission of Chelsea Pfieffer Entertainment and may not be posted to any other website without their permission
Crime Never Pays

Directed and Produced: Chelsea Pfeiffer
Starring: Catalina L' Amour
Dorian Grant
Review by: Aldus W. Huckster
Once again we have a beautiful rendition of a Chelsea Pfeiffer specialty, two beautiful women reddening each other's bare bottom. This one stars one of my all time favorites, Catalina L'Amour and a newcomer (at least for me) Dorian Grant.
Summary:
Catalina and Dorian are in Las Vegas on vacation. Catalina has spent $240 for dinner reservations and tickets to a show. She and Dorian are talking as they are getting dressed. Dorian says that since they have about a half an hour before they have to be at the restaurant, she wants to visit the Casino while Catalina finishes dressing. Catalina reluctantly agrees. Well, guess what? It seems that Dorian is a compulsive gambler and that once she gets started she can't stop. Catalina finishes dressing and begins to pace the floor while waiting for Dorian. 8:30 arrives, but not Dorian. 11:00 PM comes and goes and still the lovely Dorian remains missing in action. Finally at 2:40 A.M. Catalina decides it's a lost cause and goes to bed. About 20 minutes later Dorian enters the room and turns on the light awaking Catalina. An enraged Catalina takes her over her knee for a well deserved bare bottom spanking. All the time Catalina verbally chastises Dorian for being a compulsive gambler and costing her $240. Dorian has a tremendous body, and a really spankable ass. Under the ministrations of the enraged Catalina, Dorian's naked bottom becomes as red as the setting sun during a phase 2 smog alert in Los Angeles.
Cut to scene two: Catalina receives a call from her creditors. She is given twenty-four hours to pay off her debt or suffer the consequences. (Who is she banking with, Tony Soprano?) So Catalina steals Dorian's Family Heirloom Silverware, and pawns it for the money. Naturally she is caught by Dorian and has to pay for her transgression. What is the payment? An over the knee, ass reddening, bare bottom spanking. And I must tell you that there are not many butts that I would rather see get warmed up than Catalina's. This is one more excellent video in the inimitable style of Chelsea Pfeiffer: to wit "turnabout is fair play" And of course we get to see those delectable private parts of these two beautiful women (for me, that just makes for better "viewing").
I thoroughly enjoyed this video presentation of two gorgeous women getting what they deserved and would recommend it to any spank-o-phile. I give it an 8.5 out of 10 on the Spank-O-Meter.
Aldus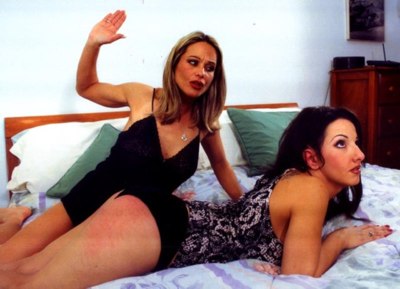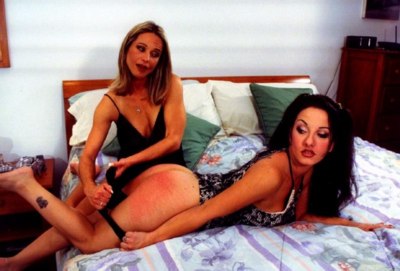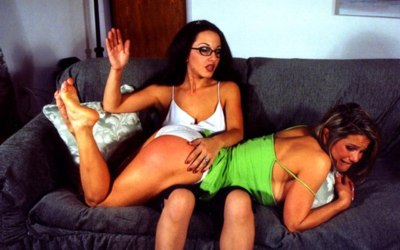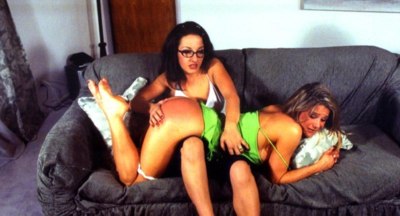 Back to Chelsea Phieffer's Review Page
Back to Reviews Page
HOME


Support our Free Achive Spanking Site by joining one of the sites below.

Marked Butts - Spanking Online - Realspankings - Firm Hand Spanking - Girl Spanks Girl - Clare Fonda Pass - Punished Brats