Deep Impact

Lupus Pictures (2006)
Directed by Zbysek Podhajsky Story by Pavel Stastny and Thomas Marco
Screenwriter and Executioner: Pavel Stasny
Prisoners: Ester Slaba, Michaela Trmotova, Norah Kristoff
Director: Peter Podhajsky
Czech with English Subtitles
Running Time 51 minutes

2nd Review by MARS posted 10/15/10
Another review tells the story; we'll focus on what excited us. Actor Pavel Stastny plays a screenwriter, scrivening, smoking, and drinking in his garret to come up with a CP script which will satisfy his effete agent. Pavel's increasingly demonic imaginings will be played out live.

Three girls are seen huddled, then strung up naked, quaking, and shivering in a dungeon-like room and panned head to foot by the camera. No producer depicts this better. The girls are young, frightened, and helpless--realistic normal girls not runway models or dancers. Red-masked guards enter--the girls squirm in panic.

The tallest, most buxom girl will be whipped first and is fastened to a post. She is thrashed with birch bundles taken from a brine bucket. She absolutely wails as patterns of branch-stripe patterns spread across her bottom and lower back. Little broken twigs cling to her flesh and her bottom quivers reflexively. Pavel is the guard, playing out his drafted creation.

Realisitic birching scenes are rare. This one scintillates.

The powdered-wig agent doesn't like this scene. Back to the draft. A long-haired redhead beauty is next, a delectably sexy morsel, acting sweetly very frightened. She is tied in the kneeling position to another whipping post, bare knees on hard wood, in a posture similar to that seen in Rigid East's "Fairy Tale." The redhead's wrists are tied at face level, her waist is tied to the pole, and calves and ankles are fastened down as she kneels, all in complicated erotic bondage. When her skimpy shift is ripped off by the guards, she is naked and screams through one of the most sensual whippings we can recall. Top-notch. Redheads always mark up nicely.

Pavel shows a Barbie-doll mock-up of the redhead in her kneeling position to his agent, also as seen in "Fairy Tale," but he rejects this too. We'd have to say at this point that for us Pavel has achieved a masterpiece, but if he can be encouraged to even more wicked heights, we'll go with it.

The depiction of the third girl's birching follows. First she is birched nude, tied lengthwise to a bench, then she is fastened to the same kneeling platform, straddling the pole, but on her back and shoulders, pulled high in the diaper position, wrists tied low, and ankles fastened high on a hook. This is an athletic posture, intimately revealing with her legs separated by the post, and one which would hurt even if a birch was not searching her most private folds. Masterfully wicked. Great birch weals, loud crying.

The birchings are moderate but realistically stinging; the poor girls are put through their paces to achieve maximum erotic style.
Original Guest Review by Ronald Scott
Deep Impact features an unusual plot for a spanking video and is one of the top Lupus releases of the year. Featuring three of Lupus's cutest actresses (including their new star Michaela Trmotova) and Pavel Stastny (who plays the lead in the Headmaster series), it shows what would happen if a spanking writer's fantasies came to life.

As the feature opens we see a screenwriter at work at his desk; he is writing the script for a new spanking video. As he begins to imagine it, the scene is slowly filled in. First we see a medieval dungeon, then 3 girls sitting on the floor, but, no he changes his mind, and now they are strung up in chains. Next their clothes come off (affording the viewer a great view of their delicious bodies).

Next the guards come in and the girls immediately look frightened. The action in the dungeon is interspersed with scenes of the screenwriter typing, smoking, drinking coffee and occasionally changing his mind (one moment a girl is bent over to be caned, the next the same girl has her hands tied above her head to be birched). First to be punished is the red-haired Ester Slaba (star of Lupus's The Noise and several other releases); the guards laugh as her hands are tied above her head. One guard then birches her and her cries add to the eroticism of the scene. And the guard doing all the birching, and whipping is none other than the screenwriter (!!), Pavel Stastny.

Then the writer celebrates the completion of that scene. But unbeknownst to him the movie-to-be's director (Peter Podhajsky who played the director in Lupus's The Great Role) has a different vision for the movie. We begin to see him (a very "gay" sort of guy) meeting with Pavel who is writing a plot at variance with the director's wishes.

In the next scene Ester and Norah are missing but the beautiful red-head Michaela Trmotova is up for punishment. Dressed only in a short revealing white blouse she is insolent to the guards. They respond by tying her up kneeling in front of a whipping post. After an angry exchange between the guards and Michaela they rip her blouse off . A great close-up of her face occurs as the blouse comes off and Pavel (playing the head guard) laughs in delight at her naked predicament.

The punishment that follows is one of the top spanking scenes of the year and features erotic side and front views of the anguished teenager. Next the cute black-haired newcomer, Norah Kristoff, is tied up in a diaper position with her thighs close together. Her punishment (a hard birching across her bottom and thighs) is also quite exciting with excellent side views of her suffering face and sensual breasts.

The screenwriter now dozes off and some of the punishments as well as his meetings with the director are seen in flashback. Finally the director is seen in the dungeon with a partially clothed Alexandra Wolf who apparently the director prefers to cast in the film.

I give this movie a rating of 9.5 out of 10 because of the three beautiful girls playing the leads, the outstanding performance from Pavel Stastny in a dual role, and the unusual and creative plot. Also the setting and type of punishments get my "blood pounding" more than the typical OTK and canings in most spanking videos.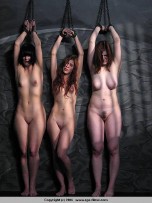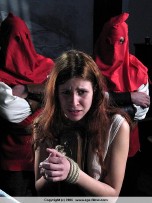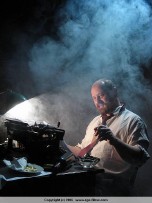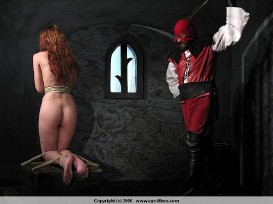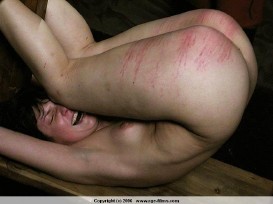 Back to Rigid East/Lupus Reviews Page
Back to Reviews Page
HOME


Support our Free Achive Spanking Site by joining one of the sites below.

Marked Butts - Spanking Online - Realspankings - Firm Hand Spanking - Girl Spanks Girl - Clare Fonda Pass - Punished Brats