The pairing of Razor Ryan and Betty Blaze was an appealing choice. Razor, tall and fit with boyishly handsome looks, is natural and attractive on camera. Betty, new to Shadow Lane, with her voluptuous figure, long dark hair and thick fringe of bangs, is reminiscent of Bettie Page.
In Disciplining Betty, Razor is a young businessman with a strong work ethic, who put himself through college and graduate school. His girlfriend, Betty, is a college student, and her work ethic is anything but strong. She would rather dance, party and have fun than study, and her grades show it. What's more, she doesn't care. However, Razor does, and while he has been trying to tutor her in her schoolwork, it hasn't helped her grades or her attitude. Finally, fed up with her wasting time and her parents' money, he tells her she needs a good spanking. She resists initially, feeling that he's already too bossy and that this is too much, she doesn't want him to have that much control over her. Besides, spanking is for fun and games. However, he makes it clear that the continuation of their relationship is contingent upon her taking a real spanking from him. Betty resentfully agrees to it, saying that she can take anything he can dish out.
And take it she does. Razor wastes no time in taking her over his knee, and after a brief warm-up over her skirt, he raises her skirt and thoroughly spanks her bottom and upper thighs. Her fair skin colors deeply and begins to mark immediately, but that does not deter him. However, Betty is every bit as stubborn and determined as he, and despite all his efforts to get her to talk to him, answer his questions, tell him what she's thinking, she remains stoic and silent, refusing to engage with him, her face set and angry. Her expressions (rolling her eyes, pursing her lips, wincing) speak volumes, though. Razor continues to ramp up the spanking, and yet he can't get her to say anything he wants to hear, or detect any change in her attitude. She does try to distract him at one point, mischievously slipping her hand between his legs, but he merely laughs at her and pins the wayward hand to her back. This is a man with a purpose.
Even after she is made to strip to her pretty lingerie, Betty still makes faces and shows no remorse. Razor eventually stops, but reminds her that her finals are next week, and if he doesn't see an improvement in her grades, they will definitely revisit this scenario.
I found the next scene very esthetically pleasing. Razor and Betty are both wearing black and white, and are sitting on a cherry-red velvet couch, which beautifully sets off Betty's bright red lipstick and backside. Of course, Betty has gotten her grades and they are not to Razor's satisfaction. They are improved, but marginally (C+), and that's not good enough. Plus, he is peeved with her because, when she should have been studying, she went off on a San Francisco weekend with her girlfriends, without him. So, after a thorough scolding (he is reallllllly good at this, ladies), back Betty goes over his lap for her second spanking. She is already red and sore, which Razor attributes to having to spank her so much lately over her poor study habits, and she clearly doesn't approve of his methods of motivation, sneeringly telling him he "sucks as a tutor." Ouch-definitely the wrong thing to say! But when she insists that his methods really aren't working, Razor, being a fair top (as opposed to an I-have-to-be-right-every-damn-minute top), asks her how she would like to be motivated. To his surprise, she doesn't ask him to stop spanking her, but requests that he "spank her nicely." He agrees to do so, but only after she takes 12 hard ones with his red sweetheart paddle, and she is willing to comply. Poor Betty nearly dissolves into tears with those 12 strokes, but then Razor makes good with his word and gives her what she wants, ending the video on a kinder, gentler note. Razor transitions seamlessly from strict to sweetly soothing, and Betty's dreamy expression and relaxed body language let us know she likes her boyfriend much better when he's being nice.
For those who enjoy an old-fashioned M/F disciplinary spanking scenario, with a strong handsome man and a lovely willful woman, you can't go wrong with Disciplining Betty.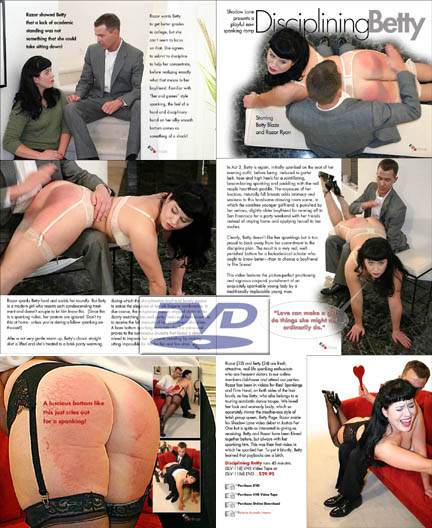 Back to Shadow Lane's Review Page
Back to Reviews Page
HOME


Support our Free Achive Spanking Site by joining one of the sites below.

Marked Butts - Spanking Online - Realspankings - Firm Hand Spanking - Girl Spanks Girl - Clare Fonda Pass - Punished Brats