The video opens with an Uncle bringing his two neices to Miss Fulton for discipline. He nicely asks the mistress if she would take care of these two. They are fidgity and are doing little things to annoy their uncle while he is talking to Miss Fulton. She has the 2 girls go into the other room, so she can talk to him. He tells the mistress that the 2 girls have been expelled from school because they were taking drugs. The girls are peering around the doorway at this point and the mistress says she will take care of it. She says the guy can come back or stay in the other room and he wants to stay in the other room so he can hear the screams to "make sure she delivers what she promises". I have to say the look she gives him is priceless and she promises she will deliver.

Miss Fulton walks into the room and the 2 girls are laying on her bed. She's not too happy about this and it doesn't take long before the first girl is across her knee. This girl is sort of a dirty blonde and is wearing a white dress, white panties, and stockings. She is, at no offence to her, a little on larger side. She starts off by giving her a sound hand spanking over the panties. What I liked about this video is the variety of camera angles that they used. I don't care for videos that the camera is turned on and that's it, just one view. Here you get a variety of angles, and they are not repeats of what you just saw, all are in sync. After a little while of over the panty spanking, Miss Fulton pulls down our naughty girl's panties and continues her hard hand spanking on the bare. In the meantime, the other neice in the corner looks back and makes faces at the mistress. Finally, Miss Fulton grabs the hairbrush and finished off this portion of the punishment with some bare butt hairbrushing.

The blonde neice is now in the corner (sticking her tongue out at the mistress) and it's the brunette's turn. She is similar in build to the blonde and is immediately hand spanked over the white panties. Same pattern as with the blonde, a long hand spanking over the panties, then on the bare, followed by a stint with the hairbrush. Mill Fulton really lays it on, but the girls haven't learned their lesson yet. But, fear not, Miss Fulton is not done yet either.

The next instrument of punishment is the strap. The blonde neice is made to bend over a bench. I was figuring that she would get a few strokes and we'd move on, but Miss Fulton kept lashing her, and lashing her, and lashing her. I lost count after 30 and many of them were pretty hard. Once the strapping has completed, the neice is made to strip naked with the exception of her stockings and shoes (never understood why leave the shoes on) and is made to sit with her hands on her head. Now it's the brunette's turn. She is bent over a dresser and receives the same punishment that the other girl just got. Very hard and rather lengthy. Again, this segment had a nice variety of camera angles to compliment the punishement.

Now both are naked with the exception of shoes and stockings and are made to lay down on the bed. They are made to lift their legs into the diaper position and are each hand spanked while in this position while Miss Fulton holds their legs up. She then has them hold their own legs up and continues this diaper position spanking with the hairbrush. They are then made to flip over and are made to get into a kneeling type position. This is the last segment and it is a good one. They are each severly caned. It starts of with short quick strokes and then she works her way up to full, hard swings with a break in between strokes. She actually breaks the skin of the brunette and makes her butt bleed. She has to keep reaching back with a tissue to dab up the blood.

In my opinion, this was an excellent video. I really like what Paradox did here. They took 2 average looking girls and made a stellar video. Many different positions, instruments, and camera angles make for a good production. Video and sound quality are average and running time is 1 hour.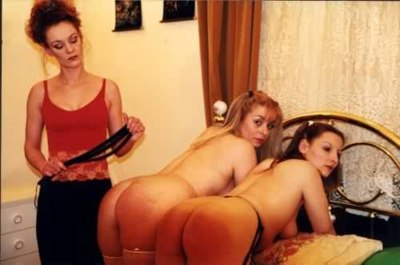 Back to Paradox Reviews Page
Back to Reviews Page
HOME


Support our Free Achive Spanking Site by joining one of the sites below.

Marked Butts - Spanking Online - Realspankings - Firm Hand Spanking - Girl Spanks Girl - Clare Fonda Pass - Punished Brats