BROOK'S APPLICATIONS
FEMALE SUBMISSIVE

Photos used to enhance reviews are provided by Brook's Application's and may not be posted to any other website with out their permission.
Domesticating His Wife

Directed and Produced by: Jennifer Brooks
Featuring: Mitchell and April
Reviewed by: Aldus W. Huckster
At the beginning of this superb production we are introduced to Mitchell and April. They are a newly married couple and deeply in love. Mitchell so adores his bride that he feels the need to constantly please her with gifts of candy or lingerie. After a few months Mitchell remains completely enthralled by April, but she has become somewhat distant towards him. It seems that she regards Mitchell's solicitousness as a sign of weakness. April has become careless about her appearance, housework and in the way she expresses her love for Mitchell. Growing frustrated with this situation Mitchell confronts his lovely bride. Her response to this overture from her husband is to slap him across the face. At this point Mitchell realizes that he must earn his wife's respect if their marriage is to survive. He pulls April over his lap and spanks her hard with a leather slapper. He initiates the chastisement over her denim skirt. After several swats with the slapper, Mitchell lifts the skirt of his naughty wife and gives her a hand spanking. Her only protection from Mitchell's onslaught was the thong- panties that she was wearing. Mitchell then removes his wife's panties and spanks her with the slapper on her bare bottom. Across the lap of her husband April's " charms" are totally exposed. It is a lovely site to behold. April seems to be something of a sun worshiper. The skin that she exposes to the sun is a golden brown while her bottom is white as snow. By the time Mitchell finishes spanking the enchanting April, what was once white as snow is now a fiery red.
Mitchell next has occasion to spank his blushing bride when he receives the monthly credit card bill. For her spend-thrift ways, Mitchell gives the lovely April another taste of the leather slapper. He initially delivers several hard swats to the bottom of April's pants. Then, with her pants lowered to her ankles, Mitchell resumes the punishment of his beauty until she pleads for mercy.
In the video's final spanking scene, April is severely punished for embarrassing her husband in front of a client. April is given a hard bare-bottom spanking, by hand and flapper, by the increasingly forceful Mitchell. By the time the spanking is through, April is sobbing uncontrollably. She apologies to Mitchell for all of her misdeeds. Thus concludes the saga of Mitchell and April.
This production of " Domesticating His Wife" clearly fall into the "Romance of Discipline" genre of spanking video as developed by Eve Howard of Shadow Lane fame. (Spanking in the context of a loving relationship.) However this is "Romance of Discipline" as interrupted by Jennifer Brooks. The spankings are a little harsher and the production is a little edgier than most Shadow Lane features. " Our Miss Brooks" has developed a style of filmmaking that is clearly her own.
I recommend this video for its excellent production values, an attractive cast and hard hitting spanking action.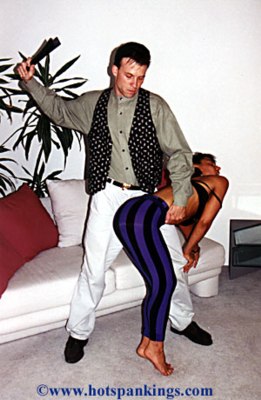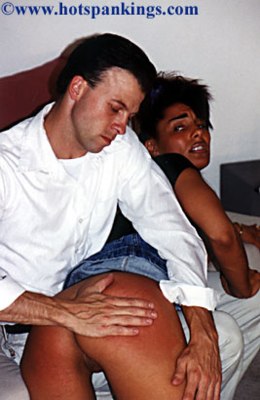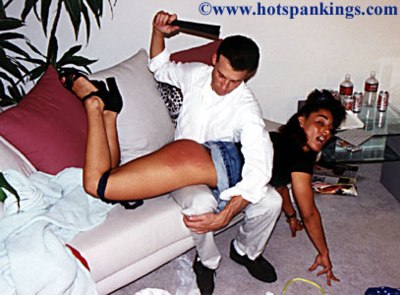 Back to Brook's Applications Female Submissive Reviews Page
Back to Reviews Page
HOME


Support our Free Achive Spanking Site by joining one of the sites below.

Marked Butts - Spanking Online - Realspankings - Firm Hand Spanking - Girl Spanks Girl - Clare Fonda Pass - Punished Brats