Double Trouble

Written and Directed by Eve Howard
Produced and Edited by Tony Elka
Starring Eva Lux
Devlin O'Neil
Butch Simms
Review by Dorothy Parker-Posey
An alternate name for this video could be "Shadow Lane's dirty Movie". Oh, how I love dirty spanking movies! This video is one of the best examples of depraved perversity that I have come across (and to) in some time. It brings to mind an old joke that went something like this, "I went to the boxing matches and a hockey game broke out." Well there I was, all set to watch a Shadow Lane spanking video, and I do love Shadow Lane spanking videos, when I was treated to more scenes of fucking and sucking and several sexual acts that would get you arrested in some of the "red states" than my poor little mind could handle (It would have helped if I had read the press release for the film.). Actually, what I'm saying is that I found it hard to make through the film in one sitting. Somehow my damn vibrator would find its way to my clitoris (Bad Vibrator!) before the film was over.
The video features the talents of the lovely Eva Lux (I believe that my mother owned an Eva Lux. Does a wonderful job on the carpets), the dashing Devlin O'Neil and the "gifted" Butch Simms. (Big....really big!)
There are two features of divine deviance contained on this video. The first feature is entitled 'Doctor's Orders' featuring Eva Lux as the spoiled young wife of an orthopedic surgeon played by Devlin O'Neil. As the story opens we find Eva sitting at the breakfast table, when in walked her husband ready to go to work. "Why are you dressed for work? It's Sunday!, Eva whined. Dr. O'Neil explained that he was giving a sports medicine seminar at their health club. "But you promised to take me shopping", Eva continued. "I'll take you shopping when I get back," the good doctor responded. Eva then claimed that her husband couldn't go as she was not feeling well. Dr. O'Neil replied, 'Well I suppose that I should take your temperature". (Anyone who had ever played "doctor" as a kid knows where this is going.) With that our erstwhile orthopod pulled his lovely wife across his lap, reached into his medical bag and took out a digital thermometer and a tube of K-Y Jelly. What I want to know is what the hell is an orthopedic physician doing with a tube of K-Y Jelly in his bag? I think he's a perverted orthopedic doctor, don't you? Once he had his "tools' assembled, Dr. O'Neil lowed his wife's lovely, frilly undies, spread her bottom cheeks, applied the K-Y lubricant to just the right place and took his wife's temperature, all the while Eva was protesting about being treated like a child. "Just as I thought, perfectly normal", Dr. O'Neil noted. Now the good, perverted Doctor decided that his manipulative wife needed to be taught a lesson. Anyway, she was already over his lap with her panties down and her lovely bottom was just crying out for a spanking. Dr. O'Neil then proceeded to spank his wife until she had professed that she had learned her lesson. (I do believe that her fingers were crossed.) As he left, Devlin noted that she would take his young spouse shopping when she came home as he had promised.
Upon his arrival home our doctor of perversity found his wife to be not at home. He found a note from his lovely brat saying that she had gone out with her girlfriends for cocktails and to score some pot. Hours later, Eva arrived home (wearing a lovely pink dress. Eva, darling where did you get it?), and was greeted by her irate husband. He chastised her for bring pot into their house, noting that if discoved, it could cost him his medical license. Of course, this is coming from a man who keeps K-Y Jelly at the ready in his medical bag. He took his wife over his lap for another spanking. So, up went the dress and down went her "Victoria's Secrets". During her chastisement, Eva confessed that she had purchased the dress to attract the attention of boys. With that, the good doctor removed the offending garment. The doctor then noted that because of her evil ways she would need a very special treatment. He made his lovely spouse remove what little clothing she had on, and then he reached into his medical bag of tricks. He came out with a small tube of lubricant, put a little on his fingers and began to rub it, ever so slowly, on her pussy and then began to penetrate her with his fingers. (Is Dr. O'Neil listed in the Yellow Pages?) Then from out of his medical bad he pulled out a curved vibrator. It looked something like a thin speculum. He then inserted the vibrator deep inside her pussy. This elicited a loud grown from Eva, or was that me? After pleasuring Eva in that manner for a time, he pulled out a larger vibrator from his medical bag and slowly inserted it up her bottom, slowly twisting the tool of sexual pleasure as it penetrated her anus. After a time, the good doctor removed these implements and pulled out a large vibrating butt plug. Eva groaned with ecstasy as the large implement was inserted and then turned on.
After feeling that Eva was adequately stimulated, Dr. O'Neil removed the butt plug and carried his young spouse up to bed.
At the end of this little tale of perversity I am left with a quandary. Should I report the perverted physician to the local medical board or make an appointment?
Our second tale of perverse delights is entitled 'Teacher's Pet'. In this feature Eva plays the role of the naughty schoolgirl while the very gifted Butch Simms acts in the role of her tutor. Now I bet you're thinking "seen it!". Well I'm here to tell you that you've never seen the teacher student scenario done quite like this.
As expected, Eva plays the role of the bratty student who is not in anyway cooperative with her handsome, older instructor. Now my husband would say that Eva was exhibiting attention seeking behavior. Well after heaping enough abuse on her teacher Professor Simms decides to take matter into his own capable hands and teach this naught schoolgirl a lesson. Okay...I know..you've seen it. Stay with me on this. Professor Simms lifts the naughty schoolgirl's uniform, lowers her panties (Now I'm warning you...wait!) and begins to give her the spanking that she needs. As the good professor is warming the bottom of the naughty schoolgirl he becomes somewhat aroused by the sight of her naked derrière. Totally turned on, Professor Simms lifts the girl off of his lap and places her on her back over a nearby desk. Eva's panties are removed and our Mr. Simms begins to probe the inner mysteries of Eva with his tongue. In other words, he spread her legs and plunged his tongue deep into her pussy. I'm sure this is a violation of school policy. Ah yes...here it is.. Rule 35a. There will be no plunging of the tongue into a schoolgirl's vaginal orifice if there's anybody watching. After giving oral pleasure to our Miss Lux, it was Eva's turn to give her teacher the gift of her mouth. Eva, unzipped her teacher pants and took his large cock into her mouth...and believe you me...Butch is a mouthful. This gives that song by Lulu, 'To Sir, With Love', a whole new meaning, don't you think? Soon we find the two engaged in full on fucking in the classroom. Both are naked. I wonder how many school rules were violated at this point? Butch lifts the petite girl facing away from him and lowers her slowly on to his large dick and then begins an intense session of unadulterated fucking. The conclusion of this scene was incredibly hot! While lying on her back Eva was pleasuring herself and sucking Mr. Simms's large cock. Finally the two came nearly simultaneously. She with a loud groan while Butch shot his load over her tits. To quote from the product description for the Shadow Lane page, 'Eva at last succumbs to a shuddering climax while inspiring her teacher to anoint her silky skin with a bountiful benediction of his own". (As I said...he came on her tits. I have a Ph.D. in Physics you know?)
This video is a wonderful treat for those of us who enjoy a little sex with our spankings...well actually quite a lot of sex really. This is an ideal video to watch with your lover or curled up with your favorite vibrator. Yes, boys, they make vibrators for men too,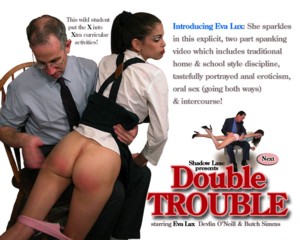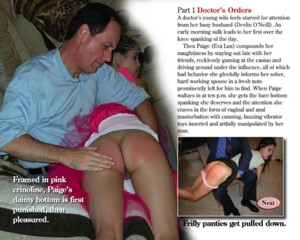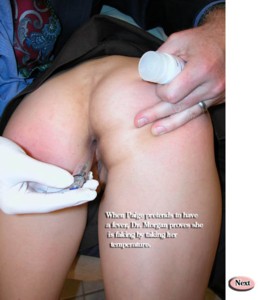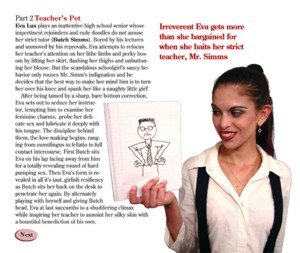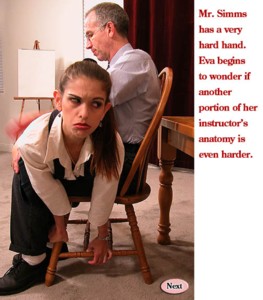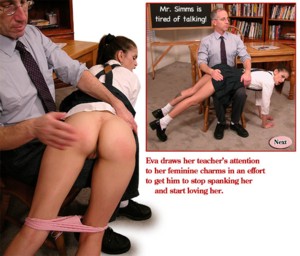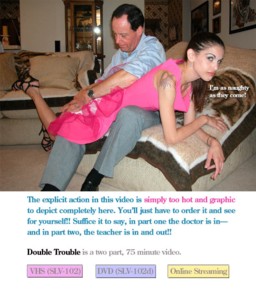 Back to Shadow Lane's Review Page
Back to Reviews Page
HOME


Support our Free Achive Spanking Site by joining one of the sites below.

Marked Butts - Spanking Online - Realspankings - Firm Hand Spanking - Girl Spanks Girl - Clare Fonda Pass - Punished Brats