CHEEKY VIDEO PRODUCTIONS
Embassy Interrogation

Directed and Produced: by Brigella
Reviewed by: Aldus W. Huckster
This is a unique video in that the plot deals with an interrogation in an embassy of a foreign government in England, and the video was actually shot in the former Brazilian Embassy in London. For me, the venue and location of a video lend a lot to its credibility and enjoyment.
Two people, a man and a woman are caught looking through documents in a secluded room in the embassy. After a half-hearted try at extracting information from the man, and failing (after all, in this video it is the woman we want to see punished), the interrogators decide to work over the woman. She tries her best to hold out, taking one spanking after another, but in the end gives up the information they are looking for. Two men "interrogate" her via spanking, paddling, birching and caning until she breaks. They continue the questioning both while administering the beatings and at break times from the action. During the interrogation two canes are literally broken over her bare bottom.
This is a very good spanking video, and the woman certainly takes a thorough thrashing. She holds up very well, and when it is over she is very nicely striped, red, and welted from the experience. She is a very pretty woman with an extremely nice body, and a lovely bottom. As I have said, the rooms and location used appear real because they are and this just adds immensely to the enjoyment of the video.
The video quality and production values are very good. The camera angles, close-ups, and other views are excellent. The scenario is believable. I give this video a hearty recommendation. On the Spank-O-Meter I give this video a 8.5 out of 10.
Aldus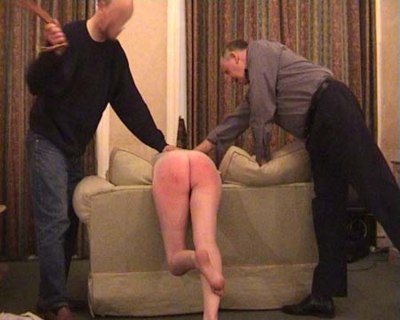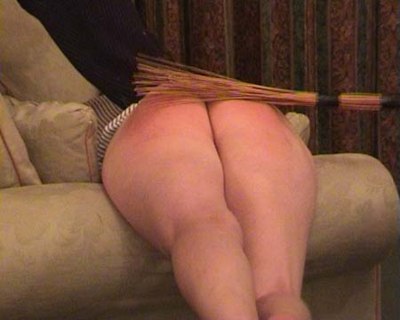 Back to Cheeky Productions Review Page
Back to Reviews Page
HOME


Support our Free Achive Spanking Site by joining one of the sites below.

Marked Butts - Spanking Online - Realspankings - Firm Hand Spanking - Girl Spanks Girl - Clare Fonda Pass - Punished Brats