Photos used to compliment reviews are posted with the permission of Amateur Spankings and may not be posted to any other website without their permission
Emily's Belt Bruising

Staring: Emily
Reviewed by: David Pierson
I was actually shocked by how really good this video is. After I viewed this video for the first time the only word that I could utter was " wow!" It is amazing what one can accomplish with a video-camera, tripod, a beautiful performer (I don't like to use the word model.) and a well thought out concept. This video is one of the five best spanking videos that I've seen this year. This production features the intriguing combination of a very severe belt spanking and sexual humiliation.
As this production opens we are introduced to the lovely Emily. Emily is taking directly to the audience. She tells us that, in so many ways, she has been messing up and that she is here to be punished by a spanking across her bare bottom. She includes in her opening remarks " You are here to watch."
From off screen we hear the voice of Emily's punisher. He tells Emily to remove her jeans and panties. As Emily complies with this directive, you are struck by the beauty of this damsel soon to be in distress. She has a pretty face, soft blonde hair, a terrific body and a nice round bottom.
After removing all of the clothing from the lower portion of her body Emily is instructed to place her hands on a nearby clothes hamper, bend over, and jut out her behind. From stage left " The Punisher" walks in to camera range for the first time. He slides off his belt and strikes Emily three times across her lucious bottom. She cries out in agony at the force of the blows inflicted upon her naked derriere. Emily starts to sob from the pain and grabs her aching backside with both of her hands. She is instructed to remove her hands from their protective position and to ready herself for more punishment. In short order, Emily has received several lashes with the belt. Emily's bottoms jumps in the most erotically stimulating way as each blow of the belt falls upon its target.
Emily is spanked in several different and humiliating positions. After the thrashing over the hamper, the lovely Emily is made to lie across the bed with two pillows tucked under her belly. In this position Emily's bottom is thrust in an upward position, exposing her vagina and anus to the camera. It must be said that humiliation is a much an aspect of Emily's punishment as is the severity of her strapping. At one point Emily is required to totally subjugate herself to her tormentor by exposing her anus to him upon command. At one point Emily is forced to lie on her back and pull her legs back towards her head and lift her bottom off of the bed. In this, the diaper position, Emily receives many hard stokes from the belt. In this position Emily's most private areas are exposed to the ravages of the belt.
Much like other so-called amateur producers, G & D productions uses an austere DIY (do it yourself) style of film making, but that in no way detracts from the viewers enjoyment of the hard spanking and highly erotic material contained in this video.
This video is a real find. It features one of the hardest belt spankings that I've ever seen on tape. There is no romance intended in this act of discipline. (Sorry Eve and Tony.)

If you are a fan of hard hitting spanking action with a touch of sexual humiliation thrown in, then this production of " Emily's Belt Bruising" is for you.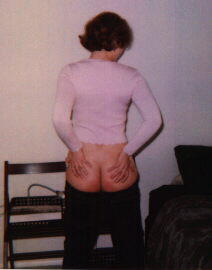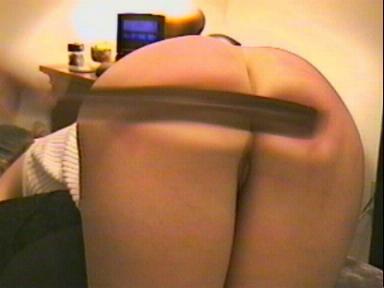 Back to Amateur Spankings Reviews
Back to Reviews Page
HOME


Support our Free Achive Spanking Site by joining one of the sites below.

Marked Butts - Spanking Online - Realspankings - Firm Hand Spanking - Girl Spanks Girl - Clare Fonda Pass - Punished Brats