New from Clare Fonda we have Exclusive Education 2. If you liked the first one then there is no doubt you are going to love this one!! If you missed the first one then be sure to get this copy, it will be on sale next week at the Shadowlane spanking party so make sure you stop by Clare's table.
The movie opens with a very unique twist, each of the participants is briefly interviewed in the changing room prior to the video shoot. I say this is unique because you can get to see first hand just who is nervous about the upcoming shoot and who is more comfortable in front of the camera one to one.
Now on to the movie itself, we open up in the classroom where Nurse Fonda is giving the lovely schoolgirls a biology lesson. There is quite some titillating dialogue during this scene, sure to put a smile on your faces. As Nurse Clare is lecturing, Amber Pixie Wells starts to pass around a piece of paper to her classmates while the ever present teacher's pet tries to answer every question under the watchful eye of the new teacher, Kayla Synz.
Nurse Fonda begins to grasp that there is a note being passed around her class and in the same fashion that we all would have experienced back in our days at school, she demands to see the note. It is handed to her and much to her surprise it is a picture of Nurse Fonda performing oral pleasure on a rather crude drawing of a penis. Nurse Fonda is anything but happy about this and she sends Miss Synz off to fetch the principal.
Principal Lana enters the room and the mood changes rapidly!! Lana is superb as the authoritarian principal and there is no doubt once she starts to chastise these naughty young girls that she is not to be messed with. In my opinion Lana stole the show with her performance as the strict principal, her air of authority would strike fear into anybody in trouble, and as true as her appearance was, her spankings did not disappoint either.
We are informed that in this school the principal gets to the bottom of things through a tried and true method, namely spanking!! The principal arranges the seating and takes one seat for herself while Kayla Synz takes the other chair which is facing Lana. The first two girls, Pixie and Stacy Thorne, are ordered to remove there clothing minus their undershirts, panties and socks. Both girls are assisted with this task by their respective spankers. Pixie draws the short straw here and has Lana as her spanker, while for those of you who prefer a milder form of spanking, Stacy has Kayla as her spanker.
Both girls get a handful of spanks over their panties before the announcement is made that all spankings in this school are administered on the bare bottom. And so the panties come down and the spankings begin!! These are the first two girls to be spanked and you get a choice of two different styles. Much like her verbal scolding, Lana does not mess around and is clearly a very firm spanker. Kayla on the other hand uses a lighter spanking style. Pretty quickly Pixie is getting spanked firmly by Lana and for the next 5 minutes takes a wonderful bare bottomed hand spanking. While Stacy's spanking isn't as hard her bottom nonetheless turns a delightful shade of red.
This same scene is repeated over and over as the remaining 6 girls take their turns going in pairs for an over the knee bare bottomed spanking. So think about this, if over the knee bare bottomed spankings are your thing, you get 8 bare bottoms getting spanked back to back for pretty much 20 minutes non stop. It is an awesome concept and all of the girls look adorable, each one stripped down to their undershirts for a good firm spanking.
Once each girl has submitted to 5 minutes each over the knee, Principal Lana leaves the room and Nurse Fonda takes over. Nurse Fonda asks the class who the culprit is who drew the picture, and other than the teachers pet, Kay Richards, implicating Pixie, nobody else is talking. So Nurse Fonda informs the girls that they are each going to get a minute with the hairbrush.
The catch this time is that whoever was spanked by Kayla the first time will now be spanked by Lana and vice versa. Stacy and Pixie are first again and the hairbrushes start to meet the bare bottoms of the naughty girls. Each girl in turn gets a minute with the hairbrush but something tells me there was something wrong with Nurse Fonda's watch as each girl gets way more than a minute.
Once the hairbrush spankings are over, the three adults leave the room and let the girls decide amongst themselves whether or not the culprit is going to fess up to doing the drawing. After a brief discussion all of the girls decide to protect Pixie and all accept another spanking, but when the time comes Pixie tells the other girls it is okay and that she will accept her punishment as the offender.
The best spanking is always saved for last and Amber Pixie Wells finds herself over Nurse Fonda's lap for a butt searing two minute spanking with the hairbrush on her bare bottom. Once the two minutes is up, Nurse Fonda has all of the girls count off the final 50 spanks that Pixie is to receive. Once it is all over the girls all give Pixie a round of applause and hug her at the end.
So in this video you have 8 naughty girls, not only that but they are also a good mix including and African American and an Asian. The spankers are also mixed, and if you want to watch an African American lady spanks the seats of some naughty girls then this is a can't miss video. The DVD itself runs for over an hour and there are red bottoms galore. If you like to watch naughty schoolgirls getting spanked in a classroom then put this DVD to the top of your list.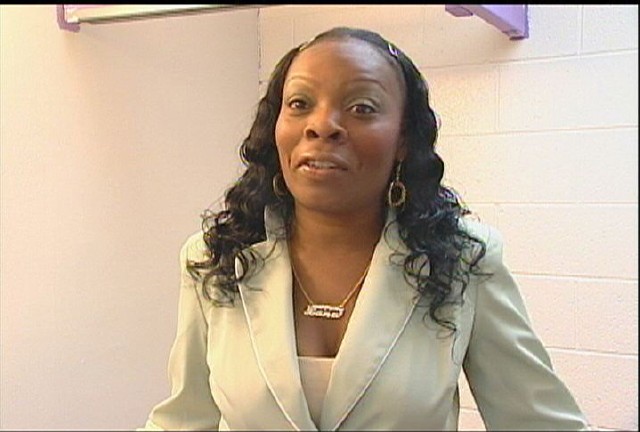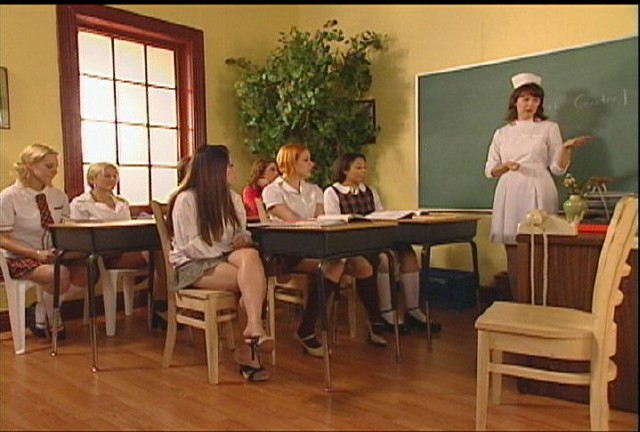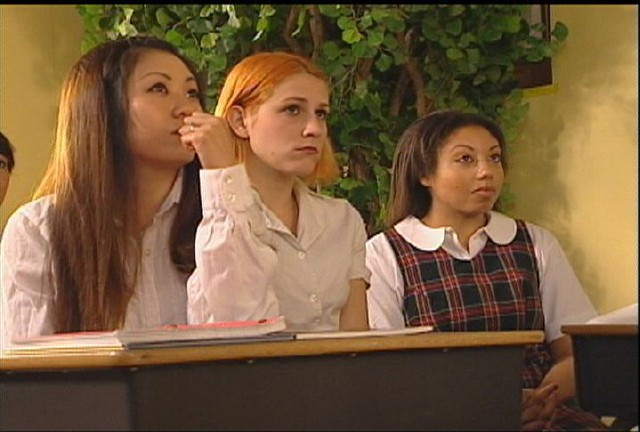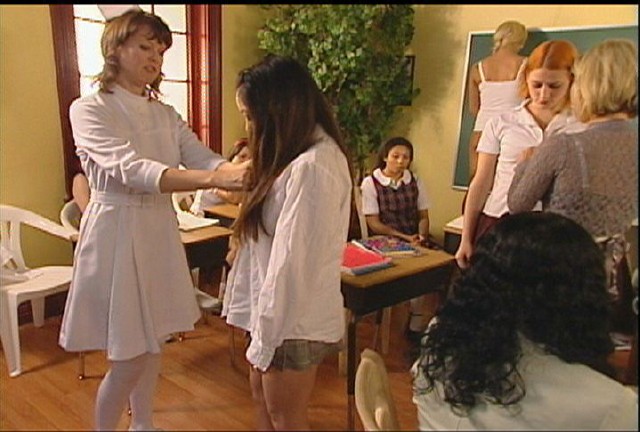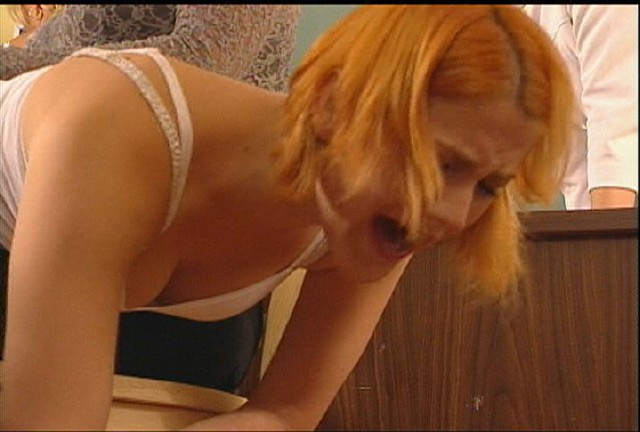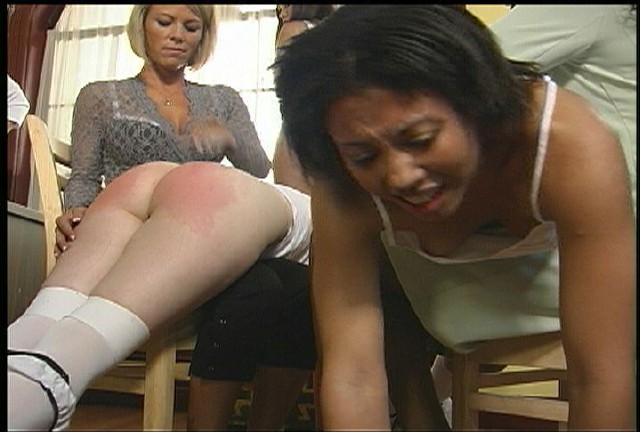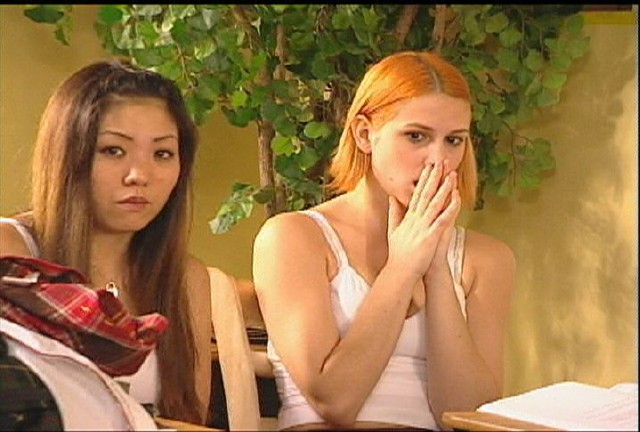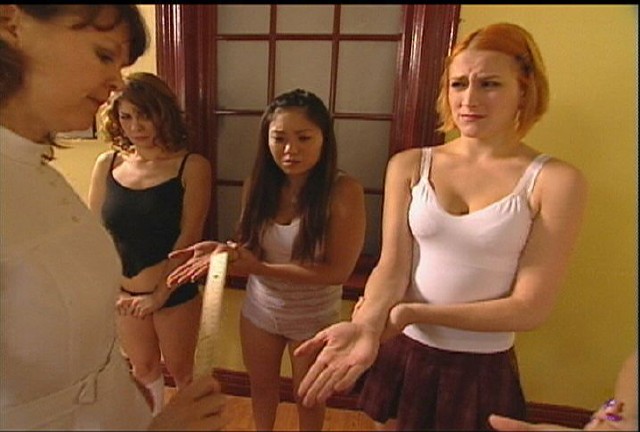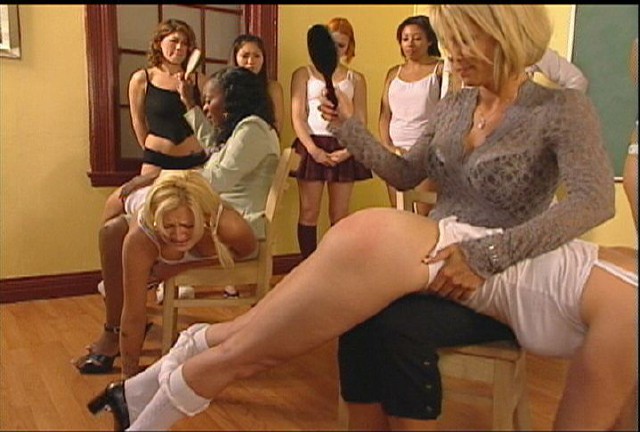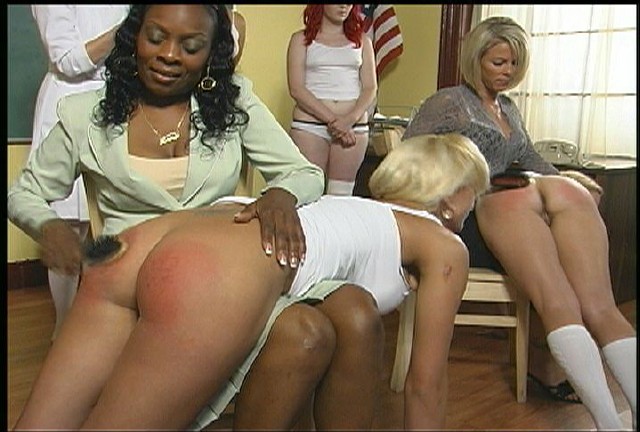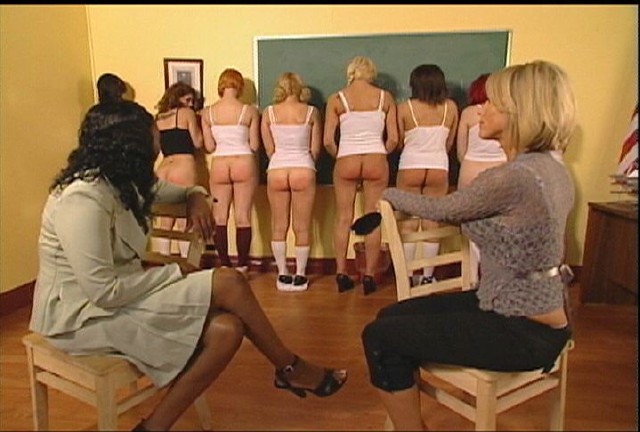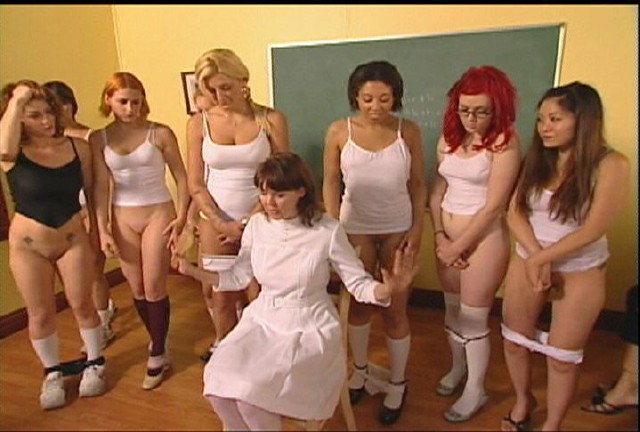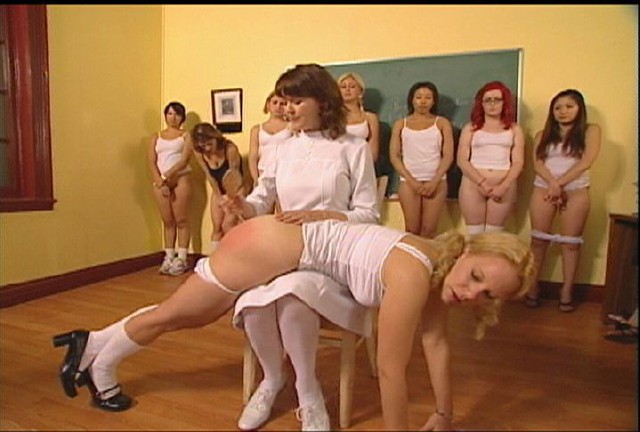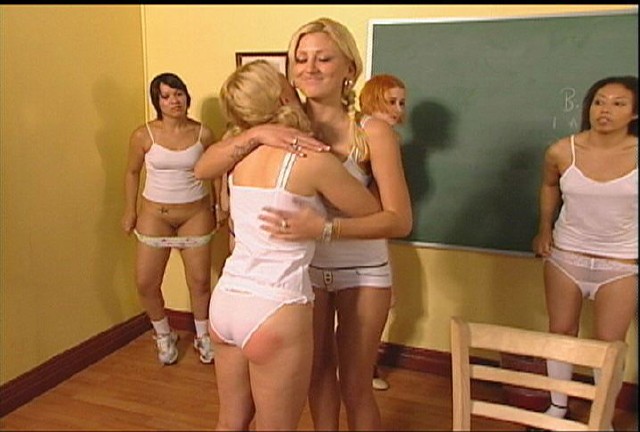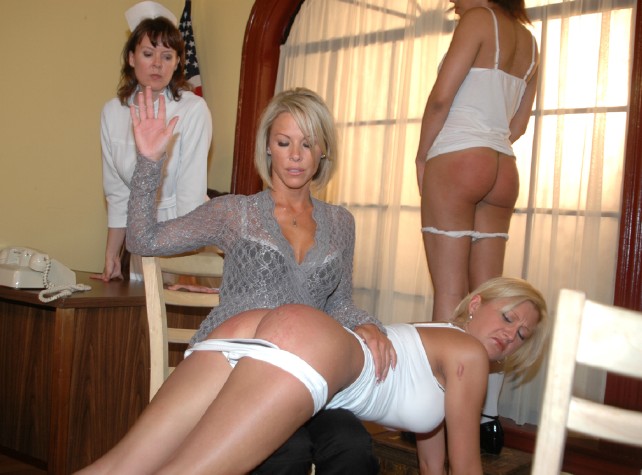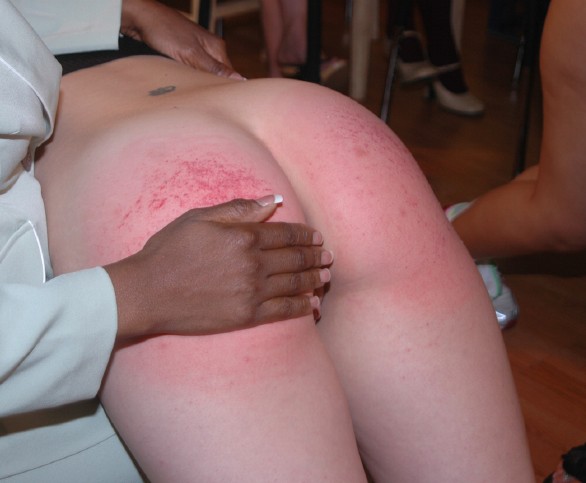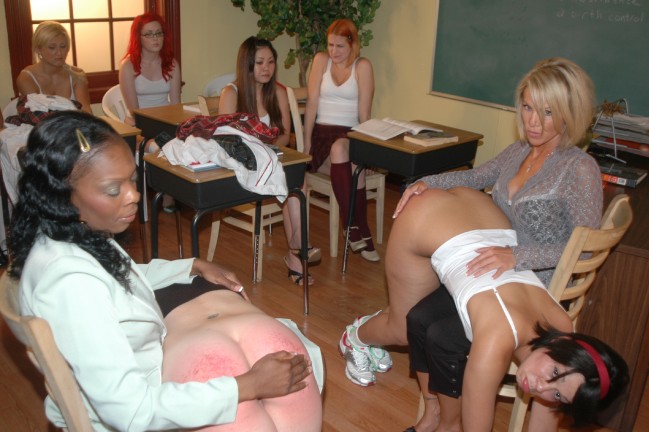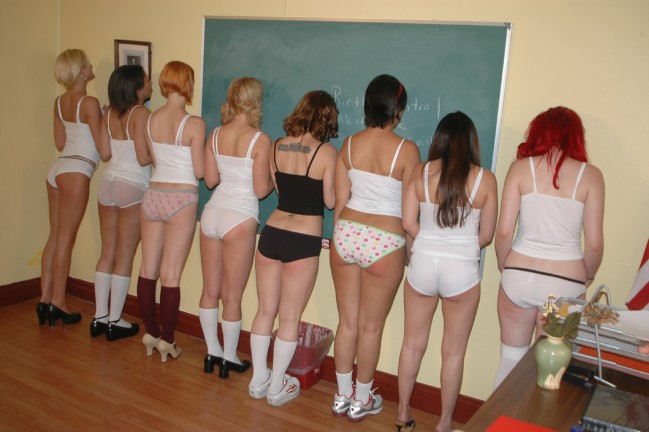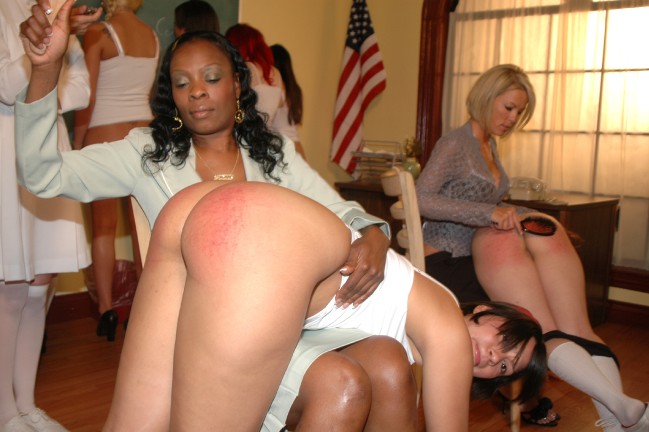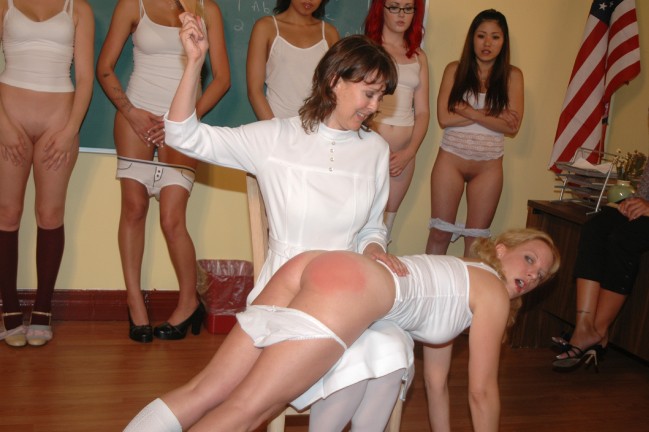 Back to Shadow Lane's Review Page
Back to Reviews Page
HOME


Support our Free Achive Spanking Site by joining one of the sites below.

Marked Butts - Spanking Online - Realspankings - Firm Hand Spanking - Girl Spanks Girl - Clare Fonda Pass - Punished Brats