Ponytailed Buddy has a girlfriend Sandra, played by actress Sam Johnson, about who we will slobber later. She wears marginally scandalous clothes to parties and makes little pretense about attracting a swarm of men wherever she goes. She says she likes to "dance" when they go "clubbing," a big part of which must be wiggling her bottom, which is a thing of amazement. A long review of this exquisitely detailed movie.

They return from a party-Sandra wears black half-panties and a net top, less than what some people sleep in. Buddy has had his fill of her. She is going to be spanked right now, a fitting end to a hot evening. OTK on the couch, panties down. Ms. Johnson's bottom: we've seen a lot of near perfect specimens--this industry seeks them out and compensates them, and here is another, except her buttocks have a personality of their own, attached to an actress who understands each gesture of the art form. Solid, round, soaring, independent cheeks. Impossible to look away. The couple goes off to bed after a silly handspanking. Sandra will face the cane tomorrow if she is too hung over to go to work.

Sure enough, Buddy must call in sick for Sandra. We know we're going to have an entertaining day. Sandra is wearing the naughtiest top and boy shorts, just asking for it, for even more than whatever must have happened to her we didn't see last night. Buddy goes to work with the promise of an eventful day's end. Sandra finds and hides the cane under the couch, done with a bend-over worth the price of the video. This video exploits anticipation.

Evening. Buddy comes home, Sandra in another seductive getup--pink bra and pink thong w/sash. Buddy figures: "You want to get out of this, don't you?" OTK she goes, then he asks, "Where is the cane? Sandra CAN'T REMEMBER. He finds a kitchen spoon. "Oh, that stings." He leaves her to go and search for the cane, can't find it, and selects a long-handled bath brush, which we would like to see tried out.

Buddy returns to the living room and is stunned by what he sees, as are we. We paused the film, just to study the setting. Sandra has changed into a schoolgirl's plaid kilt, white blouse, and killer thigh-high black boots. She is bent over a waist-high table, bare bottom peeking out from under the shorty kilt, just waiting for him, the cane on display. "I've been a naughty girl and need to be punished." This would be some way to come home from work.

He starts her with a soft martinet, kilt thrown up, mild stuff so far. Even the professional CP actress, Ms. Johnson didn't have any trouble saying: "You can punish my bottom, then you won't be mad any more...it stings a little but it's quite nice...a bit harder...harder." A soft tawse "stings more." Wall mirrors give us a 360 degree view--she lifts her pretty blond head--of this already incomparable erotic consensual scene.

Sandra moves to kneel on a settee and leans over onto the couch. All her movements accent her glorious pinked bottom. Breathtaking closeups. Finally Buddy tugs down her thong. He applies several paddles--it seems she bought them for his use...a leather sole is very impressive. "It's getting warm now." Buddy uses his doubled leather belt. Sandra lies lengthwise on the couch. Her hard solid bottom sings out loud.

Buddy flexes the cane. "Oh,God." Back over the table, thong at the exact thigh placement; a position we love. "Before the cane, we need a little more [leather sole]." At last, the rattan: "I want you to count these." 24 strokes, short little snaps, harder than all the foregoing handspanking and paddling, several closeups, mirror reflecting her pretty face. They embrace at the conclusion.
The Exhibitionist

A Strictly English Production
Guest Review By: Gord Henley
Rating: 4 out of 5 stars
To me, the best part of this offering from Strictly English America ( a sister site of Ohh Tee Kay.com) is the beauty of the spankee, Sam Johnson. You will have to watch a lot of spanking movies to find a more beautiful woman, or a more beautiful bottom.

The movie begins with Sam and her boyfriend returning from a night of dancing. It seems Sam has been enjoying the attention of other men, as well as showing off her body and dancing provocatively a little too much for her boyfriend's liking. (She should be spanked just for going out in public wearing the outfit she has on. Not that we viewers will mind.....)

The first spanking Sam receives is taken quite well by the beautiful blonde... at first. Perhaps it's because she's "feeling no pain" from her night out, but she doesn't seem to be in a great deal of distress. This changes though, as her boyfriend is determined to teach her a lesson, and as the spanking progresses, the message is received. Sam manages to get out of the punishment she deserves (for now !) by telling her boyfriend she has to go to work in the morning, and needs her sleep. He lets her off, but not before warning her she will be in for some serious consequences if she decides NOT to go work the next day.

The next scene begins with Sam's boyfriend apologizing to her boss, saying she's sick, and won't be going to work today. Sam soon joins him in the living room, where she examines her bottom, looking at the results of the previous night's spanking. He reminds why she was spanked, and also what she has coming to her today. He informs her she is not only going to be spanked, she is to be caned, and tells her to go get the cane. ( What Sam is wearing in this scene is even more enticing than what she wore for their night out). She goes upstairs to get the cane, and brings it back to the living room. However, she hides it, rather than giving it to her boyfriend. She manages to do this "just in time", as he soon joins her there. Sam is immediately taken over his knee, and given a sound spanking. She is repeatedly questioned as to where the cane is, and manages to lie several times that she has no idea. Perhaps it's lost is the best she can do. So... since he can't cane her (yet !), her boyfriend uses another implement.. a wooden spoon. The sting of the spoon jogs Sam's memory, and she tells her boyfriend to "check the wardrobe" (what we North Americans call a closet). The boyfriend goes to their bedroom, and while he doesn't find the hidden cane, he does find several other implements.

As the next scene begins, we see an amazing transformation in Ms. Johnson. Not only has she managed to get dressed in an extremely delicious, provocative "school girl " outfit, she has placed herself - skirt up and bottom exposed - over a desk. Not only that, the missing cane has magically reappeared, and is prominently displayed. By way of explanation, Sam tells her boyfriend she is truly sorry she acted the way she did, and deserves to be punished. ( If only all spankees could be so co - operative, eh ?) Naturally, the boyfriend agrees, and a thorough punishment begging. He uses his hand, a leather strap, and a couple of leather paddles... both on her (barely) panty-clad bottom, and her completely bare bottom. While the spankings, strappings, and paddlings are real, Sam makes no effort to get out of the way, and absorbs each resounding smack. To me, this shows real contrition, and an obvious enjoyment of spanking. (Because it turns out Sam has purchased many if the items being used on her, and may even be using them on others). Only love, and a high pain threshold, could allow Sam to endure the punishment she takes in the "over the desk scene".

However, despite all of her attempts to show she is truly sorry, Sam's punishment is not over. She still must be caned. She manages to take two dozen strokes, and must count each one out loud. Movie or no movie, there is no way her reaction to the caning could be "faked". It - like all the other punishments in this outstanding movie - are 100 per cent real.

The ending of the movie is a nice touch too, and also true to the scene. Sam has done something even she knows is wrong, has been punished for it, and is now forgiven. The loving embrace Sam and her boyfriend share after the punishment ties the whole movie together.

"The Exhibitionist" portrays real punishment of a beautiful woman, issued by a handsome man. For these reasons, as well as the eroticism that are part of all Strictly English America movies... this movie should "exhited" in a place of prominence in the collection of all true spanking enthusiasts.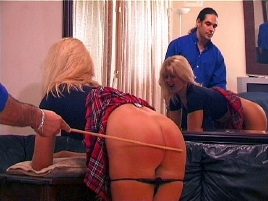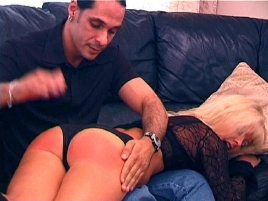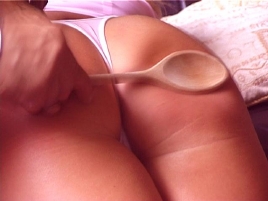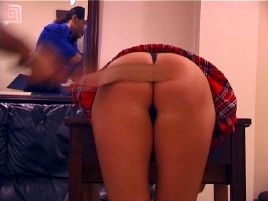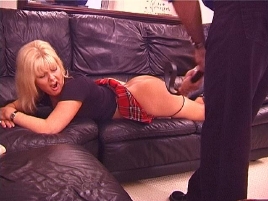 Back to Strictly English Reviews Page
Back to Reviews Page
HOME


Support our Free Achive Spanking Site by joining one of the sites below.

Marked Butts - Spanking Online - Realspankings - Firm Hand Spanking - Girl Spanks Girl - Clare Fonda Pass - Punished Brats