This is the first video in my memory that Jennifer Brooks has distributed a work produced by someone else, and she chose to do it in cooperative venture with Top Marks - Kane Magazine. (www.kane-magazine.com) Top Marks is one of the most respected producers of British spanking video erotica. I am a big fan of English Corporal Punishment videos, so I was very happy to see this. I sure hope there are more of these forthcoming.
The story line is contemporary, well written, and smoothly done. It begins in the parlor with 2 very beautiful young girls, dressed in traditional English Girls School uniforms, discussing spanking in general. Sarah asks Emily to show her how it feels to be spanked. Well, Emily does not have to be asked twice. First she bends Sarah over and gives her a few swats with the hand on panties, and then on to the paddle, leather strap, whip, and cane with her panties down and legs spread wide (yes, we get to see that beautiful part of the body we all want to see). Within the first 15 minutes Sarah is well marked and sniffling from the pain. She is learning what it's all about. Before the caning is over Sarah is reduced to tears.
Well, turnabout is fair play, so it's time for Sarah to punish Emily in exactly the same manner. Emily is reduced to tears even quicker the Sarah was. What's that old saying "paybacks a bitch" - this scene proves it! There is a very pleasant surprise at the end of this scene.
Well now, Grandpa Lewis walks in on this and decides to show the both of them "what a real school punishment is like". He proceeds to do just that. When he is through, there is no doubt left in the two girls mind what a real school punishment is all about, and their rears are bruised, welted, and striped.
This is a wonderful video done in the "grand old" English manner, and has to be seen to be appreciated. I recommend it highly to anyone who really appreciates a good corporal punishment/spanking video. The punishments are hard, and severe, and leave well-marked and very sore bottoms. On the spank-o-meter I give it a 9.9 out of 10.
Aldus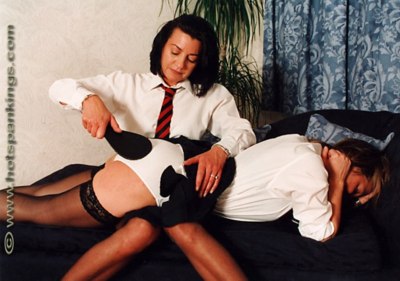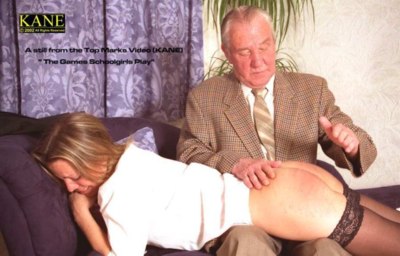 Back to Top Mark's Review Page
Back to Reviews Page
HOME


Support our Free Achive Spanking Site by joining one of the sites below.

Marked Butts - Spanking Online - Realspankings - Firm Hand Spanking - Girl Spanks Girl - Clare Fonda Pass - Punished Brats