MOOD PICTURES
Photos used to compliment reviews are posted with the permission of Mood Pictures and may not be posted to any other website without their permission
GESTAPO 2

Guest Review by Sprite
The sequel to Gestapo commences outdoors in a prison camp setting where 8 naked girls are lined up for inspection as daylight fades towards the end of the day. The temperature drops as the sun goes down evidenced by the erect nipples. Two girls are picked out for punishment. One skinny girl is tied to a post and hosed down with cold water. Another fuller figured prisoner receives 50 lashes of the whip on her back.
The action then moves indoors where the prisoners make an escape attempt. Three are caught and face interrogation at the hands of two prison guards and one of the prisoners who is assisting the Gestapo officers. This takes the form of a severe caning.
The first prisoner is bent over and tied to a bench to receive 70 harsh strokes administered by a guard and the traitorous prisoner. The strokes are full force from the beginning and very soon the poor girl's bottom shows marks and her face is contorted with pain. She endures the punishment well but by the end her bottom is extremely bruised and it will be many days before she can sit down without feeling the effects. After this she is laid down on a hospital trolley to have a cream applied to her bottom which unfortunately is experimental and contains irritants which causes further pain rather than relief.
The final part of the film is a Mood classic sequence. One girl is lying on her back with her legs tied in the air in the position patented by Mood and a second girl is bent over the punishment stool. Both are naked and very pretty, indeed the second girl has one of the loveliest bottoms I have seen in a spanking film. Each receive 50 strokes of the cane, administered alternately by the three interrogators. The strokes are all very hard and leave marks from the beginning. The positions mean that the first girl receives strokes covering her lower bottom and the backs of her legs to her knees and the second girl receives a more concentrated blistering of her entire bottom. They each count out the strokes and noticeably suffer, particularly the second girl who weeps quietly from stroke number 10, but endure the punishment admirably and with great courage. After their thrashing both girls wish to give the information required and the film draws to a close.
I liked this film. The punishments are, as expected from Mood, very severe and not for the faint hearted. The cane strokes are all very hard, but not particularly brutal, and are expertly applied by the three actresses. My only disappointment was with the poor lighting of the indoor sets which was too dark, especially for the first caning sequence as a result of which some of the effect of the caning is lost to the viewer.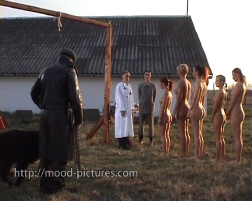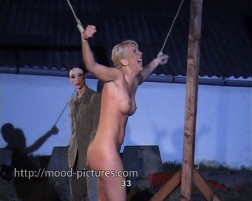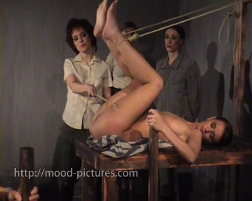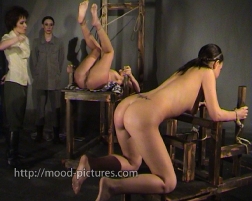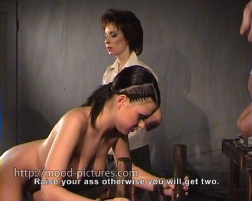 Back to Mood Pictures
HOME


Support our Free Achive Spanking Site by joining one of the sites below.

Marked Butts - Spanking Online - Realspankings - Firm Hand Spanking - Girl Spanks Girl - Clare Fonda Pass - Punished Brats