SHADOW LANE

Click banner for Shadow Lane's Website
Photos used to compliment reviews are posted with the permission of Shadow Lane and may not be posted to any other website without their permission
KEITH'S GIRL FRIDAY

Written and Directed by Eve Howard
Produced and Edited by Tony Elka
Starring: Keith Jones and Samantha Woodley
Review by David Pierson
'Keith's Girl Friday' is a production destined to be regarded as one of the best pure spanking videos ever made. Eve Howard's script and direction, Tony Elka's superb editing and amazing performances from Keith Jones and Samantha Woodley all contribute to making this video one of the most satisfying experiences in spanking video erotica that you will ever have.

I guess in some ways this production can be viewed as part of the Keith Jones 'Naughty Secretaries' trilogy. In 'Naughty Secretaries Week' (a major holiday in some states) Mr. Jones punished the lovely Catherine Beaumont for failing to carry out her duties in a competent manner. In 'Naughty Secretaries Week II', Keith spanked the entrancing Erica Scott for being a bad secretary. Hmm...there seems to be a pattern here. I do believe that Mr. Jones hires poorly trained girls who are sure to fail in their duties so that he may spank their naked bottoms. What do you think?

In 'Keith's Girl Friday' it seems that the devilish Mr. Jones is at it once again. This time his victim is the lovely Samantha Woodley. Miss Woodley (America's Spanking Sweetheart) is the hottest spanking performer in the business today. She is being compared in the industry to the legendary spanking stars of the past such as Kiri Kelly and Tonya Fox. Ordinarily one would chalk up such statements as wishful hyperbole. This is not the case when one is discussing Samantha Woodley. She is a performer whose talent is most unique. This young lady is drop-dead gorgeous and when spanked she kicks and squirms in the most enticing manner. Miss Woodley has also grown as an actress with each succeeding video production in which she has been featured. Keith Jones and Samantha Woodley, the Hepburn and Tracy of the spanking cinema?

In this wonderful production, Mr. Jones has hired the lovely Miss Woodley as his personal assistant. Miss Woodley's fist task in the service of her employer was to purchase health food for him. Keith believed that he needed to loose weight and live a healthier lifestyle. When Samantha returned from her shopping excursion her choices were anything but the sort of heart healthy food that her employer had requested. I do not believe that potato chips and cola help in the lowering of one's undesirable cholesterol. Soon Samantha found herself lying over a stool while Mr. Jones warmed her lovely bottom with his hand. She let out a little shriek of embarrassment as Keith lowered Samantha's panties to spank her '"on the bare".

After her chastisement Samantha promised that she would be a better employee from then on. I think that she may have had her fingers crossed.

The next day we find that our girl was fooling around in a chat room instead of doing the tasks assigned to her by Mr. Jones. Keith is under the gun and the success of the project in many ways lies in the hands of his flirtatious assistant. (There's something happening here, but you don't know what it is...do you Mr. Jones? My apology to Bob Dylan.) This time her takes his lovely assistant over his knee and spanks her soundly. He did take time to admire her "Victoria's Secrets" before lowering them. After a sound hand spanking Samantha was then treated to further punishment with a paddle. After concluding his employee counseling session with Samantha he gave her a series of tasks that she needed to complete or face dire consequences. To spur her on to future excellence in her work Keith left the paddle on the table directly in her line of sight. (I think that it just turned her on and distracted the poor girl.)

The following day we find an exasperated Keith Jones confronting his naughty employee. It seems that she failed to carry out her assignments and this has led to disaster for the business. This time Mr. Jones decided to make a real impact on Samantha ...literally and figuratively. First he gave her a hard over the knee hand spanking. Then Miss Woodley's naked bottom was subjected to the strap while bent over a chair. Then she is placed, once again, over Keith's lap and is subjected to the sting of the tawse upon her already sore bottom. You would think that would be enough now wouldn't you? Surely by now Samantha has gotten the message. Well, Mr. Jones didn't feel that way and administered six hard strokes of the cane to the bottom of the whimpering Samantha. Of course our Samantha promised to be a diligent little employee from then on. (Wouldn't bet on that one.)

This video succeeds on so many levels. First of all this production is quite hot. With Samantha Woodley playing opposite Keith Jones how could it be anything but. The video also contains the wittiest dialogue this side of a Noel Coward play. Throughout this production it is clear that both Keith and Samantha are getting what they want. He gets to spank the lovely bottom of his naughty employee and she receives the attention of her ruggedly handsome employer. When you watch this video you will be almost as satisfied as Keith and Samantha. This is an experience in spanking video erotica not to be missed.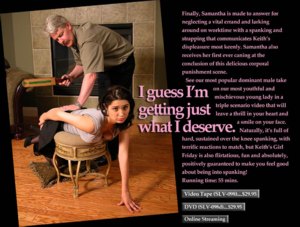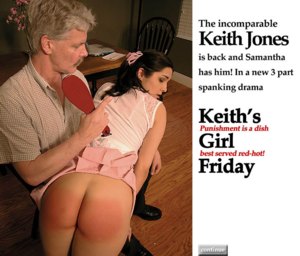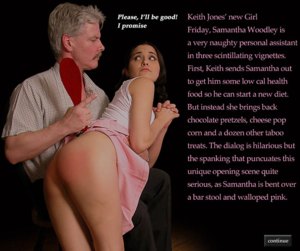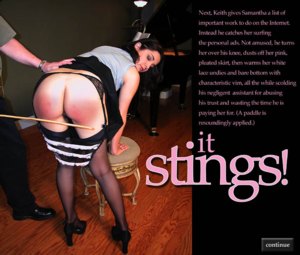 Back to Shadow Lane's Review Page
Back to Reviews Page
HOME


Support our Free Achive Spanking Site by joining one of the sites below.

Marked Butts - Spanking Online - Realspankings - Firm Hand Spanking - Girl Spanks Girl - Clare Fonda Pass - Punished Brats