Girl Spanks Girl
www.girlspanksgirl.com
Updated Review by John O'Connell on 2/12/10
Girl Spanks Girl has been online for five years now and continues to add new and exciting material to the site. Clare manages to find the cutest and hotest girls to submit to spankings in a variety of scenearios. Girl Spanks Girl also includes all four Exclusive Education videos, which are large cast events that must have been quite the production to organize. Each scenario is complete with a variety of high resolution images and includes a number of video clips. The video clips start off as segmented pieces and will include a full length video once the complete production is online. Video clips have received a major overhaul and are much larger and of a much better quality than when I originally reviewed the site. The screen size for videos has been improved a large 1280x720 which looks really good when opened up to full screen on a 22 inch monitor. Frame rate is clocked at 29.97 FPS and they have a data rate of 974 KBPS. Clare come up with some original ideas for scenarios and the vast archive can keep you entertained for hours and hours. My only complaint is that sometimes it can take a while for a complete scene to be uploaded to the site, despite having daily updates. Cost is $22.95 for 30 days and is also part of a multi-site pass that you can purchase that includes her other spanking sites.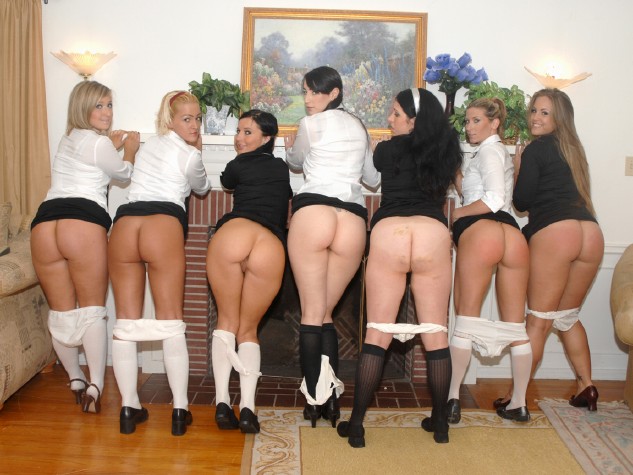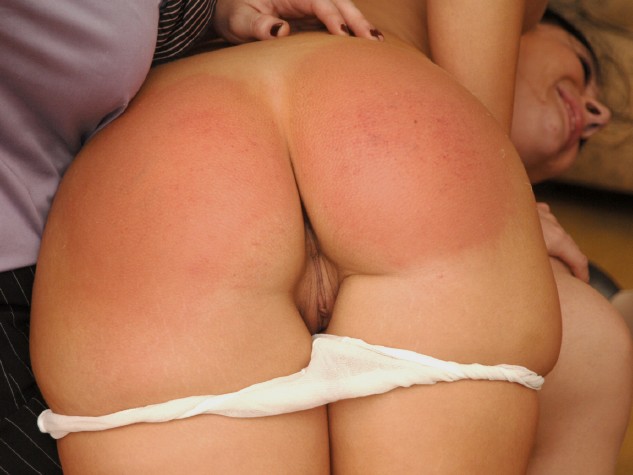 Review by John O'Connell 5-23-05
Girl Spanks Girl is one of the Clare Fonda's latest sites to make it's appearance on the internet. I've always enjoyed Clare for her down to earth personality as well as the edgy and different material that she constantly entertains us with. While the site is still young and doesn't have the archive that some sites do, the material that is found on the site at present time will keep the member occupied. The site is broken down into three main sections: Erotic Spankings, Sensual Spankings, and Disciplinary Spankings. As you might guess, the severity and scene stories are different in each category. In Erotic Spankings, we currently have 4 different scenarios (including one that has Paris Kennedy and Ashley Fires making out before spanking each other.) Each scenario has a decent photo gallery with photos that span the entire range of the scene. They are thumbnailed for easy loading and the main images have a resolution of 640X480. As of this writing there are 31 video clips in this section, some of which are awaiting more clips to finish the scene. The clips themselves are of a good quality, with a smooth frame rate and viewing area of roughly 360X320. Each clip runs around 90 seconds to two minutes and averages 5 MB in size. The Sensual spanking area is similar to the Erotic Spanking section, except there is less of a sexual overtone. This section also has four scenes online right now, with around the same number of clips and photos as the Erotic Spanking Section. This area also includes a scene that has Paris and Ashley spanking each other. What can I say, they are both sexy and beautiful. The last movie/photo area is Disciplinary Spankings. As you might guess, this is the no nonsense section get down to business section. There are 3 scenarios at this time, with about the same number of photos and videos as the other two. As you can see, Clare makes it a point to keep all sections fairly even as not to overload one area and not provide enough content in another. My favorite scene from this section was the "Soccer Moms" set, which was taken from the video of the same name. Boy, when Clare and Chelsea start spanking each other, they don't pull any punches. In addition to these areas, Clare provides the member with a "talent" page. This area features the models that appear in the scenes, with each having her own page of glamour style photos. The update page lists the most recent updates with a hyperlink that will bring you right to that scene. That about rounds it out. While the site doesn't have the archive base yet that some of the long time net residents have, her fresh ideas in filming do provide the member with a pallet of creative material. I think one can immediately see the difference of a site created by a "scene person" and one that is created for the sole purpose of generating revenue. I know I am always looking forward to see what Clare and her friends will be doing next.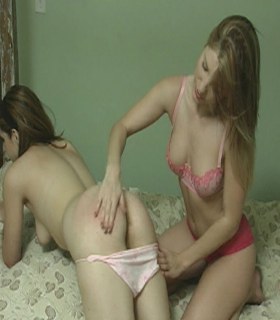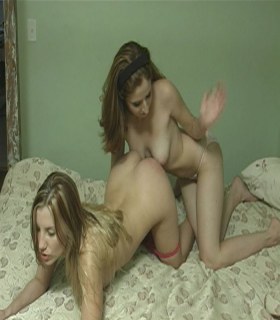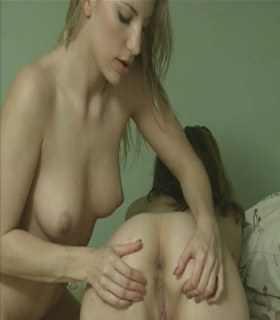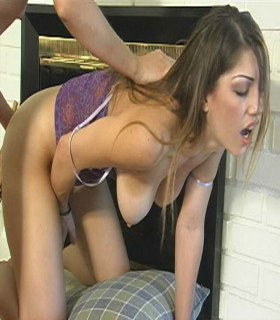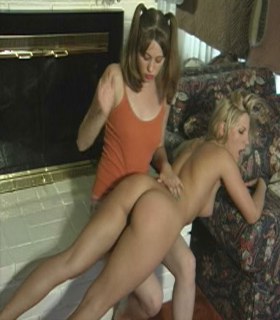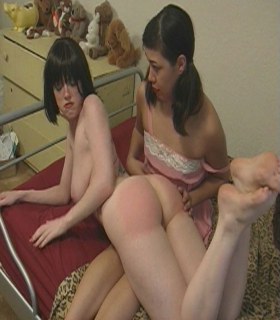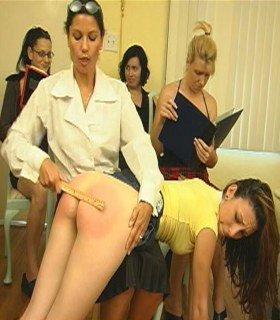 Back to Website Reviews
HOME


Support our Free Achive Spanking Site by joining one of the sites below.

Marked Butts - Spanking Online - Realspankings - Firm Hand Spanking - Girl Spanks Girl - Clare Fonda Pass - Punished Brats