Girl trouble 2, a brand new spankathon from the talented creative minds of punishedbrats.com, was thrilling from the first bottom reddening smack to the last. Featuring sexy brats, wriggling, kicking, cornertimes, pink bottoms, red rosy stinging bottoms, bare bottoms, spankings over tight jeans, paddles and most fun of all lots of naughty girls doing what they do best being naughty brats and deserving to have their bottoms made red and sore for our pleasure.
It didn't take long at all to see the hard spanking action in the delightful first scene 'Rent a Mom', featuring beautiful brat Beverly with a bottom that looks simply ultra sexy and very spankable . Concerned parents have sent Ms. Susan from the Rent-A-Mom agency to discipline their naughty daughter while away at college. Beverly tries her hardest to let Ms Susan know that she hasn't been partying too much and is doing well in school, but Ms. Susan is not satisfied and decides to give the spanking she's been hired to give. She spanks Beverly over her jeans as she pleads for the spanking to stop, then on her bare red bottom .As she spanks, Beverley tries to explain that she hasn't been naughty and Susan soon learns the truth when Beverly's naughty and adorable party-girl roommate, Sarah walks in on them. Ms. Susan is soon to realize she's just spanked the wrong girl. (ohhh dear!) Ms. Susan must make things right, and to do so she decides to spank Sarah even harder than Beverley, wasting no time on taking the naughty Sarah across her lap. Sarah is a thrill to watch as she wriggles, cries, kicks and squirms like there is no tomorrow as Susan spanks her very hard all over her cute bare bottom. It does not take long to see Sarah's bottom getting bright red in a hard spanking which is very impressive. I can only imagine Ms Susan's hands will be very sore but not as sore as Sarah bright, cherry red, stinging bottom. I just can not get enough of this girl, firstly she is hot and such a brat she can take hard spankings and most importantly she is fun to watch.
Scene 2: Next Semester
In this scene we get to watch curvy babe Janine and the adorable cute Pixie getting their bottoms red spanked sore by their dad for being naughty girls. They both had big plans for when they go back to college and it is no surprise that none of these plans are to do with learning and classes .Unluckily for the girls their guardian, David finds out their naughty plans .He bends them both over and straps them bright red .He wants to make sure they know that class is important and the only way these girls seem to learn is when their bare bottoms are sore and red hot. They both get twenty smacks with the strap in turn as they bend over with their bottoms pointing out, first 10 over their jeans then the final ten in an embarrassing bare bottom strapping.
Scene 3: Skipping School 2
This scene leaves us where Skipping School 1 ,featured in Girl Trouble 1, left us all wanting to know what happens next and finally we get to see the rest of the scene and it was sure worth the wait. In the first scene in Girl Trouble 1, Beverly couldn't help but be curious and listen in as her friend Krissi was getting a good firm spanking by her cross step-mom for being a naughty at school. Smoking and skipping class...a big no no!!. Beverly was astonished and just could not believe that a girl in of her age would still be getting spankings. Beverly's parents decide that a spanking for their own daughter is truly deserved so they send her straight back over to her naughty friend Krissi's house to get a spanking of her own .She is taken across the knee and toughly spanked as she wriggles ,squirms, owwwwws and brats her way through each reddening smack. I just love watching Beverly she has a sexy presence on screen and her bottom looks so hot when it is red all over which we have the pleasure of seeing in this spanking. She really is a true naughty brat and it's so much naughty fun to watch.
Scene 4: Stairway Affair
The beautiful, but very naughty young brat Sophia, loses her keys and gets herself locked out of her apartment yet again, but she is not the only one locked out of her apartment her boyfriend John who is certainly not happy, is locked out too. He decides this is definitely cause for a red bare bottom so, while they wait for Sophia's sister to come by with the spare set of keys John takes her across his lap and begins her punishment spanking with hard stinging red bottom making smacks. Her bottom seems to redden quite easily giving us a lovely view of a red bottom getting spanked again and again. During the spanking her boyfriend learns of more naughtiness so begins spanking her more quickly. I just love watching a bare bottom wobble as its slapped fast all over.
Scene 5. Sore Winners
In this scene the coach of the Blue Jay's soccer team has three very naughty brats on his hands and is very busy with a paddle and a lesson to be taught.!!! The three girls show unsportsmanlike conduct on the field (*naughty naughty!!!) .A wooden paddle to each of their bare bottoms is the only way these naughty girls are going to learn. They all take turns in bending over with their hands against the wall and are told to stick their bottoms s out in the air to feel the paddles painful thud as all their bottoms are reddened beautifully. They each get 6 firm hard swats over their pants and they even have to count each one. After the coach leaves the rooms the girls are all curious to see how red their bottoms are so they all pull their pants down and compare red bottoms. Poor Sofia is particularly red .This scene was enjoyable because it was done with realism and we get to see a camera angle on their bottoms and their faces during the spanking so we can watch they painful expressions on their faces.
Punished brats latest movie was very enjoyable and the smacks really hit the right spot. What I love about Punishedbrats movies is that they give the girls long spankings .There sure are a lot of spanks for one movie. Very enjoyable, and certainly a turn on for those who love to watch a girls bottom wriggling about as it gets spanked red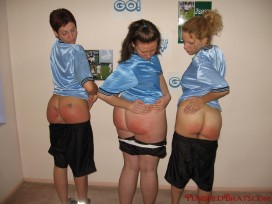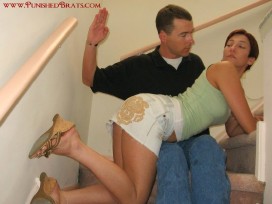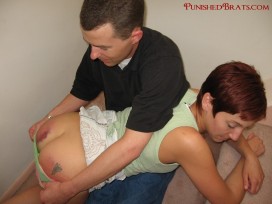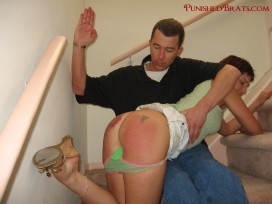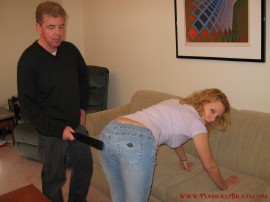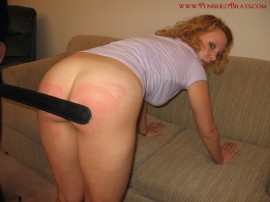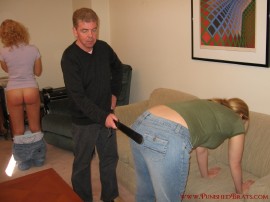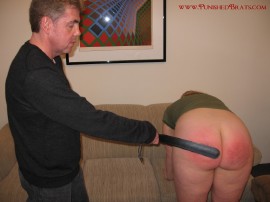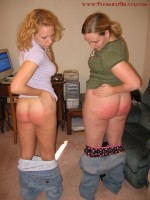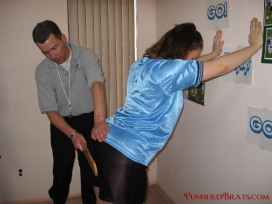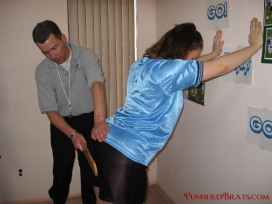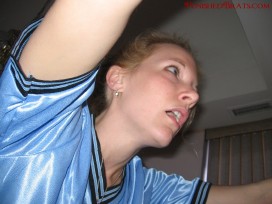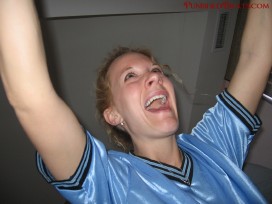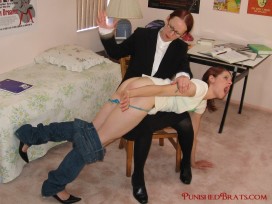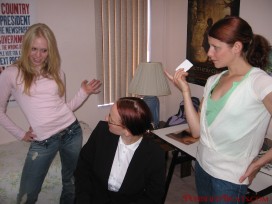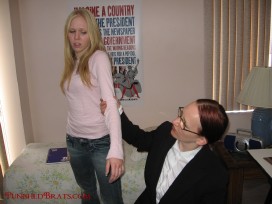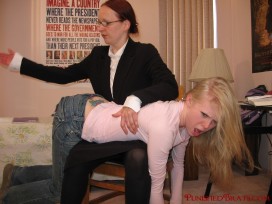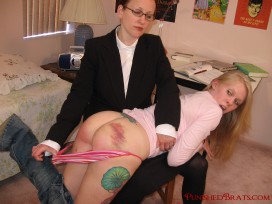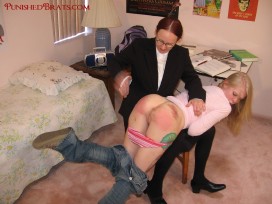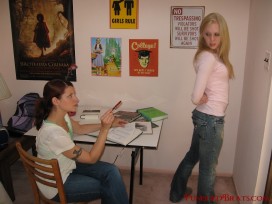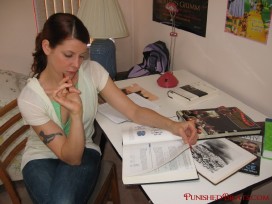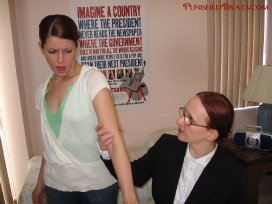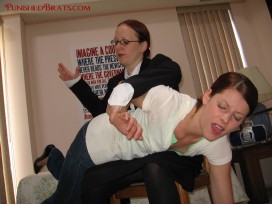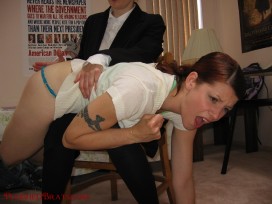 Back to Punished Brats Review Page
Back to Reviews Page
HOME


Support our Free Achive Spanking Site by joining one of the sites below.

Marked Butts - Spanking Online - Realspankings - Firm Hand Spanking - Girl Spanks Girl - Clare Fonda Pass - Punished Brats