2nd Guest Review: Posted on 5/18/07
When a vanilla spanko orders his/her first spanking dvd, they never know what to expect when it arrives. Is it going to be in a big yellow envelope marked "SPANKING ENTHUSIAST LIVES HERE', is the quality going to be poor and the editing choppy? The nerves of a new spanko on the day their first video is supposed to arrive are always on edge. So why does ordering a spanking video have to be so much of a circus, you may ask? it doesn't. Not with Punishedbrats.com. Their videos are of the highest quality and their service is completely confidential. Along with those great traits, punished brats always gives the red-bottom fans lots of "bang" for their buck. This remains the same with Girl Trouble 3, which may well be the new top DVD of Punishedbrats.com. Filled with realistic scenarios, great acting, hard over the knee spankings and real tears, "Girl Trouble 3" is the epitome of what a spanking DVD should be. The 6 chapters contain many of these traits which make punished brats one of the well-respected spanking sites online today.
Chapter 1: Singing the Black and Blues
One of my favorite scenes of all time, starring my favorite spanking model of all time. What more can you ask for. Starring Juliet, the pretty little blonde who is known for throwing bigger fits than Lindsay Lohan in rehab, this chapter is all about a pop superstar in a recording studio who has gotten a little too big for her britches, and soon finds that no matter how much success you achieve, your mother will always be there to bring you back down a peg or two. The spanking is great, the tears and kicking and "Mommy, please's are delicious, but my favorite little line is when her mother sends the producer out of the room and sits down. Juliet calls her pretty and begs her not to give the spanking that has been so rightfully earned over the months. It's very cute.
**** out of **** (4 out of 4)
Chapter 2: Operation Stepmom
A very original storyline, the story revolves around a girl who is doing an experiment at school to see if bad behavior can cause her young stepmother to become a disciplinarian. When the girl pushes a little too far and the step mom decides to step up, the girl realizes she bit off a little more than she can chew. Chelsea Pfeiffer is great as always, and her acting is always believable and her spankings are merciless, the way they should be.
*** out of **** (3 out of 4)
Chapter 3: Bratty Bride
A bride decides to get a little too much of an attitude before her wedding day towards her father, who is paying for the ceremony, and he decides to show her she is still just his little girl with a sound bare bottom spanking. Lots of good action in this, and the girl kicks and yells a lot, but there is something off about the scene. Maybe its just not believable dialogue, but this scene doesn't do it for me. Still a great spanking, but the pre scene acting didn't hold my interest. However, this scene promotes domestic discipline relationships, so I'm giving it 2 stars anyway's.
** out of **** (2 out of 4)
Chapter 4: Spanking Instructions
Aside from any of Juliet's videos, the opening to this is my favorite thing Punished Brats has done. I love the concept of this rebellious punk teen who decided her dad was a pushover and he wouldn't spank hard so she asks for a spanking to get out of grounding. The dad prints out instructions from a web site on how to spank and the girl gets impatient and shows him to just smack her butt. He gets mad and starts going to work on her and pretty soon the pretty little punk is a bawling, kicking, apologetic mess. The end gets repetitive but its still a great scene, and the opening makes it for me.
*** out of **** (3 out of 4)
Chapter 5: Aunt Susan
Another slower vid, this one is just what it seems like it would be. Her aunt gets a call about Emma being nearly kicked out of her private school, and she proceeds to take care of it. I'm not sure why, but a lot of women spankers don't interest me. I guess unless they prove their severity to me, I can't take them seriously as disciplinarians.
** out of **** (2 out of 4)
Chapter 6: Hawaii or Bust
2 girls getting spanked by mom and dad, one on one first, and then spanked together at the end. My second favorite video on this DVD, from start to finish. Great acting, hard spankings for both girls, and a great scenario. Not a lot to say here, this is a must see, and i'm not going to spoil it. Two brats get what they deserve by very stern parents.
**** out of **** (4 out of 4)
Conclusion:
All in all, Girl Trouble 3 is a fantastic video, and it is worth every penny. Nearly an hours worth of spanking action. For any spanko looking for a professional subtle company whose videos are well edited and high quality, look no further than "Girl Trouble 3" brought to you by Punishedbrats.com
DVD rating: **** out of ***** (4 out of 5)
Guest Review by: Chelsea James, posted 1/26/07
Well, the folks at Punished Brats have hit another one way, way, way out of the park. Girl Trouble 3 is not only packed with non-stop spanking action, but it's also extremely creative. It almost seems as if we dream up the fantasies and they put it onto film. I mean who wouldn't want to spank Brittany Spears??
Singing Black and Blues features Juliet (who in my opinion, if anyone cares, is beyond fantastic), who plays a pop diva and a very bratty one at that. Can we say "Hello Ms. Spears?" Chelsea Pfeiffer plays her mother, who wastes no time in putting bratty Juliet over her knee for a very sound spanking, that has her singing a different tune (get it, different tune, hahahaha) after there is the threat of being dropped from the record label. Not only is there the humiliation of being spanked in the studio, but poor Juliet is also informed that she must move back home and put up with her mother's rules. Not very pop diva-ish.
Operation Step mom is bound to be a classic. I always knew I was not the only one to push buttons to see how long it would take before someone finally took me to task. I never went so far as to make it part of a study for school like Beverly did. Makes for one interesting paper, that is for sure. Beverly pushes and pushes her stepmother, the magnificent Chelsea Pfeiffer, until she finally relents and gives Beverly the spanking she has been asking for. Albeit much harder than Beverly bargained for. Towards the end of the video Chelsea threatens to tell Beverly's father what his naughty daughter has been up to. I think I see a sequel in the works?
Bratty Bride features David Pierson, who convincingly plays a concerned father, and Vanessa, who even more convincingly plays his bratty bride-to-be daughter. Bridezilla, er, I mean Vanessa, has been rotten not only to the entire wedding party, but the wedding planner and her future husband. David sees it fit to take matters into his own hands before things get even further out of control. He informs Vanessa that she is not yet married and still his "little girl" and he is going to spank her just like when she was little. And boy does he spank her. Vanessa screams and pleads with him to stop and promises to start being good to everyone if only he will stop. David informs her that she will submit to a spanking any time he deems it necessary or she will lose that Mercedes of hers that he is paying for. The ending features David pulling a contrite Vanessa from the corner and taking her off to teach her husband-to-be just how to deal with a naughty girl. Another sequel? Oh yeah and I can't wait for it. If only Hollywood would start making sequels as good as the ones I am sure Punished Brats will put out.
Spanking Instructions features an exasperated Ian who has done everything he can think of to try to get Holly into line. Having found nothing that has worked he has printed off instructions from the internet on how to give a spanking. With Holly across his knee, he reads the instructions aloud and before long is giving her one firm spanking. Something makes me think this really isn't his first time.
Aunt Susan features Emma and the wonderful Susan. After receiving a phone call to inform her that Emma is close to being kicked out of her exclusive school, Susan takes Emma across her knee and gives her one long, hard, well-deserved spanking.
Hawaii or Busted butts features Beverly, Vanessa, Veronica, and Ian who are all about to depart for a much needed vacation to Hawaii. It's become aware that Beverly and Vanessa have been behaving in a less than perfect manner and have been told to either take a spanking before leaving for the airport or not go on vacation. Desperate to go to Hawaii and to not be left home with an aunt they dislike, both girls get a spanking that will make the long flight very uncomfortable. Hopefully, for them, their bottoms will not be so red by the time they land and will be able to show off their cute swimsuits on the beaches of Hawaii without people seeing that they both were just spanked.
Girl Trouble 3 is bound to be a classic from Punished Brats and is a must have for anyone who is not only a fan of PB, but also a fan of spanking. The entire cast is fabulous and I am waiting anxiously for more videos to be released by this amazing production house.
Free Trailer: Click Here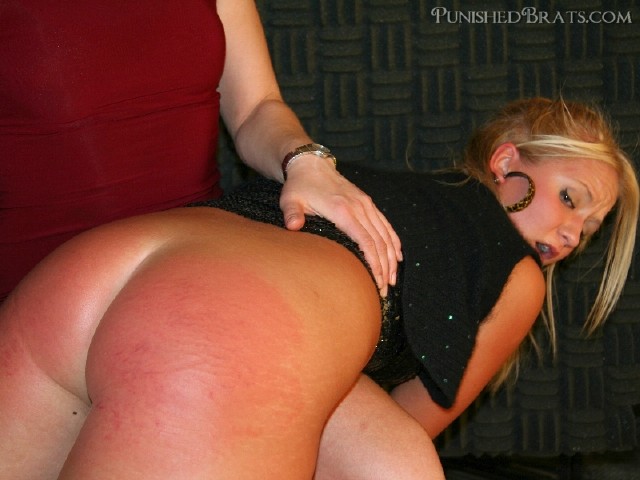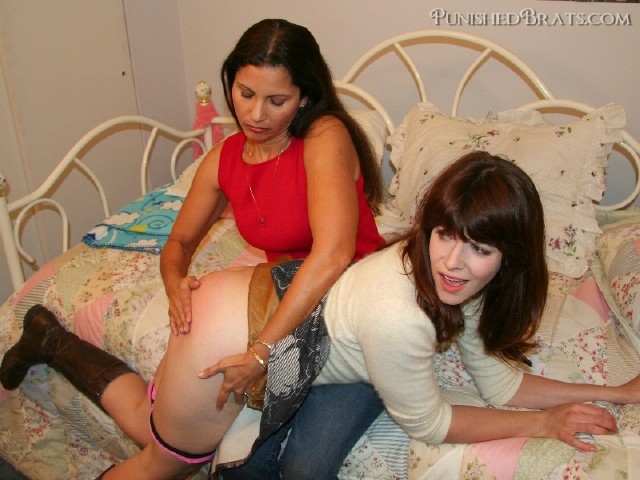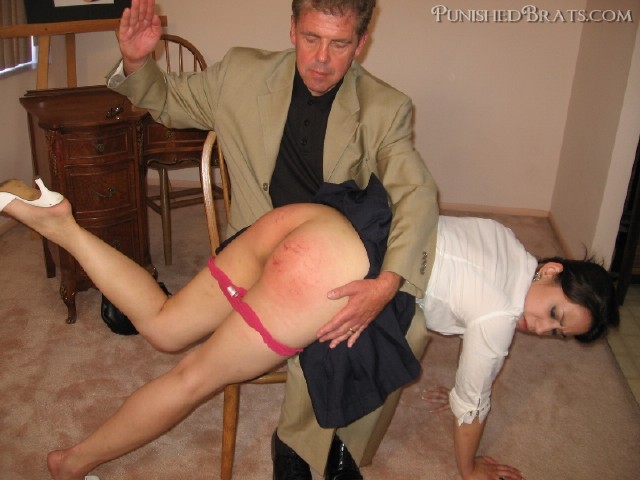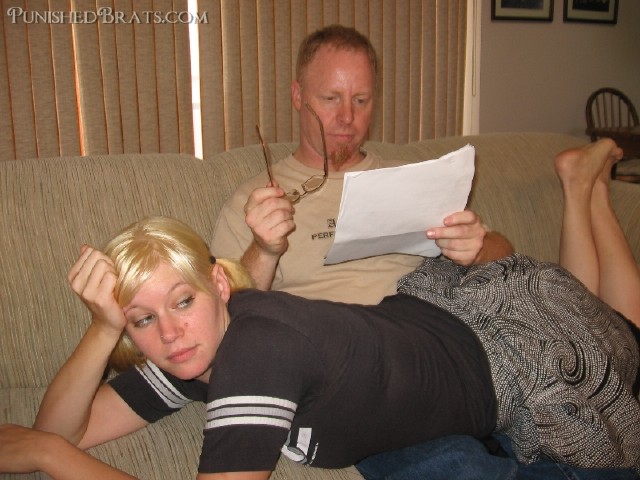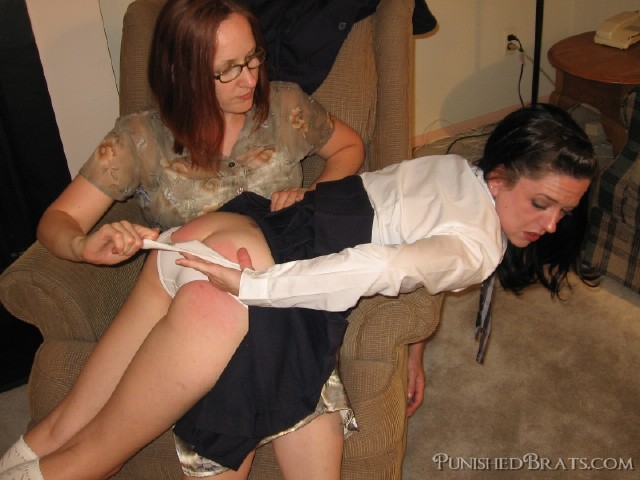 Back to Punished Brats Review Page
Back to Reviews Page
HOME


Support our Free Achive Spanking Site by joining one of the sites below.

Marked Butts - Spanking Online - Realspankings - Firm Hand Spanking - Girl Spanks Girl - Clare Fonda Pass - Punished Brats