While I know writing reviews of Punished Brats material might be considered a conflict of interest since David Pierson is my friend, I just can't help it. I know first hand how much time and effort he and the PB staff puts into each shoot. I also know how much he loves putting out a polished product and sometimes how picky he is about the smallest details. So, I'm bringing you my review of Girl Trouble 5.
As with the previous DVDs in the series, Girl Trouble 5 consists of six different scenes. Each scene is separate and do not relate to the other scenes (meaning that the six scenes do not form one large story.) The first scene stars Pixie and Veronica. Pixie is a blogger and has been sharing her misdeeds with her mom, who has repeatedly threatened to spank her, but has as of yet failed to make good on that promise. That is until now. The scene begins with Pixie telling the "blogging audience" how she is being threatened with a spanking. She even goes as far as to read the dictionary definition of a spanking. This is actually a worth while watch, her facial expressions and demeanor in reading the passage is very comical. After doing some dancing around the room, Veronica Daniels enters the room with hairbrush in hand. Pixie is surprised by the fact good ol' mom is going to made good on her promise. Mom doesn't allow Pixie to turn the computer off, which means that the internet blogging audience is about to get quite a show. With the strength of a lumber jack, Veronica yanks Pixie over her lap in one motion. Faster than you can say "you've got mail", Veronica pulls up Pixie's mini-skirt and whisks down her purple panties. Let the hairbrush spanking begin. Those familiar with Veronica knows she's got a baseball pitcher's arm and she just unleashes a storm on Pixie's bottom. We are treated to several camera angles during the spanking as well as some rather witty remarks. Although PB girls seem to reach octaves that no human should be able to plateau. Between the sound of the hard whacking and the screaming, David should include a package of aspirin with every DVD order. At one point Veronica says "It's a spanking, it's supposed to hurt." Well, with the way you spank it's a wonder she didn't start chewing the bed post. Holy shit does this woman beat the tar out of Pixie. How she can still speak at the end of this video is a mystery to me.
Scene two features Sarah and Veronica Bound. This is another mother/daughter scenario. Sarah is a lazy college girl that doesn't want to do much studying since the party life leaves little time for it. Then mom comes to school to straighten things out. If you thought a hangover was bad before, imagine having Veronica Bound wake you up and tell you a spanking is forthcoming. Not the makings for a good day. Especially when the "walls are paper thin and everyone will hear." Having been brought across Veronica's knee, Miss Sarah's spanking beings over her denim mini skirt. All those that like mini skirts raise your hand. Me too. The bar hopping maiden's skirt is given the flip and the spanking then continues over her striped panties. Veronica's spanks are almost rhythmic. Sarah decides to offer up a plea of only going out three nights a week. The response: lower her panties. I'll take that a rejection. After several minutes of bare bottom spanking, Sarah agrees that she won't go out anymore. But, Veronica did drive a long way to get to the school, so she feels a few more spanks are in order to make sure she got her gas mileage's worth.
Scene three brings in Susan, Beverly, Pixie, and David. This is a rather interesting approach as Beverly and Susan are mother and daughter that have come to the gameshow Spanking of the Week. Hosted by David and Pixie, Susan has had it with her daughter's behavior and is coming on the show to give her a much needed spanking. "The combatants" are introduced by David and Pixie before interviewing them both. With David and Pixie commenting in the background, Beverly is taken over Susan's knee and a hand spanking over her shorts begins. Beverly is unphased by the spanking and even says to "wake her up" when the spanking is over. After a few moments, the constant spanking action finally grabs Susan's attention. What does Susan do? Spank harder of course. Then Beverly is made to stand so that Susan can yank down the shorts. It's panty spanking time. Now Miss Tough Girl is getting embarrassed having her appear like this on television. Plus, the spanking seems to hurt a bit more without those shorts in the way. Beverly puts her hands in the shape of T and calls a time out. She walks over to the corner and rubs her bottom. After an interview with Pixie, Beverly returns to Susan and promises that she'll be good. Susan calls no joy and pulls Beverly back over her knee and takes down her panties. It's not over until she says it's over. And it's only over after a heavy handed bare bottom spanking.
Next up is Andy and George. Andy is a schoolgirl that was forced to choose a teacher to administer her punishment. Thinking George was a cream puff, she selected him in hopes of putting one by on the school. She thought wrong. In the blink of an eye, Andy was over George's knee and the spanking over her schoolgirl skirt had begun. Mr. Soft Touch is anything but as he lays in on before flipping her skirt up. The blue panties are no match for his hand as he slaps each globe. He really is a bit peeved about her putting her feet on his desk. Me thinks she'll not do that again. Especially after having her panties lowered and being spanked on the bare bottom. The man takes his work seriously here and makes it well known to Andy that he's not a pushover. After a lengthy go on the bare, Andy is finally returned to class.
Who's next you ask? That would be Charlie and Veronica Bound. Evidently Veronica has recovered from her first onslaught and is ready to unleash her fury on someone else. The reason for this punishment? Charlie has been skipping church to hang out with her friends. Although Veronica doesn't have a rod handy, she's not going to spare this child from a sound hand spanking. Over the blonde goes as the spanking begins over her dress. After some complaining, Veronica offers Charlie the option of going outside and picking out a switch. Wisely, she sticks with the hand spanking. For whatever reason, she tells Veronica that she used the offering money to buy breakfast. Good move. The dress goes up and the hand comes down harder. And, she's wearing this white high cut panties that don't exactly offer her cheeks much protection. While watching the spanking, I couldn't help but notice the large tattoo on Charlie's left arm. I wonder how mom feels about that? We can ponder that as her panties are pulled down. Her tune changes with a constant flow of I'm sorry's as the bare bottom spanking cleanses her of her sins.
Last but not least we have Jessica and David. David plays the part of a psychotherapist (that's original Dave) and Jessica is his daughter. When she gets into trouble, dad tends to be long winded with his scolding and she wishes that he would just spank her like her friends. She actually wants to be punished instead of having to listen to him talk. As the genie in the lamp said, you're wish is my command. David has Jessica put a chair in the middle of the room and then has her lay across his lap. He starts with a hand spanking over her jean shorts. I don't think she banked on him spanking so hard, as the ows starts pretty much immediately. Now she begs from him to stop. Begs to do something besides talk, begs for him to stop. You just can't win David. Now she promises she'll start behaving. Sure you will. She is then made to stand up and lower her jean shorts revealing her white panties. The reprieve is short lived as she is back in position in no time, feeling the sting of David's leather hand. Things were bad enough getting spanked on the panties, but she has to say that if he was so smart, he should have a doctorate. For the love of Pete, why must they insult the top when they are being spanked? No good could possibly come of it. And so the panties come down and a red bottom becomes even more red. And then he turns on the "rapid fire" hand, where the up and down motion of his hand become one blur. The scene ends with him saying "Darling, that was therapy. And it was but our first session."
Ok, I loved it, but you probably knew I was going to say that. So, if you liked what I described here, go over to www.punishedbrats.com yourself and look at the free trailer and photos. That's the one thing about Punished Brats, they are never trying to hide from you the contents of their DVDs.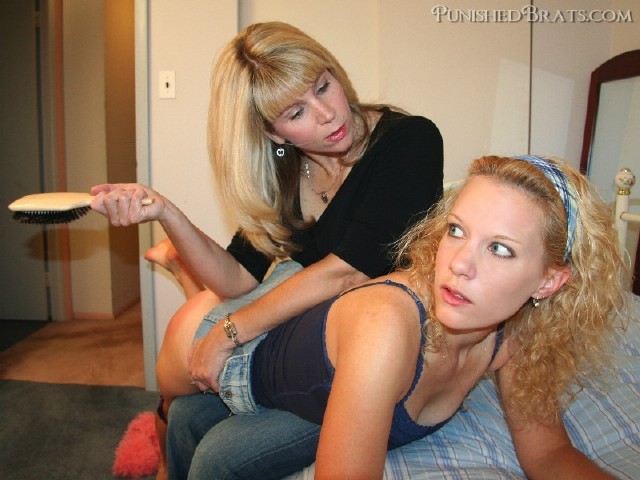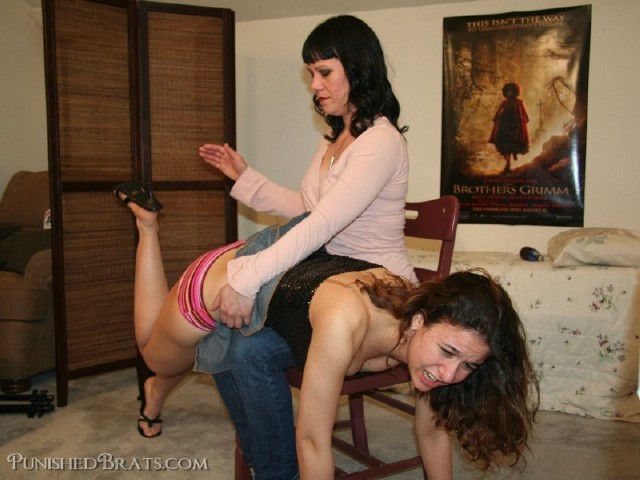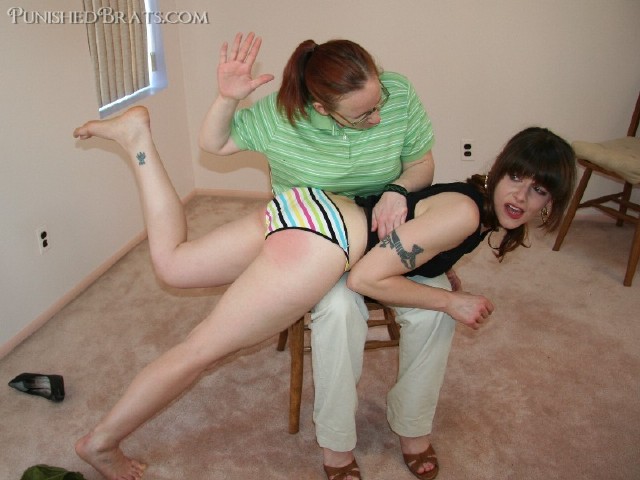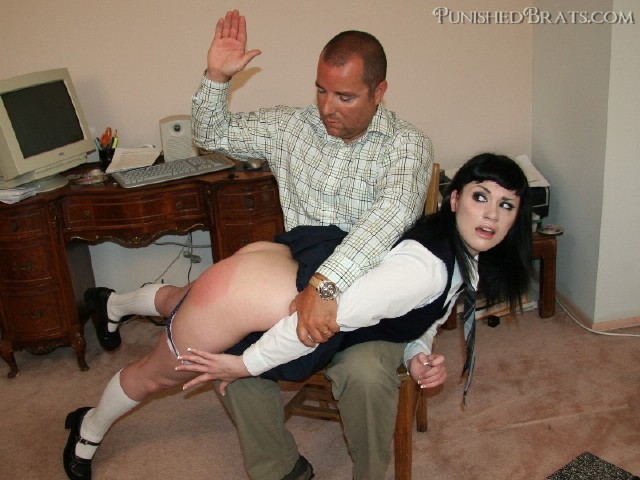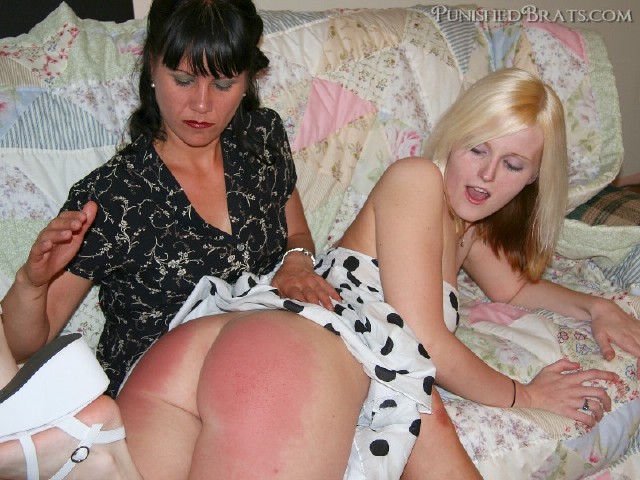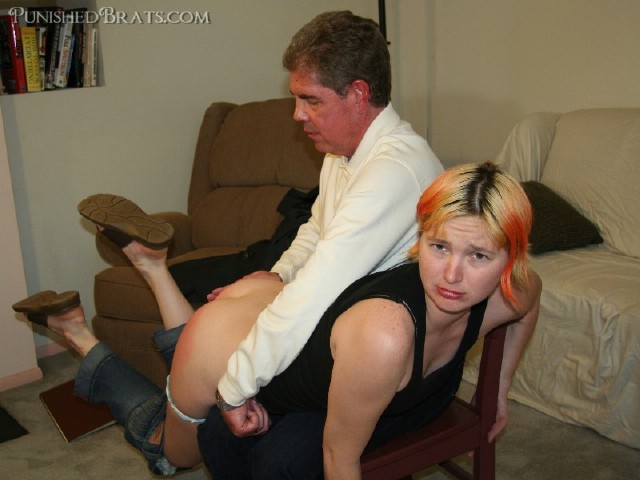 Back to Punished Brats Review Page
Back to Reviews Page
HOME


Support our Free Achive Spanking Site by joining one of the sites below.

Marked Butts - Spanking Online - Realspankings - Firm Hand Spanking - Girl Spanks Girl - Clare Fonda Pass - Punished Brats