SHADOW LANE

Click banner for Shadow Lane's Website
Photos used to compliment reviews are posted with the permission of Shadow Lane and may not be posted to any other website without their permission
Good Cop, Bad Cop

Written and Directed by Eve Howard
Produced and edited by Tony Elka
Starring: Clare Fonda as Officer Verdana
Introducing "Darling" as the Suspect
Steve Fuller as Officer Bookman
Review by Katrina
Running Time: Approximately 50 minutes (with interview)
Perhaps the title should be "good cop, naughty cop". We all know what "naughty" means. It means that someone is going to get a spanking. The basic framework of this video is similar to others, but is in a new venue. The film starts with Officers Verdana and Bookman (Fonda and Fuller) of the "identity theft division" conducting a surveillance of a housing development when they spot a suspect arriving. The suspect is someone that Verdana saw copying credit card numbers earlier today. The two officers plan to "grab her when she leaves the house." After two hours, Verdana is almost asleep and there is a knock at the door. "Who is that? No one knows that we are supposed to be here" asks Bookman. "It must be the pizza" Verdana replies.
Bookman complains that Verdana made a mistake ordering the pizza and has had about enough of her slack nature. It is time to impress upon her the gravity of her error as he grabs her and pulls her over his knee. "What do you think that you are doing?" she asks. "Spanking you" he says as the first slap lands on her skirt. "Let me go, you bully, you brute, you cad!" she claims as he continues to spank her bottom. About the time to remove the skirt, you can tell that Verdana's bottom, what was very light in color, is now developing a dark rich tone, similar to a light red wine. In short order, her bottom cheeks have embossed upon them a dark impression of his hand, thumb included. While this is going on, she is still trying to talk herself out of the spanking "This is very unprofessional. We should not be fooling around. We should be observing." That's ok, Verdana; the observations look great from my position. At this point, he yanks down her purple full panties to expose more of the "target area." Still, Verdana tries to talk an end to the spanking, "Aren't you getting hungry? What about that pizza that is getting cold?" That is a mistake. He picks up the rate as he says "Thanks for reminding me." By now, her bottom is the color of a full-bodied red wine.
She finally tells him "I just heard a door slam" and he lets her up to check the window blinds. The suspect is leaving. Verdana wastes no time in restoring her panties and skirt to their normal place, now covering a red bottom. When Bookman leaves to stop the suspect, Verdana wastes no time in rubbing her sore bottom.
Bookman returns with the suspect, played by "Darling". He asks Verdana to find out what she can, but also warns her to follow protocol. Verdana responds only in a Cheshire smile. The next scene shows Verdana answering her cell phone to say that she is following protocol; the protocol that she is following has the suspect tied up and gagged, prone on the bed, skirt raised, and panties pulled down. That is some protocol. Verdana picks up a leather paddle and begins to apply it to the upturned cheeks of the suspect. She tells the suspect that the spanking will end is up to the suspect. She wants to know who has been receiving the stolen credit card numbers.
Verdana eventually removes the gag and the cuffs only to instruct the suspect to remove all of her clothing and that she is going to perform a strip search. Putting the suspect over the bed, Verdana removes the bra. What springs forth must be at least a pair of D size breasts. As Verdana starts to probe the suspect's lips with dry rubber gloves, the suspect still claims her innocence.
"We will see about that. Over my knee" instructs Verdana as she sits on the edge of the bed. With a plop that could be heard in the next block, the suspect lands over her knee. Darling has a very nice spankable bottom. Verdana wastes no time in practicing the same thing that happened to her earlier today, a little hand to bottom communication.
Eventually, the pace picks up and Clare's (Verdana's) hand starts to warm the suspect's bottom. Verdana needs the information. The suspect keeps telling her that she does knot know anything. The spanking keeps going on in the hope that suspect will finally give her the information. After about three minutes of non-stop spanking, Bookman comes into the bedroom and screams "Verdana, just what do you think that you are doing?" when he finds the naked suspect straddling Verdana's knee; bare bottom red; and Verdana spanking "the living daylights" out of her.
Bookman releases the suspect with instructions on how to contact him should the thieves wish to continue to steal numbers and drives her back. When he returns, he asks in a loud tone "What do you think that you were doing?" Verdana replies "I was only trying to interrogate her." He will give her another spanking and takes her by the arm. He pulls her over his knee and down on to the same bed. This time, he does not bother with the skirt. It is immediately pulled up. The panties remaining on the bottom are short lived. After only a few swats, they too come down. The spanking starts up again, this time with a rather brisk pace. As the slaps continue to rain down on her upturned bottom, she finally admits that perhaps her actions were ill-advised but alls-well-that-ends-well. Still the spanking continues. He is hitting her at a rate of now about four per second. First one cheek then the other than the first one and the second receives the lesson of his hand. Over and over, the spanks continue on Verdana's upturned cheeks. With all of her squirming and moving her legs up and down, her bottom is beginning to return to its shade of red earlier today. Still with the legs squirming, his accuracy is not the best and the upper portions of her thighs are begging to take the same shade that her bottom is. The spanking continues without pause; even as Verdana tries her family wiles to get it to stop.
When his hand starts to hurt, he says "Oh, look, an interrogation tool" as he picks up a tawse. Verdana can only say "No, no, no, no." Then the first lash lands on her bottom. He starts to swing the tawse against her bottom, in a somewhat ineffective manner. After a few minutes of the tawse action, he escorts Verdana to the corner and the main part of the film ends.
Following the main feature there is an interview with "Darling" who played the suspect in this video conducted by Steve Fuller who played Officer Bookman. I do not want to go into all of the details, but her story is very interesting. The spanking "test" that follows starts with the hairbrush, a long and skinny leather paddle, and finally his hand. The hand spanking is the longest, eventually with her panties lowered. They skipped the bath brush.
This film, while somewhat a tried and true scene, is an excellent fantasy film for all involved. The performance by Ms. Fonda is excellent. She is really the star of this show in more ways than one. As an experienced practitioner, she is able to give a convincing F/f spanking. By the time the she finished with Darling's bottom, it was all shades of red. In the same token, she was able to take a spanking. Her bottom reacted well to Steve Fuller's hand. Her reactions to the spanking were sincere.
This is Darling's initial appearance with Shadow lane. To find out more about this twenty three year old newcomer, you should see the interview that follows the film.
Ok, so it was hard to suspend disbelief in the way that the officers acted toward the suspect. I know it. You know it. However, I liked the video for the parts that were a fantasy. The video is very good for the OTK action. The bottoms wiggled, became very red, and the body language and Clare's bratty behavior turned what would have been a rather moderate video into a very nice video. It should be on your birthday shopping list, if not yours then your partner's. Perhaps she will behave better than Officer Bookman's partner. If not, well, there is always his tried and true method of a little hand-to-bottom communication.
Note: Ms. Fonda runs both www.spankthatbottom.com and www.spankedcuties.com.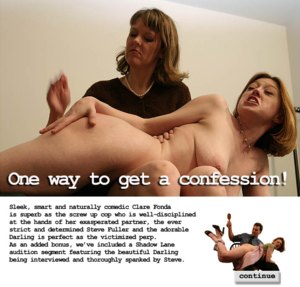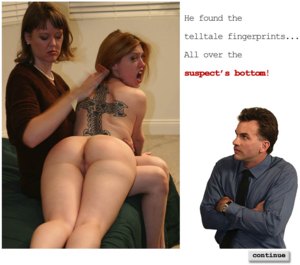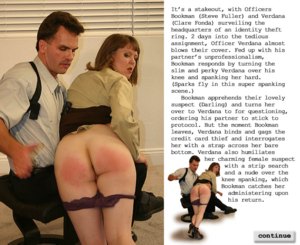 Back to Shadow Lane's Review Page
Back to Reviews Page
HOME


Support our Free Achive Spanking Site by joining one of the sites below.

Marked Butts - Spanking Online - Realspankings - Firm Hand Spanking - Girl Spanks Girl - Clare Fonda Pass - Punished Brats