Hot Bottomed Hotties

Directed by Dallas
Starring: Dallas
Lissa
Sinn
Lizzy
Abby
Review by David Pierson
Hot Bottomed Hotties is a must for all fans of intense, real discipline spankings. Strangely, this video has much in common with the controversial film ' Brokeback Mountain'. While there is a distinct lack of gay cowboys in this production, once Dallas was finished spanking the naughty girls in this video, there was not a dry eye in the house. This video should serve as a warning to bad girl everywhere that they had better behave or face the man with fire in his hands.
I recently had the pleasure of being onset during a shoot with Dallas. I must say that the man does his homework. He will find something that the young lady has done wrong and uses this issue during his shoot. This adds a lovely degree of drama to the production.
The first of our "Hotties" was a lovely young woman named Lissa. Lissa worked for Dallas as a temp while he vacationed in Hawaii. During her time in the employ of our man in Hollywood, the lovely Lissa was less than an ideal employee. She had lost Dallas' spare keys and had made a mess of several video orders. Upon his return from paradise , Dallas was not at all pleased. For her carelessness the lovely Lissa was required to remove her clothing and take six one minute hand spankings. This left pretty Lissa sobbing and with a hot, red bottom. I do understand that her references are now in order.
The second little " Hottie" on our hit parade (Sorry that's another DST video) is Sinn Sage. Sinn and Dallas' niece are both models and former friends. Once the two had a falling out, Sinn stole Dallas' niece's portfolio and trashed it. As just retribution for Sinn's trespass, Dallas gave her a brief trip into hell. Miss Sage was required to remove her clothing and she was given an intense, over-the knee spanking. This was followed by an intense strapping and paddling. After this experience I'm sure that Sinn is now the model of gracious behavior.
The next young lady to feel the heat was a lovely girl named Lizzy. I had the pleasure of meeting Lizzy at the most recent Shadow Lane party. When I met Miss Lizzy she was in no way dizzy. Her behavior was beyond reproach, in other words. However, I am told that when Miss Lizzy consumes a certain amount of ethyl alcohol she becomes somewhat belligerent.
Lizzy's frustrated boyfriend brought his naughty girl to Dallas to see if he could impact on her difficult demeanor. Lizzy's lesson started with a hard session with a ruler strap in several different positions. Then she suffered a hard over-the -knee hand spanking. Her punishment was concluded with a treatment with a razor strap. I do believe the treatment worked. Lizzy couldn't have been nicer when I met her at the party.
Our last naughty girl was a lovely Lass named Abby. This young lady had gotten way too fond of the drugs the used in the local club scene. Abby had come to Dallas' attention after she was busted when trying to buy her ecstasy from an undercover cop. This was her second offense and, if busted again, faced a year's incarceration.
Abby's rehab started with a hard hand spanking over the bottom of her jeans. Two full minutes of painful education. This was followed by another two minutes of hand spanking on her bare bottom and the tears began to flow.
So let this be a warning to all of you naughty girls. You had better behave or you too may need to face the man with hands of stone. 'Hot Bottomed Hotties' is a very moving experience.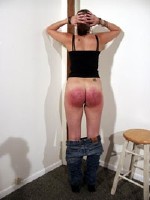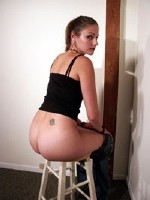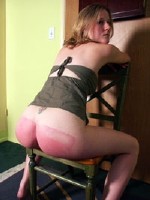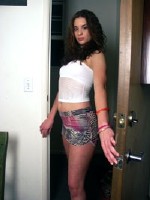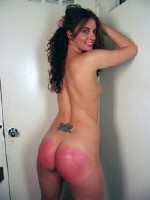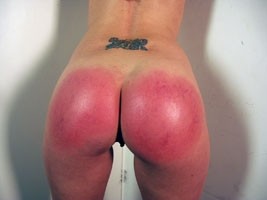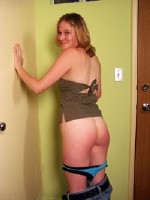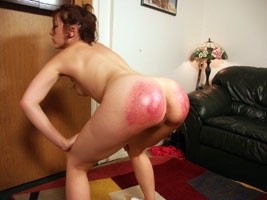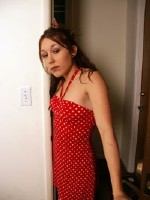 Back to Dallas Spanks Tiki Review Page
Back to Reviews Page
HOME


Support our Free Achive Spanking Site by joining one of the sites below.

Marked Butts - Spanking Online - Realspankings - Firm Hand Spanking - Girl Spanks Girl - Clare Fonda Pass - Punished Brats