Hot Bottomed Hotties II

Written and Directed by Dallas
Starring: Samantha Woodley
Snow
Dallas
Review by David Pierson
With all due respect to my good friend, Dallas, I do believe that this video is mistitled. Please, Dallas, feel free to contact me anytime if you need help in naming your videos. (I may be in trouble) I think a more accurate title for this fantastic video would be 'Severe Elegance'. This production features the highest quality videography, two amazingly attractive and sophisticated CP models/performers and very severe punishments. Quite the combination eh?
Part 1: Excessive Spending
The first segment features today's preeminent star of the spanking cinema, America's Spanking Sweetheart, Samantha Woodley. It is hard to believe that this is the same person who arrived on the scene but three years ago in Shadow Lane's 'I Married a Brat'. She was such the lovely child then. Today, at the ripe old age of twenty-two, Miss Woodley has developed an amazing level of style and sophistication. This section of the video utilizes Samantha's beauty and style.
It seems that Samantha has been spending far too much money on her ever expanding wardrobe. She has come to Dallas to help her with some much needed behavioral modification. Well, Dallas gave her a good talking to and sent her on her way. No he didn't, just wanted to see if you were paying attention.
Dallas has an interesting approach for ameliorating behavioral problems in naughty young ladies...he spanks the holy snot out of them. I'll bet you knew that didn't you?
First Dallas takes "America's Spanking Sweetheart" over his lap for a hard hand spanking. Nobody kicks and squirms better than our Samantha.
After her bottom was warmed by hand, " Our Man In Hollywood" ( Dallas..who else? Do pay attention) applied a series of wooden implements to Samantha's bottom with great effect. Yes, I know, wood for Miss Woodley. Very good...you are paying attention.
After Samantha's ordeal of wooden implements was complete it was on to the leather. After the application of several straps Samantha agreed to keep her VISA card in her purse. Unfortunately, she said nothing of her American Express card. I understand she doesn't leave home without it.
All kidding aside, this video is very special. Dallas and Samantha have a very special chemistry that leads to a very entertaining and unique spanking production.
Part II: 'Snow the Punished Thief'
The second section of the video features a lovely young woman named "Snow". According to Dallas, she bears a striking resemblance to Bettie Page and, perhaps, Snow White.
Snow is the niece of the general manager of a hotel that Dallas frequents and works at said inn. Her uncle has become aware that the lovely girl with the milky white skin had been stealing from the rooms and had been less the diligent in the performance of her duties. In conjunction with the naughty girl's uncle, a trap was set so that this little "Artful Dodger" would be given the lesson she needed. After catching the girl in an act of thievery, Dallas decides it is time to give the red handed thief a red bottom to match. Her punishment began with a very hard hand spanking. This is followed by a treatment of several wooden implement is several different positions. The lesson was driven home with a very severe strapping. Snow's red bottom stood out in stark contrast to her silky, white skin.
If you are a fan of intense discipline spankings then 'Hot Bottomed Hotties; is for you.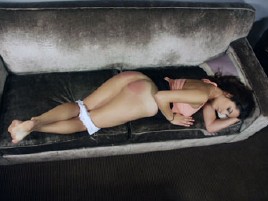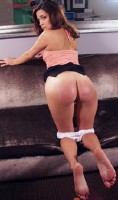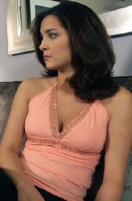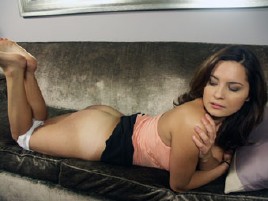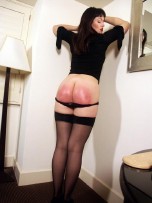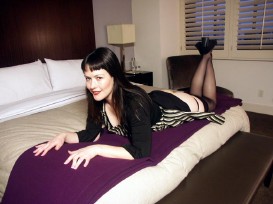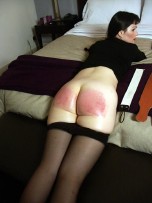 Back to Dallas Spanks Tiki Review Page
Back to Reviews Page
HOME


Support our Free Achive Spanking Site by joining one of the sites below.

Marked Butts - Spanking Online - Realspankings - Firm Hand Spanking - Girl Spanks Girl - Clare Fonda Pass - Punished Brats