CHELSEA PFEIFFER ENTERTAINMENT
Click here for Website
Photos used to compliment reviews are posted with the permission of Chelsea Pfieffer Entertainment and may not be posted to any other website without their permission
House Rules

Directed by: Chelsea Pfeiffer
Starring: Samantha Woodley
Ashley Fires
Reviewed by: Eric Blair-Brown
What a combination! One of the best women in the business meets one of the freshest faces in the industry. Samantha Woodley is a dark haired beauty who has just the right charms to be worth the price of any tape. She plays a brat to perfection. Samantha reacts to her punishment with just the right amount of rebellion and contrition. Add Chelsea Pfeiffer, one the best in the industry, and you have one of the best spanking productions of the year.
Samantha is staying with her aunt while she attends college. Ms. Woodley and her friend, Ashley, are smoking in the living room. Chelsea admonishes the girls for breaking the house rules. She sends Samantha to her room and tells Ashley that she's about to spend some quality time with her niece. After getting some smart responses from Samantha, she gives the girl the option of packing her bags or accepting a spanking. Soon, the niece is over her knee, receiving a good old fashion spanking. As she spanks the girl over her jeans, Ashley sneaks down the hallway and watches her friend's punishment. As the jeans come down, and later the panties, Ashley finds the event stimulating. The spanking is great, Samantha's reaction is good and the voyeuristic activity of Ms. Ashley is a nice touch.
After going to the movies, the girls, in their bra and panties, are getting ready for bed. Ashley admits to spying on Samantha's spanking and talks her friend into playing spanky. The scene consists of Ashley giving Samantha a light, then a moderate spanking. The girls take the time to enjoy rubbing and stroking Samantha. Aunt Chelsea interrupts and decides the girls need to know what a real spanking is all about. Ashley and Samantha are bent over the side of the bed and receive a hand spanking by Aunt Chelsea. The girls are spanked on their panties and then on their bare backsides.
This is the best Chelsea Pfeiffer production I have ever seen. It has all the ingredients that make Chelsea's videos entertaining. Pretty girls, great camera angles and just the right amount of humor. Add the very talented Samantha Woodley and you have a great tape.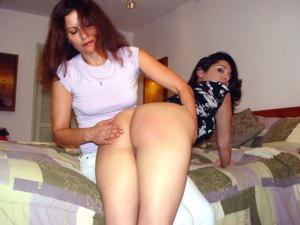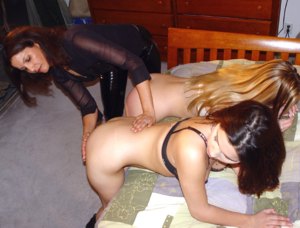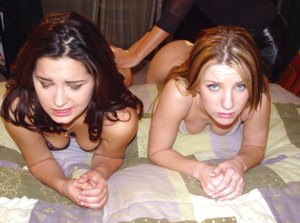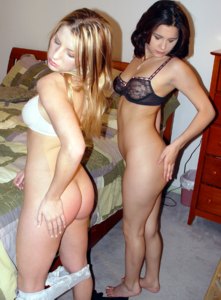 Back to Chelsea Phieffer's Review Page
Back to Reviews Page
HOME


Support our Free Achive Spanking Site by joining one of the sites below.

Marked Butts - Spanking Online - Realspankings - Firm Hand Spanking - Girl Spanks Girl - Clare Fonda Pass - Punished Brats