SHADOW LANE

Click banner for Shadow Lane's Website
Photos used to compliment reviews are posted with the permission of Shadow Lane and may not be posted to any other website without their permission
I MARRIED A BRAT

Written and Directed by Eve Howard
Produced by Tony Elka
Edited by Tony Elka
Starring: Gino (Hollywood) Colletti as Tom
Samantha Woodley as Nancy
Review by David Pierson
A smart script, fantastic production values and an attractive, talented cast make 'I Married A Brat' one this years gems. This production is a treat for all lovers of spanking erotica. The featured performers, Gino Colletti and Samantha Woodley, are splendid in this romantic spanking comedy. A Tracy and Hepburn of spanking videos? Colletti and Woodley have such wonderful onscreen chemistry that the viewer is pulled in to this entertaining and highly erotic story. Mr. Colletti has appeared in numerous spanking videos and has established himself as a major star of the medium. He has co-starred with ingenues of the spanking cinema such as Gabriella Jeanine and Angie (don't call me Angel) Sunshine, but never has he given a stronger, more pleasing performance. In Miss Woodley, Shadow Lane Productions has discovered a performer with true star potential. Samantha's video debut is a performance to remember. In addition, this nineteen-year-old bombshell is simply lovely to behold. I do hope that we get to see this dynamic duo again in another Shadow Lane romantic comedy very soon.

Gino stars as Tom, a young executive on the fast track to success. He is married to the sexy, but immature Nancy. As the story opens Tom and Nancy are due to attend a bar-be-que at the home of Tom's boss. Tom is distressed when he discovers his beautiful, young wife jumping rope rather than dressing for the evening. " This will be so boring and I'll have to be on my best behavior. I hate being on my best behavior!", Tom's brat complained. After trying to reason with his immature spouse, he decides that a spanking may be the answer to ameliorate her bad behavior. As Tom informs Nancy that she was to be spanked, she leads Tom on a chase across the lawn. That's the problem when you marry a nineteen-year-old... they have lots of energy that you don't have. Tom finally traps Nancy near a well-positioned Ping-Pong table. He bends this naughty girl over the table and spanks her with both his hand and then a Ping-Pong paddle. After her beautiful, round bottom is appropriately warmed, Nancy accedes to her husband's demand.

Later, Tom is once again alarmed to find Nancy doing anything but getting dressed for that evenings event. Tom discovers his naughty girl sitting in only her "Victoria's Secrets", eating an ice cream cone and reading a graphic novel. When Tom pleads with Nancy to ready herself she pushes her ice cream cone into her husbands face. This earns the lovely Nancy a second and more intense spanking. Lowering her panties, he administers the punishment to her naked bottom.

Later, our glamour couple return from their outing and Tom is none to happy with his young wife. She behaved abominably at the bar-be-que, thoroughly embarrassing Tom. The irate husband was determined to teach his young spouse a lesson that she wouldn't soon forget. He bent her over the arm of the couch, lowers her panties and provides her bottom with an intense chastisement by hand, hairbrush, tawse and paddle.

In the end, young Nancy promises to behave.

'I Married A Brat' is a wonderful production that is not to be missed. It is entertaining, well made and fantastically erotic. Also, in Samantha Woodley a star is born.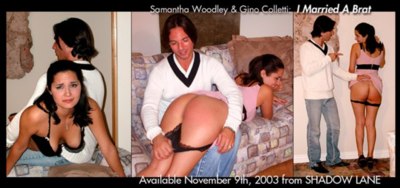 Back to Shadow Lane's Review Page
Back to Reviews Page
HOME


Support our Free Achive Spanking Site by joining one of the sites below.

Marked Butts - Spanking Online - Realspankings - Firm Hand Spanking - Girl Spanks Girl - Clare Fonda Pass - Punished Brats