Immodesty is another outstanding addition to Lupus's Headmaster series. Featuring three of Lupus most fetching models, the ever reliable Headmaster Pavel Stastny and fine acting all around, it seems that this series just keeps getting better.
As the video opens, two students (Ester (star of The Noise and other Lupus features) and Michaela (star of Deep Impact and other Lupus features) enter the Headmaster's office and say "Good Morning". He replies "We'll see about that". He reminds Ester about her caning two weeks ago and asks how did she forget so soon and talk in class.
Michaela meekly kneels with her hands behind her neck facing the room creating an erotic view of this cute rising Lupus star. Ester partially strips to be caned and is strapped to the caning bench. Unfortunately for Michaela, she moves her hands and receives 3 cane blows across the palms of each hand as punishment.
The headmaster then says that as the 25 she got last time was not enough, Ester will get 50 this time. Ester says she will die and cries out. Her caning features some excellent face shots.
Next black-haired Michaela stands up for punishment. The Headmaster says she tried to break the balance beam in gym class. She claims otherwise. He tells her to return after the School Board conference which will discuss her behavior. Apparently she made the balance beam slippery when she sat with her legs around it (I wonder how that happened??)
The Board meeting is funny, emphasizing the hypocrisy of the male members, but is also a bit too long for my taste. I couldn't wait to see the sexy Michaela get her just rewards!! When the girl returns she tells of a "pleasant tickling" with a sly expression on her face and essentially confesses. But she says Julie, another student, gave her the idea and shows him Julie's note which is a drawing of a vagina. Julie (played by newcomer Katerina Schubertova) is immediately called in.
The Headmaster who has finally woken up as to the events in question, accuses them both of the "disgusting vice that retards muscle growth" and so on and so on.
Katerina also claims it was just "tickling" and the Headmaster replies that "now you will be facing lasting ill effects". Both Katerina (who is quite beautiful and a sensational find for Lupus) and Michaela perform wonderfully in this scene playing two innocent (but knowing) girls. Both girls promise to never do it again and they offer to let the Headmaster cane them if he will agree to not expel them. Then Michaela strips to the Headmaster's surprise and Katerina kneels naked with her hands behind her head and says "is this right, Headmaster" (it certainly looked right to me !!)
Michaela is tied to the punishment bench and caned. After her cries turn to screams, the Headmaster says "you haven't received that much yet, really". The rest of her caning features some excellent and quite erotic face and upper body close-ups.
The following caning of Katerina is one of the top spanking scenes of the year. Photographed from several angles (all of them great) the suffering of this gorgeous girl and the views of her naked struggling body really got my blood pounding.
Afterwards both girls shyly promise to "never do it again". Then Reverend Weber (a member of the School Board) enters and has to cover his eyes at the sight of the naked girls who rush up to him to confess their sins.
I give this movie a rating of 9.5 out of 10 because of the beautiful girls playing the leads, the excellent acting by Michaela, Katerina, and Pavel, and the two intense canings that close the movie. Kudos to Lupus for finding a new twist for the Headmaster series.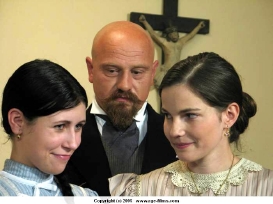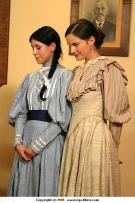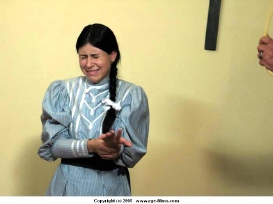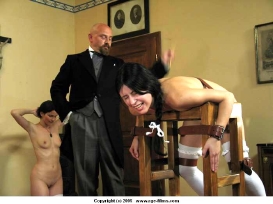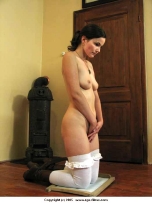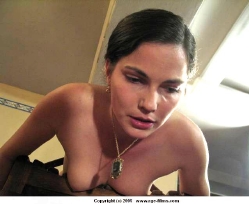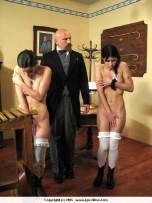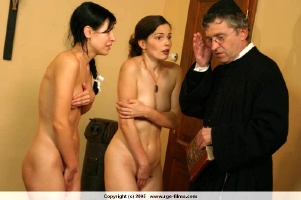 Back to Rigid East/Lupus Reviews Page
Back to Reviews Page
HOME


Support our Free Achive Spanking Site by joining one of the sites below.

Marked Butts - Spanking Online - Realspankings - Firm Hand Spanking - Girl Spanks Girl - Clare Fonda Pass - Punished Brats