FAR EAST MEDIA PRODUCTIONS
Click here for Website
Photos used to compliment reviews are posted with the permission of Far East Media and may not be posted to any other website without their permission
Joe And Taylor

Directed and Produced: Steve Trainer
Starring: Taylor Lawe
Joseph Lewis
Review by: Aldus W. Huckster
This production is an intensely erotic and enjoyable video experience in that it features both spanking and very hot sex. I happen to be of the opinion that spanking is, in most cases, a prelude to sex.

Taylor is back for her second stint with Far East Media. The first having been a spanking video that featured the beautiful Taylor receiving an intense and fully naked spanking that bought her to tears. That video was capped off with Taylor masturbating with a large vibrating dildo. It should be noted that Taylor was adamant about not liking the spanking. She said unequivocally that she would never return for another one. But here she is again, over the knee of Joe, with her beautiful butt cheeks high in the air. Joe begins by telling Taylor that he has had the pleasure of visiting her website and seen just what a nasty girl she can be, and it is this vein that she has earned this punishment she is about to receive. The spanking lasts about 10 minutes and as Joe reddens Taylor's ass it becomes clear that Taylor has become sexually aroused as her pussy has become very wet. Joe has also been aroused, so now it is time for stage two. Joe strips off all her clothes, and Taylor is on her knees in the wink of an eye giving Joe a wonderful blowjob. Joe reciprocates, and applies his tongue to Taylor's already well-lubricated pussy. Then it's time to get to the screwing. Joe continues to spank her while they are fucking.

Taylor is a very beautiful woman with a gorgeous body and she knows how to please a man. You will definitely be wishing that you were Joe (the lucky bastard). As we are all hoping for, Joe finally gives her the facial she has been begging for, and she swallows it all like a good girl should.

The story line is extremely simple, Taylor has returned for a well deserved follow up spanking, and to have a little extra fun with Joe.
Aldus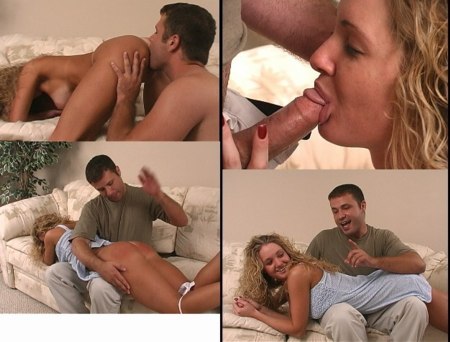 Back to Far East Review Page
Back to Reviews Page
HOME


Support our Free Achive Spanking Site by joining one of the sites below.

Marked Butts - Spanking Online - Realspankings - Firm Hand Spanking - Girl Spanks Girl - Clare Fonda Pass - Punished Brats