MOONGLOW
Click here for Website
Photos used to compliment reviews are posted with the permission of Moonglow and may not be posted to any other website without their permission
Living Doll

A Strictly English Production
Written and Directed by: Suzzane Martell and Steven English
Starring: Suzzane Martell as Sharon
Wayne as Himself
M/F
47 Minutes
Second Review by MARS posted 4/30/10
We write this review in the liquid wake of one written by our webmistress, which was almost as fun to read as this movie was to watch. Suzi Martell plays Sharon, with actor Wayne. Let us attempt our amateur supplement to Ms. Parker-Posey's work.
Sharon has fallen asleep naked watching a spanking film. She dreams of being spanked by handsome Wayne. "You've been naughty again." Part of the dream sequence shows a Ken Doll spanking a Barbie Doll on his lap, the doll's bottom bared. For those of us who might have checked under the skirt of a Barbie when no one is looking, there is some humor in this. Dream spankings. Suzi is caned in the "frisk" position against the wall, 5 or so on bunched panties, then "Oh, no, not my knickers down," for 10 more, hard and snappy, marks evident on Ms. Martell's estimable bottom.
Much attention is paid to erotic cues and postures common to the spanking scene in this intensely sexual performance. Suzi's legs are usually wide open, her panties are left plainly visible and stretched at her thighs or knees, and both actors repeatedly drop little incendiary phrases to increase the tension.
Wayne torments her with a feather boa in the right places while she bends over, palms on the floor. She shows ballet tensile flexibility throughout, fulfilling another fantasy of the spanko, because Suzi is mostly naked when she bends and reaches.
Some paddling over a hassock. She pulls down her tank top and shows her breasts with pride, as well as a manicured mohawk landing strip. The next erotic position is that of a crucifix, for some of the crop, against the wall.
Hassock; wall; pants up/down; paddle, crop, boa. It is all hotly sexy. Suzi is having the time of her life. Her diaper position on the hassock, legs high, hips raised, is the most revealing (and athletic) you can create.
Wayne leads us to a climax, maybe not the first one we've had, with Suzi over the hassock, a pillow deliciously fussed under her hips for the cane finale. About 25 strokes, some struck vertically, her panties in her mouth to gag cooing noises. She masturbates also, in case you haven't had enough.
First Review by: Dorothy Parker-Posey
Let me just start by saying that if this video doesn't make you completely hot, then you needn't report for work tomorrow or keep that doctors appointment, because if this video fails to stimulate you sexually you are dead.
My goodness did this video turn me on! Just thinking about it to write this review has me so turned on I can barely keep my hands off of my "pinky". It is a good thing that I can type with one hand. One must be adaptable in these situations and, of course, I shall wipe off the keys after I've finished. What's a "pinky'? Surely by now everyone knows that it's is Suzi's pet name for her vagina. (A lovely pinky it is.) Hey!, there is nothing at all strange about naming one's vagina. I've called mine " Miss Insatiable" for years. (Or is that what people call me? Same difference.) Marion Davies, the mistress of William Randolph Hearst, called her pussy " Rosebud". In the Orsen Wells' classic film, " Citizen Kane", ( Mr. Wells' assault on the W.R. Hearst.) when the lead character expels his last breath exclaiming " Rosebud" he a'int referring to a sled. Didn't know that, did you?
As this intensely hot production gets underway, we find that the lovely Sharon (as played by Suzi.) has fallen asleep masturbating to a corporal punishment video. From under the covers we clearly see her hand firmly pushed up against Pinky. We will see much more of Pinky throughout this wonderful production. Suzi has fallen into a dream and in the land of Nod she is greeted by the incredibly handsome, Wayne. " Hi Wayne", Suzi says is in very sexy voice. " I hear that you've been naughty, Luv", Wayne replies. He places the glamorous and sexy Suzi against a wall, slowly lifts her skirt and then canes her over her sexy knickers. Each stroke of the cane brought a yelp out of Suzi's mouth, but being the brave girl that she is she held her place. Then Wayne lowered the provocative undies, revealing our heroine 's lovely bottom. Sharon has her bottom thrust out in such a way that her charms are on full display for us to see. (By that I mean you get a wonderful view of Suzi's pinky and bottom hole. Don't tell anyone.) Then Wayne resumes the caning of Sharon. With each blow from the cane Sharon's bottom quivers in the most erotic manner. Ever the gentleman, Wayne would occasionally stop and rub Sharon's sore bottom and pinky. We mustn't forget pinky. After Wayne finished Suzi's caning she was made to spread her legs, place her hands on the floor, bottom up head down. In this position, Sharon is completely exposed and vulnerable. Now Wayne gives Sharon a hand spanking on her bottom and gives her pinky a thorough going over too. That is just too hot for words. The mere thought of it has me totally wet as I sit her typing. Excuse me, but I need to have a meeting with my vibrator.
For the next several minutes, Wayne punishes the naughty, but beautiful Sharon in many positions. My is this girl is flexible! She is spanked with a riding crop on her bottom, pinky and bottom hole. Wayne takes special pleasure in spreading Sharon's bottom throughout this production. What a bad boy he is.
Perhaps, the most intense scene in this film starts with Sharon being spanked naked over the knee of the handsome punisher. Well, she was naked except for her boots. Then after a hard over the knee spanking, Sharon is bent over a large leather footrest. With her hands on the floor and bottom high in the airs, Sharon was spanked with a leather paddle on her bottom, pinky and anus. In a creative flair, Sharon was then put on her back, her legs were pulled over her head and she was spanked with the riding crop on her bottom and privates. At this point Sharon was so turned on that she couldn't keep her hands off of her pinky. Hell, I couldn't keep my hands off of mine during this scene. Sharon's dream concludes with a caning of real significance.
I adored this terrific feature. It is one of the best examples of sexually oriented spanking video erotica that I have ever seen. Suzi Martell was clearly in a state of sexual arousal throughout the entire production. This is a rare gift to the viewer. Such authentic sexual abandon is infrequently captured on film or videotape. This video has it all. An attractive cast, an engaging and imaginative plot and fantastic production values. I was really taken with Suzi Martell. The star of "Living Doll" is just a living doll. She is a very special talent. During her recent interview with my husband, she admitted to coming three times during the filming of this production. I know that I came several times watching the video with the assistance of my twelve speed nuclear powered vibrator. She is just too lovely for words. Recently, Rosaleen Young met Suzi for a photo shoot to be featured on her new website. In a conversation with my husband, the amazing Rosaleen admitted to being struck speechless by Suzi's beauty. That is indeed high praise. If you are a fan of erotic spanking, you really need to purchase this video. It is a unique erotic experience.
Well, it's late and I'm getting tired. I will fall asleep tonight masturbating to 'Living Doll'. Perhaps, if I am very lucky, I will find myself in a dream populated by Suzi and Wayne. Maybe they will let me play too.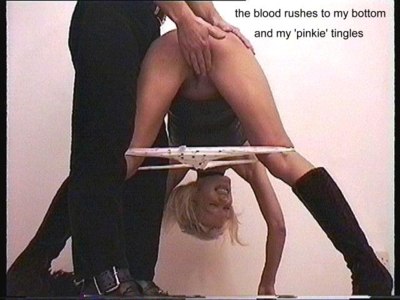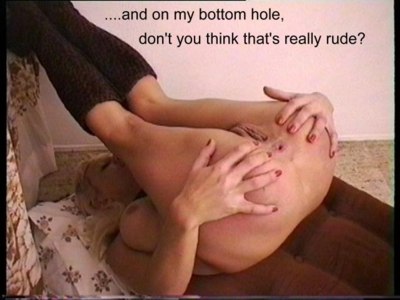 Back to Moonglow Reviews Page
Back to Reviews Page
HOME


Support our Free Achive Spanking Site by joining one of the sites below.

Marked Butts - Spanking Online - Realspankings - Firm Hand Spanking - Girl Spanks Girl - Clare Fonda Pass - Punished Brats