SHADOW LANE

Click banner for Shadow Lane's Website
Photos used to compliment reviews are posted with the permission of Shadow Lane and may not be posted to any other website without their permission
A Lover's Discipline III

Written and Directed by Eve Howard
Produced and Edited by Tony Elka
Starring Arthur Sire and Ava Barton
Review by David Pierson
'A Lover's Discipline III' is a masterpiece of erotic film making. Through Eve Howard's fantastic screenplay, Ava Barton and Arthur Sire's uninhibited performances and the most masterful of videograhy, each image on the screen has the look of a carefully composed photograph, you will be treated to an experience of video erotica that is completely unique and will leave you breathless.
It is hard to say enough about the fantastic performances by Miss Barton and Mr. Sire. I have long been of the opinion that Ava Barton is the most elegant submissive performer in all of spanking video erotica. She exudes a certain glamour and grace expected of the film stars of bygone days. Much the same could be said of Arthur Sire. He is handsome, sophisticated and in possession of great wit. Together, they and the creative team at Shadow Lane studios have created a work that features hard spanking as an expression of love, caring and lust. This is not an easy feat to pull off, as you may well imagine. .
The story of Arthur and Ava opens with the glamorous couple taking in their bedroom after having arrived home from a spanking party or ball. The lovely Ava is wearing an exceedingly sexy red, form-fitting, latex dress. Arthur is clearly upset with his beautiful lover. He voiced his displeasure over Ava's play with the owner of an influential British spanking publication. He was also less than happy that she spent a good deal of time spanking "some young boy." (Not to worry...I'm sure that he was over eighteen.) What seemed to disturb Arthur the most was the way she ignored him at the party. Ava expressed little remorse when Arthur confronted her with his concerns. Taking a seat on the edge of the bed, Arthur decided that their conversation would continue with Ava placed over his lap. The two lovers discussed their differences while Arthur was spanking her hard over the bottom of her latex dress. He required that Ava stretch our her arms and keep her legs straight as he spanked her so that she presented herself to him in a position of total submission . As he spanked her, Arthur voiced his concerns about Ava's behavior that evening. "You were kissing the girls and kissing the boys. I know that you like kissing girls and boys...the problem is that you weren't kissing me", Arthur instructed. The punishment of Ava was at once severe and yet caring and graceful.... much like the contradictions inherent in a passionate, all consuming love. Soon Arthur raised Ava shirt and began to spank her over a lovely pair of black lace panties, the redness of her bottom showing through. To enhance the experience, Arthur fastened Ava's arms together with a black leather strap. This forced Ava to stretch out fully. Arthur then began using the first of many implements of punishments upon his lover's beautiful bottom. A flapper and a small riding crop brought out cries of pain. Then, Arthur slowing lowered Ava's black "Victoria's Secrets". He then placed one hand firmly between her legs and spanked her hard with the other. This brought a groan from Ava that was both a response to pain and an indication of sexual arousal. (I guess it could be said that she didn't know if she was coming or going.)
Arthur then lifted his beloved and placed her over two pillows on the bed, thrusting her bottom into a vulnerable, upward position. It was in this position that Ava's naked bottom was punished with a tawse and a multiple tipped whip. Occasionally, Arthur would lovingly kiss his lover's sore bottom or place a finger in her sensuous mouth as he punished her.
After a time, Arthur decided that it was time to move to the next phase of his lover's chastisement. So it was over to the spanking bench where the lovely Ava was to face her most intense test of love. Arthur is adept at pleasing his submissive lover's needs by mixing a little pleasure with her pain. At one point Arthur took a long string of pearls and ran them between Ava's legs. As each bead touched her pussy she groaned in that way one does in a state of intense arousal. Arthur fastened the sting of pearls in place with some string around his beloved's waist and then began to administer a severe series of chastisements. At one point Ava was punished with a riding crop until she cried. In the end, it was clear that Ava's naughty behavior earlier that night had been caused by insecurity; it was a test of Arthur's love. In response, Arthur gave his lover that which she craved and needed. So after the chastisement, Arthur dried the eyes of his tearful lover with great tenderness, for this was not a punishment carried out in anger, rather it was done as an expression of undying love for his Ava. In the course of this film we see the couple experience joy, sadness, pain, pleasure and intense sexual desire. If that isn't love then I don't know what is. This is the ultimate tale of what has become known as "The Romance of Discipline".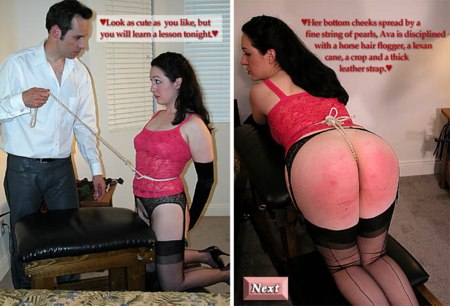 Back to Shadow Lane's Review Page
Back to Reviews Page
HOME


Support our Free Achive Spanking Site by joining one of the sites below.

Marked Butts - Spanking Online - Realspankings - Firm Hand Spanking - Girl Spanks Girl - Clare Fonda Pass - Punished Brats