PACIFIC FORCE

Photos are ©2002 Pacific Force, Inc. Used with written permission. Unauthorized postings will result in prosecution by Pacifc Force.
Maid for Spanking

Directed and Produced: Mistress Jacqueline
Year of production: 2002
Running time: under 30 minutes
Reviewed by: Aldus W. Huckster
For lovers of big boobs, this is the video for you.
I am sure that most of you are familiar with the works of Summer Cummings. She has done a myriad of bondage videos, and has been a favorite of many for several years In this video she play's the part of the maid, who has angered the Mistress for breaking a vase, and other misdemeanors, and must pay. The thing that sets this video apart from most of the others I have seen her in is that she takes a real punishment spanking, Mistress Jacqueline style. She has one tremendous set of breast, and a great rump. We get to see both parts jiggle in earnest. Mistress Jacqueline punishes her with an exuberant hand spanking over frilly underpants, and then with those panties down. After Mistress Jacqueline has sufficiently reddened her behind, she has Summer take of her clothes to receive a good dose of the paddle, We get to see those magnificent breast unleashed and in all their natural glory. This is a relatively short video, but lots of fun to watch, And I for one really enjoyed Summer Cummings receiving her first "real" spanking. I recommend this video to all lovers of good, butt reddening spankings.
Aldus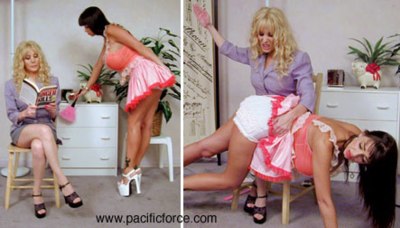 Back to Pacific Force Reviews Page
Back to Reviews Page
HOME


Support our Free Achive Spanking Site by joining one of the sites below.

Marked Butts - Spanking Online - Realspankings - Firm Hand Spanking - Girl Spanks Girl - Clare Fonda Pass - Punished Brats