MOOD PICTURES
Photos used to compliment reviews are posted with the permission of Mood Pictures and may not be posted to any other website without their permission
MARTIAL LAW

Mood Pictures (2004)
Produced by Pedro and Pablo
Written and Directed by Pedro
Starring
Katie Lust as the Sergeant
Adrien Dark as the Spy
Mercedes Mercy as the CP Executioner
Betty Shy as the Doctor
Hungarian with English Subtitles
Running Time 30 minutes
I think were are getting to the point where "spanking videos" are a thing of the past and have been replaced with "spanking films". The amount of thought that goes into productions these days is refreshing to say the least. Mood Pictures is a new company that has me impressed. I don't impress easily, but these guys have it down. Even the English subtitles are translated perfectly. Martial Law starts off with a pretty blonde girl wearing a military uniform that is in handcuffs. She is lead to a room with two men and one woman seated behind a table. Evidently our naughty girl is a military prison guard and didn't realize one of the prisoners was a spy. We then are brought back in time to where a brunette prisoner is seated in a chair with her hands handcuffed behind her back and a blind fold is over her eyes. The prisoner is made to stand and the blindfold removed. The blonde runs the blade of her knife across the prisoner's face and then yanks down her top exposing her breasts. The assistant is then ordered to take down the prisoner's pants. The subordinate then does as she's told and removes the prisoner's belt and lowers her trousers and panties down to her knees. She is then placed over the chair and her feet are bound with the belt that had been previously keeping her pants up. With hands still behind her back, the blonde fires off the first of twenty shots with a cane. The brunette cries towards the end of the punishment and is left with a marked bottom.
We are then brought back to present time where the blonde guard pleads guilty to the charges. The board of inquiry accepts her plea and orders 100 strokes of the cane on her bare bottom as punishment. If the blonde passes out, she is to be revived and the punishment will continue. She is then made to strip naked and is draped over a metal contraption. Her knees are on a flat platform and her legs are spread. Once her hands and legs are secured, a doctor enters the picture and checks the young woman over before stating the punishment can proceed. I have to say, I do like this doctor's choice is uniform wear. It is most desirable. Anyway, back to the story. The blonde is made to count out each stroke and the next one is not delivered until she does so. She begins to cry at fourteen strokes, so I started to get the impression this was not going to be a long ordeal for our young miscreant. She finally makes it to 25 strokes, where she gets a short reprieve while the doctor checks her over. She determines that the blonde is doing fine and that the punishment can proceed. Our misguided friend is really starting to have a hard time by 35 strokes, breathing heavy and nearly hyperventilating. Her bottom is littered with black, blue, and red marks. Throw in her skin and hair color and it's actually very patriotic for American, English, and German viewers. (Ok French too). She finally makes it to the half way point and is checked again by the doctor. The canning continues until around the 70th stroke where she then falls unconscious. The person in charge of the inquiry orders the doctor to step in. She revives the weary woman and then the canning continues to 75 where she looks over her vitals signs once again. The thumbs up is given and the last leg of the punishment gets underway.
The other male member of the board speaks out and asks for them to let her go, that she's had enough. His boss doesn't care for the comment too much and asks him if he'd like to be demoted. He told him not to be moved by a few tears. Finally, the 100th stroke is reached, the woman is let down, and the production comes to a close. I thought this was really an impressive film. I think it walks a nice line so it's severe, but not to the point that it might turn off the viewers that don't like things to become bloody. The girl took a hell of a canning and she's pretty cute to boot. Throw in some neat details like the doctor checking the blonde over at every twenty five strokes and having to revive her after passing out, and you have a well packaged production. The DVD quality was excellent with crisp, clear, and fluid images and good sound quality. The DVD also has some extras on it such as a Behind the Scenes section, an interview with the blonde star, and trailers for their other two production. I really enjoy this and hope that Mood Pictures will be producing more features soon.
ADDITIONAL REVIEW BY RONALD SCOTT
Martial Law is another excellent release from a new Hungarian company, Mood Pictures. It features the beautiful Kate Lust (co-star of Rival Girls) receiving a 100 stroke caning, an unusual plot featuring a double agent who receives 25 cane strokes, and an enigmatic CP executioner who secretly enjoys her work.
First we see Kate, in her sergeant's uniform, before a military tribunal. She is told that instead of being put to death, the 3-member court will pass judgment on her. It appears that Kate tortured a spy who was actually working for her own side. Next we see a flashback of her "crime". Kate, whose blond hair is set in an interesting "corn-row" pattern, delivers 25 cane strokes to the black-haired spy. There are nice face close-ups and longer shots showing off the spy's figure as she suffers during the caning. A guard keeps the spy's hands up and behind her during the caning.
Upon reviewing her crime, Kate is sentenced to a 100-stroke caning. Kate, whose hair is now set in a more feminine style, slowly removes her clothes in a nicely erotic scene. Her black panties contrast nicely with her blond hair and fair skin. A doctor, played by a very pretty girl, will monitor Kate's health during the caning. Kate is tied to a metal apparatus especially designed for caning (and showing off Kate's great figure). The black-haired woman doing the caning looks appropriately snotty and seems to secretly enjoy making Kate suffer.
By about 15 strokes Kate is crying in anguish. Several camera angles are used during the caning to show off Kate's figure, suffering face, and the mounting lines on her bottom. After each 25 strokes, the cute doctor, who is not wearing pants under her white smock, check's Kate's condition. As the caning continues Kate finds it harder to count aloud the strokes; and welts begin to appear on her thighs. The cruel disciplinarian hits hard and Kate is clearly feeling it.
My only complaint is that the one long main scene is a bit monotonous but this is reduced by the doctor's visits and Kate's excellent acting. She is quite convincing in her role. And after most blows she jerks forward, an angle that is especially favorable to enjoying the view of her sexy breasts. After 72 strokes, Kate's head is hanging down and the military court asks the doctor to examine her. The doctor applies some water to the unfortunate girl's face and neck. At 75 strokes, one tribunal member says Kate has received enough but the chairman disagrees and the caning continues. The only problem is that with Kate hanging her head down during the final part, it is hard to see her beautiful suffering face.
At the end Kate is totally exhausted and weak from her long punishment. Both her bottom and thighs are marked with red lines. The doctor and disciplinarian have to assist poor Kate in leaving the room, which provides a memorable front shot of Kate's wonderful body.
The DVD Extras include an interesting Behind the Scenes segment. First we see Kate studying her lines for the first part of the movie; Pedro interrupts her and her serious expression changes to a cute smile. Then Pedro and Pablo give the girls direction. Later we see the cast fooling around (the spy says "hit me more because I am not crying"). This segment ends with a close-up of the enigmatic Mercedes Mercy's face.
Next the director, Pedro, interviews Kate on her experiences and motivation in both this feature and Rival Girls. One amusing interchange occurs. Pedro: "Did you hate the actress who punished you?" Kate: "No, she was just playing a role. But I did hate the director (laughing)." The Extras conclude with Trailers for Ancient Regime and Rival Girls, two other Mood releases.
Overall, if you are a fan of severe punishment of a beautiful blond girl (not to forget the caning of the full-figured spy), you will certainly love this one. And the video and sound quality are excellent. I give this a 9.0 out of 10 and hope Mood Pictures continues along the promising path they have started.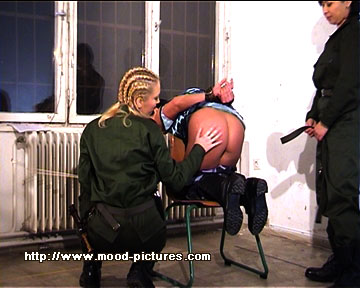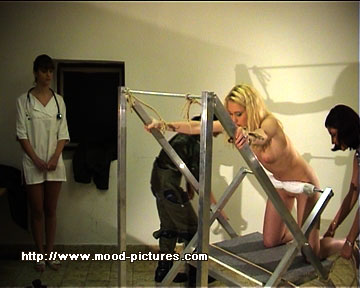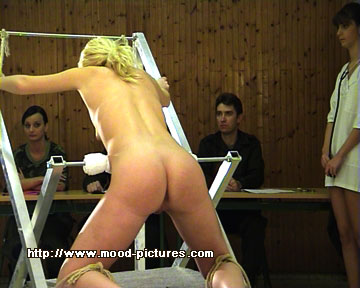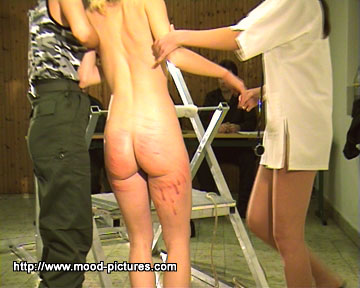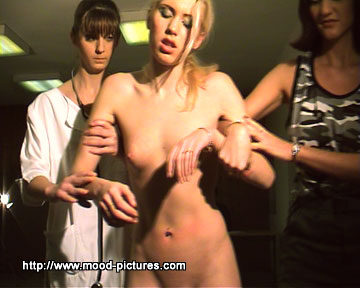 Back to Mood Pictures
HOME


Support our Free Achive Spanking Site by joining one of the sites below.

Marked Butts - Spanking Online - Realspankings - Firm Hand Spanking - Girl Spanks Girl - Clare Fonda Pass - Punished Brats