Mood Castings
www.mood-castings.com
1st Review posted 12/7/07 by John O'Connell
Mood Castings is a site that recently opened its doors, and as you might guess by the title, is brought to you by the crew that runs Mood-Pictures. The title also might give you a clue as to what the premise of this site is. Before a model can become a Mood-Pictures model, they must first be interviewed. This interview includes and oral discussion followed by an intense punishment to make sure the model is able to withstand the severe punishments that Mood hands out. What kind of surprises me is the intensity of the session. I've seen this type of material many times before, but usually the interview spanking is fairly light as many times the spanking model is not overly experienced, if experienced at all. At Mood Castings they get right to the nasty stuff and don't spare the how do you do's. The punishments would be pretty severe for a model that had already done work, never mind someone that is just starting out.
The layout to the members area is very easy and neat. When you enter, each scene is in front of you with the most recent being on the top of the page. Every scene is compacted into a nice little box with preview photo, link to the video, link to the photo viewer, and link to the photo zip file. From here you can just right click on the video link and save the file to your computer. Clicking on the photo link will bring you to another page that has a slide viewer with all the photos thumbnailed at the bottom. The photos are decent looking video captures, but only max out at 640X480. You do have the option of downloading a zip file of all the photos for that scene, but they are the same ones in the viewer and are not of a highter resolution. The video clips are in Windows Media format, have a bitrate of 662 kbps, and a screen size of 640X480 that doesn't look bad at full screen. The average run time is approximately 12 minutes per scene.
Currently there are 20 interviews online with a new complete video being added each week. As I mentioned before, the punishments handed out to the girls are pretty severe, especially for new models. So, if you're looking for that light spanking type interview then this probably isn't for you. The site costs $44.00 American (around 30 EUR) for a 30 day membership. To me that's a little high given you only get one new scene per week and the video output is average and not HD. It could be worth it to those seeking for something new in the world of severe punishments. They have some sample stuff on the site, so check it out and then go from there.
2nd Review Reviewed by Ludwig (first published at Ludwig's Rohrstock-Palast http://rohrstockpalast.blogspot.com/) Posted to Spreview on 7/4/08.
Mood Pictures from Hungary claim to produce "the most brutal caning and whipping videos" in the world, and what sounds like a wild boast may actually be close to the truth: other companies offer more in terms of story, sets, acting or intricate psychology, but when it comes to no-holds-barred savage beatings, the Magyars are difficult to surpass. Not a very subtle approach, but if sales and popularity are anything to go by, it seems to work for legions of fans. It all depends on whether you like the really, really harsh stuff, and on how quickly it gets redundant for you (or not).

Severity freaks will also be interested in Mood Castings, a sister site that features - you guessed it - casting sessions with some of the girls who later appear in full-length films. And with loads of other girls who, for some strange reason, never come back. At the time of this writing, there are 46 scenes with as many different victims, with 4 or 5 new clips added every month. The videos are in .wmv format with a resolution of 640 x 480, and there is also a gallery of photo captures for every scene.

Each casting consists of three parts: a short interview, an acting test and a caning, adding up to a total duration of around 10 minutes. The interviews deal with standard questions like: how did you hear about us? Have you ever seen a spanking video? Were you ever spanked before, by a boyfriend, maybe? Why do you want to try this? Most wanna-be-models fall strictly into the "To be honest, I'm here for the money" category, but there are also some genuinly curious and kinky ones. While most answers are predictable, some contain an interesting tidbit.

The acting test involves a short scenario like "student late for lesson", "employee caught looking at porn", that sort of stuff. Most of the scenes are fairly wooden, some are half-decent. They all result in a severe punishment, and that's the main part of the casting, anyway. It is made clear to the girls that they can call it quits at any time, but to be considered for a role in a full-length film, they have to endure 50 strokes of the cane.

Some do, with varying degrees of difficulty. Others give up halfway through or even after a handful of strokes. In any case, the dommes (all clips are FF) don't show mercy just because it is a trial: these are customary Mood-style canings, resulting in vivid welts and broken skin. It's interesting how reactions differ, from totally shell-shocked to quietly determined to almost casual. Sometimes, they are what you would expect after seeing the interview of the girl, and in other cases, the very opposite. Some tough-looking candidates throw the towel very quickly, while others who appeared a lot more meek and delicate come through with remarkable grit. Even in the Mood universe, things aren't all surface.

Afterwards, there is always a little chat. All victims get to answer the age-old "How did you feel?" question, and those who passed the test receive a hearty congratulation. Sometimes, there is relieved laughter or a proud smile, a sense of lightness not uncommon after a severe beating. In most scenes, the conversation is matter-of-fact, "are you up for it again, we will call you".

As a collection of hard canings, the site will satisfy any CP sadist. In so many words, the models look good and the action is hard. In this regard, you are going to like the clips as much (or as little) as Mood's DVD output. Apart from that, there is not much here, but such is the purpose of the site.
MOOD CASTINGS
website review
guest reviewer - sorepalm - 9th March 09

THE SITE
Mood Castings is a clever little side-project of Mood Pictures, producers of intense Ff caning and whipping DVDs. I've looked at their main sites from the outside only, since to be honest I find them a bit too full-on: it's the blood, it's the whipping of backs - neither does it for me. Mood Pictures and its associated BDSM site Elite Pain (which also has an associated castings site) are basically DVD order portals rather than repositories of downloadable video clips. They are consciously producing films for an overseas audience, with good looking models and high production values, and additionally providing decent translations (better than Lupus) in their subtitling. The girls in these films are sometimes startlingly attractive, given what they're prepared to endure. To get them on board, Mood Pictures apparently advertise, in Hungary, on the net and in papers, tempting girls with offers of big money if they get through a casting process. One girl even reveals that to find the ad, she googled "student jobs." But to make it into the high paying films, applicants must pass a three part test: first, they must be young and good looking enough; second, they need some basic acting skills; third, they must be able to withstand fifty cane strokes. Delivered - though I doubt the ads say this - by a cute but sadistic lesbian who thinks she's hitting golf balls on a driving range.
SITE ORGANISATION
The resultant interviews / canings are presented as ten minute clips in .wmv format, which, unlike Realplayer, ia viewable frame by frame and in slow motion, as well as in real time. Before joining this site, I browsed Dallas Spanks Hard, but rejected it because he only uses Realplayer and frankly, it's shit. For mac users, .wmvs also play beautifully on quicktime with the free flip-for-mac plugin from Microsoft. The Mood Castings site contains three things: video clips (up to 80mb each,) small reference "posters" which hilight each update, and photo zips. The poor cousin for me are the photo zips, which do not feature the action, only a few samey images of the interview setup and post-caning images of fully whipped girl and domme posing with cane in hand. I guess if you want to ogle stills of ruined backsides, these might be your cup of tea, but personally I found them redundant. I downloaded each relevant "poster" (see the images below) instead. Drop them into the same file as your video clips, and they self-organise into quick reference images alongside their related movies, since they bear near-identical names.
REWARD
When I first got into the site and watched a few clips, I was delighted to imagine that with the casting format, Mood Pictures were generating material for the site entirely free of cost. Fifty free strokes just to be considered for a bigger movie? But certain comments in the the subtitles pricked my gleeful schadenfreude, as it's apparent that there is some cash offer up front for the girls. Thus anyone who attends a casting and survives the fifty strokes will get the ad's specified reward, with a sliding scale, I guess, down to zero for girls who pull out sooner. It also seems that the ads must be explicit enough for applicants to know the fifty stroke requirement before travelling to the castings.
STROKE COUNT
It's always explained to the applicants, on camera, that they must be eighteen or older to attend; it's also clearly explained that there's no compulsion, meaning they can halt the caning at any time. The smartest puller-outer, Carmen (below) recieves just one light stroke before getting up and getting dressed.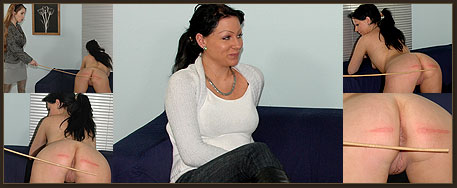 Another takes two, one just three, and so on. Lilly, below, went as high as forty three strokes before quitting.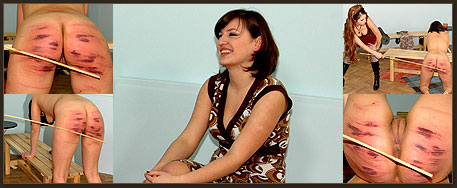 STATS
Out of the 66 vids I bothered to download (at this date there are are 81 in total,) 35 girls - 53 percent - made it the whole way to the fifty strokes. As to attractiveness, looking at the "posters" just now, I found 53 out of 81 girls to be either reasonably attractive or very cute - a full two thirds of the total! Some of the prettier girls who don't make it to the 50 count are asked if they'd like to be "dummies", which presumably means models who stand about in the background of the features but don't get whipped.
KYRA'S INTERVIEWS
The de facto star of the site is Kyra, Mood Pictures' mainstay actor. While a couple of other ladies temp as casting directors, she's the most professional interviewer and easily the fiercest domme. Her interviews, in fact, provide a delightfully prurient insight into the girls' motivations. Kyra asks them plenty of detail about their sexual history, asking if they've ever been spanked by a boyfriend; whether they prefer vaginal, anal or oral sex; whether they swallow or spit; if they've ever had sex with a girl, on and on. The girls, for their part, answer candidly, and it turns out that quite a few have presented themselves as much out of curiosity as for the money. Some even say, "I wanted to challenge myself to see if I could take fifty strokes!" which maybe gives a small clue to some of the wording in the ads. Perhaps it's in the culture out there - I obviously live in the wrong place, as I can't imagine that many good looking Englanders wanting to test their ability to withstand pain. But anyway, thank fuck for the gorgeous Czechs and Magyars!
Rather than fast-forwarding to the action, I found that I really liked the interview format. I, a bit like Kyra, have always wanted to know the motivation of girls willing to pose or perform in my fave porn styles. It's like she's created a research tool just for me! Immediately after she's caned the girls, she carries on interviewing them, asking which parts they liked or didn't like, how they felt, whether they'll act out similar scenes with boyfriends in future. It beats Oprah. Then again, Oprah doesn't beat.
ERICA
One girl, Erica B, (she survives the single severest caning I've personally ever witnessed) asks after her ordeal, "How am I going to explain this to my boyfriend?" "You don't," says Kyra. "With an injury like this, you tell the truth." Erica takes a bistering set. Kyra, almost from the off, is thrashing full force with a synthetic cane nearly as long as she is. Erica takes the lot without a hint of a break request. As the clip was released in November 2008, I guess there's still time for her to appear in a full scale Mood Pics doovde. And now that I browse, she makes an appearance on the sister EP castings site, tail end Jan '09. Surely for some of the girls, showing up at the boyfs with thrash marks must trigger a jack-in-the-box response. I went with several girls who I never mentioned my sideline sexuality to. But if one had shown up with Erica's arse, I'd have pestered her till she either let me flog her or she dumped me in disgust.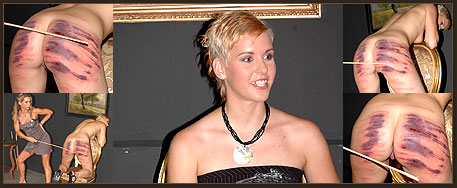 CLAUDIA
Claudia is cute, eighteen, comes from a small village, and found Mood Pictures' advert on express.hu. She's here for the money. She finds Kyra's questions about her sexuality embarrassing, she says she's so bashful she can't talk about it. So Kyra asks her if she likes showing herself naked, and the girl says yes - but she doesn't want to talk about it.
"What is taboo for you in sex?"
"Everything!"
"Everything?"
"I don't like to talk about it."
"Have you ever had sex with a girl?"
Slight pause. "Once. But we'd drunk too much."
Claudia has never tried spanking with a boyfriend, but she has, she blushingly admits, fantasised about it.
"Would you like to try it in the future?"
Five embarrassed seconds before Claudia slurs, "Hmmyes."
She admits to swallowing, but anal sex is bad so she doesn't like it. Sex is fine if she doesn't have to talk about it. Kyra lets her off her squirming to get on with the caning.
Her kit comes off fast enough. She has a stunningly dirty body, and like so many girls these days has no pubic hair. So I guess that, in the year of the hundred and fiftieth anniversary of Darwin's "On The Origin Of Species," internet porn has become a driving force in human evolution.
The girl reacts very little and can clearly take it, even though by the second set of ten, Kyra is whipping her cane right through Claudia's back end so its tip clatters into the wall to her left. Then Claudia looks back at her blistering rear, and to everyone's regret but her own, calls a halt to the caning at twenty one strokes. "It's the marks," she explains. I know, Claudia - but what about us? Doesn't what we want count?
On the other hand, how about a quiet trip to the unheralded, though quite filthy, euronudes.com? They're just up in Czechia, love.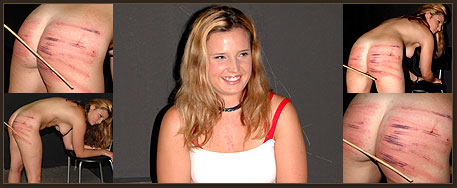 SOPHIE
Sophie, a tall, decent-looking brunette rides it out to fifty, but not without the full range of sobbing. But she never stops the process of the punishment. She's in enough of a state afterwards to put her thong back on the wrong way round though. In order to dress, she gets up off the pale beige sofa two or three times. Then having put on a white skirt, she happens to glance back, and points in shock to stripes of blood left behind on the sofa.
"This genre is like that," Kyra says with a shrug. At least, it is the way she executes it, fifty strokes delivered full-on with a metre length cane.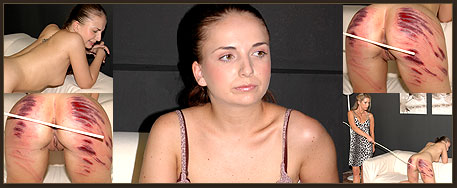 SANDY
Sandy is a cute blonde with a smiling face who takes the full fifty. She says she's done spots of modelling for a couple of years, but maybe her work is tailing off. Kyra doesn't go so hard at her as she does at some of the others, but she leaves plenty of tramlines from arse to thigh tops.
"I didn't think you'd make it past fifteen. How did you feel?"
"Quite humiliating. But on the other hand, not so bad."
"You could have quit. What made you go on?"
"The money. I wanted to withstand the fifty strokes by any means!"
Hopefully more cash in it than her standard modelling then, since she'll not be posing girlie-style with her arse decked out in bruises.
Kyra: "You can almost take it for granted you'll be given the chance to act in a film. If that happened, would you come again?"
No hesitation: "Yes!"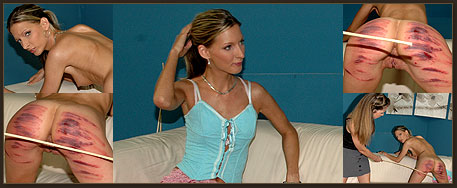 RITA
Kyra plays a delicious acting game with this one, taking on the role of lesbian predator, fiddling with Rita's jewellery, sister-touching her arms, taking her hand and pulling her up. Then she sits her on her lap to unzip the girl's top, takes chin between thumb and forefinger, sneaks a peek at her knickers. The girl's job is to slowly start resisting. I didn't get much impression it was a leap of acting for either of them. Rita, bless her, is now formally on Kyra's to-do list, as Kyra shakes her hand and congratulates her.
"We'll move on to part two, the spanking."
Cue nervous breathing from Rita, who knows this is a euphemism.
"Are you scared?"
"Very much."
"You don't need to be. I think you will be good at it. Please, take your clothes off."
Like taking candy from a baby. Rita turns out chubbier than we've expected, though she's not quite crossed the border into fat.
"Just to remind you, this is a casting. If you feel you can't stand it, you can stop at any time. But remember, there's a lot at stake. If you can stand the fifty strokes, there's nothing to stop you working in major films for Mood Pictures."
Kyra's looking fit, slim and that cane's in her hand.
"Kneel and stick your ass out. Because on one hand it looks better, and on the other hand I can hit your bottom more easily."
Rita kneels on an antique stool then leans forward, elbows on a small round table. Kyra prompts her thighs with the cane. "Spread your legs more."
By four strokes, Kyra's already starting with cane held up high. A few more and the girl is hurting badly, banging her palms on the table top, clutching at the leather mini she's had to remove.
It's intense. Rita, after several more: "I can't stand it!"
"Do you want a short break?"
"Just a sec."
There's a touch of annoyance, Kyra wants to get stuck in. "Only a short one. A lot of girls are waiting for the casting today."
Rita pants. "Where are we at?"
"Hmm, sixteen or seventeen." Kyra tries to make it sound like nothing.
We're on a rear view now, but the domme's shadow on the wall shows the effort she's putting in. Rita's panting gives way to a gasping for breath. But she's doing what she's told, placing knees and feet wider.
And then the beating, strangely, slips into neutral. Kyra tries to ramp it back up, swapping her shorter cane out for a longer one. But the girl, it turns out, has her beaten already, and coasts to the end where Kyra, faintly disappointed, can ask her to spin for the camera.
"How did you feel?"
Rita's all high-pitched, but she's trying to feign casual. "I was... I don't know. I felt numb. My hands, mouth, everything... I can't get dressed! Is it normal I'm so numb?"
It's a case study in pain management.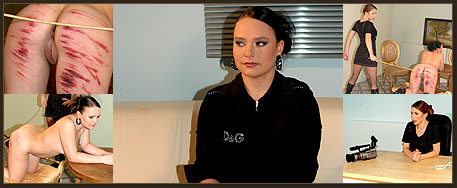 ANITA 3
Anita, nineteen, is asked, "Why did you reply to the advert?"
"You should try everything once,"
We're in Hungary, yes? And talk about prurient interest. Kyra asks her if she prefers older or younger partners.
Anita: "There was a period when I enjoyed making "little boys" dirty, so to speak. So I enjoyed taking their virginity."
I imagine they enjoyed it back. Anita likes anal, having her pussy licked, she's slept with fifteen men, two girls and made out with a couple more. She's had a mutual spanking session with one boyfriend, but prefers being spanked to being the spanker.
She's posed leaning over a round table. Some of these Hungarians are Amazons, but this one is petite. She takes the first twelve strokes without much reaction, emitting her first moan at fifteen, beginning to tremble faintly around twenty, then saying at twenty-six, "I can't stand this anymore!"
Kyra explains patiently that if she takes too many breaks she'll start to focus on the pain, but taking fewer (as we've seen) will help her go numb.
Anita quits fully at thiry three strokes: "I hurt fucking badly, it hurt so much I had nausea."
"You did well to get to thirty three, Mood Pictures might want to use you anyway."
Instant response? "No way!"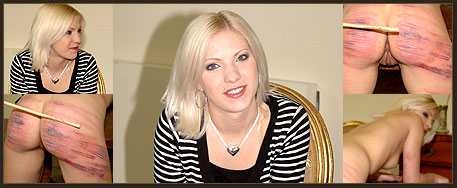 JENNIFER 2
The second Jennifer takes all of her strokes in a single run, but she's pretty vocal! She says several times, "It's too much!" But crucially, she doesn't move out of her crouch, letting Kyra just keeps on ramping it up. Then she gets a gift from heaven. Fifteen strokes from the touchline, Jennifer changes, "It's too much," to, "I'm going to get withstand it!" So a stroke or two later, Kyra's swapping out to her longest cane, holding it at length and working it like that one-handed golf club, with plenty of backswing and plenty more follow-through. You can see on the cane blurs that the speed of the strike makes it smack the girl's backside and immediately rebound, thus it's not really dragging. Looks hellishly painful though, and Jennifer shouts out her screams, which reverberate back off reflective walls. The thing works up to a wicked climax - Kyra is truly not holding back!
She's almost childishly eager to praise the girl the second she's lashed in her final stroke.
"Thank you, I'd like to be first to express my congratulations. You withstood the fifty strokes so nicely, well done!" She offers her hand and nods as she says, "You're a smart girl, I'm glad I met you."
Plenty of praise brings the girls back to roost. Jennifer seems so genuinely pleased.
"You're tough and you can withstand cane strokes. You're pretty and attractive. You act well. You're a perfect subject."
Jennifer massages history: "I kept saying to myself, 'I'm tough - I'm going to get through it!'" Then adds, tellingly, "I think I needed that." What, needed the caning or needed the praise? Needed to challenge yourself and win? Fucked if I know, but it's an awesome vid clip.

COST
At 50.91 USD / 39.95 EURO, Mood Castings is a relatively expensive clip download site. But then again, where else can you watch over fifty cute girls asked searching questions about their sex lives before they strip off and take a fierce caning, with, by another rough count I just tried, twenty five of the cutest ones making it all the way to fifty, and several others getting pretty close? At a rough guess there are three thousand plus cane strokes on this site, which would make it under two cents each. Plus, once I'd clocked the number of good looking Magyars taking a thrashing, it was a no-brainer.
I fervently hope that my review is not the kiss of death to this site. My last review was effusive about Spanked Cutie, another one featuring Hungarian girls, but the sodding thing quit updating the minute my review was posted. Hopefully this one will grow and grow. And if you're reading this God, could you please get your finger out and send that luscious Magyar subbie you promised me in the pub last week? Cause I think she's got lost in the post...
sorepalm, 9th march 2009
Back to Website Reviews
HOME


Support our Free Achive Spanking Site by joining one of the sites below.

Marked Butts - Spanking Online - Realspankings - Firm Hand Spanking - Girl Spanks Girl - Clare Fonda Pass - Punished Brats