MISS MARCHMONT
Click here for Website
Photos used to compliment reviews are posted with the permission of Miss Marchmont and may not be posted to any other website without their permission
Nina Birch, My Fantasies Volume #1

Written and Directed by: Nina Birch
Staring: Nina Birch, Eve Harper, Karl Stevens

2nd Review by MARS posted 11/13/09
The actress, director, and producer Nina Birch released three videos of spanking fantasies--about school and office scenarios, some involving men in surprising situations. Here Ms. Birch acts out 6 spanking fantasies with another actress, named either Miss Marchmont or Miss Harper; the video is subtitled "Discipline Academy. Strict Headmistress." The segments catalogue ritualized schoolgirl punishment behavior, positions, panty placement, language.
I-Smoking Hot Bottom: Nina has been caught smoking at school. Miss Marchmont threatens her with a cane, but she first gets a hard handspanking, bent over a school desk in barren classroom. Nina is a strong-looking short-haired blonde in school blouse and plaid skirt. Her bottom is wide, soft, and firmly feminine, which is why she does this work. Marchmont bunches her pants and the reddening process begins. She gets more tonight at Detention.
II-Wandering Hands Are Sore Hands: Nina sits at detention, writing repetitive lines and playing with herself. Miss Marchmont catches her, smacks her palms with a ruler, then spanks her OTK, pants rolled to top of thighs. "You're lucky I don't have a cane with me." Reddening advances.
III-Testing Times: Nina sits at a simple classroom desk. Miss Marchmont checks her work and uses a cane to point to the blackboard. Nina bends over the desk and takes full-stroke shots from a large monogramed fraternity paddle, large resoundng cracks which set her howling and produce circle bruises and a further rouging of her bare bottom.
IV-Vanity Unfair:Niina must report to Miss Marchmont; she's been caught puttng her hands in a boy's pants; Miss Marchmont is going to put her hands in her pants and ratchet the spankings up a few notches. Her lesbian-tinged supervision doesn't take kindly to boys. Ruler on palms; very hard fast paddling bare bottom OTK with a hairbrush-sized very hard paddle-ouch. Panties all the way off, ruler and handsmacks on her thighs. "Just remember, there's a cane in a minute.....I'm going to give you 12 hard strokes." Ritual posture over the back of a straight chair-12 strokes. Marchmont is very enamoured of Nina's chiseled bottom.
V-Advantage Miss Harper: This is a lesbian encounter; the actress identified as Miss Marchmont above calls Nina in, decides to strip her in search of unauthorized jewelry. The search for "jewelry in strange parts of their bodies" leads to some spirited nipple tweaking and a lusty frigging grope between Nina's legs you will feel yourself. "Nothing down there." A few cracks with that impressive small wood paddle; Nina keeps losing her clothes and is finally naked for the first time in the video. Harper: "Touch me very slowly." Harper slowly undresses, Nina fondles.
VI-P.A. Punished: the last fantasy is unrelated to the school setting above and is set in an office. All of us with this spanking fetish have imagined this one. A charming, sophisticated, elegantly dressed Nina sits in a baronial office setting. She has made some crucial errors. The barrister she works for is furious (and clever!) and offers her the big choice--he throws paddles on her desk--quit or take a spanking.
Nina stares at the wood paddles and eqivocates. The barrister grabs her and pulls her OTK and begins a vigorous handspanking on the skirt of her blue suit. "Is this really necessary, sir?" Skirt up,panties bunched. "Oh, it stings, sir."
She squeals as the attorney hauls her panties down. "You feel embarrassed, your bare bottom on display?" Like he did in court, unprepared because of her negligence. She stands, takes off her jacket and tries to cover her front before she must put her hands on her head. Very sexy, and the fully fantasy of a office secretary spanking. She is perfectly dressed in suit, blouse, stockings, black garter belt, and matching underwear.
Up on a chair, kneeling for the hard little wood paddle with a coaster-sized hitting area, a real detailed stinger. And some strapping over his knee with his foot up on a chair, so that her legs kick free. The lawyer is surely having a fine morning.
A long private bottom rub closeup at the end. Ms. Birch goes on our list. And the attorney, when he goes home that night, imagine his wife asking: "How was your day, dear?"
First Review by: David Pierson
A few months ago Rosaleen Young informed me of the terrific work that is being produced by the creative ladies at The Miss Marchmont Spanking Society. The talented young women of Miss Marchmont bill themselves as " the best kept secret on the web." After viewing several of their excellent productions I have pledged to ameliorate this problem. This review is another attempt in the service of that cause. The Miss Marchmont Spanking Society produces some of the finest spanking video erotica being made today.
The lovely and talented Nina Birch is one of the major creative forces in this community of erotic artists. In this wonderful production Nina explores some of her most deeply held erotic corporal punishment fatasies for the viewer. This approach to CP erotica is a rare gift indeed. Nina Birch is simply beautiful and radiates sexuality. Her take on corporal punishment video erotica is deeply personal, highly erotic and amazingly intelligent. This video feature well conceived scripts, an attractive cast and production values of the highest caliber. "Nina Birch: My Fantasies Volume #1" features two terrific tales of corporal punishment erotica.
Feature I: ' P.A Punished'
Starring : Nina Birch
Karl Stevens
In this tale of intense secretarial chastisement, Nina plays the role of a Personal Assistant to an important Solicitor (a member of the legal profession) who specializes in criminal law. As the scene opens we see Miss Birch hard at work at her desk. She is dressed in an attractive navy blue business suit. Suddenly, in walks her boss and he is none too happy with the lovely Nina. Miss Birch's employer (as played by Karl Stevens) is a rather imposing figure. He's tall, handsome and muscular. It seems that Miss Birch had forgotten to fax her employer some very important papers. This omission has resulted in one of the Solicitor's clients being jailed. He informs his negligent employee that her failure was unforgivable. He noted that at this point he intended to give his negligent employee a sound spanking or she would be given the sack. Being in dire need of her situation the lovely Nina chose the spanking over the sack. Once Nina had agreed to the terms of her correction, her irate employer then instructed Miss Birch to come across his knee. He started Nina's chastisement by warming the bottom of her skirt. As each blow of the angry officer of the court's hand landed upon Miss Birch's bottom, she cried out. " Is this really necessary sir?", Nina said in a plaintive voice. The employer noted that she was in a better position than his poor client who was languishing in jail due to her error. Soon, the enraged employer lifted Nina's skirt and applied several hard smacks to her bottom that was only protected by very sexy black lace panties. (Not much protection at all really.) Nina's humiliation was heightened as her panties we lowered. " Are you embarrassed at having your bottom exposed like this?", Nina's employer questioned. " Yes sir!", Nina replied. " Yes, now you are almost as embarrassed as I was in court today. My face was as red as your bottom soon will be", the wrathful solicitor responded. "On no!" Nina shouted as blow after hard blow of the solicitor's hand fell upon her exposed bottom as she wiggled, squirmed and cried under the force of her punishment. After the over the knee spanking was completed, Miss Birch was instructed to remove her skirt and to step out of her knickers. After complying with the Solicitor's demands Nina was left standing exposed and vulnerable in the Solicitor's office. She was naked from the waist down with only her garter belt and stockings providing any concealment. Her employer placed his leg up on a chair and pulled Nina over it. In this position, Miss Birch's legs were completely off of the ground, while she held on for dear life to the chair in front of her. Her head was down and her naked bottom was thrust upward into an ideal position for punishment. (Mr. Stevens is a rather tall man and there was plenty of femur for her to bend over.) Now the avenging employer struck Nina's naked backside with a strap. With each blow of the strap Nina's legs kicked in the air in a manner most erotic. As Nina's employer was applying hard leather to her exposed bottom, he scolded her for the egregious error that she had made. Once he had finished reddening Nina's lovely bottom with the strap, the Solicitor made Nina kneel upon a chair with her bottom thrust out for a severe session with a paddle. As the paddle struck Nina's already punished bottom she yelped in pain and pleaded for mercy. Once her punishment was over, Miss Birch was warned that future spankings awaited her unless her work performance improved significantly.
This tale of work place punishment is thoroughly engaging and amazingly sexy. While we have all seen productions that featured the punishment of naughty secretaries, 'P.A. Punished' is a unique take on a well-worn chestnut. What makes this story work so well is the seriousness with which the performers approach their roles. Nina plays the personal assistant as a very proper young woman and her humiliation over having her bottom exposed and chastised by her handsome employer was almost palpable. Mr. Stevens, a regular performer in Miss Marchmont productions, was superb in his role as the aggrieved solicitor.
Feature II: Discipline Academy: Strict Headmistress
Starring: Nina Birch
Eve Harper
Chapter I: Smoking Hot Bottom
'Discipline Academy' is the most unique tale of schoolgirl corporal punishment that I've ever seen affixed to film or videotape. In many ways it has a dream like quality. It seems that Nina dreams of being punished by a stern but extrememly sexy headmistress and Miss Eve Harper more than meets that requirement. Miss Harper simply exudes sexual energy. As the story opens we see the camera caress the body of the lovely but strict headmistress. The camera lingers on her shapely legs and delicate feet covered by stiletto heeled shoes. (Yes, a headmistress with stiletto heels.) Suddenly our reverie is broken by a knock on the door. In walks Nina Birch, the naughty schoolgirl. Dressed in a plaid uniform skirt and white shirt Nina couldn't have been more alluring. " Why have you been sent to me?", the headmistress demands to know. " Smoking Miss", Nina meekly responds as she looks down at her shoes. " Disgusting habit!", Miss Harper replies. She informs that naughty schoolgirl that she will be spanked and then will severe detention. Shortly, Nina find herself over the knee of her headmistress. Miss Harper lifts Nina's skirt as the schoolgirl groans in humiliation. Over her regulation white panties Nina receives a very hard handspanking from her strict headmistress.
Chapter II: Wandering Hands
As this portion of this erotic fantasy begins we find Naughty Nina serving her detention. In her notebook she is writing, " I must not smoke" over and over. She quickly grows bored with this assignment. Soon Nina takes off on a journey of exploration... an exploration of her own body that is. This all started innocently enough. She went to close a button on her shirt that had come open and had inadvertently brushed her breast. This seemed to send a charge through Nina's entire being. With increasing intensity Nina started to fondle her breasts. Soon her hands found their way down into her panties. As she was massaging the area between her legs with abandon, she was interrupted by Miss Harper. " Filthy Girl!", the headmistress shouted. She made Nina extend her offending hands and struck each one three times with a ruler. Next Nina was pulled across the lap of Miss Harper for another spanking. Her shirt was lifted and this time her white panties were lowered. With the schoolgirl's bare bottom exposed, Miss Harper scolded her for her sexually inappropriate behavior. Soon, Nina found herself crying out in pain and squirming in time to the blows striking her naked bottom. Miss Harper then noted " You are lucky that I don't have my cane. I guess that I'll just have to use what I have to hand". She then picked up the ruler and applied several hard blows to her bare bottom and upper things. Nina was then excused from her detention with a warning that worse punishments awaited her unless she changed her ways.
Chaper III: Testing Times
It has come to the attention of Miss Harper that young Nina is not competent in the performance of her seven times table. " Have you been doing any of the homework that I've set for you?" Miss Harper inquired of her mathematically challenged student. "Most of it.", Nina responded tentatively.
Angered at the students lack of diligence regarding her studies, the naughty schoolgirl is bent over her desk and is punished with a sorority paddle on her bare bottom. Each blow of this hard implement of punishment brought a loud shout of pain from Nina. Nina's bottom was paddled until it was a deep shade of red. After completing Nina's chastisement with the paddle Miss Harper emphatically warned her charge that unless she mended her ways the cane would soon be used upon her bottom.
Chapter IV: Vanity Unfair
Once again Nina was summoned to Miss Harper's office. Once there, the angry Miss Headmistress confronted Nina. " It has come to my attention that you have been cavorting around with boys in the village!", Miss Harper exclaimed. Reaching out and placing her hand on Nina's breast the headmistress continued, " You let them touch you here" and then placing her hand between Nina's legs "and you let then touch you there. As a matter of fact that area is still moist!". Now our dear Miss Harper instructs the naughty schoolgirl that she will now be chastised in a manner most severe and that her punishment would be concluded only after she has tasted the cane.
First Nina's hands are struck several times with a ruler. Then, Nina is pulled across the lap of the headmistress. Nina's bare bottom is throttled with a leather paddle in rapid-fire succession. Nina's session of chastisement was concluded only after she had received several strokes of the cane across an already sore bottom. Nina cried out as the cane found its target.
Chapter V: Advantage Miss Harper

At this part of our story opens, we find the lovely Miss Harper in her office enjoying herself...literally. In a mood most libidinous, Miss Harper is exploring her body. Her hands traveling from breast to thigh, from thigh to clitoris. Eve journey was interrupted by an unexpected knock on the door and soon standing before Miss Harper was, once again, the lovely Nina Birch. " Well what is it this time?", Miss Harper inquired. Nina responded that she was sent to her office for wearing forbidden jewelry in school. She noted that she had just gotten her ears pierced. Noting that all piercings were forbidden, Miss Harper decided to inspect Nina's body for other bits of forbidden jewelry. Miss Harper slowly opened and removed Nina's blouse. Then off came the bra. A very sexy bra it was too. Miss Harper grabbed Nina by her pointy nipples and twisted slightly. " Well at least there are no piercings there", the headmistress said authoritatively. She turned Nina around and, horror of horrors, discovered that young Nina had a small dragon tattoo on her right shoulder. " You know that tattoos are forbidden, don't you" the headmistress scolded. " Yes miss", Nina responded in a small voice. " We will have to deal with that", Miss Harper noted. Then, Nina was required to remove her panties and lift her skirt. With Nina facing the wall and her ands held above her head, Miss Harper digitally (as in fingers) examined her charge for signs of labial piercings. She examined Nina's labia rather thoroughly. Once convinced that Nina was free of further piercings and tattoos, Miss Harper noted that it was time for Nina to pay for her violation of school policy. Nina was made to face the wall and several blows from the aforementioned leather paddle were administered to the naughty schoolgirl's bottom. Suddenly, Eve Harper creased punishing Nina's bottom and slowly turned Nina around and began to fondle her breasts. Soon the two women were engaged in an intense sexual embrace. Thus, the fantasy has come full circle.
With this excellent production, Nina Birch has established herself as one of the preeminent artists working in the medium of Corporal Punishment erotica. Nina Birch: My Fantasies Volume #1 is a gift to the audience from an amazing artist.
Look for Nina Birch: My Fantasies Volume#2 coming soon.
To learn more about the lovely Nina Birch do check out her website: www.ninabirch.co.uk.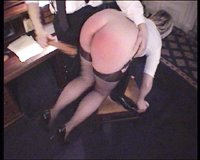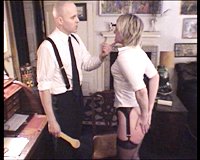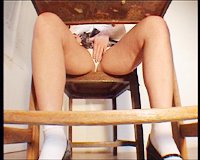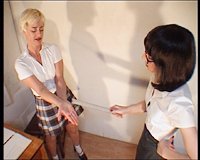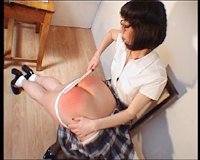 Back to Miss Marchmont Reviews Page
Back to Reviews Page
HOME


Support our Free Achive Spanking Site by joining one of the sites below.

Marked Butts - Spanking Online - Realspankings - Firm Hand Spanking - Girl Spanks Girl - Clare Fonda Pass - Punished Brats