DROP SEAT PRODUCTIONS/BOBBIE TAWSE
Click here for Website
Photos used to compliment reviews are posted with the permission of Bobbie Tawse and Drop Seats and may not be posted to any other website without their permission
Neglectful and Naughty

Starring: Julie Simone
Sinn Sage
Dennis Hunter
Reviewed by: Eric Blair-Brown
Spanking videos have become very sophisticated. Most of the productions have good lighting, camerawork and audio. So, the question I have for spanking video buyers is does technical glitches outweigh good spanking action? The latest Bobbie Drop-Seat production has many good things going for it. In this video, two pretty girls receive a stern spanking. My only problem is the technical aspects of the production.
The first scene finds pretty Julie Simone in trouble. Audio problems make it difficult for me to understand what the scenario is. Miss Simone is in an office, signing an agreement to receive a spanking. I assume that Julie is playing the role of a negligent personal assistant and is being punished so that she may retain her position. She is required to bend over Dennis Hunter's lap for a long OTK session. She's spanked on her skirt, her panties and then on her bare bottom. After spending some time against the wall, Julie receives a good hairbrush spanking. Miss Simone is then bent over the desk for a strapping and a hand spanking. After spending a few more minutes against the wall, Julie is laid across a chair for another dose of the strap. Just when the girl thinks her punishment is over, she is back over the Mr. Hunter's knee for another hairbrush spanking. This is the best scene on the tape. Julie kicks, hollers and begs for the spanking to stop. The segment ends with Julie standing against the wall.
Scene two finds Sinn Sage in trouble. Her bad behavior has earned her a trip over Mr. Hunter's lap. The girl's tight jeans and panties are brought downs and the Sinn receives a good old fashion spanking. The camera work is a bit less than desirable, but the spanking action is superb. The main camera is aimed too much to the right. It shows more of the wall than the two performers. After spending some time against the wall, the girl receives a standing hand spanking. Sinn is soon knelling on a chair while her hands are tied behind her back. The girl is bent over the back of the chair and endures a good strapping. Sinn is returned to her feet for a standing strapping and hand spanking. The scene ends as she is returned to standing against a wall.
In a short scene, Sinn is in a bedroom, bent over the bed rail and is given a good hand spanking. The scene ends with the girls standing against a wall.
This Bobbie Drop-Seat production has a lot going for it. It consists of two pretty girls getting very impressive punishments. It also has a few flaws. If dialog is an essential aspect of the production in question then we need to be able to hear it clearly. The videography is a bit less than desirable as well. All in all, you will have to make the decision. Does some technical flaws stop you from buying a video with some really good spanking action. My answer is no. This is a tape well worth viewing. Julie and Sinn are fantastically sexy and Dennis Hunter is a skillful spanker. We can forgive a few technical flaws as long as the video is as hot as 'Neglectful and Naughty'.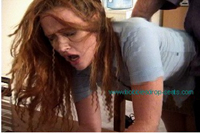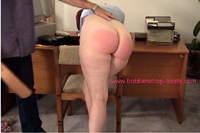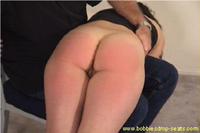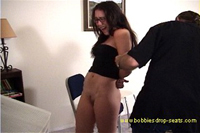 Back to Dropseats Review Page
Back to Reviews Page
HOME


Support our Free Achive Spanking Site by joining one of the sites below.

Marked Butts - Spanking Online - Realspankings - Firm Hand Spanking - Girl Spanks Girl - Clare Fonda Pass - Punished Brats