Site Status Update Feb 2010- Site is active and updating with new clips frequently.
Updated Review by Webmaster John O'Connell posted 1/29/10. This review will center on a production called Busted for Tickets.

This video became available for download in May of 2009 and features a very interesting story line. The woman in this clip, known as Carmen Electra, is in Outlaw's club when the police come looking for her because of unpaid tickets. Outlaw offers to pay the tickets in return for her doing a spanking video. She accepts the offer and sets into motion the purpose of her punishment. Like most of Outlaw's spankees, Carmen is not a professional spanking model. And in this case, it's a sort of real life type of spanking situation where she is taking a spanking in return for Outlaw paying off her tickets.
As with all of the clips on Outlaw's page, you have the option of buying them in sections or as one full video. I am reviewing the full video. This clip is just over 25 minutes long and costs $29.95 to purchase. It is 429 MB in size and has a resolution 1280X720 and a frame rate of 59.94fps 2615Kbps. The video starts off with a short introduction, but doesn't waste much time before getting down to business. I'm not exactly sure what her ethnic background is, so you can try and determain that for yourself from the photos. Carmen is said to be a porn star and when given the order to take her pants down, she wastes no time in removing her jeans and underwear and placing herself over Outlaw's lap.
The first part of the video is the hand spanking. It isn't long before the hard slaps create promises of coming into work and not getting any more tickets. He seems to think that is nice, but isn't going to slow down any. Her attempts to block the smacks are also ineffective and are only met with harder smacks and threats of handcuffing her if she doesn't cooperate. The last part of the spanking features Outlaw giving 20 hard smacks with Carmen having to say "Thank you Sir May I have another one" after each smack. The OTK portion of the video lasts roughly 5 minutes and is then followed by a complete re-run of this portion from a side camera angle in which you can see her facial reactions.
The next portion of the video has Carmen leaning over a wooden chair and receiving swats from a small hand strap. She must count out each swat after it is delivered. If the spanking didn't get to her, this certainly did. She was at the point of wanting to rub her ass after each stroke and after five minutes he still wasn't done. Out came the paddle for more swats. Several minutes worth. By the time this section was over, Carmen was in tears and her bottom was bruised and welted. Outlaw did not go easy just because she isn't a pro spanking model. Oh no, he gave her the full gauntlet. As before, another camera angle is provided for the entire scene giving you her facial reactions to each swat.
The last three minutes of the video has Carmen being fucked in the ass with a dildo while she plays with her pussy. At one point she then takes over using the dildo and continues the ass fucking herself. I'm not really into a mixing of this type of scene with spanking material, but for those of you that do like it, this will top off the video for you. All in all a very good clip. The technical quality of it is very good and it is enjoyable to see a non-professional punished severly for a real life infraction.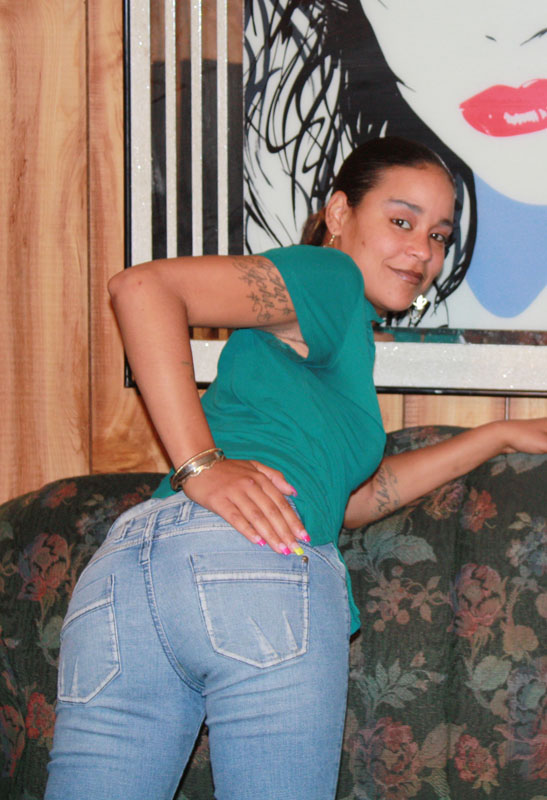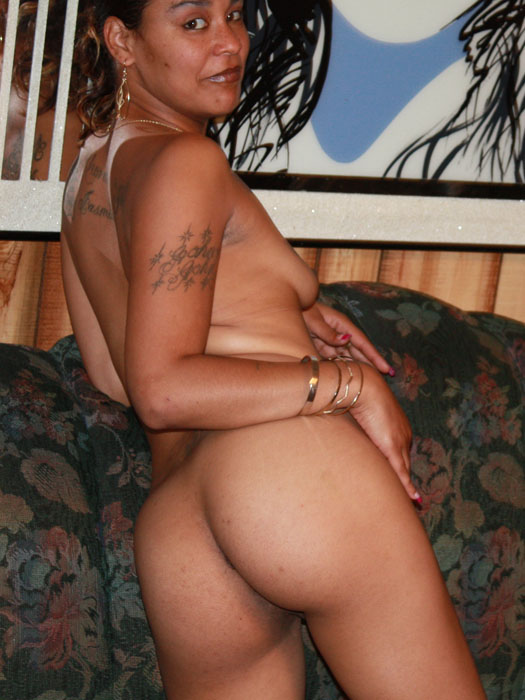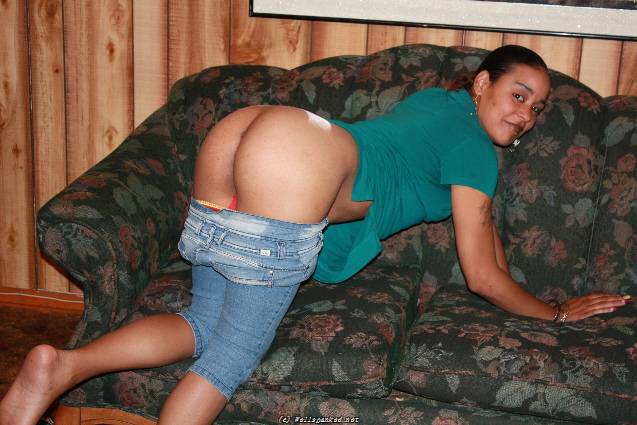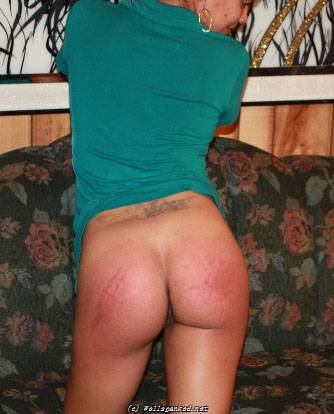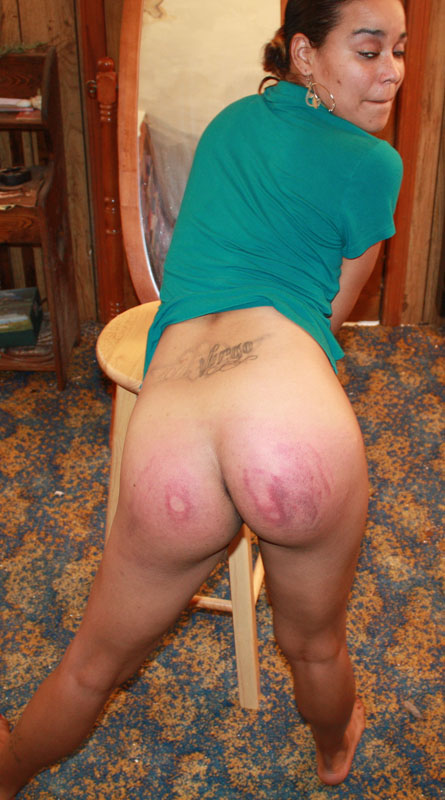 Review submitted by an anonymous reader.
The site contains 6 pages of spanking clips. Some are fulllength films, up to 45 minutes long, most clips are just small outtakes from these films. All movies star an ugly, fat and bald guy who spanks pretty woman, most of whom happen to be black.
I purchased a video for reviewing. 'Spare the rod, spoil the stripper'. The film starts with a beautiful, tall and slender black woman named Destiny facing the camera and announcing that the has been a bad girl and is gonna get spanked. The action starts immediately.
Destiny, who is wearing a skimpy, skintight pink dress is motioned across the spankers knees and the spanks start raining down.
The spanking itself is really, really hard. You can see that the fat guy hits as hard as he can. After a short while he pulls up Destinys dress. She isn't wearing panties and so the spanking continues on her bare bottom. Every spank has her yelping. There is some meaningless dialouge, Destiny claiming that the has 'learned her lesson', which has the fat guy just smirking. The spanking never stops.
After a short while she is made to take her dress off. Wearing only highheels and a black bra now, it's back over the knee. After seven minutes off handspanking (there was one cut, obviously to give poor destiny a break), a slipper is being taken to her red and swollen buttocks. She gets ten whacks with it (plus a few). Then some sort of strap (again ten whacks plus a few). She is made to count those spanks.
During the next 3 minutes (or so) the spanker switches between his hand and these two implements. The otk part then is over. Destiny gets to sit on the fat guys lap, kissing him and telling him that she is a good girl now. Her punishment isn't over though.
Starting from minute 13 Destiny has to change position. She has to bend over and grab her ankles now, which doesn't seem a problem for her, since she is obviously very agile. The camera is positioned that we see her her slightly from behind, her pretty bottom in view.
First she gets 5 whacks with a big wooden paddle. The whacks are so hard that she is literally pushed out of position. The spanker than goes on to work with his hand again because she 'broke position'
Then he produces some sort of cane. Obviously not a quality model, after 10 strokes it breaks! Then she gets 10 with the strap again.
Minute 16. a change of position again. Destiny bends over a little desk, the camera is positioned more in front of her. She gets 10 with a ridingcrop. This basically ends her punishment. The film is now being repeated just from a different camera angle. The otk part is only face shots now, the part of her bending over as well, the ridingcrop part now shows us only her pretty bottom.
During the second part, the picture quality is worse, than during the first part, where the picture quaility is actually quite good.
In the end there is a small interview with Destiny in which she recalls childhoodspankings.