Photos used to compliment reviews are posted with the permission of Punished Brats and may not be posted to any other website without their permission
Pixie's Fantasies 2

Starring: Amber Pixie Wells
Beverly Bacci
Juliet Valentina
Veronica Bound
Veronica Daniels
Richard Windsor
Susan
Tony
Review by John O'Connell, posted 9/14/07
If Pixie's Fantasies left you screaming for more, Punished Brats has answered your call with the sequel to that popular production. Pixie's mind has gone crazy with some unique, fun, and creative ideas that have never graced a spanking scenario before. To the Spankmobile Batman.
Part 1: Goldilocks Is Busted
The first part of the DVD centers on Goldilocks being questioned by the police for her intrusion on the Bear's home. Her punishment in the land of fairytales: A spanking (like what else would it be?). After some harsh questioning by Officer Tony, Pixie...I mean Goldilocks, confesses to breaking and entering into the Bear's homes. This is really some cute dialogue and how either one of them kept a straight face truly amazes me. Officer Tony takes Goldilocks over his knee and commences the spanking. Despite threats of having Mother Goose take Officer Tony's badge, he spanks her on her yellow panties. The panty spanking is pretty lengthy and when the undies are lowered you can see Goldie's buns have turned crimson. Of course in fairytale land, one must be spanked on the bare bottom. And thus the spanking continues. Again, this is pretty lengthy with some funny lines thrown in at just the right moments. After Goldilock's rear is red as a cherry, she is let up and told that she'll have to spend the night with the woman in the shoe.
Part 2: Go Ask Alice
Here, Alice is convinced she had an adventure of epic proportions, while her mother just things she was tripping on drugs. Mom, played by Susan, is not happy with Alice (Pixie) being gone for so long. And she doesn't buy her crazy tale for one moment. Poor Alice, she tries to convince Susan that it really happened, but that only make her more mad. Alice finds herself over mom's knee in short order and her high cut dress doesn't do much to protect her tender cheeks. The spanking begins immediately with no mercy being shown. By the time her panties are pulled down, Alice's bottom is already beat red. And what prompts the panties being pulled down? Mom asks her what the candy she took said on the wrapper. Alice's response: Eat Me. Good job. The response was certainly not good for the welfare of Alice's rear end. Susan spanks the daylights out of her bare bottom, that quite frankly made me wonder how her hand didn't break in the process. Finally the spanking concluded leaving Alice to ponder the reality of what she experienced.
Part 3: Muffet and Snow.
Apparently little Miss Muffet and Snow White have been bad and have been sent to the council for discipline. From what I've seen so far, discipline in the land of fairytales is anything but fun. Snow White, played by Juliet, has quite an attitude. What a crank, no wonder she's having a problem with her agent. Miss Muffet, played by Pixie, is also in trouble. Evidently she ate the Gingerbread Man. Ah....yeah. After some comical conversation, the pair report to Veronica who informs them that their fates have already been decided. Snow makes the mistake of asking Veronica how a commoner thinks she's going to spank a princess. Bad move. Over the knee she goes and the hard hand spanking begins. As with other scenes, the short skirt does nothing to cover her panty clad bottom. But, it's not long anyway before the black panties come down and Snow's bottom is anything but white. More like Little Red Riding Ass. The spanking continues on the bare for quite a while until Snow's attitude has melted. And then it's Muffet's turn. Her pink panties provide little protection against the power arm of Veronica. Of course it comes out that she ended up killing the spider as well. That calls for a panties down over the knee hair brushing. The echo from the hair brush hitting her bottom could be heard in Never Never Land. As could her screams. The hair brush spanking continued on for a few minutes before they were both sent on their way.
Part 4: Over the Rainbow.
Farmhand Zeke is pissed that Pixie threw eggs at Miss Mulch and he doesn't believe her stories about the neighbor being a witch. Dress as Dorothy, complete with ruby shoes, Pixie tries to explain her tale, which Zeke doesn't believe for a moment. Over the knee she goes for a lesson that she soon won't forget. Zeke doesn't screw around and pulls down the white frilly panties after only a slap or two. He mean business. Pixie tried to escape the ordeal by clicking her heels together, but that doesn't seem to work. Maybe she could try wishing on the moon that his hand would turn into a pillow. Zeke continues spanking her bare bottom until it is fiery red and he feels as though she has been sorely punished.
Part 5: Faulty Fairy Tales. Gretel and the Queen of Hearts are in trouble and have to report to the headquarters for discipline. The queen has been violent and Gretel has after hours escapades that need to be dealt with by Susan and Veronica Bound. Susan takes the queen (Beverly) over her knee and spanks her little rear end. Queen or no queen, she's going to be punished for her terrible acts. The red panties offer nothing in stopping the constant steam of spanks that come from Susan's hand. Speaking of red, care to guess what color her bottom is when said panties come down? You got it. Red panties, red hearts, and red bottom. See a pattern? After Susan finished up with Queen Beverly, it's Gretel Pixie's turn with Veronica. I've seen this powerhouse of spanking in action many times before. Gretel is in for it. She too has red hearts on her stockings and red panties. Must be a sort of precursor to a red bottom. The comment of some of the girls Gretel knows don't wear panties prompts for the sudden removal of hers. Didn't she learn from Eat Me? Guess not. The last thing she should want is Veronica slapping her bare ass. Believe that Gretel has learned her lesson, she is let up and sent on her way. But, the two conspire to seek revenge on those that they felt were responsible for rating them out. But, alas, their conversation was overheard by Veronica and Susan. They soon find themselves back over the knee receiving more bare bottom punishment.
I've never been one for spanking material of this sort, preferring a more real life approach. But, I have to say this was quite enjoyable. The costumes are great and the dialogue is fantastic. You really have to listen to all of the conversations that take place, some of them are downright hysterical. Another really creative and fun production from Punished Brats.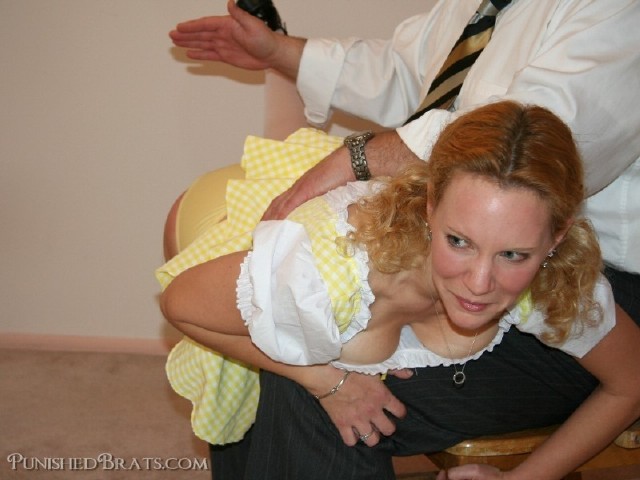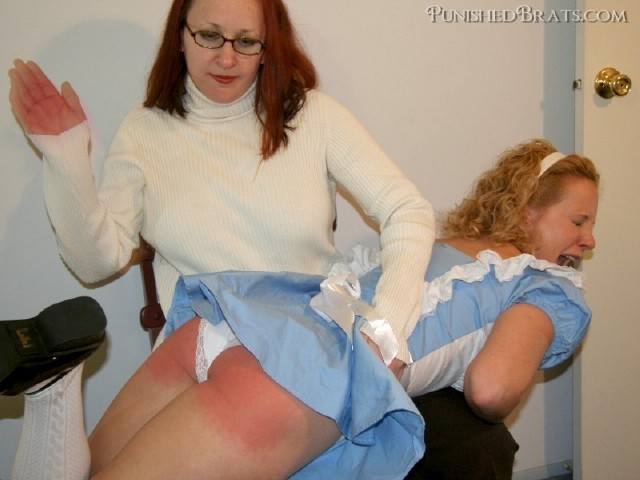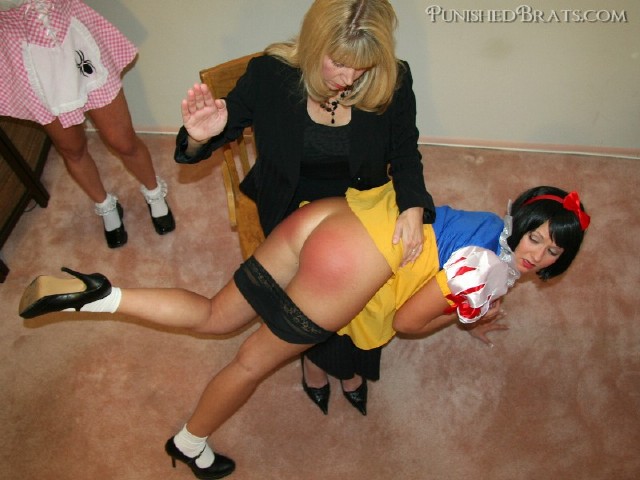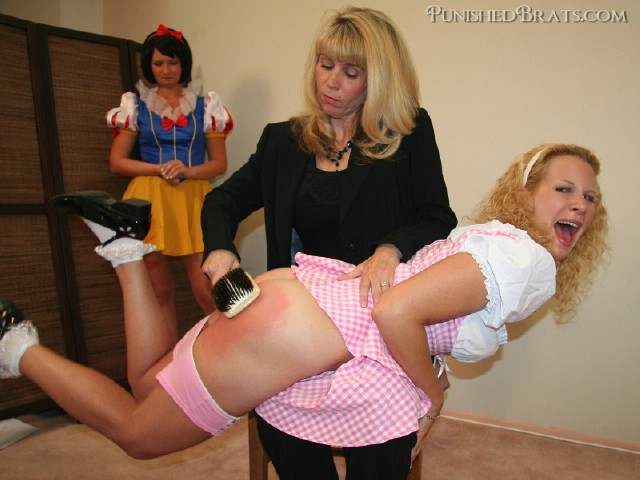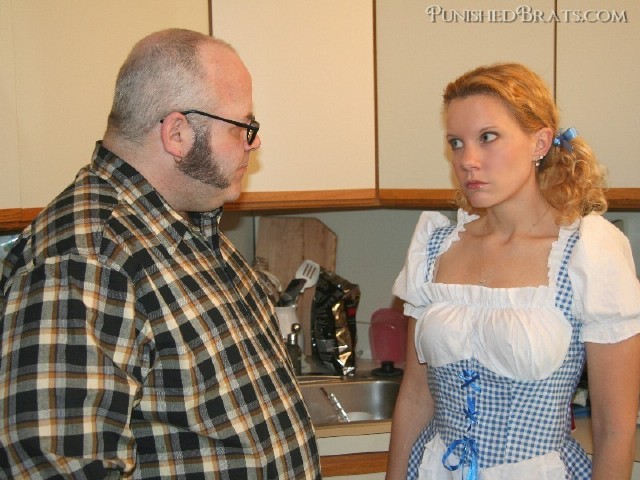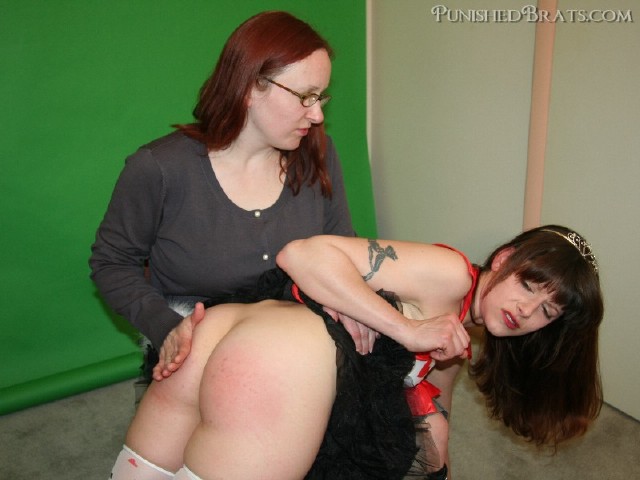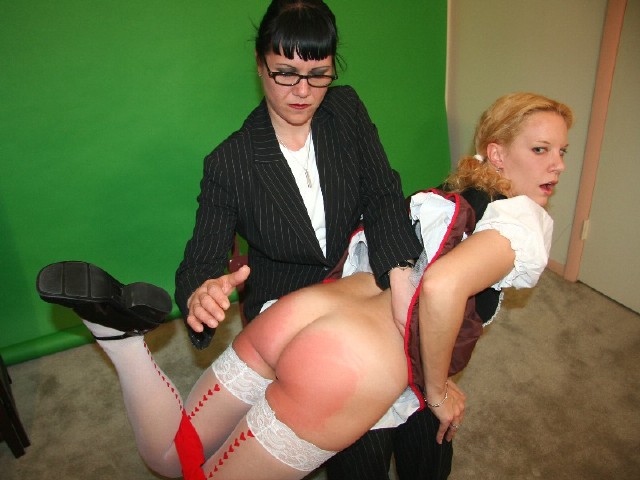 Back to Punished Brats Review Page
Back to Reviews Page
HOME


Support our Free Achive Spanking Site by joining one of the sites below.

Marked Butts - Spanking Online - Realspankings - Firm Hand Spanking - Girl Spanks Girl - Clare Fonda Pass - Punished Brats