SHADOW LANE

Click banner for Shadow Lane's Website
Photos used to compliment reviews are posted with the permission of Shadow Lane and may not be posted to any other website without their permission
Prep School Punishments

Written and Directed by Eve Howard
Produced and Edited by Tony Elka
Starring: Clare Fonda as Laura Lennox
Arthur Site as Claude Cameron
Steve Fuller as Mr. Woodward
And introducing Sierra Salem as Melissa Miller
Review by David Pierson
Is there a better writer of erotic spanking fiction than Eve Howard? I don't believe that there is. I've been a fan of Miss Howard's dating back to the time when she wrote under the nom de plume of Lizzie Bennet.
In the storied history of Shadow Lane this is the first time that the creative team at Shadow Lane has attempted to fully capture the essence of an Eve Howard story on film and they have succeeded admirably. 'Prep School Punishments' captures the wit and erotic sophistication found in Eve Howard's novels and short stories. Apart from the direction of Miss Howard and Mr. Elka's deft editing, a great deal of the success of ' Prep School Punishments' can be attributed to the talented cast of Clare Fonda, Arthur Sire, Steven Fuller and newcomer, Sierra Salem.
This is the story of the decadent Braemar Preparatory School told in three acts.
Act I: 'The Truth Hurts' featuring Clare Fonda and Arthur Sire
I think it's time for an investigation of the administration of the venerable Braemar Academy. It seems that a teacher by the name of Laura Lennox (played by Clare Fonda) had been seducing the senior boys at Braemar. I guess it's the advanced class in sex education. (I wonder if she marks on a curve?) Miss Lennox's behavior had come to the attention of Headmaster Claude Cameron. When confronted by the headmaster, Miss Lennox was anything but contrite. 'It's my Goddess given right to express my sexuality!", Laura noted defiantly. Mr. Cameron decides that he must take stern measures to correct this problem. He informs the promiscuous instructress that she was to be given a spanking. In truth, Mr. Cameron and Miss Lennox had once been lovers and this familiarity brings a great deal of sexual tension into this correction. Mr. Cameron takes the seductress over his knee for a hard spanking. The chastisement started over Laura's dress, then over the seat of her very sexy panties (Victoria's Secret's?) and then her bare bottom. This was an intense spanking that left Miss Lennox's bottom very sore and very red, but her spirit unbroken. Seeing this, Mr. Cameron became aware that sterner measures were required. To humiliate Miss Lennox and put her in a submissive position, the headmaster had his libidinous employee and ex-lover remove her dress. He then administered an intense strapping to Miss Lennox's bare bottom until she agreed not to "play" with the boys. The performances of Miss Fonda and Mr. Sire were simply fantastic. Miss Fonda would be very comfortable performing in one of the so- called screwball comedies of old Hollywood. Is she the Kathryn Hepburn of the spanking cinema? Mr. Sire has the qualities of the leading men of that era; handsome, smart and witty. This is a very special combination of talent.
Act II: 'Detention' featuring Steve Fuller and Sierra Salem
Melissa Miller ( played by Sierra Salem) is a gifted but underachieving student a Braemar. Due to her poor academic performance, she had been required to attend instructional detention with her instructor, Mr. Woodward. When Mr. Woodward sees that young Miss Miller had continued to put forth little effort in her school work he tried reasoning with the lovely, young eighteen- year- old. What he got for his troubled was a string of incentives that if said on the radio would get you fined by Michael Powell. (Son of Colin, head of the FCC) In response to this outburst from the attractive Miss Miller, Mr. Woodward took his unruly pupil over his knee and administered a sound spanking. The chastisement of Melissa Miller started over her uniform skirt, proceeding to the seat of her panties (clearly Fredrick's of Hollywood) and then her bare bottom. As Mr. Woodward spanked his young charge she kicked and cried out. It was also very sexy the way her long, beautiful, brown hair slowly unraveled as her bottom was reddened by Mr. Woodward. He spanked the naughty schoolgirl until the lesson was learned. At the end of her punishment Mr. Woodward had the contrite young girl sit on his lap and he gave her a comforting hug. "Sorry Mr. Woodward", she said tearfully. Do I hear LuLu singing 'To Sir, With Love'?
Act III: Love Is A Pain In The Butt: As the last chapter of this wonderful story opens, we learn the Mr. Woodward and Laura Lennox are a couple. Both were exhausted, he from dealing with his unruly pupil and she from fooling around with the boys and being spanked by Claude. As he sought to pull his lover close, she pulled away as his hands touched her bottom. It took a bit of doing, but Mr. Woodward finally got Laura to admit that she was spanked by Mr. Cameron; although she was able to keep him in the dark as to why Claude felt the need to spank her. In a fit of jealousy, Mr. Woodward pulled his lover over his knee and further thrashed Laura's already well- punished bottom. The spanking was hard and true and the repartee between the two was engaging and funny. Once her chastisement was over Laura noted that she had to go to provide a tutorial for the Football team. Mr. Woodward responded, 'That's one of the things that I love about you. You are such a dedicated teacher." With that our oversexed instructress was off to exercise her Goddess given rights.
This is an experience in video erotica not to be missed. A wonderful screenplay by Eve Howard and memorable performances by Clare Fonda, Arthur Sire, Steven Fuller and Sierra Salem makes this production a treat for all of your senses.
I need to make a special note of the Sierra Salem's performance. Her video debut was a complete success. She was such the perfect little brat. She is on her way to becoming a star of the spanking cinema.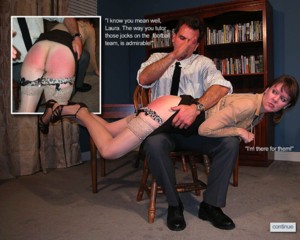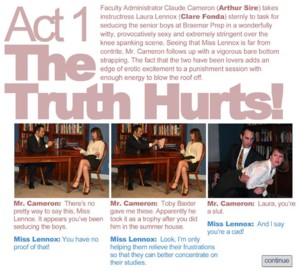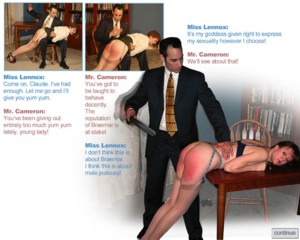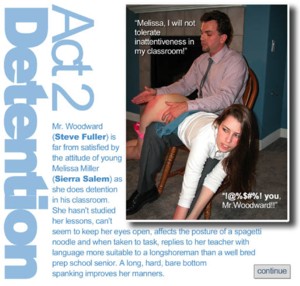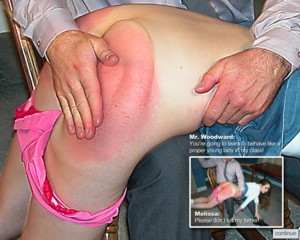 Back to Shadow Lane's Review Page
Back to Reviews Page
HOME


Support our Free Achive Spanking Site by joining one of the sites below.

Marked Butts - Spanking Online - Realspankings - Firm Hand Spanking - Girl Spanks Girl - Clare Fonda Pass - Punished Brats