CHEEKY VIDEO PRODUCTIONS
Prison Punishment

Directed and Produced by: Brigella
Staring: Brigella
Reviewed by: Aldus W. Huckster
This setting for this superb production is a prison. Once again the enticing Brigella has gone to great lengths to provide us with a realistic environment to enhance the fantasy. This video was shot in what appears to be a real jail, complete with cells and various accoutrements.
The video opens with a very stern Governess punishing a young brunette inmate. She is interrupted by the arrival of a new inmate, a very pretty blonde. ( Brigella) After getting past her irritation over having her fun interrupted, the evil Governess returns her attentions the lovely bottom of the brunette inmate. She gives the young woman a very hard paddling while bent over a punishment horse. When she is through with the brunette she puts her in a cage and turns her attention to the blonde. The blonde refuses to put on the prison garb, so the Governess paddles and canes her till she agrees. This is a hard caning punishment.
In the next scene we find the brunette being taken out of the cage and led to another room where she is bent over a trestle and receives a spanking, paddling, and caning from three prison guards. This is also a very severe punishment session, but not as hard as the blonde receives when she is brought in and replaces the brunette over the trestle. The blows reigned on the blonde girl are savage, and the three guards even take bets as to whom can make her squeal with pain the loudest.
I must note that the caning the blonde girl receives is very, very severe - one hell of a caning. It leaves her blistered and striped.
The video quality and production values are very good. The Blonde girl ( Brigella) is absolutely lovely. The scenario is realistic and highly erotic. If you are a fan of beautiful women being severely caned, and punished, then this video is for you.
I give this video a hearty Thumbs up. On the Spank-O-Meter I give this video a 9.0 out of 10.
Aldus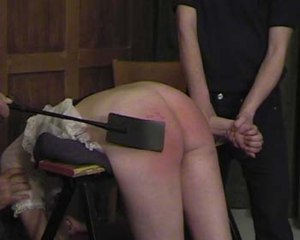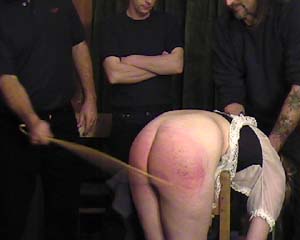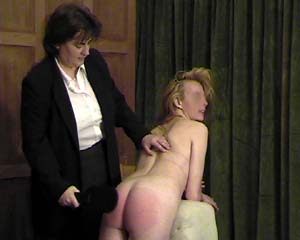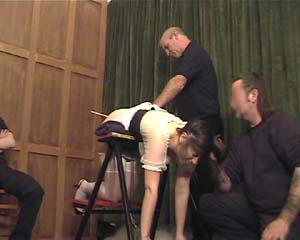 Back to Cheeky Productions Review Page
Back to Reviews Page
HOME


Support our Free Achive Spanking Site by joining one of the sites below.

Marked Butts - Spanking Online - Realspankings - Firm Hand Spanking - Girl Spanks Girl - Clare Fonda Pass - Punished Brats