Punishment Book

Written by Eve Howard
Produced by Tony Elka
Starring Lizzy Madison
David Pearl
Guest Review by Dan Rivera
It's been a while since I've seen a spanking video as rousing as Shadow Lane's newest, Punishment Book (SLV-111, SLV-111d). For this video, the authors and stars, Lizzie Madison and David Pearl, each 23 years young, recreate the regimen they perform in their daily home life.
This being a Shadow Lane production, you know there's a lot of spanking going on. But unlike a lot of videos, Punishment Book abounds in the real joy of spanking for its own sake. These youngsters have a lot of fun doing this, and their fun is infectious.
The "book" of the title is a diary of misbehavior and discipline, by and for the diminutive, sandy-haired Lizzie. (To bring her closer to David's 6-foot stature, she wears Erica Kane-like 6-inch heels throughout.)
In Act I, we find Lizzie lounging on the sofa as David comes home from work. He's surprised to find his lady relaxing when she should be doing chores and getting their bills paid. Instead, it turns out she has been watching the Jewelry Channel all day, and hasn't done a lick of work. So she gets a licking of her own, as David puts her over his knee and delivers about 400 hard swats to her derriere, alternately by hand and by paddle. Afterward, she is ordered to go stand against the wall and meditate on her faults.
But David can't stay angry, and we don't blame him. Lizzie is way too cute, her large, basset-hound eyes too remorseful, for anyone to stay angry with her. So, after she dutifully records her ordeal in the "punishment book," the scene ends with the two lovers exchanging tender hugs and kisses.
Lizzie gets three more spankings during the video, for various minor offenses - gambling away their food money, getting drunk and disorderly at the company party - but Shadow Lane saves the best for last: a non-stop, 360-swat handspanking with Lizzie over David's knee, in perfect position. This last spanking takes place on the couch, and Lizzie the actress won my heart by doing something few video spankees do: she keeps her beautiful legs and knees on the seat of the couch throughout, instead of letting them drag awkwardly on the floor. Her bottom may be on fire, but she keeps her wits about her, and delivers a picture perfect scene.
The famed Shadow Lane dedication to quality is evident throughout, with excellent lighting (by Arthur Sire), photography (by Tony Elka, Mike O'Hara, and Sire), and superior direction by Eve Howard. Special thanks go to Elka, for going easy on the "edit" button instead of using MTV-style "flash" editing.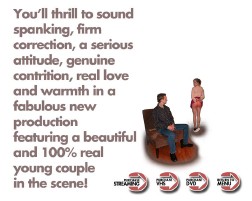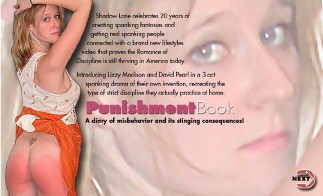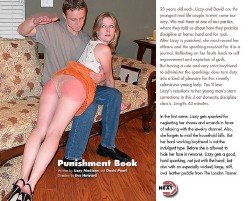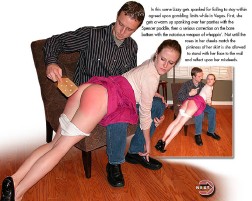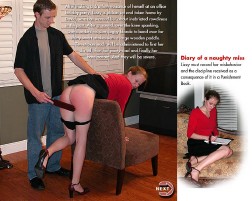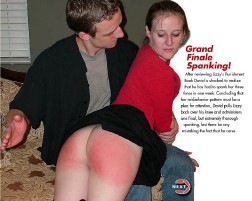 Back to Shadow Lane's Review Page
Back to Reviews Page
HOME


Support our Free Achive Spanking Site by joining one of the sites below.

Marked Butts - Spanking Online - Realspankings - Firm Hand Spanking - Girl Spanks Girl - Clare Fonda Pass - Punished Brats