Real Spankings Institute of Learning
Click here for website
Updated Review posted 2/19/10 by John O'Connell
It's been a number of years since my last review and Real Spankings Institue has continued with its practice of updating 3 times per week. So, if you've not visited in a while, the site has built up quite an archive. The site has stuck with the original premise, a boarding school type atmosphere complete with schoolgirl uniforms. The model list is ever expanding with new models being added fairly regularly these days. The punishments continue to be for a wide variety of reasons and are expansive in their delivery. By hand, paddle, cane, strap, or one of many other implements, the point is delivered harshly. The site has a search engine similar to that of the Real Spankings main site where you can search the archive by model, impliment, position, or date. Each update includes a photo gallery with a variety of high resolution photos and a video clip or two. Some scenes have two clips, with each one showing a different camera angle, where others seems to have just one clip with one camera that moves around. One thing that I noticed is that the site did not received the same overhaul that the main site did. It looks pretty much the same that it did when it first opened and the video clips, while improved, do not have the same options or resolution as the main Real Spankings site. Since the site is operated by the same people that run Real Spankings, I find that kind of curious. They look good at 640X480, but loose something when you play them at full screen. You also only have the option of downloading them in Real Media format. Again, kind of curious since you have other options on the main site and all of these scenes have been shot in recent times. None the less, Real Spankings Institute is still a great site and has a good price of $19.95 for 30 days, or $45 for 3 months. This site is also part of the Real Spankings Pass that gives you all 7 of their sites for one reduced price. www.realspankingspass.com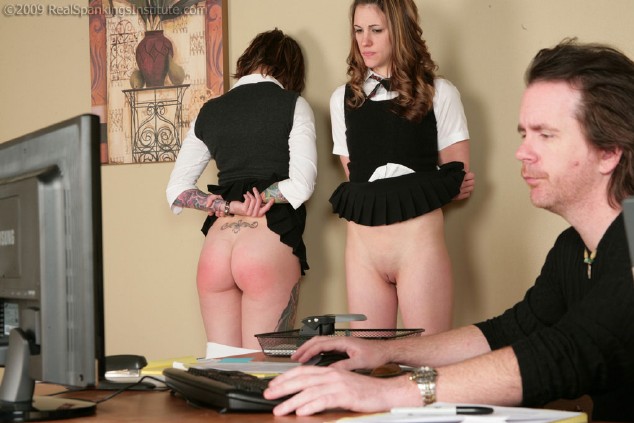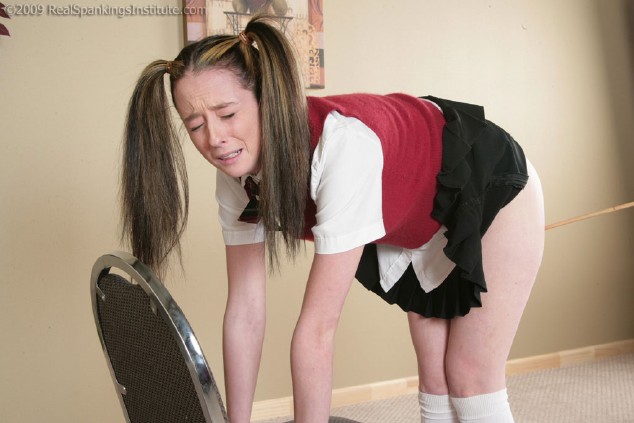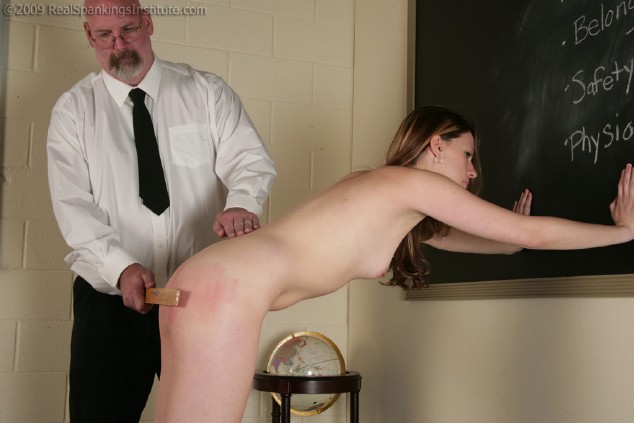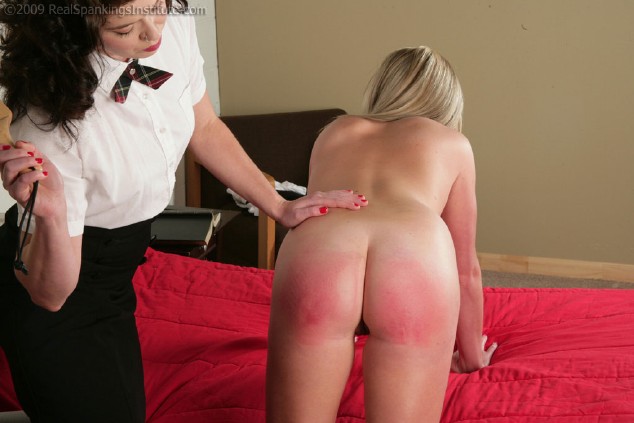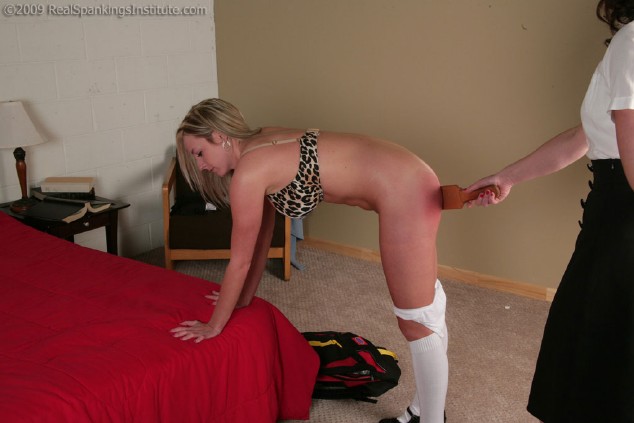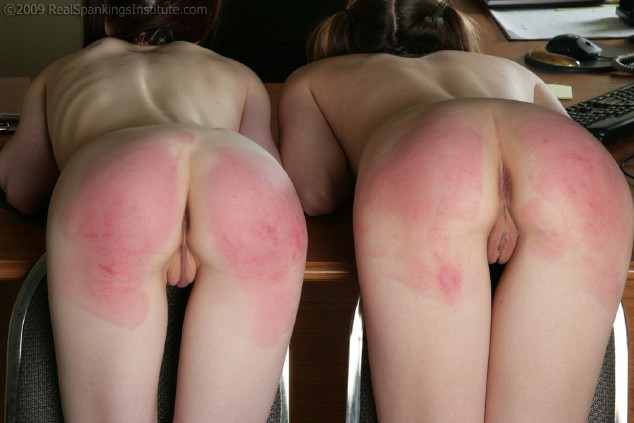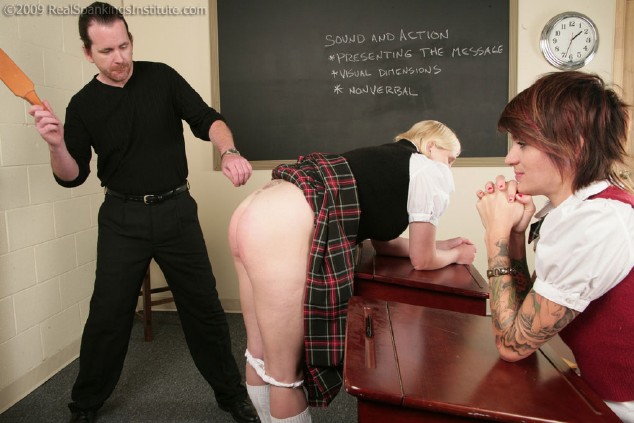 First Review posted 7/31/03 - Second Review Posted 11/1/04
As the name might indicate, this website is the latest goodie bag of photos and video clips put out by the folks at Real Spankings. The site takes on the theme of a girl's school that administers corporal punishment to any young lady that misbehaves. Real Spankings had started the RS Institute portion of their main site a while back, and have decided to create a totally new experience based on that concept. It doesn't take a rocket scientist to know that the schoolgirl scenario is one of the most popular fantasies when it comes to spanking. The site is set up completely different than the name sake site, however features many of the favorite models from the Real Spankings sites. Mr. M, Lady J, and Lady D are handing out their usual heavy handed punishments, while the recipients include Brandi, Jessica, Jennifer, and many others. When you first enter the site, you will find a very clean and easy to use interface. You may select the photo/video sets by either categorized scenarios or by model. This is a nice feature for those that want to find all of the content that is relevant to their favorite submissive. The scenarios start with each girl's arrival and has them change into their school uniform as Lady D inspects their personal affects. Many receive their first spankings here for minor infractions. I myself like the model listings. This makes it easy to see each punishment that the model received. Right from the arrival to the current date. The photo and video quality is what you have come to expect from the Real Spanking crew. Photo sets contain a multitude of images, all of which are high resolution and very crisp. Video technology is unsurpassed. Resolution is very good while keeping the file size manageable. They even have a choice, you may download a lower quality version of the clip to save downloading time if you so desire. Even though the site has only been online for less than a month, it already has a multitude of content, which is updated consistently. The site has new photos and clips posted every Monday, Wednesday, and Friday. And, if you like these clips and hope that they will come out with VHS and DVD version, well you are in luck. Real Spankings plans on making both VHS and DVD versions of many of the clips featured in the site. The cost of this site is $18 a month, which is payable by credit card, online check, and pay per minute dialer for those overseas. My only complaint thus far is the fact that there is still no multiple site package deal. This is something that the fans of Real Spankings have been begging for. I know they had said a while back that they would like to implement a plan that would allow for multiple site ordering/discounts. I also know that it would probably be a pain in the ass to do on a technical basis. But, the people of the spanking world want to subscribe to many of your sites, but just want to have one account and one charge. And, they want a price break for subscribing to two, three, or more of your sites. Please!! Listen to the fans, help us out. Ok, getting off the soap box and going back to the review. The site is very well done, it's pleasing to the eye, easy to navigate, and set up so you can find what you are looking for in a short amount of time. A lot of quality content and more stuff added every few days. Don't take my word for it, go to the site and check out the free samples. If you have a Real Spankings account, they recently added some sample clips for you to enjoy.
Update 11/1/04 By Ronald Scott
The RSInstitute website has recently added a useful new feature. Each title (consisting of several video clips) has a rating shown on a scale of 1 - 5 (ex. 4.3 or 3.2) where the ratings are based on member feedback. This site is, to this reviewer's knowledge, the only spanking pay website that has this useful feature. Also the amount of content has been greatly expanded since the original review on 7/31/03. There are now over 450 titles each consisting of 2 - 4 video clips (a few titles have more) and 30-125 hi-res photos. Also the range of models has been expanded to include many additions to the Real Spanking web site including such standouts (in this reviewer's opinion) as Heather, Sarah, Donna, Holly, and the new girl, Kailee. Also Betty has taken over some of the responsibility for handing out punishments, a task she obviously enjoys. The video quality is up to current standards with both 450 kbs and 225 kbs versions of each title available. However, the ability to purchase videos and DVDs of RSInstitute material, mentioned as a potential future feature in the original review, has not yet been added (except for one VHS video, The Arrival, offered on the Realspankings.com movie site and some scenes in the various "Best of" titles on the same site). Finally, this is one of the few "off-shoots" of an original successful pay site that is as good as the original. Most offshoots have inferior material and rely on the brand name of the original site to draw in customers; that is not the case here.
Back to Website Reviews
HOME


Support our Free Achive Spanking Site by joining one of the sites below.

Marked Butts - Spanking Online - Realspankings - Firm Hand Spanking - Girl Spanks Girl - Clare Fonda Pass - Punished Brats