Real Spankings.Com
Click here for website
Updated Review 2/19/10 by John O'Connell- The site is very much active and updates 3 times a week. One of the oldest pay sites on the internet, it is an incredible deal for $21.95 for 30 days as the archived material is just enormous. The site has undergone a bit of an overhaul with new features. Scenes are searchable by model, spanker, implement, position, or date. New features include the ability to watch videos in the member area instead of downloading them, larger screen size for downloadable clips, and the option of having Windows Media, Real Media, or MP4 formats. The amount of photos contained in each gallery varies by scene, but many times include well over 50. Clips have a screen size of 640X480, a frame rate of 29.97fps, and a data transfer rate of 1672Kbps. As stated in the 2009 review, older clips show their age. Real Spankings had started to upgrade some of the older clips, but seems to have stopped doing so. Additionally, a discounted $43.95 USD for 90 days membership is also available. Real Spankings is also part of the Real Spankings Pass package deal. www.realspankingspass.com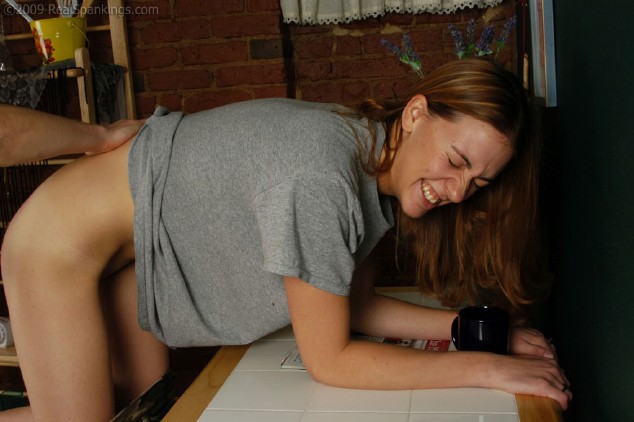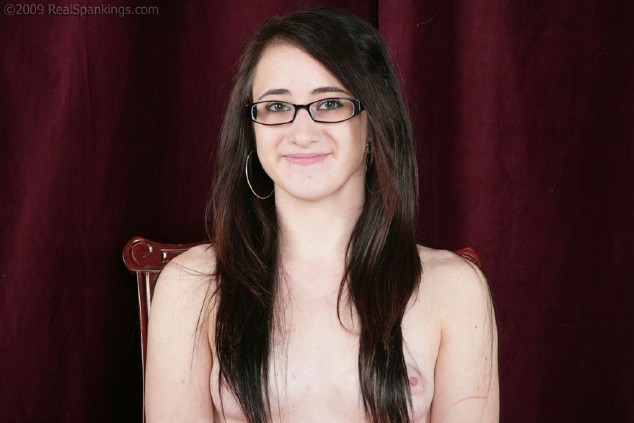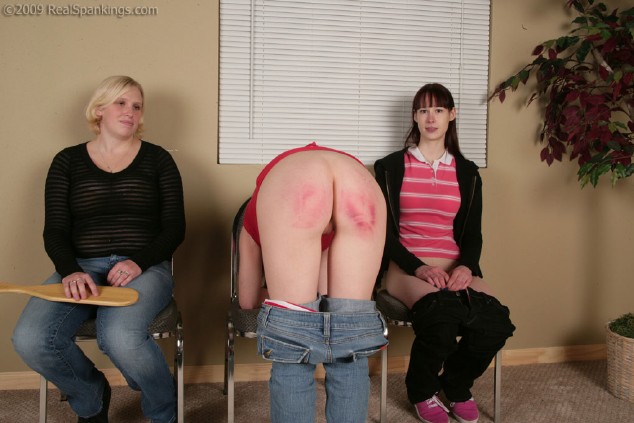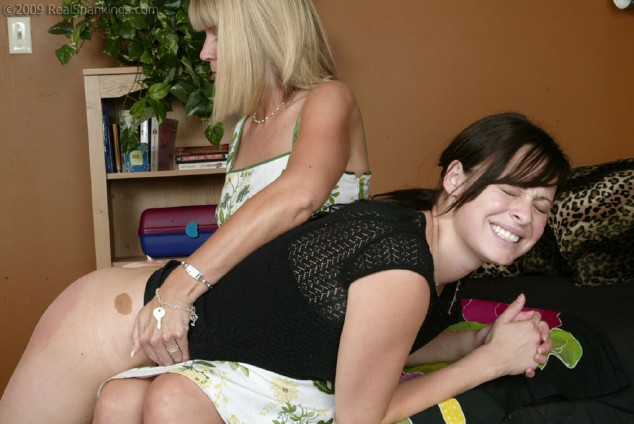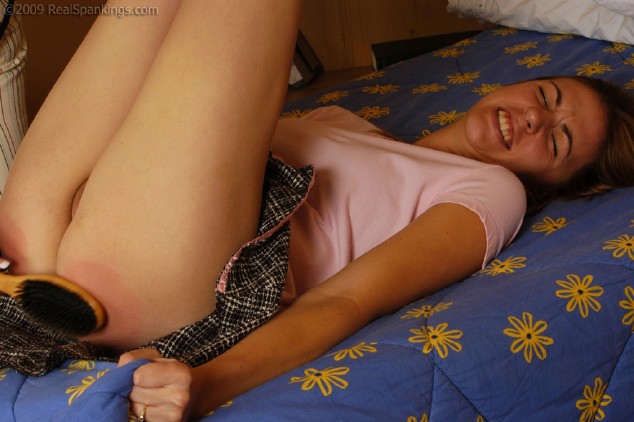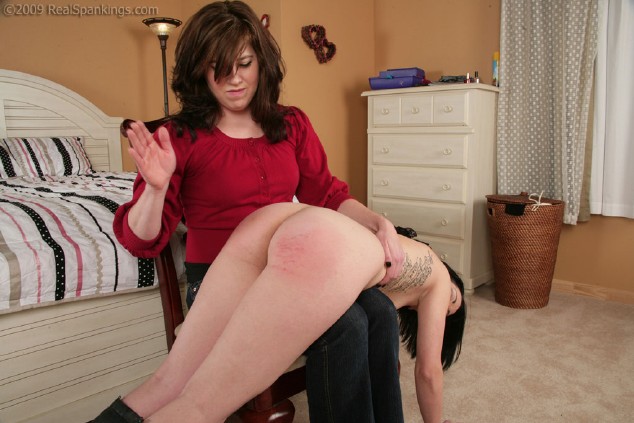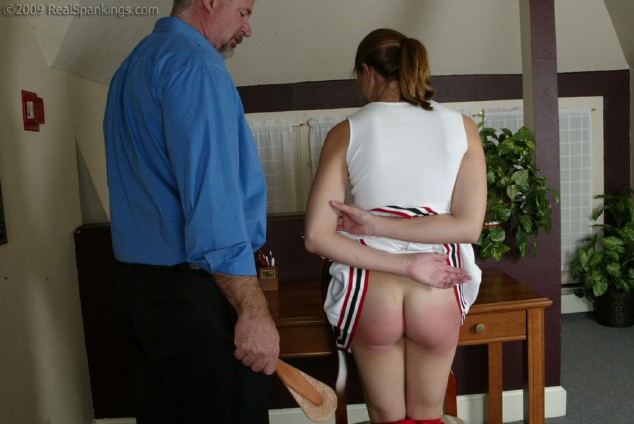 LONG OVERDUE UPDATE: 4/10/09 by LUDWIG
Reviewed by Ludwig (first published at Ludwig's Rohrstock-Palast http://rohrstockpalast.blogspot.com)
After reviewing half a dozen paysites which are based in the UK or continental Europe, I'm going to take a look across the Atlantic this time. Realspankings is one of the largest and most well-known corporal punishment sites from the US, and a very popular destination for spankos around the world. I first subscribed to it some six years ago and keep checking back every once in a while. The site got a major facelift recently, with various new features and improvements to the navigation, so I think it's time for a critique.
Realspankings was founded by Michael Masterson aka Mr. M and his wife, two kinky enthusiasts from Colorado. It started out as a tiny showcase for photos of the two of them and eventually grew into a multi-website empire with dozens of models and gargantuan amounts of content. Spanking Teen Brandi, Spanking Teen Jessica, the RS Institute etc. are all part of the network, but Realspankings is still the flagship. Its picture and video archives go back to the year 2000. At the time of this writing, there are over 1,000 distinct scenes, featuring over a hundred different girls and twenty spankers - in other words, members can expect to be busy for a while. New updates are added three times per week.
You can navigate the scenes by model ("Models Index"), by date (an "Updates Calendar" listing everything by year and month) or by theme (sections such as "Cheerleader Punishments" or "Bare Breasted Teens Spanked"). In addition, there is a search function that lets you look for a specific girl, spanker, implement, position or combination thereof. Members also have a personal "My Favourites" folder where they can put models and scenes they like. Overall, the layout is exemplary - despite the huge cast of players and endless tons of clips, Realspankings in its latest guise is one of the most uncluttered and user-friendly spanking sites I've seen. Other producers planning a redesign of their own archives would do well to take a look.
Most scenes (except for a couple of "Photo Stories" and such) include both video and still photographs. The video is usually split into several parts and comes in Real Media format, the old clips with lower bitrates like 150 kb/s or 350 kb/s, the newer ones with 700 kb/s. Scenes are usually between 5 and 15 minutes in length, with longer sessions split up into several updates. Sometimes, there are different perspectives, one clip showing a closeup of the action and another the facial reactions. From February 2008 onwards, there are also streaming flash versions in addition to the downloadable .rm files. It must be said that while the video quality is decent, it is not up to the standard offered by numerous other website producers nowadays. I hear that the Realspankings Team are considering an upgrade to .wmv or .mp4 format, presumably with a higher resolution and bandwidth, which would be a step in the right direction.
Needless to say, an archive of this size and age contains an immense variety of material. You will find all the usual, classical CP instruments, positions and settings: over-the-knee spankings, discipline at home with the belt or hairbrush, various paddlings and strappings, a cropping in the diaper position, an outdoor punishment with the birch, and so forth. There is a pretty even balance of M/F and F/F action. Most scenes have domestic and school settings like "spanked for drinking", "caught eavesdropping" or "cell phone bill". Quite a few have little or no fictional background at all, they are simply sessions of exploration and experimentation between a top and a bottom. Judicial punishments and BDSM-type dungeon scenes also exist, but they are considerably rarer. By and large, Realspankings has the feel of a very traditional spanking site evolving around traditional themes, with a distinctly American culture.
The cane is used less frequently than on most European sites while many sessions feature the strap or all kinds of paddles (wooden, leather, lexan, et cetera). Hand spankings are the most common type of punishment and make up about a third of all the action. Another noteworthy characteristic of Realspankings is that chastisement is often given over the panties or jeans. Spankings on the bare exist aplenty, of course, but there is a significant number of scenes which forgo the titillation of nudity in favour of a more believable domestic or school scenario. The level of severity is light to medium, with a smaller number of sessions that are pretty hard. The focus of the site is not superficial stimulation or sadism for its own sake, it is authenticity and the psychology of the players. Even though the average Realspankings clip is a bit shorter than what you get elsewhere, there is always a solid amount of dialogue and interplay.
Every model has her own personal introduction, a "Punishment Profile" scene where she is interviewed and receives her first on-camera spanking. Interviews are also fairly frequent in other types of sessions, like the "School Swats" and "School Strokes" series which aim to recreate the experience of realistic school CP (often over the jeans, with the model pulling down her pants and showing off the marks afterwards). Before and after the action, the girls talk about their thoughts and feelings on the matter, and about any real-life experiences they may have had with such a punishment. In time, you get to know them pretty well, especially the regular Realspankings bottoms like Brandi, Jennifer, Kailee or Monica, all of whom have shot some 40 or 50 scenes. But even with the less prolific models, you get a delightful insight into their personalities and individual quirks, which is a far cry from the anonymity of some other sites I could mention.
It's obvious that Realspankings care deeply about the human aspect and about the quality of their work. The result is a great site with some great content, and more. Watching their videos isn't just exciting, it is interesting - at times, quite thought-provoking. While kinky porn is, in principle, an ideal medium for that, it's a quality you find all too rarely in practice. On that note, I also have to mention The Spanking Blog by Michael Masterson. In addition to the expected previews and updates on what's going on with the site, it contains good and insightful writing on the subject of spanking in general, the work of making videos, the people behind it and so forth. The Realspankings Team also run the World Spanking Forum, which is fairly active and well worth a visit.
REALSPANKINGS.COM REVISIT- 5/31/03
I recently went through the RealSpanking.com website again and I have to say, they just keep getting better an better. Most of their online content is original material, with some authorized preview clips from companies such as Lupus and Nettles. When you first visit the site, you have to be impressed by the preview page. There is a description and photo from every update feature going back to early 2002. So, if you are considering purchasing a membership, this gives you a wonderful look inside. And, the thumbnail expands to a high resolution image, so you get an idea of what the photo archives are like as well. When you enter the members area, you can select where you want to go by clicking on links within a table. This area is really set up well, with a recent update quick links in a box at the top of the page, along with a link to the previous months updates. Any information that they wish to convey is also posted near the top along with quick links to video tape pages should you wish to purchase any of their products. The archives are broken down into tables and categories, with the most recent being closest to the top. The site has been online since 1997 and everything they have ever posted is still here. So, if this is your first membership, be prepared to be busy for a while. The archive is gigantic, there has to be well over 500 videos, if not over 600. I couldn't count them all. There are also tons of high resolution photos. Each week the site is updated with two or three new sets. Each set that is a RealSpankings original generally has between 20 and 100 high resolution photos that accompany the video. The clips vary in number, but most of the more recent clips include several different views including facials. The quality of these clips has also gone up several times since I reviewed them last, with the most recent versions have very clear and fluid motion. RealSpankings is also promising that they will be updating their equipment once again, so even better quality is on the horizon. They are also promising even bigger weekly updates. Many of these series have been transfered to video tape and are now available as full length features. DVD is also on the horizon. The cost is $18.00 a month, which is a fair price given the quality and quantity of the content. The people who run RS also run the websites for Teen Jessica and Brandi along with several others. The main complaint that I hear is that people would like to see a package deal for multiple sites at a reduced rate. Well, I had asked Mr. M about this a while back and the reason they don't is due to technical issues with they way they collect the funds from their membership accounts. It would be complicated to set up. Perhaps down the road. RealSpankings is a solid site with top notch content and shouldn't be missed.
ORIGINAL REVIEW
Real Spankings is a website that features unique content as well as some main stream stuff. They have a large archive of photos and videos from the internet and spanking videos. Although they have a large video and photo archive, that's not what drew me to this site. They have a studio and make their own spanking photo series and videos. So, if you're looking for unique content, it doesn't get much more unique. Some of the earlier stuff involved the webmistress receiving various punishments, but they recently started posting material from the studio, which has a whole lineup of models doing various series. The images are high resolution and very sharp. The realmedia videos are ok, but are low resolution and are somewhat blurry. However, they have announced they are upgrading their equipment, which will hopefully improve the quality a little. Although they don't offer video tapes of their sessions, they say this may be an option in the future. Real Spankings update's their site once a week and the updates contain 50-150 photos and/or up to 15 or so videos. The update is usually from 1 particular series. The cost is $15 for the first month and if you stay on it becomes $12 a month. Not a bad price, especially when you consider the unique models and series.
Back to Website Reviews
HOME


Support our Free Achive Spanking Site by joining one of the sites below.

Marked Butts - Spanking Online - Realspankings - Firm Hand Spanking - Girl Spanks Girl - Clare Fonda Pass - Punished Brats